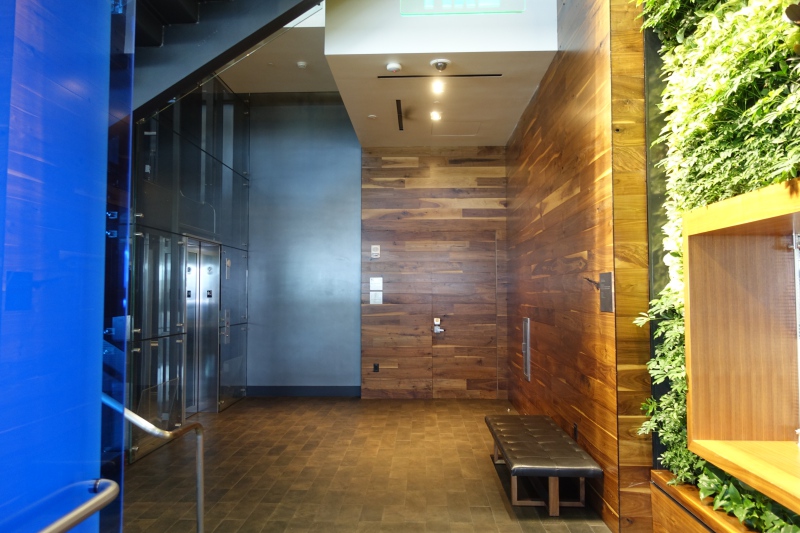 This is our 2017 review of the AMEX Centurion Lounge, San Francisco Airport (SFO). We've also reviewed the expanded AMEX Centurion Lounge in Seattle, The AMEX Centurion Lounge in Houston, the AMEX Centurion Lounge at New York LaGuardia, and the AMEX Centurion Lounge in Las Vegas.
See all of our airport lounge reviews.
AMEX Centurion Lounge SFO Location, Access and Hours
The AMEX Centurion Lounge at San Francisco Airport, SFO is located in Terminal 3 near Gate 74. Even though we were departing from the International Terminal and not out of Terminal 3, we were able to visit by explaining to the TSA agents that we wanted to access the Centurion Lounge in Terminal 3. We then had to exit and reclear security for the International Terminal for our flight, but this wasn't too cumbersome since we all have Global Entry/TSA PreCheck.
Access is complimentary for AMEX Platinum and Centurion card holders, plus up to two guests or family members. Note that the previoius policy of allowing all immediate family members has changed; see AMEX Centurion Lounge New Platinum Guest Policy: Only 2 Free Family Members. Guest access is per card member, not per card, so if you and your spouse or partner both have eligible cards, you can each bring in two guests. But if one of you has two Platinum cards, that person can still only guest in two people.
Note that to enter, you must present your valid AMEX Platinum or Centurion card, government issued ID, and a boarding pass for same day travel.
If you don't have an AMEX Platinum or Centurion card but have another valid AMEX credit or charge card, you can purchase a guest pass for $50.
The AMEX Centurion Lounge in San Francisco is open 5am-11pm daily.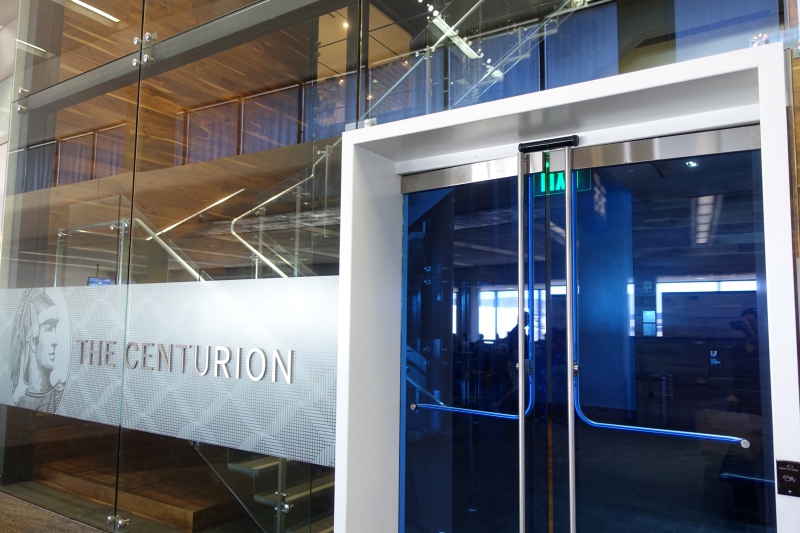 AMEX Centurion Lounge SFO Amenities and Seating
The AMEX Centurion Lounge at SFO has been crowded on each of my visits. One of the less popular places to sit is the area near reception, so that's a good bet if you don't find seats in the dining area or the room to the right.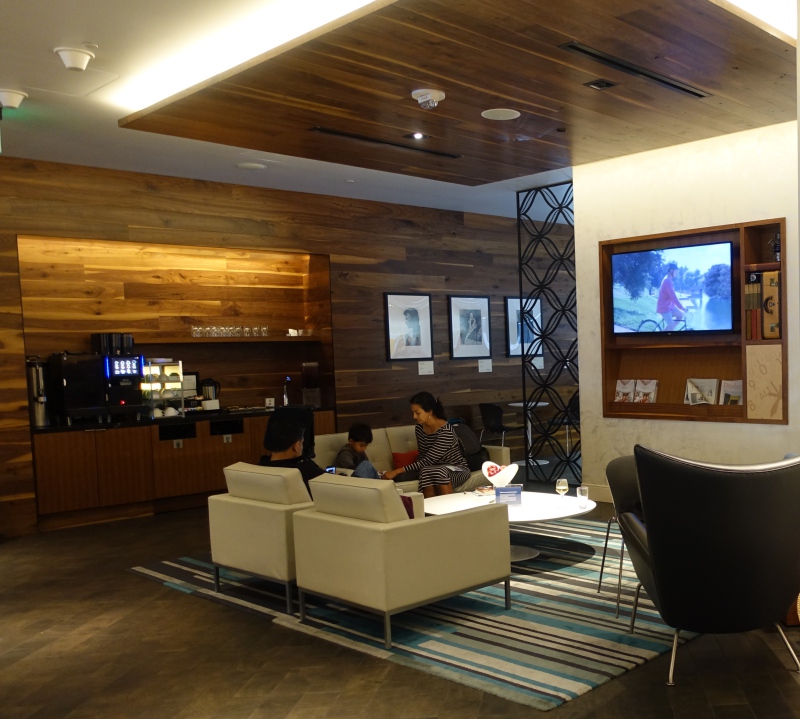 A bit before we left in the late afternoon the dining area was a bit less crowded, at least near the wine tasting area.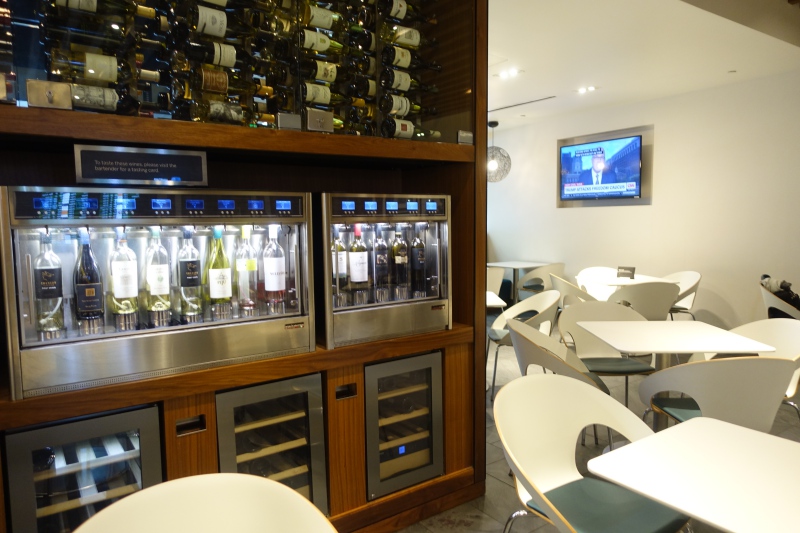 The room on the right, however, remained fairly crowded, except for the communal table.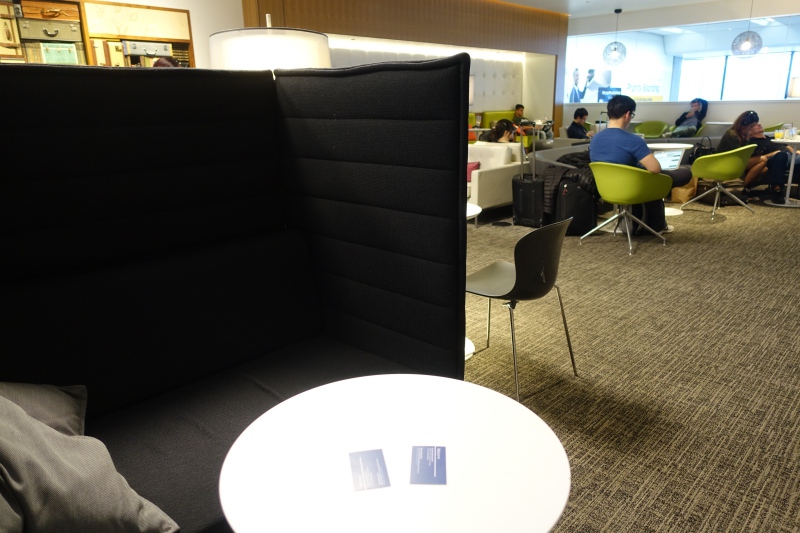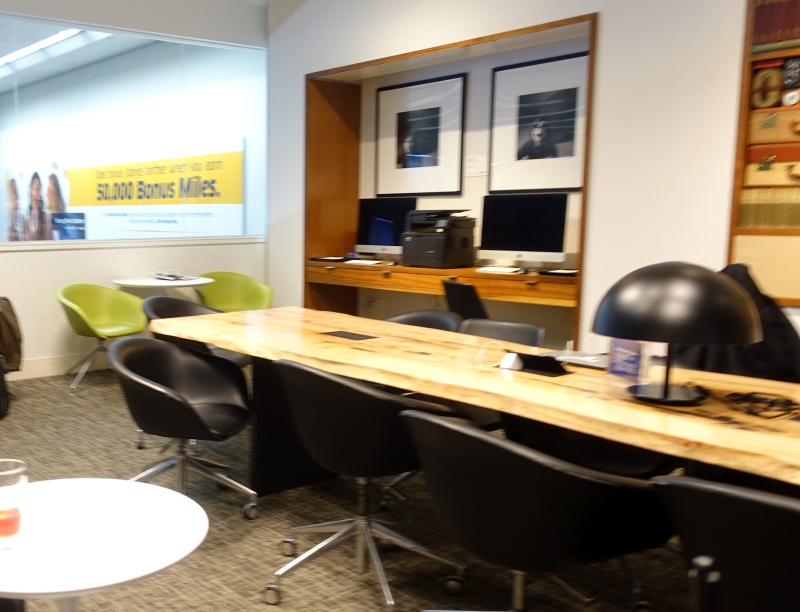 If you're craving a nap, your best bet is if you can find an unoccupied day bed. There are three of them if you walk to the area behind the seating area in the reception area.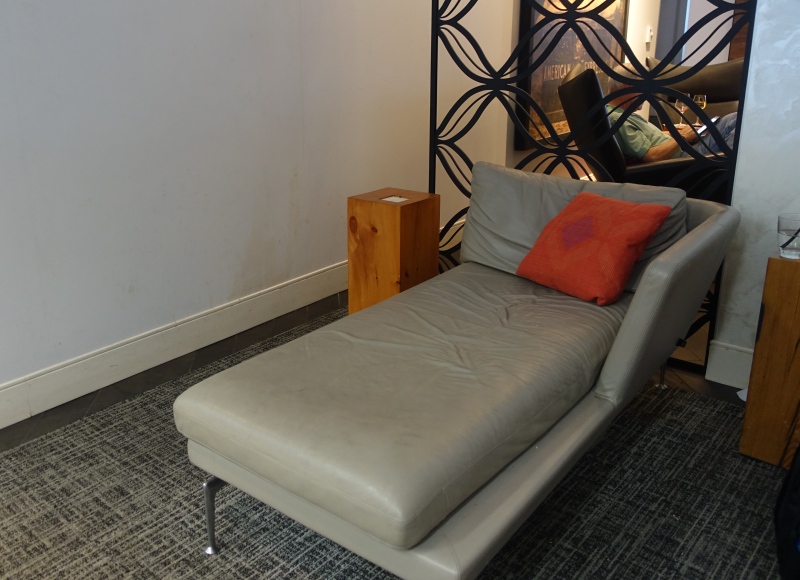 Fortunately WiFi has always worked well on my visits. There are also lockers available for baggage, although I've never had occasion to use them.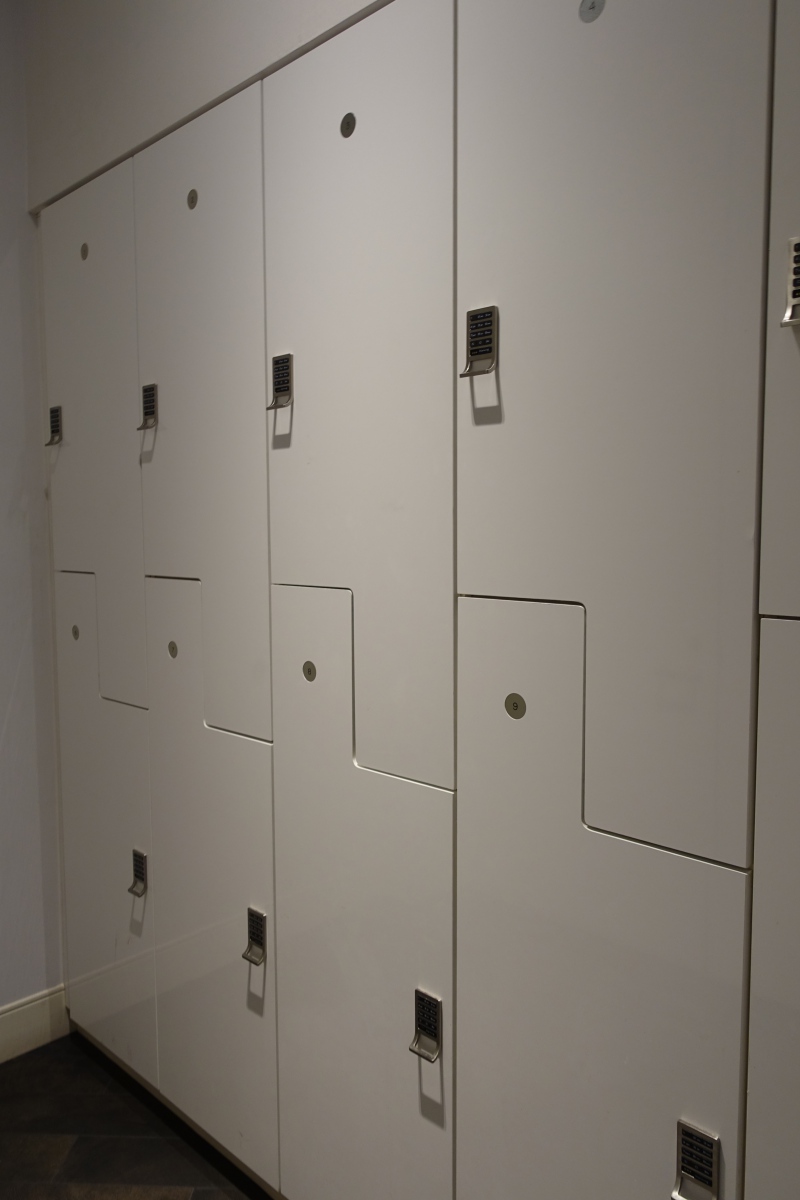 The one shower room is in high demand, so put your name down for it first thing if you want a shower. The women's bathroom was clean, and as with all Centurion lounges, uses L'Occitane hand wash and moisturizer.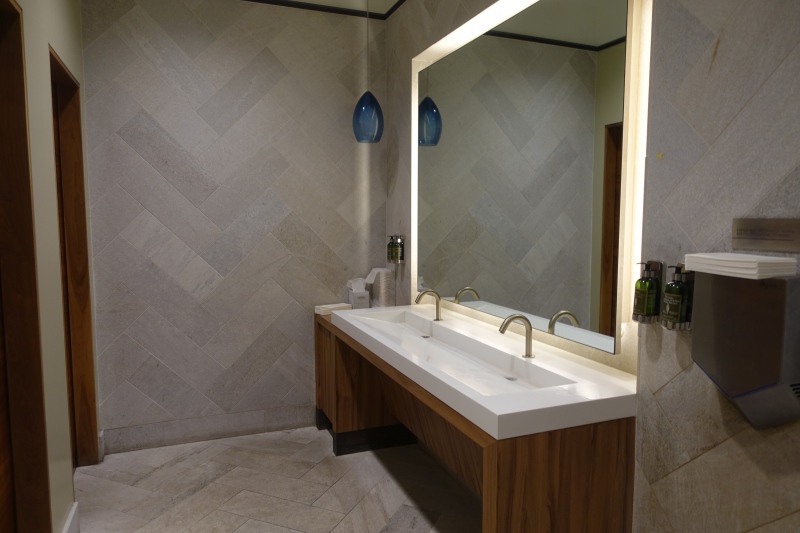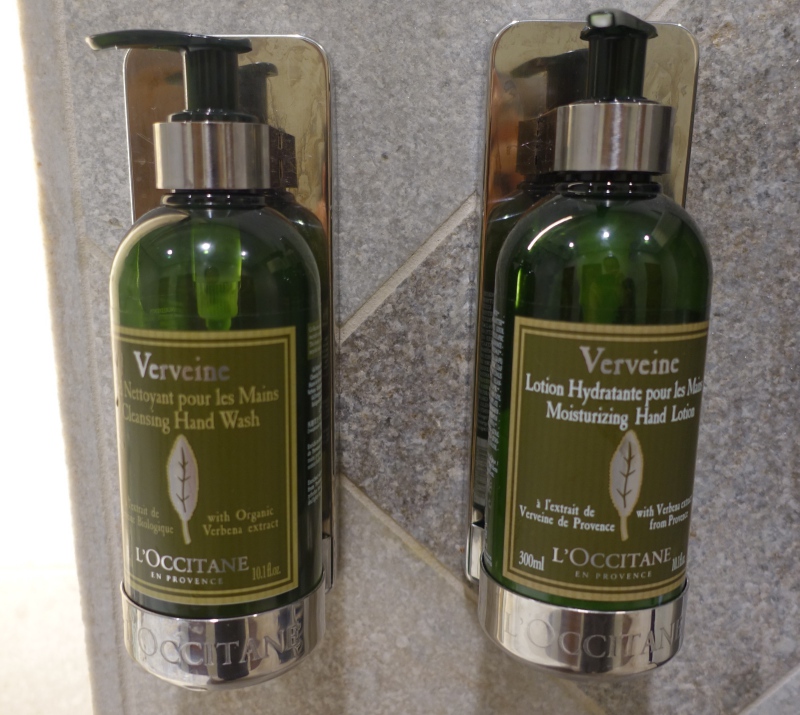 I don't usually pay much attention to pictures on the wall, but I thought the figures on one of them seemed vaguely familiar, and looking at the description found it was of Duran Duran on their first tour of the U.S., bringing back some 80s nostalgia.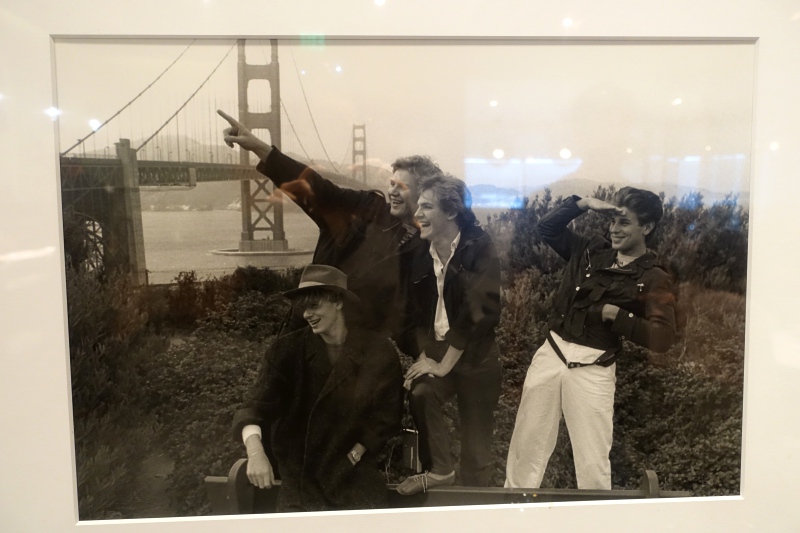 AMEX Centurion Lounge San Francisco SFO Food and Drinks
During our mid afternoon visit the lounge was serving savory food on its buffet. As on our previous visit, the only place we could initially find seating for all of us was in the dining area; my husband and son sat at a two-top table, while I took a seat at the communal table.
The buffet features a variety of vegetables, both as part of a salad bar, and also cooked vegetables such as sweet potatoes and brussels sprouts. This is something I really like, since other U.S. domestic lounges, if they serve food at all, often don't go beyond a few crudites or overcooked vegetables on the buffet.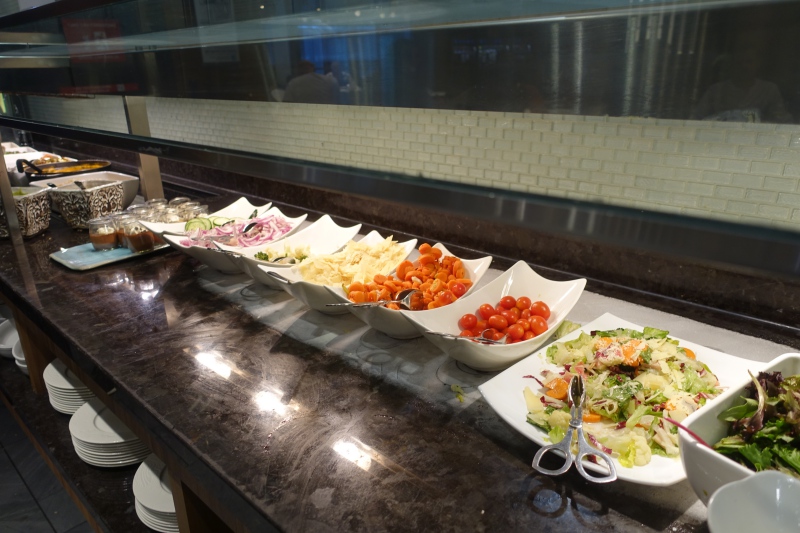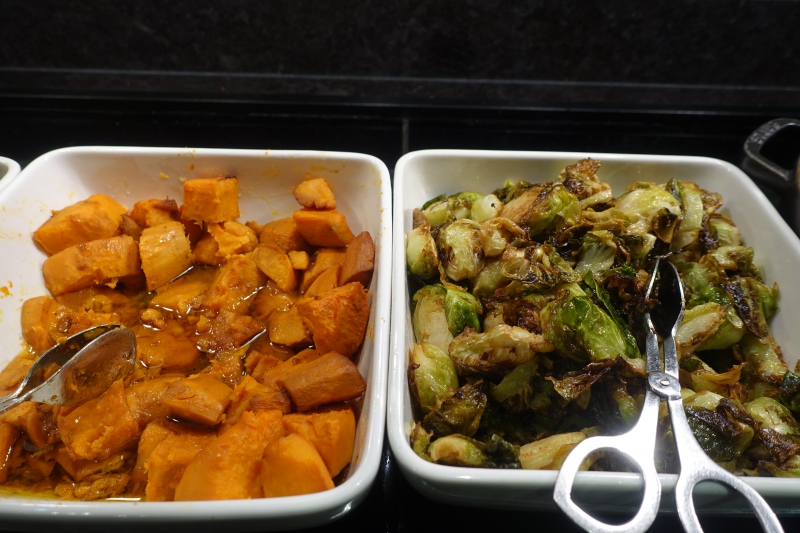 I also tried the grilled chicken and braised beef shank. The beef shank was especially flavorful, thanks to shiitake mushrooms in the gravy.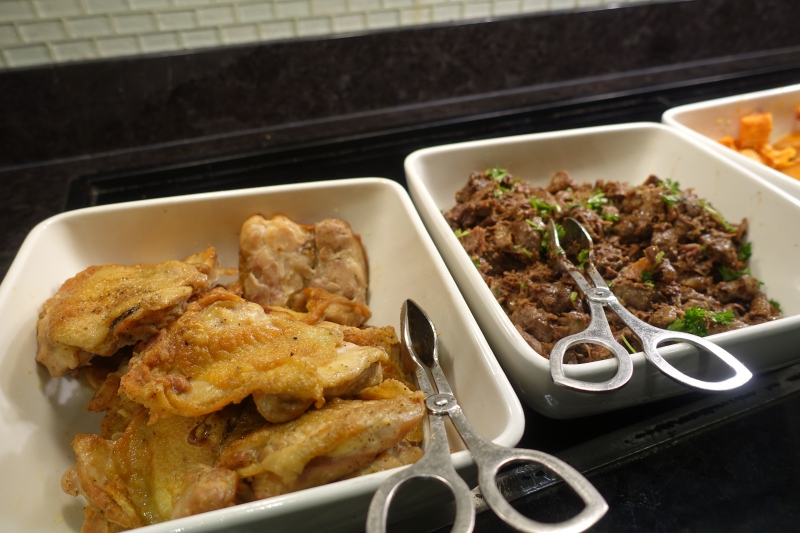 The beef went well with some Cabernet I tried as part of the 5 wine tastes. Simply go to the bar tender and ask for a receipt that you scan before pressing a button for a tasting portion. The bar code can be used a total of 5 times for 5 tastes.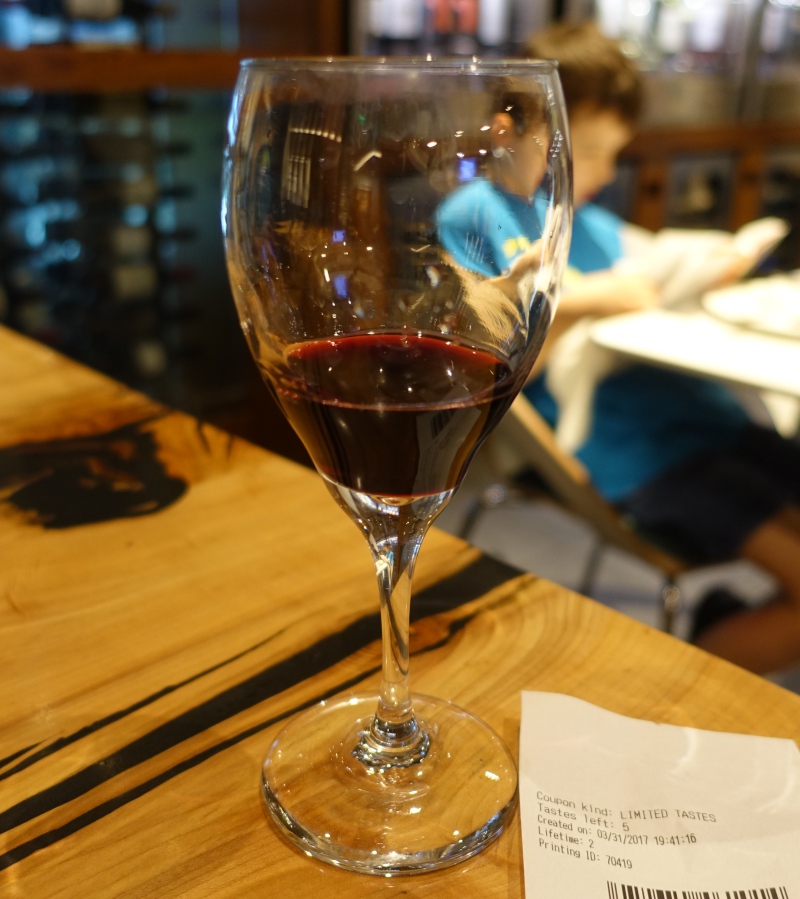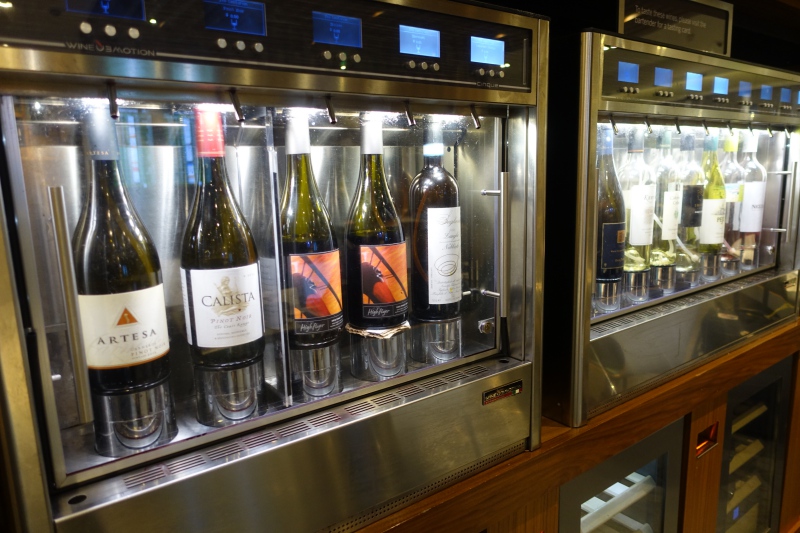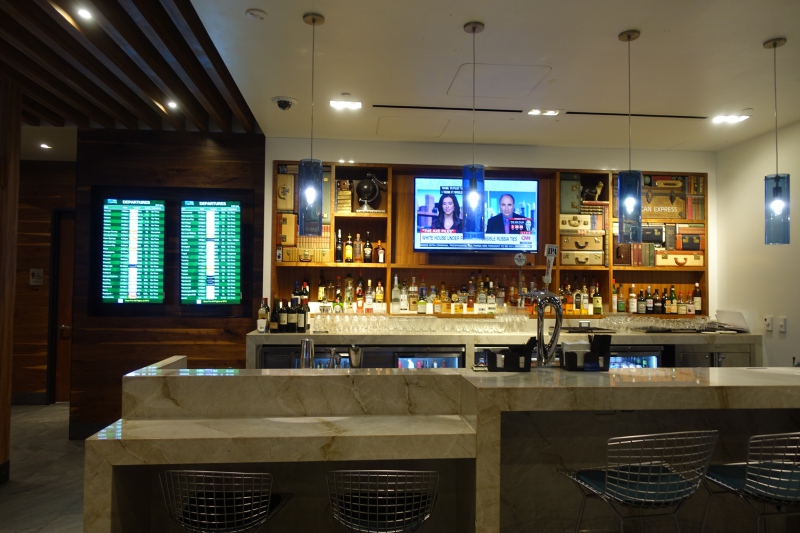 There's also a cocktail menu with creative cocktail creations by Jim Meehan, a founder of James Beard Winner PDT in NYC.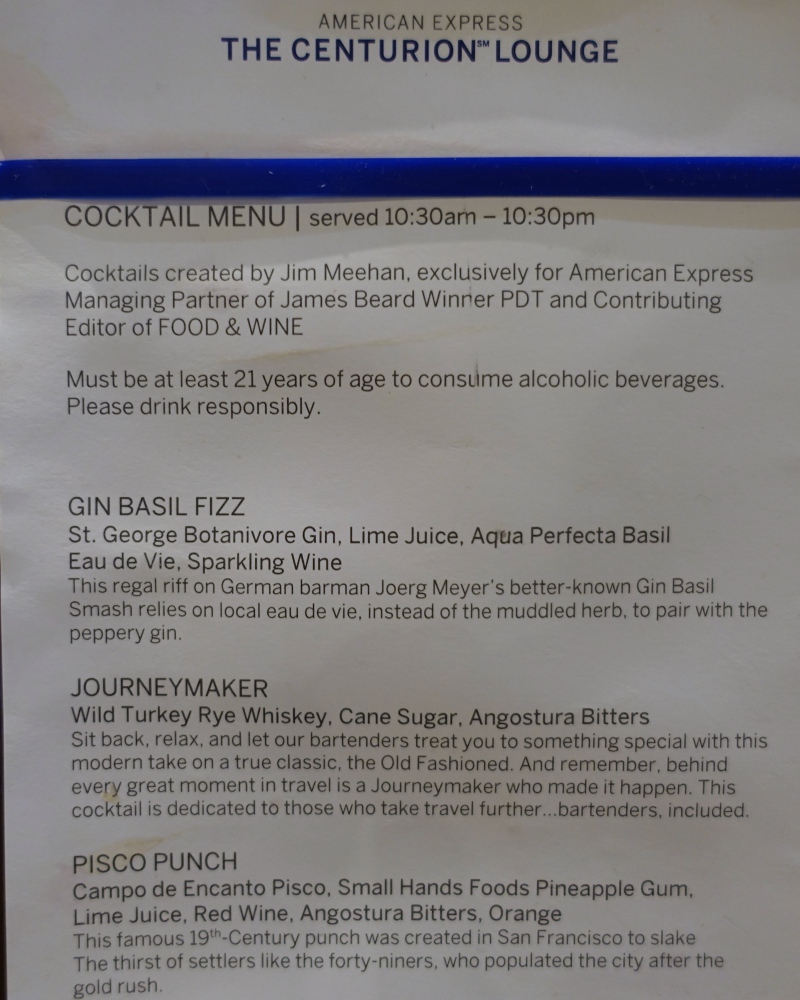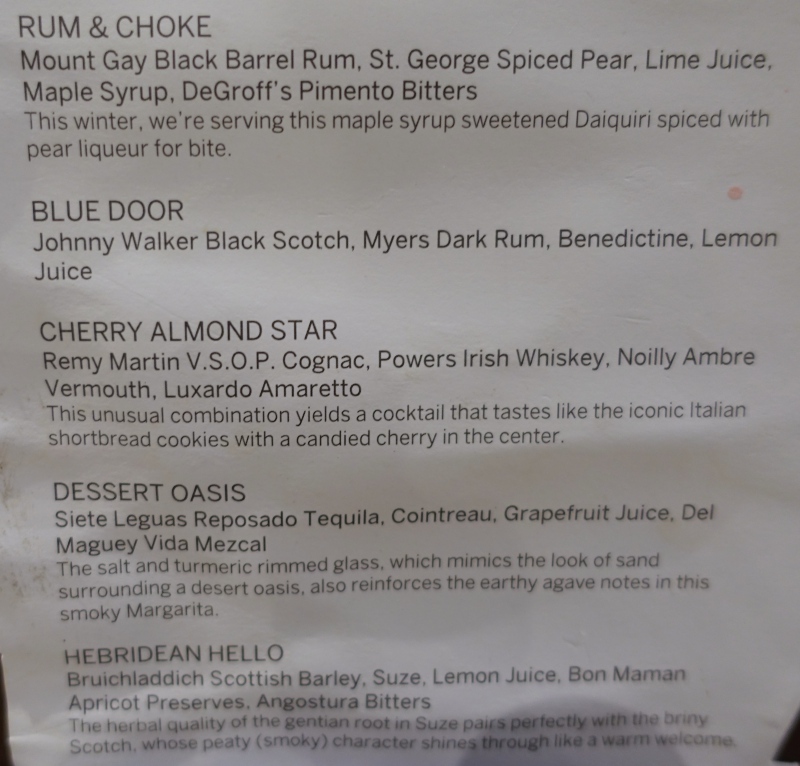 We tried the Gin Basil Fizz, which was delicious, although I think I'd prefer the muddled herb of his original Gin Basil Smash to lend an even more herbaceous note.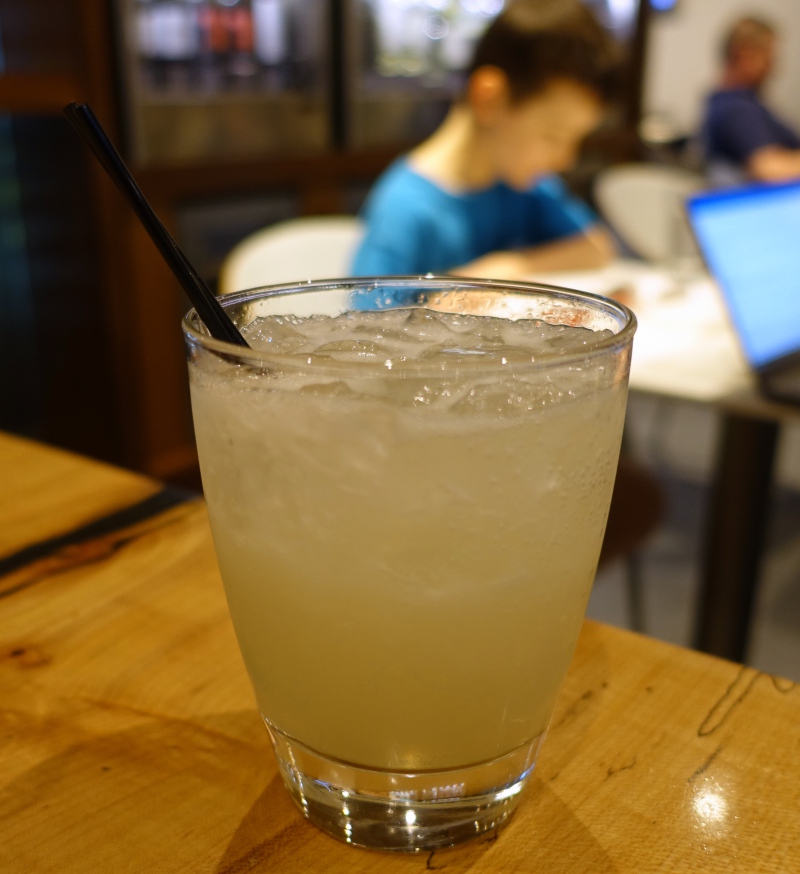 If you want something non-alcoholic, there's also infused water (melon infused, during our visit) and iced tea.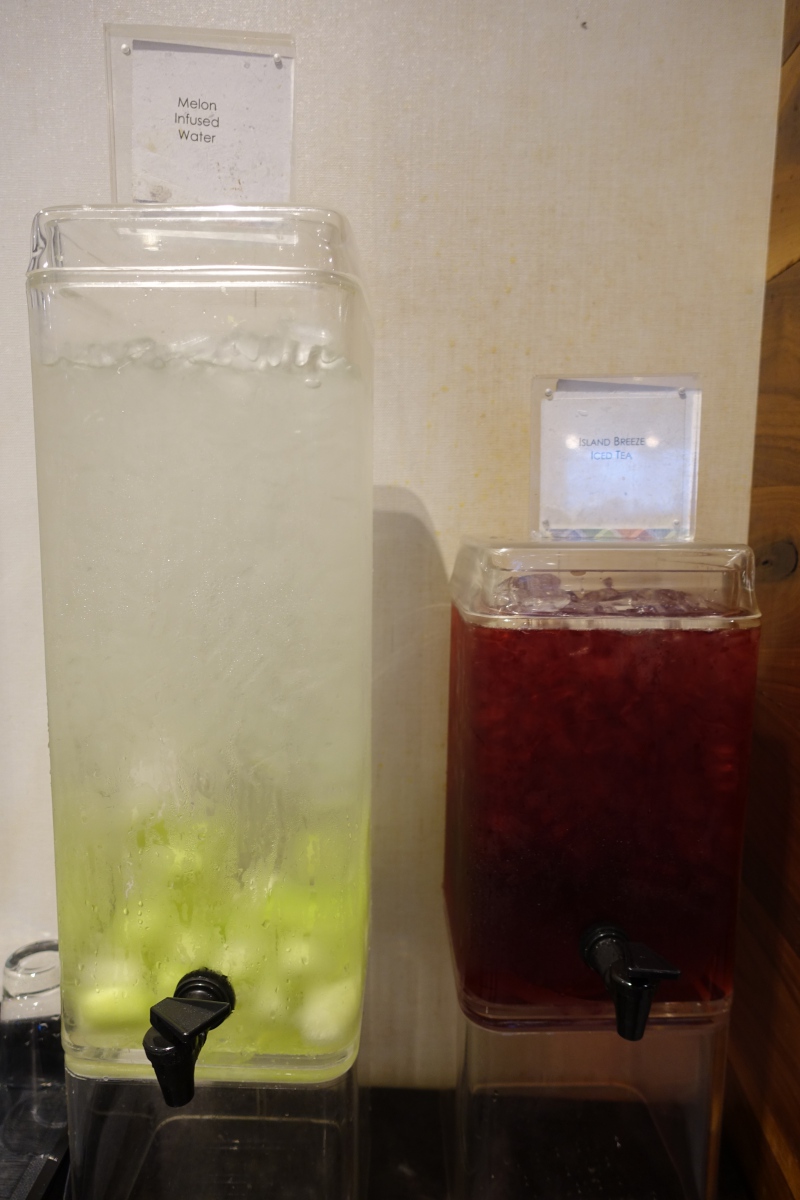 And of course there's tea (Twinings has unfortunately replaced Mighty Leaf) and an espresso drink machine.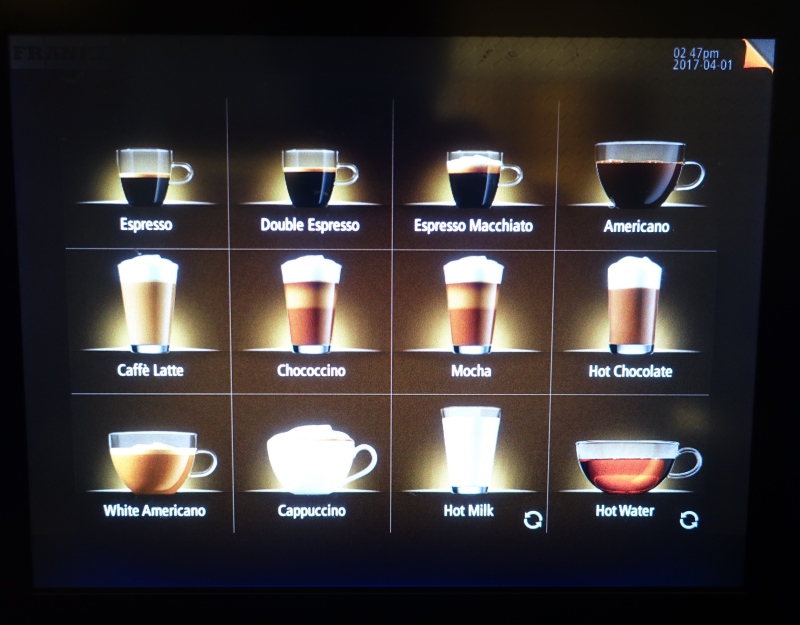 The Thai vegetable coconut curry was my husband's favorite. Vegetarians and those with shellfish allergies should note, however, that it contains shrimp, so it's not vegetarian.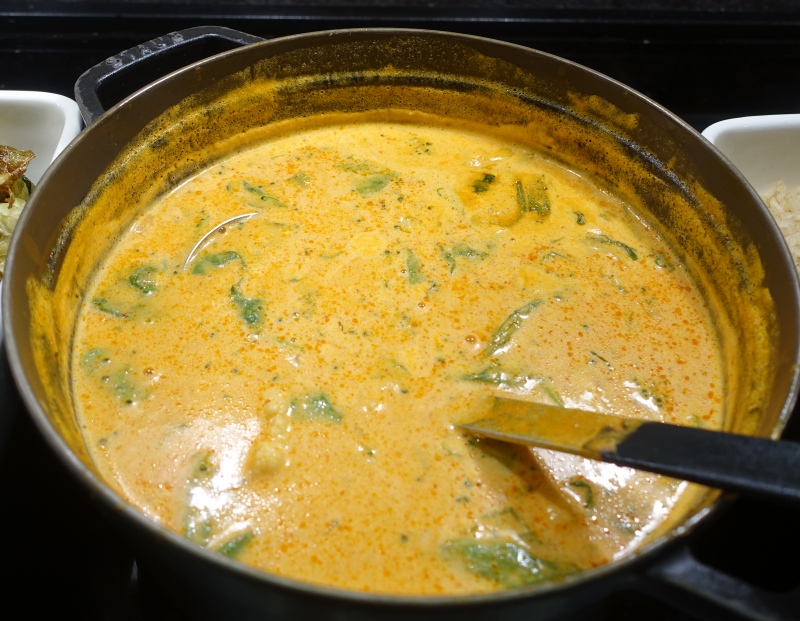 There was chocolate pot de creme for dessert, with great chocolate flavor.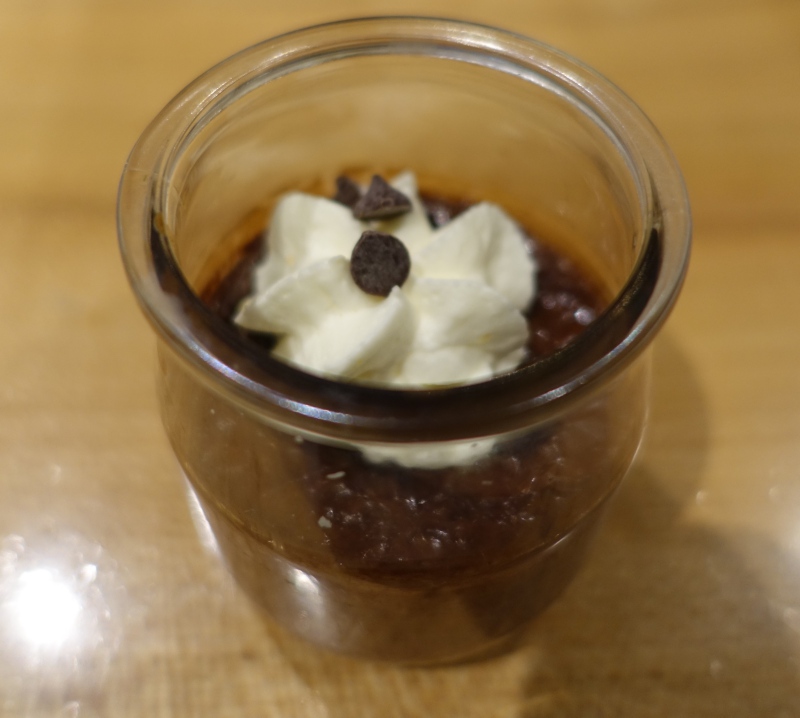 The Verdict
I enjoy the wine tasting feature at the AMEX Centurion Lounge SFO, since you just have to bother the bartender once and then can help yourself to your choice of the vintages on tap. The hot food buffet is also very good for a U.S. lounge, and similar in quality to what you might get on many international business class flights.
The problem, as with many Centurion lounges, is that it's nearly always crowded, making the experience not as relaxing as it would be if it was a bit less crowded. That's what AMEX was presumably taking aim at with its restriction about bringing in no more than two guests period, including immediate family members, although I can't say I noticed any improvement this visit to the SFO lounge. In fact, I think our son was the only kid I saw in the entire lounge during our 1.5 hour visit.
If you've recently visited the AMEX Centurion Lounge in San Francisco Airport, what was your experience?
Related Posts
Hotel Review: Ritz-Carlton San Francisco
Ritz-Carlton San Francisco Club Lounge Review, 2017
Gary Danko San Francisco Restaurant Review, 1 Michelin Star
Hyatt Regency San Francisco Airport SFO Hotel Review
Review: St. Regis San Francisco, 2017
Need Award Booking Help? Our fee is as low as $75 per ticket if you book your hotel or cruise with TravelSort.
If you enjoyed this, join 200,000+ readers: please follow TravelSort on Twitter or  like us on Facebook to be alerted to new posts. 
Become a TravelSort Client and Book 5-Star Hotels with Virtuoso or Preferred Partner Benefits