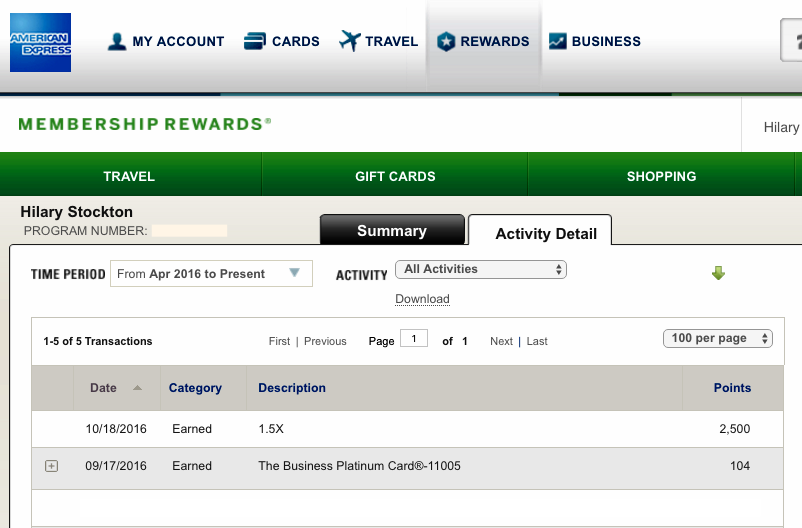 AMEX Platinum added a 5X airfare benefit effective October 6
2016, and the AMEX Business Platinum added a 1.5X earning rate for transactions of $5000 or more. I was pretty disappointed that the AMEX Business Platinum, which is the one I have, didn't gain the 5X airfare benefit, as 1.5X just on purchases of $5000 or more seemed pretty paltry to me by comparison.
Fortunately, on October 16, AMEX also unveiled
2X AMEX Membership Rewards points at small businesses
. This is effectively an additional Membership Rewards point, because you do *not* earn double points on category bonuses. Still, since I had a $5000 bill from a small business vendor, I was happy t o learn that I would be able to earn 12,500 points for the purchase, instead of 5000 points (prior to October 6, 2016) or 7500 points (before 2x at small businesses was announced).
Note that for the 2X on small business purchases, per the terms the points will post within 10-12 weeks after the end of the offer period, which is 10-12 weeks after
12/31/16
. So while I certainly hope they'll post sooner, those are the terms.
Fortunately, the 50% extra points for AMEX Business Platinum purchases posts within a day of the transaction. In the screenshot above are the 2500 points, which have already posted to my Membership Rewards account.
Another interesting bit of news is that AMEX will still be making improvements to the AMEX Platinum (and hopefully the AMEX Business Platinum as well) in 2017, per AMEX's 3Q Earnings call, which was discussed on
Reddit
, bolding and parentheses mine: