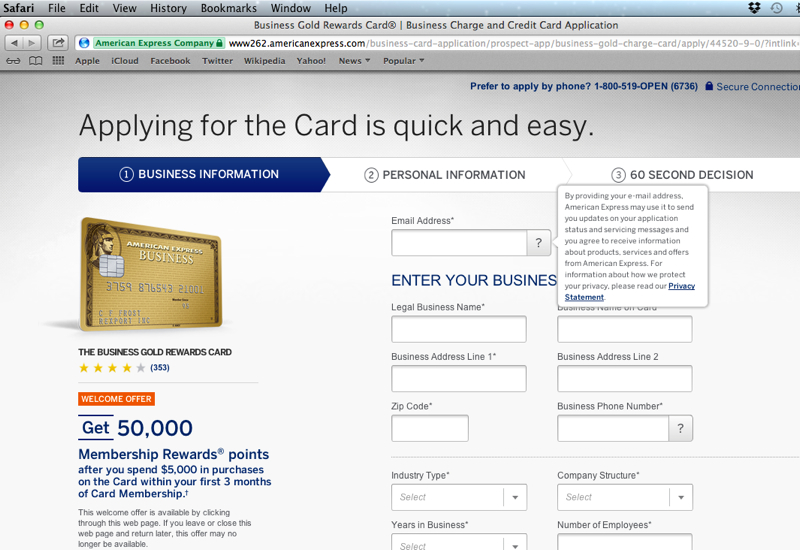 AMEX Business Card Signup Bonuses Are Now Once In a Lifetime, effective today. Back in May 2014 AMEX changed AMEX consumer credit card signup bonuses (see AMEX Signup Bonuses Becoming Once in a Lifetime).
As you can see in the screenshot below, the terms and conditions, in this case for an AMEX Business Rewards Gold Card, read "Welcome bonus offer not available to applicants who have or have had this product."

And here's the same language for the 40K AMEX Platinum Business Card:

Clearly Chase isn't the only issuer cracking down on credit card churning, with its 5/24 rule coming soon to its Ink Plus and co-branded cards (see Chase 5/24 Rule and Why to Get the Ink Plus Now).
And it does stand to reason, from an issuer's standpoint–why would you reward customers that are gaming the system, instead of those who have loyally held your card? In fact, in many ways it's quite something that these changes haven't come sooner.
Still, I wouldn't be surprised if those who have never had AMEX cards or have had just one AMEX card are given even more lucrative targeted offers by AMEX, such as the 150K AMEX Business Platinum offer, since presumably these anti-churning measures will reduce the number of new cards issued.
Best Ways to Earn AMEX Membership Rewards Points Now That Bonuses Are Once in a Lifetime
So now that getting an AMEX signup bonus again is out the window, what are the best ways to earn Membership Rewards points?
1. Get the AMEX Cards You Haven't Had Before
It's obvious, but now that you can no longer earn the signup bonus for an AMEX card, including AMEX business cards you previously had, AMEX cards that you've never had start looking more attractive. In our case, neither my husband nor I has ever had the AMEX EveryDay Preferred card, so we'll be looking for a higher targeted offer such as the 30K AMEX EveryDay Preferred Targeted Offer.
2. Category Bonuses
The AMEX Platinum card doesn't have any category bonuses, but the AMEX Premier Rewards Gold and AMEX Business Rewards Gold card (if you choose airfare as your 3X category) offer 3X for airfare spend when purchased directly from the airline. For anyone making significant airfare spend, that can add up. Also keep in mind that if you purchase AAdvantage miles, American Airlines actually processes the transaction (unlike most buy miles offers, which are processed by points.com) so in the case of buying AAdvantage miles, say to top up your account and redeem for awards before the 2016 AAdvantage Award Chart Devaluation, you'd earn 3X on the purchased miles.
3. Transaction Bonuses
The AMEX EveryDay Preferred Card earns you 50% more points for each billing cycle where you make 30 or more purchases. Since the card earns 3X at U.S. grocery stores up to $6000 in purchases per calendar year, this is a way to earn 4.5X per dollar spent on groceries, as long as you make at least 30 transactions per billing cycle–not that hard in a place such as NYC, where you can use a credit card for just about any small purchase, whether an apple at Whole Foods or refilling your MTA metro card.
4. Manufactured Spend / Buying Goods and Reselling
I personally don't have time for manufactured spend or buying goods to resell them on Amazon or eBay, but certainly there are folks that do generate a lot of points this way.
5. "Buying" Points with Spend
If you value Membership Rewards points highly enough, it may be worth it to pay the fee to use your credit card to pay fees such as school tuition (although see Pay Tuition with a Credit Card: Worth It?) or even taxes, which depending on the processor you choose can be as low as 1.87%. For most people that's too much, but if you exclusively transfer AMEX Membership Rewards points to Singapore KrisFlyer and redeem for Singapore Suites A380 awards, it may very well be worth it to you.
6. Retention Bonuses
With the likely decrease in new credit card applicants, AMEX just may offer enhanced retention bonuses, at least if you're deemed to be a customer worth retaining.
What do you think of this change, that AMEX business card signup bonuses are now once in a lifetime?
Related Posts
50K AMEX Premier Rewards Gold Card Bonus Offer
Which New Travel Credit Cards We Plan to Apply For
Airline Credit Cards or Hotel Credit Cards a Better Deal?
50K AMEX Business Gold Offer: How to Get It
Need Award Booking Help? Our fee is as low as $75 per ticket if you book your hotel through us.
If you enjoyed this, join 200,000+ readers: please follow TravelSort on Twitter or like us on Facebook to be alerted to new posts.
Become a TravelSort Client and Book 5-Star Hotels with Virtuoso or Four Seasons Preferred Partner Amenities!