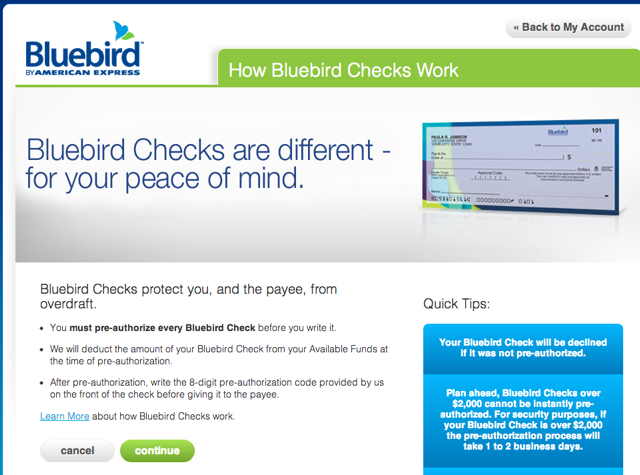 Update: AMEX has extended its free checks offer until 8/13/13. I've also had a chance to test Bill Pay, and so far it's worked great and recognized all my payees, for example Chase Bank, Barclay's Bank, FIA Card Services, etc.
________Original Post________
American Express Bluebird is more useful for earning miles and points if you have easy access to Vanilla Prepaid Reload cards that you can buy with a miles or points earning credit card, and/or if you're close to a Walmart so that you can use a gift card PIN to load your AMEX Bluebird for free at a Walmart.
Since there's no Walmart in NYC and Vanilla Reload cards are incredibly scarce at CVS stores, I haven't bothered with AMEX Bluebird. But recently I came across just a few Vanilla Reload cards, so I bought them and finally ordered an AMEX Bluebird card. My other motivation for doing so now is that you can order free Bluebird checks until May 21, 2013.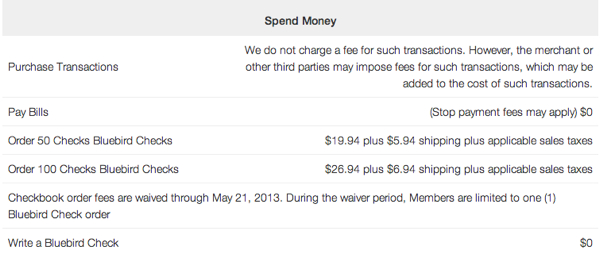 On the offchance you don't yet have an AMEX Bluebird card, keep in mind that you must first receive your permanent Bluebird card, in order to be able to log on and order Bluebird checks. And it can take 7-10 business days to receive your Bluebird card after registering online, so that means you want to register for Bluebird by May 6 just to be on the safe side, if you want to be able to order your Bluebird checks for free.
I also recommend that you order 100 checks, since you're only allowed one free check order and you may as well get enough to last you awhile.
1. Log in and Activate Your Bluebird Card If You Haven't Already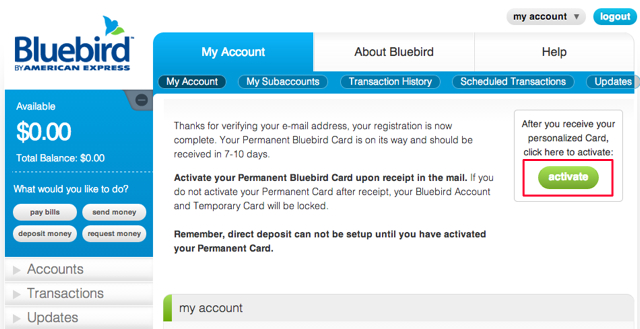 2. Under "My Account" Select "Order Bluebird Checks" From the Dropdown Menu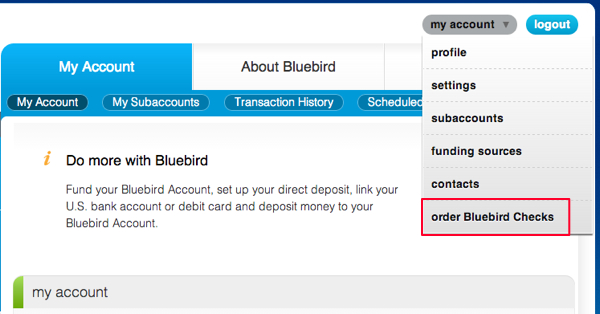 3. Confirm Your Address and Order 100 Free Bluebird Checks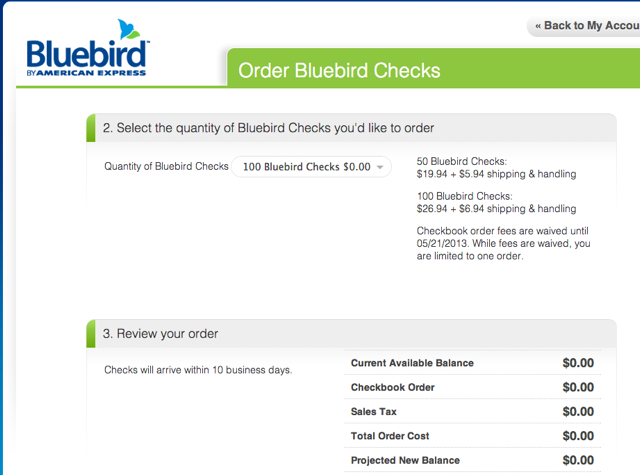 Why Order AMEX Bluebird Checks?
The great thing about having your own AMEX Bluebird checks is that you're more in control of ensuring that whomever you're paying gets the check in time. I for one wouldn't have relied on Bluebird to send out rent, utility or IRS payments in time, although of course many people have successfully used Bluebird's Bill Pay service. But once you have your own checks you can use whichever mail or shipping service you find to be most reliable, or of course hand it to someone if it's a local payee. A few things you might consider using Bluebird checks for, since if you loaded via Vanilla Reloads or debit cards you will have earned miles or points:
Rent or Mortgage

Utilities (and remember, do NOT switch to Energy Plus!)

Contractor for house remodeling

Housekeeper

Babysitter or childcare help

Tax payments

Vendors for weddings or events, if they don't take credit cards

Other small businesses or individuals you buy something from
How To Write Bluebird Checks
1. Pre-Authorize a Check
Log into Bluebird and click the "Pre-Authorize a Check" button

Enter the 4 digit check number (upper right corner of the check)

Check amount
For check amounts under $2000, there is instant pre-authorization.
2. If Writing an Amount for Over $2000, Wait Up to 2 Business Days for the Pre-Authorization
Make sure to take this time delay into account if you plan to write a sizable check, for example for rent, mortgage, tax etc. payments.
3. Fill in All Check Information
Pre-Authorization Code

Pre-Authorization Date

Check Amount

First and Last Name, or Company Name for Payee

Your Signature
When Do Checks Expire?
Checks expire 180 days from preauthorization, regardless of your account balance. So advise the person or company you're paying to cash the Bluebird check within that time frame.
Have you ordered your free AMEX Bluebird checks?
Related Posts
Gift Card PIN: Use as a Debit Card to Load AMEX Bluebird
Chase Ink Bold: Use AMEX Bluebird?
Use Amazon Payments to Meet Minimum Spend
Top Tips to Meet Minimum Spend on Credit Cards
Need Award Booking Help? Our fee is as low as $75 per ticket if you book your hotel through us.
If you enjoyed this, join 90,000+ readers: please follow TravelSort on Twitter or like us on Facebook to be alerted to new posts.
Become a TravelSort Client and Book 5-Star Hotels with Virtuoso or Four Seasons Preferred Partner Amenities!