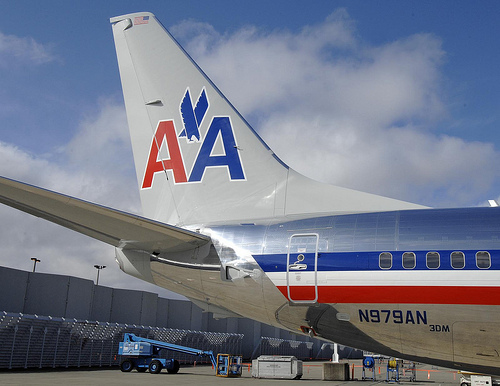 Our family trip in the Dominican Republic started well—we got there without incident and had a great time at Club Med Punta Cana. It was the return trip that put us into Travel Hell.
We were on an NYC-bound American Airlines flight that was to leave Punta Cana at 3pm, arriving in JFK, where we would connect to our flight home to Boston. Well, 3pm came and went, with no explanation for why the flight was delayed. Then 4pm rolled around. No info. The flight was full of New Yorkers, who started to get fractious, demanding to know what was going on. Eventually, there was an announcement that the delay was due to "mechanical problems" but with no elaboration on how serious they were or any kind of ETA given.
5pm, then 6pm came and went—still no more clarity. Finally the gate staff started handing out some meal vouchers, prompting massive crowding, pushing and shoving since there was no organization in handing them out. We were lucky enough to get vouchers, although it seemed as though they ran out and not all passengers received them.
7pm, 8pm came and went—no sign of a working plane or imminent boarding.
Finally, at 9pm came the announcement that they'd put up passengers overnight somewhere, and again, since the process was completely disorganized, a crazy shoving match ensued as people tried to figure out where they would go, how to get their checked baggage back (since it had already cleared customs), etc.  We opted instead to go back to Club Med, even though it meant getting up early to be back at the airport the next morning, Sunday, at 6am.
6am, of course, was a cruel joke—we continued to wait and wait—7am, 8am, 9am, the hours ticked by. Finally, at 10am they bussed us all out to the plane, on the tarmac. We were just in time to witness the pilot, who had been doing his walk around, notice fuel dripping onto the engine and engage in a heated argument with the maintenance workers, declaring that under no circumstances would he fly this plane.
So, we were bussed back to the terminal for yet more waiting. By this point, a few of our NY fellow passengers had had enough and decided to take matters into their own hands. Some of them called media contacts in NYC to try to get bad press coverage of AA's handling of the situation. And one passenger actually snuck into one of the AA offices, obtained the phone number of AA's Operations Center, and called to complain and demand that they fly a new plane to Punta Cana to take us back.
Soon thereafter, there was an airport announcement admonishing "whoever is calling American Airlines Operations Center, stop doing so." Nevertheless, what the passenger was demanding is exactly what AA ultimately did, although only late that afternoon did the new plane from Miami actually arrive.
We ended up not departing until 7pm, and arrived at JFK 11pm, of course too late to get a flight to Boston, so we rented a van to drive. After we had loaded up the van and tried starting it, we discovered the engine was dead, so we had to unload everything and rent a different vehicle. We arrived utterly exhausted at 4am Monday morning, a few hours before my husband had to leave for work. So much for coming back from vacation relaxed and rejuvenated!
Only after dashing off a fiery complaint letter to AA did we receive some meager compensation–$250 in travel vouchers per person. Never mind that flying AA again was the last thing we wanted to do after that experience.
Have you had a similar experience with AA or another carrier? Share yours in the comments . . .
If you enjoyed this, please follow TravelSort on Twitter, like us on Facebook or become a Member to be alerted to new posts.
Photo: boeingdreamscape