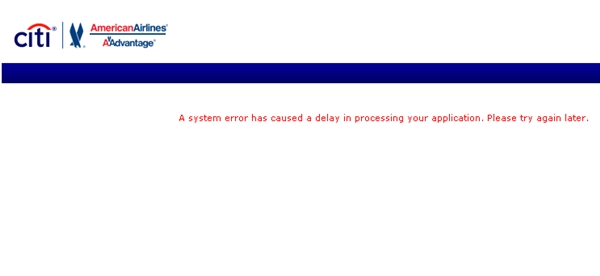 Update: There are new Citi AAdvantage offers with 50K bonuses, so you can easily pick up 100,000 AA miles if you missed out on the 75K offers.
We had previously written about the American AAdvantage Citi 75K bonuses available for both the Visa and Amex cards, through "expired" links that still worked, in The Best Credit Cards for Sign-Up Bonuses and Everyday Spend. Well, unfortunately, as of today, the links no longer seem to work for either of them-consider it dead, although if you manage to somehow get it to work, we'd love to hear otherwise.
Given that these 75K offers appear to be dead, we think the best signup offer still available is the Chase Sapphire Preferred Card, which still offers a 50,000 point signup bonus, and is also great for putting dining and travel spend on since these accrue double points. Current transfer partners include Amtrak, British Airways, Continental Airlines, Hyatt, Priority Club, Korean Airlines and Marriott, and soon, United Airlines(although since our post on this, the United logo has been removed–guess they're still working on the integration).
You could also apply for the British Airways Signature Visa, which is offering a 50,000 mile bonus; the reason most bloggers aren't recommending this is that earlier this year, and in the past, there have been 100,000 mile bonus offers, so 50,000 can seem paltry compared to the prior offer.
But here's where it might make sense, at least if you have a lot of credit card spend. Let's say both you and your spouse or partner missed out on the prior offer, and neither of you has the card. You could both apply for the BA Visa now, collect your bonus after you each make your $2500 in qualifying spend, and also each pick up 50,000 Ultimate Rewards points with the Chase Sapphire Preferred Card ($3000 spend). If you're able to do this within the next month, you could just manage to each get 100,000 BA miles (by transferring your 50,000 Ultimate Rewards points to British Airways). That's enough to get a business class award flight on Cathay Pacific to Asia, before British Airways changes their award chart. For actually booking a Cathay award using BA miles, see our post Time to Redeem BA Miles for Cathay First Class.
Meanwhile, we're still hoping for some other bigger credit card bonuses; the current 25K bonus for the AMEX Platinum, 25K bonus for the Starwood Preferred Gold, 15K for AMEX Premier Gold and the handful of other bonuses out there just don't excite us.
Check out and apply for the Best Travel Credit Cards.
If you enjoyed this, please follow TravelSort on Twitter or like us on Facebook to be alerted to new posts.
Become a Member to find your perfect luxury or boutique hotel at up to 50% off: TravelSort Hotels