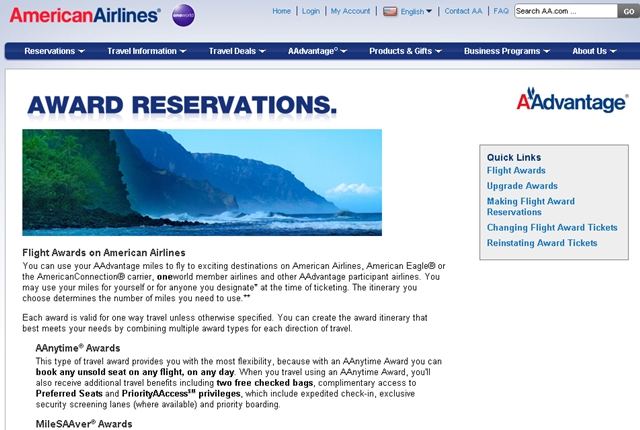 We've touched on American Airlines award fees in Maximizing Awards Using American AAdvantage Miles and Comparing Airline Award Ticketing Fees and How to Avoid Them but I still get questions on AAdvantage award fees and how to avoid them, so figured it was time for a dedicated post.
Telephone Booking Fee: $25
There's a $25 phone booking fee, and it's only waived for Executive Platinum members. While you can easily avoid it by booking American Airlines and Alaska Air awards online, unfortunately you're stuck paying it for all other oneworld and partner award bookings, unless you're Executive Platinum. Even if you don't fly 100,000 miles a year on American to reach Executive Platinum, if you have top-tier elite status on another airline you may be targeted for a status match to AAdvantage Executive Platinum. If you don't have top tier status, you can do a paid challenge, but unfortunately it's usually limited to Gold and Platinum only, not for Executive Platinum.
Close-In Ticketing Fee: $75
A $75 fee is charged if you book your award ticket within 21 days, but this fee is waived for all AAdvantage elites: AAdvantage Gold, Platinum or Executive Platinum. Since some companies provide AAdvantage Gold status to their employees, check to see if you can get this status, even if you don't fly enough to earn it.
Changes to Origin or Destination: $150
A steep $150 fee applies if you're changing the origin or destination on a MileSAAver award. This fee is waived for AAdvantage Executive Platinum members using miles from their account. If you're on an AAnytime award (usually double the miles required) then there's no fee to change to an eligible origin or destination.
Change to a Different Class of Service: $150 Redeposit if Downgrade
For some reason this isn't clearly clearly spelled out on the American Airlines site, but the way it works is that if you downgrade your class of service, you would have to pay the $150 redeposit fee and rebook. Keep in mind the close-in ticketing fee of $75 if you're departing within 21 days and don't have AAdvantage elite status.
If, however, you're upgrading your class of service, for example going from Cathay Business Class to Cathay First Class, there's no fee charged for the upgrade in class of service and you simply pay the difference in miles. Now, since it's not written down anywhere, it's possible you may run into an agent that will try to charge you the redeposit fee. I would politely end the call and keep calling back until you get a more helpful agent.
Redeposit Fee: $150
Although there's no cancellation fee, American does charge a steep redeposit fee of $150 per ticket, or $150 for the first ticket and $25 for additional rewards booked from the same AAdvantage account and redeposited at the same time. So if you think you may need to cancel an award and redeposit miles, if you have an enough miles, book them from the same frequent flyer account, and redeposit them at the same time so that at least you're paying $175 rather than $300 for the mileage reinstatement.
Avoiding Fees
Per Ri in the comments, you can avoid the $25 phone ticket fee even for partner awards (such as Cathay Pacific, LAN, etc.) by making a dummy award online, calling up to change the award, having the agent put the award on hold with a confirmation number, and then using the confirmation number to complete ticketing online. Thanks for the tip, Ri!
The best way to avoid the $150 redeposit fee if you need to cancel is:
1. Book the Ticket from an AAdvantage Executive Platinum account: There will be no redeposit fee even if the award was booked for someone else.
2. Reschedule your Flight: If you simply reschedule your flight to another date within the next year, you'll avoid
3. Wait for a Schedule Change: If there's a schedule change of 2 hours or more, you can request the redeposit fee to be waived because the new itinerary no longer works for you. Some folks have been able to successfully get the fee waived for smaller scheduling changes of even 30 minutes or so, but you may have to call back until you get an agent willing to accommodate you. If your departure date is approaching, you could change your date to several months out to allow more time for a scheduling change to occur and increase your chances of being able to avoid the redeposit fee.
Related Posts
Maximizing Awards Using American AAdvantage Miles
How to Fly Hawaiian from NYC to Hawaii with AAdvantage Miles
Best American AAdvantage Miles Bonus Offers Available Now
Use American Airlines AAdvantage Miles for Etihad First Class
Airline Ticket Name Change or Transfer to Another Person?
How to Find Oneworld Award Space
Check out and apply for the Best Travel Credit Cards.
If you enjoyed this, please follow TravelSort on Twitter or like us on Facebook to be alerted to new posts.
Become a Member to find your perfect luxury or boutique hotel at up to 50% off: TravelSort Hotels