Thank goodness for Amazon Payments, and being able to cash out gift cards bought to meet minimum spend. If, as with me, you don't have a Walmart anywhere nearby and so can't use that route to load gift cards onto your AMEX Bluebird, Amazon Payments enables you to send up to $1000 per month per adult in your household.
Normally I use credit cards, but recently, with the A&P, Pathmark, Food Emporium gift card deal (which ends today), I had a couple $500 gift cards that I preferred to cash out to get the funds back into my bank account quickly, rather than spending it.
1. Sign in to Amazon Payments
2. Go to Edit My Account Settings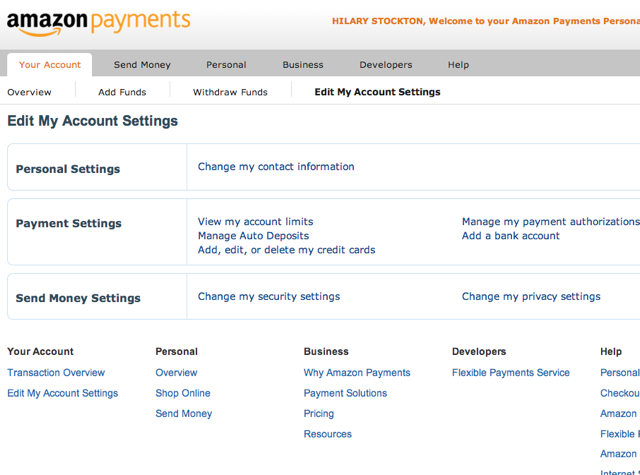 3. Go to Add, Edit or Delete My Credit Cards and Click on "Add New Card" Button
If you have a number of credit cards, you'll need to scroll down to see the yellow "Add New Card" button.
4. Enter Your Gift Card Details with the Wrong Expiration Date, Then Go Back and Edit to the Correct Date
Enter in your name, address and other details and the card details *except* use an incorrect expiration date.
The reason you first want to enter the wrong expiration date is that if you enter the correct expiration date and it is recognized by Amazon Payments as a gift card, Amazon Payments will hold $1 to authorize it, so you would only be able to send $499 in the case of a $500 gift card until the authorization hold is released. By instead entering the wrong expiration date, then going back in and correcting it, you avoid having this $1 hold placed on your gift card.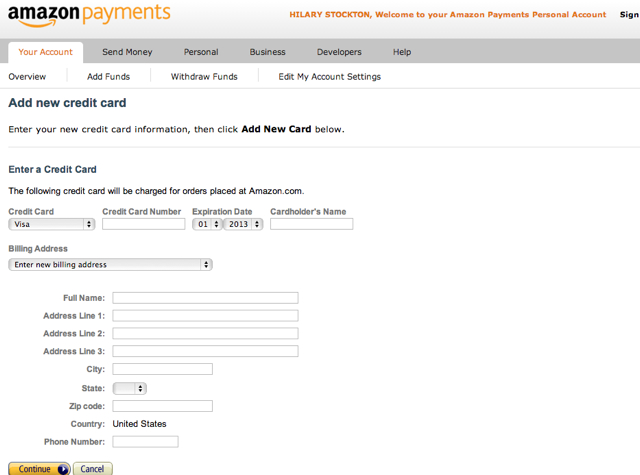 5. Select Your Gift Card When Sending Money
Remember that in order to be able to send $1000 per month, your recipient must have verified his or her bank account details and driver's license; otherwise you'll only be able to send $500 per month. Assuming you're sending the payment to your spouse, partner or trusted relative or friend, you can easily get the cash back into your bank account.
It's normal for the payment to initially show as pending, although mine have tended to go through within a couple of minutes.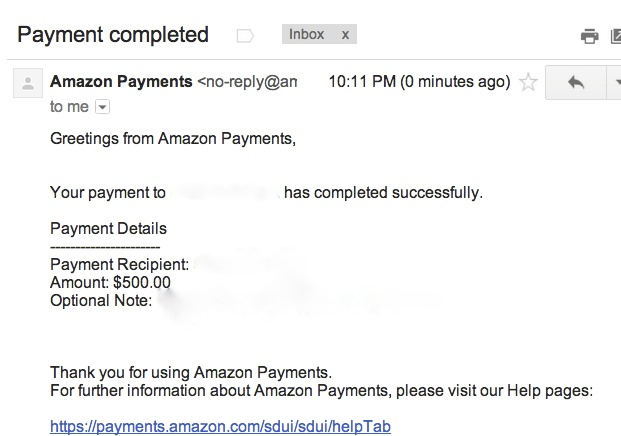 Have you used Amazon Payments to help cash out gift cards bought to meet minimum spend for a new travel rewards credit card?
Related Posts
Amazon Payments Shut Downs and Tips to Avoid Them
Use Amazon Payments to Meet Minimum Spend
Meet Minimum Spend on Credit Cards: Top 20 Tips
Gift Card PIN: Use as Debit Card to Load AMEX BlueBird or Get Cash Back
Need Award Booking Help? Our fee is as low as $75 per ticket if you book your hotel through us.
If you enjoyed this, join 90,000+ readers: please follow TravelSort on Twitter or like us on Facebook to be alerted to new posts.
Become a TravelSort Client and Book 5-Star Hotels with Virtuoso or Four Seasons Preferred Partner Amenities!