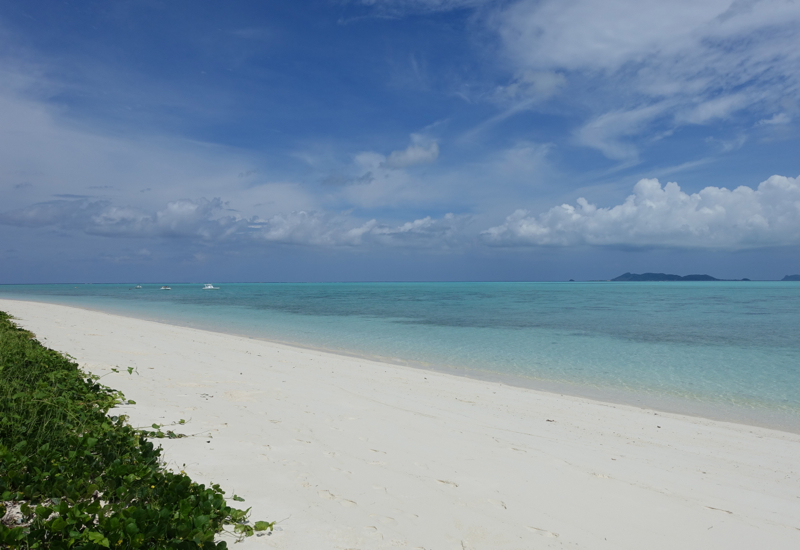 This Amanpulo Beach Casita review is part of a round the world trip report including first class and business class flights, luxury hotel stays in London and Asia, and restaurant reviews.
For the prior posts, please see:
Review: British Airways Concorde Room Lounge NYC JFK Terminal 7
Review: British Airways Business Class on the 747-400 JFK-LHR
Best Seats in British Airways New First Class 747-400
Review: British Airways Arrivals Lounge in LHR and Heathrow Express to London
Launceston Place London Restaurant Review
London Tips: British Museum with Kids
Review: Rivea at Bulgari London Hotel
Review: British Airways First Class Lounge London Heathrow Terminal 3
Qantas First Class A380 Review London to Dubai
Review: Atmosphere Lounge at the Burj Khalifa Dubai
Armani Hotel Dubai Photos and Virtuoso Client Review
Dubai Fountain by Burj Khalifa Photos and Video
Review: British Airways Galleries Lounge in Dubai (DXB)
Cathay Pacific Business Class Review A330-300
Review: Lung King Heen at Four Seasons Hong Kong
Review: The Upper House Hong Kong
Review: Cafe Gray Deluxe at The Upper House
Amanpulo is one of those bucket list destinations–a private island with a beautiful white sand beach, clear water, casually elegant stand alone casitas and villas, and legendary Aman service. Best of all, it's surprisingly accessible from Asia–just a couple hours from Hong Kong to Manila, then less than a charter flight of less than an hour. It's the perfect place to honeymoon or have a relaxing couple's or even family getaway, either on its own or after cultural exploration at Amanjiwo, Amandari, Amansara or Amantaka.
TravelSort Clients may book Amanpulo with these Virtuoso benefits:
Upgrade on arrival, subject to availability
Continental breakfast daily, for up to two in room guests
A complimentary lunch or dinner for up to two people per room, once during stay, excluding alcohol, taxes and gratuities
Early check-in/late check-out, subject to availability
Getting To Amanpulo
Amanpulo is located on its own private island, reached by a charter flight of about 1 hour from Manila. Arriving at Manila, you're met in the Arrivals area by an Aman representative, and ushered to an air conditioned chauffeured car for transfer to the hangar that the charter departs from. There's a small dedicated Aman lounge.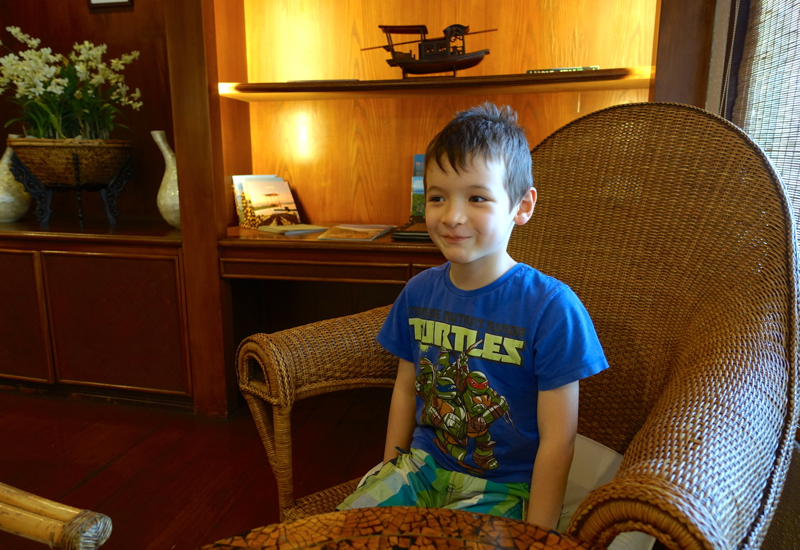 Soon, it was time to board our Island Aviation flight. The cabin isn't pressurized, so it's good that earplugs are provided. I'm not sure I'd take an infant or very young child on the flight, although another family had what seemed to be a 1 year old with them.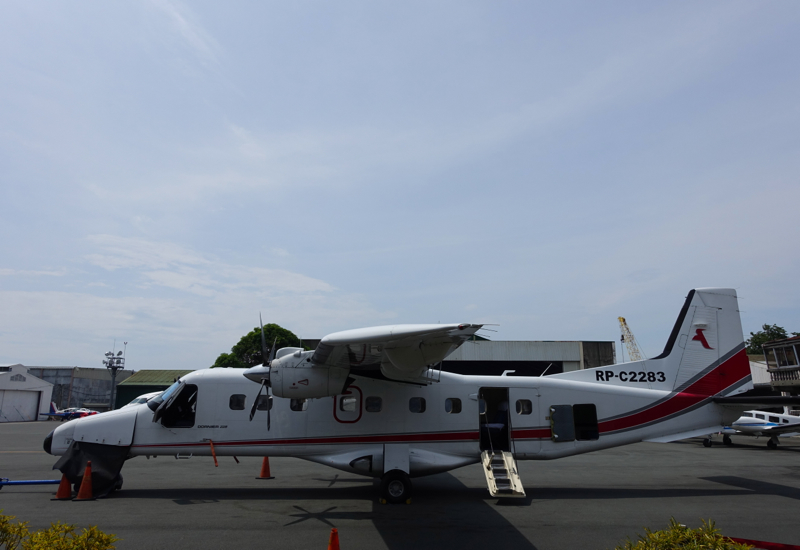 The views from the plane were beautiful–there was even a rainbow en route to Amanpulo, a fitting welcome to this private island paradise: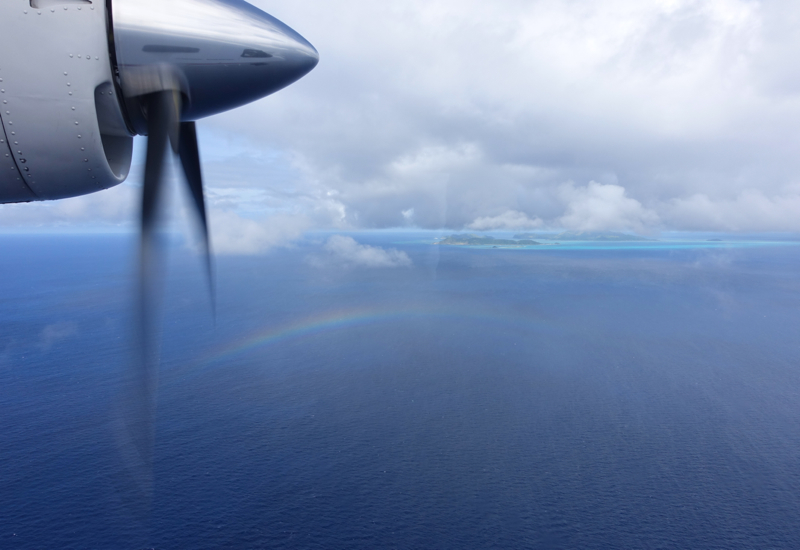 Although there was a slight drizzle when we arrived at Amanpulo, General Managers Tapa and his wife Jane and several others from the Amanpulo family were there to welcome us, with jasmine garlands and umbrellas handy. Jasmine is wonderfully fragrant, and also reminded me of the jasmine blossoms used at the tables in in the villas at Amanjiwo.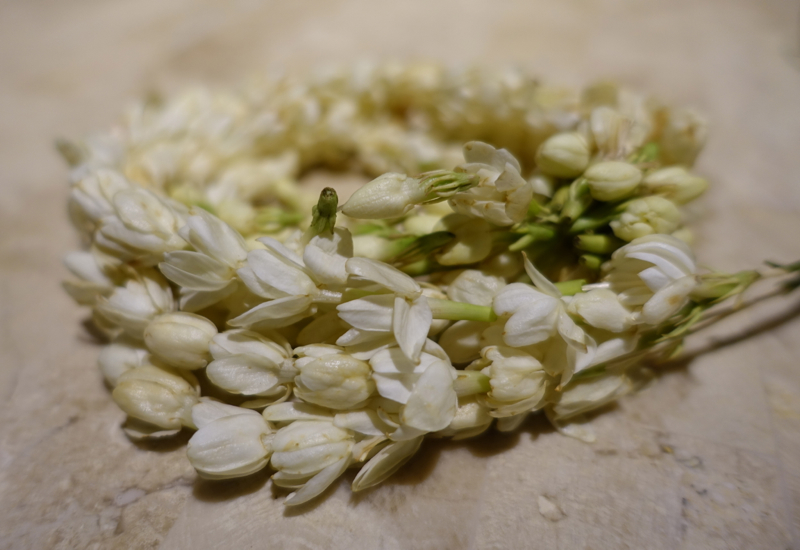 We were also offered a delicious coconut lime welcome drink: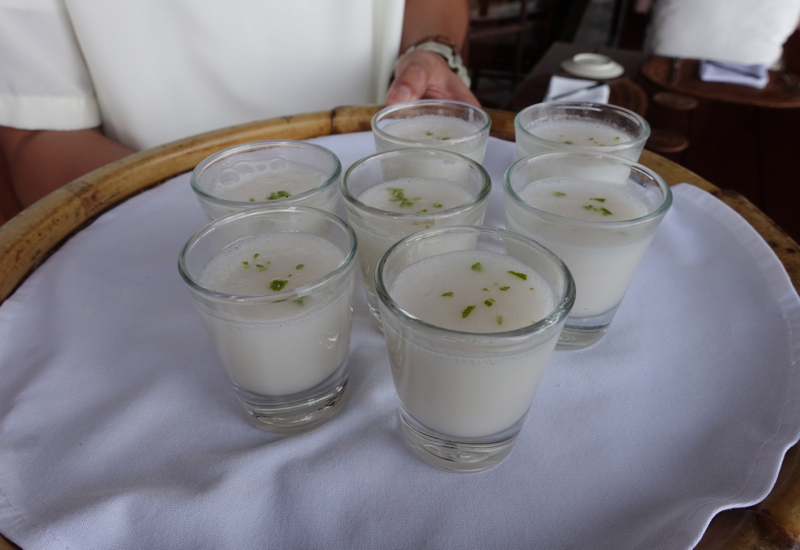 Amanpulo Beach Casita
There are just 40 standalone casitas and villas at Amanpulo, most of them the beach casitas that are just steps away from the magnificent powdery white sand beach (more on that later). Here's a map of Amanpulo: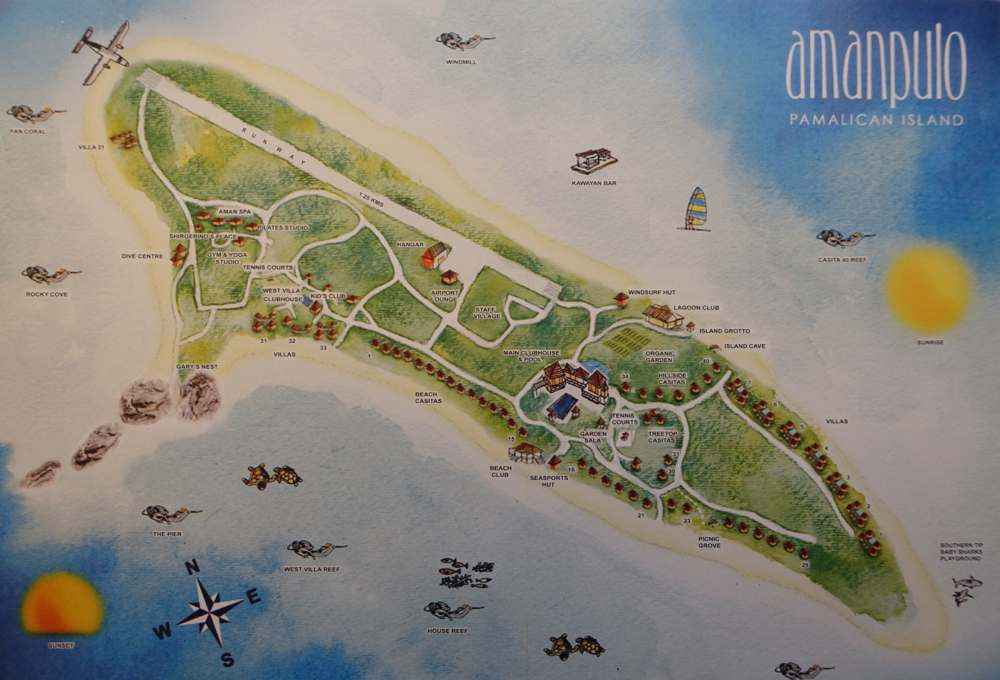 Ours was Beach Casita 19, which we loved since it was just a few steps from broad expanse of beach yet very private due to the surrounding trees, and also close to the main swimming pool and restaurant.
As we entered, a beautiful welcome amenity of champagne, canapés and a fruit plate greeted us on the table: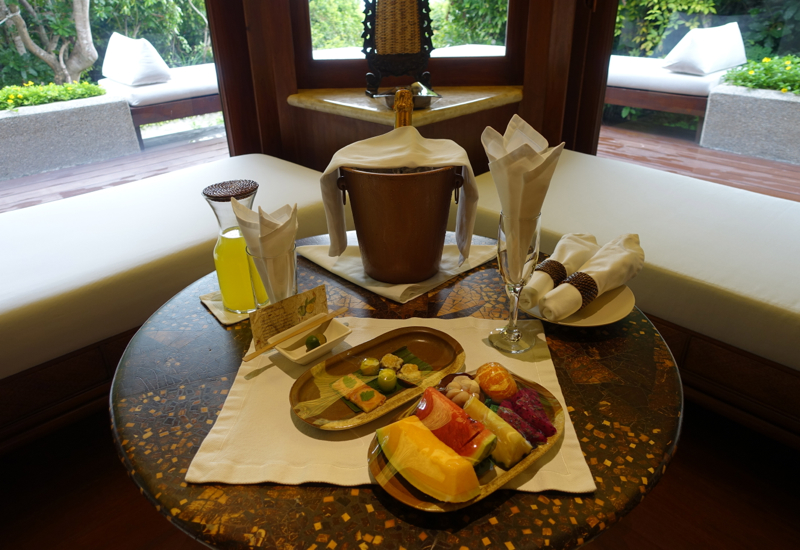 There were even special chocolate madeleines, marshmallows and M&Ms for the munchkin:
To the right was the king bed, with super soft linens, which was made up even while we were at breakfast so that we always returned to an immaculate room.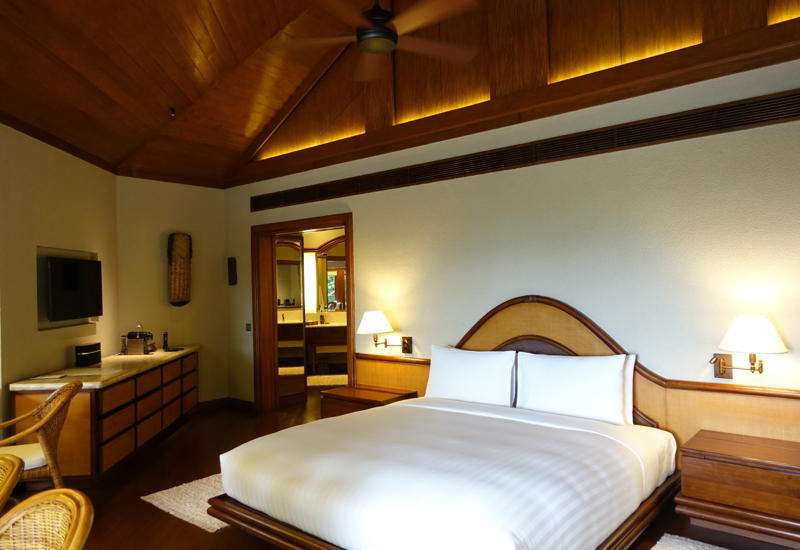 On the dresser, there was a Nespresso machine, along with canisters of dried mango and rich homemade double chocolate chip cookies. Somehow, every Aman Resort we've been to, from Amankila to Amanjiwo to Amanjena, has incredibly yummy desserts, especially the chocolate ones.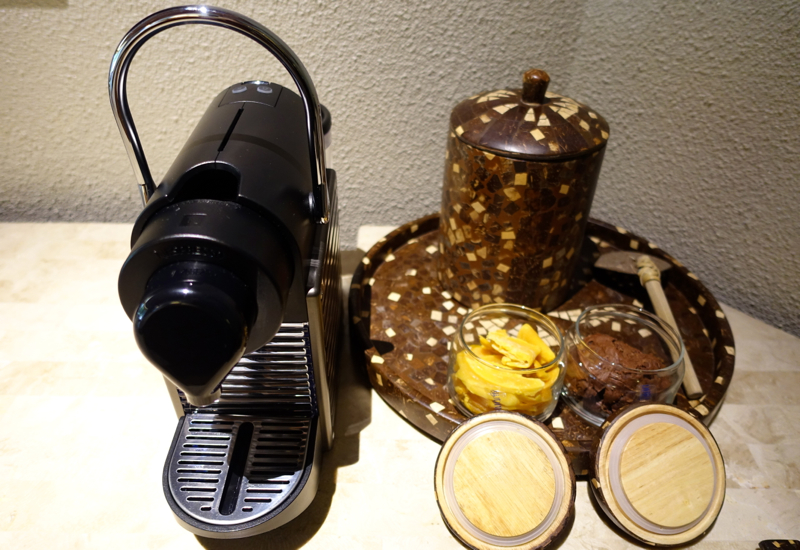 The munchkin was simply thrilled with his kid's welcome amenity of duplos, and spent the next hour and a half building with them, taking them apart, and rebuilding something new.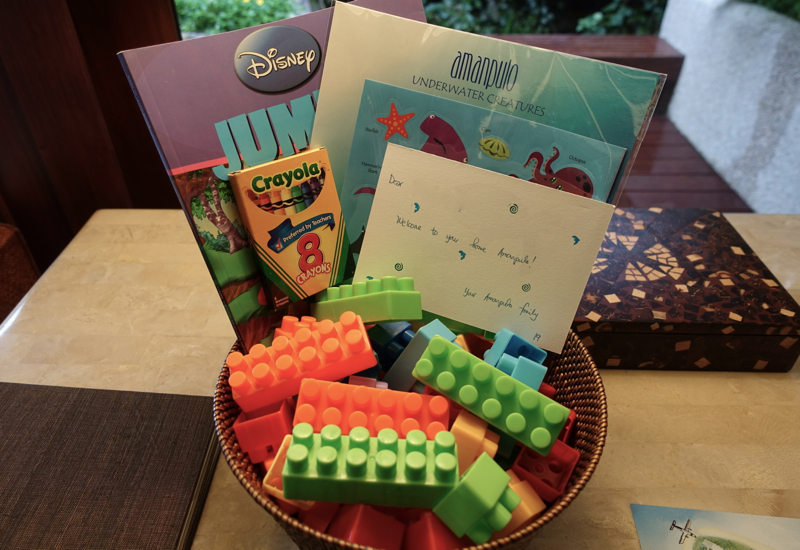 I noticed the high vaulted ceilings and how beautiful yet timeless the bathrooms were—we were in a newly renovated casita, which is still very much in keeping with the original design yet has a more spacious and elegant feel to it. The bathroom offers dual vanities and his and hers closet space as well, which I always look forward to at Aman Resorts. There's never an issue of not having enough space to unpack and hang clothes.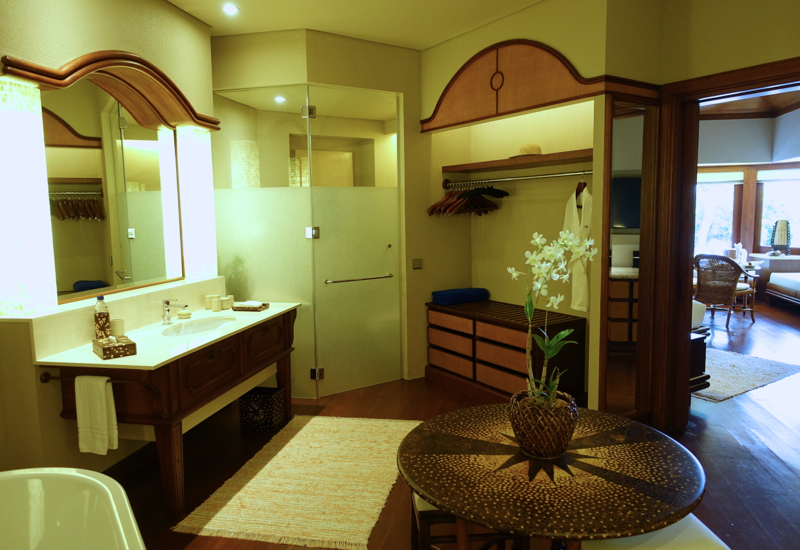 A standalone soaking tub came complete with bath salts and a candle, and there was also a glass enclosed shower with a retractable laundry line for hanging bathing suits.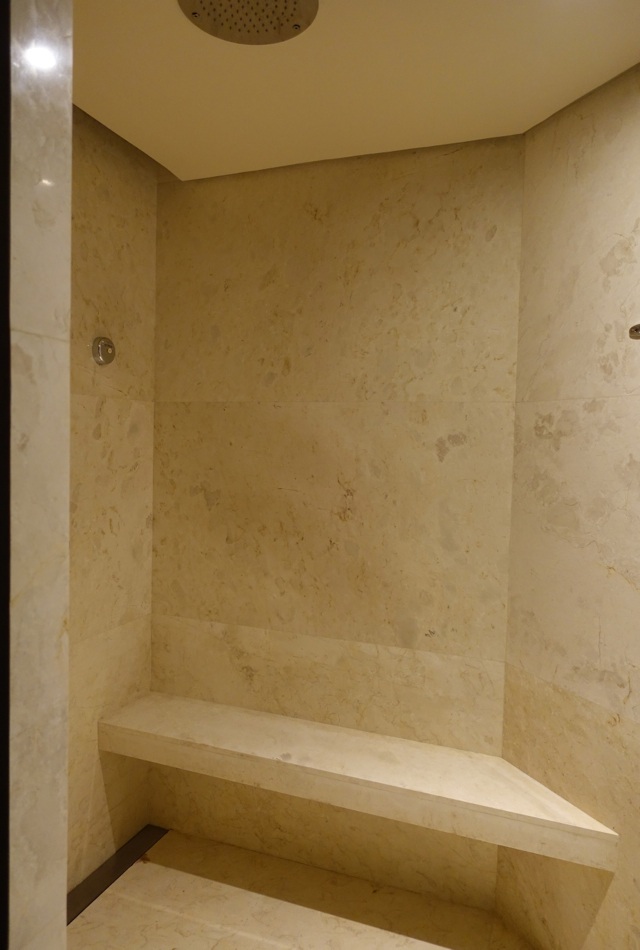 Outside was a deck with additional seating, although we scarcely made use of it, since we were usually in the water, relaxing on the beach or by the pool, or doing other activities (future post on Amanpulo activities to come).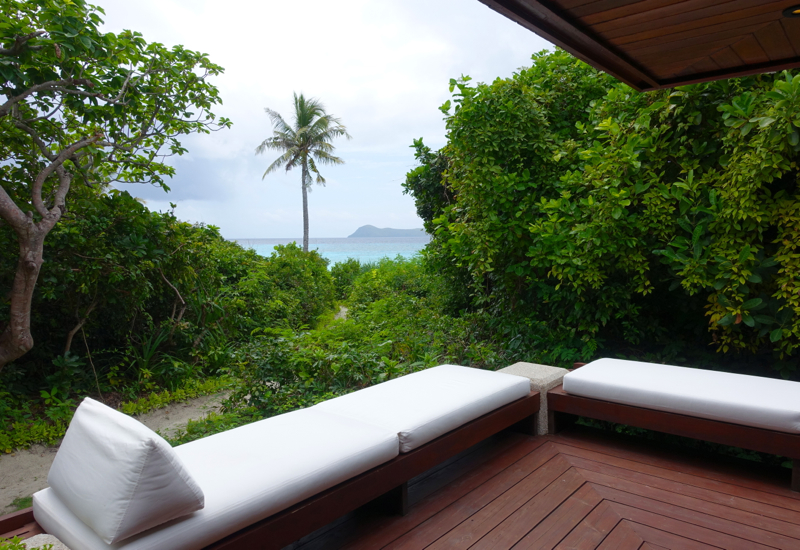 Getting around the island was easy, since each casita and villa has its own dedicated buggy that guests drive themselves in. Even the munchkin learned to drive the buggy (with a little help steering), and Amanpulo's GM, Tapa, remarked that he has a few families whose kids insist on coming back in part because they have so much fun driving the buggies around.
Beach and Swimming Pool
Amanpulo's main swimming pool is by the Clubhouse, although with the beautiful ocean and beach and only a few casitas and villas on the island, we very rarely saw other guests in the pool. I never had to worry about my son disturbing anyone with his splashing and pool antics, as only once were there other guests in the pool at the same time as he was in it.
I'll write about breakfast in a future post, but we enjoyed taking it poolside, given the view.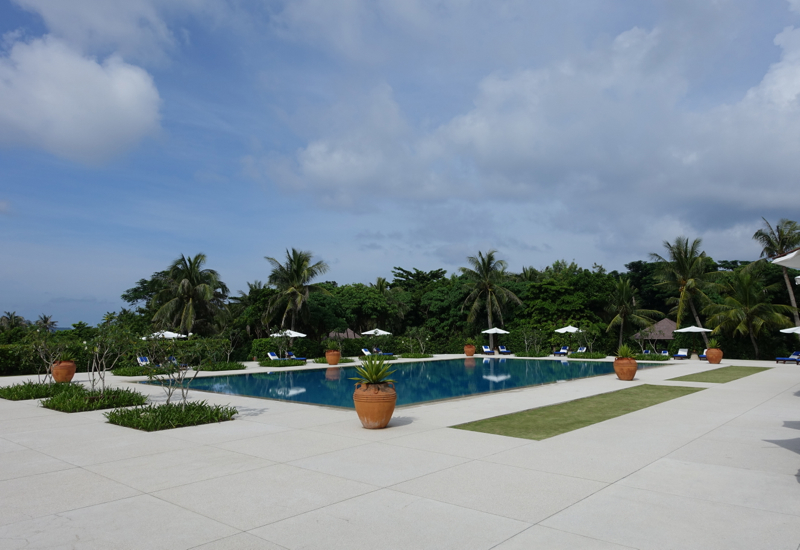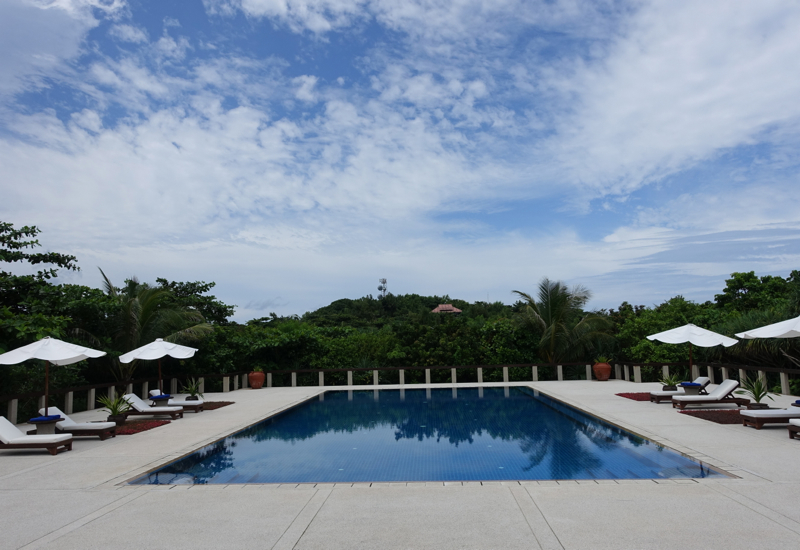 Of course, the real star of Amanpulo, as I mentioned in my earlier Best Beach in the World! post, is the gorgeous white sand beach that encircles the entire island. The sand is even finer and more powdery than in the Maldives, and never gets too hot for the feet, thanks to its high silica content.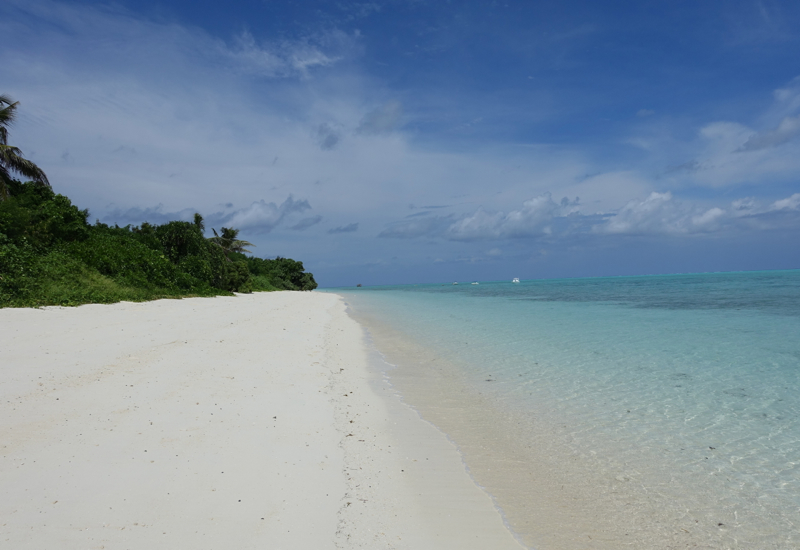 Amanpulo Dining and Food
Amanpulo offers a surprising number of dining options for a private island with only 40 casitas and villas, including the main restaurant at the Clubhouse, The Beach Club with small plates and Spanish tapas, and the Lagoon Club with Thai cuisine. I'll cover breakfast, lunch and dinner options in a future post.
The Verdict
Amanpulo truly has the best beach I've been to, over the Maldives, Caribbean and Hawaii beaches I've been to. Even though I'm not normally one to spend a lot of time at the beach, I would happily have spent much more time walking the beach at Amanpulo and simply enjoying the pristine, clear water and blue sky. Service was superb, as at each Aman Resort I've been to. Let's just say my husband was incredibly jealous and has made me promise to take him with us next time–the sooner the better.
If you've been to Amanpulo, what was your experience?
Related Posts
Amankila Ocean Suite Review, Bali
Amanjiwo Review, Borobudur, Java
Disclosure: My family and I were guests and enjoyed a partially complimentary stay and breakfast at Amanpulo, however the views expressed in this post are my own.
Need Award Booking Help? Our fee is as low as $75 per ticket if you book your hotel through us.
If you enjoyed this, join 200,000+ readers: please follow TravelSort on Twitter or like us on Facebook to be alerted to new posts.
Become a TravelSort Client and Book 5-Star Hotels with Virtuoso or Four Seasons Preferred Partner Amenities!