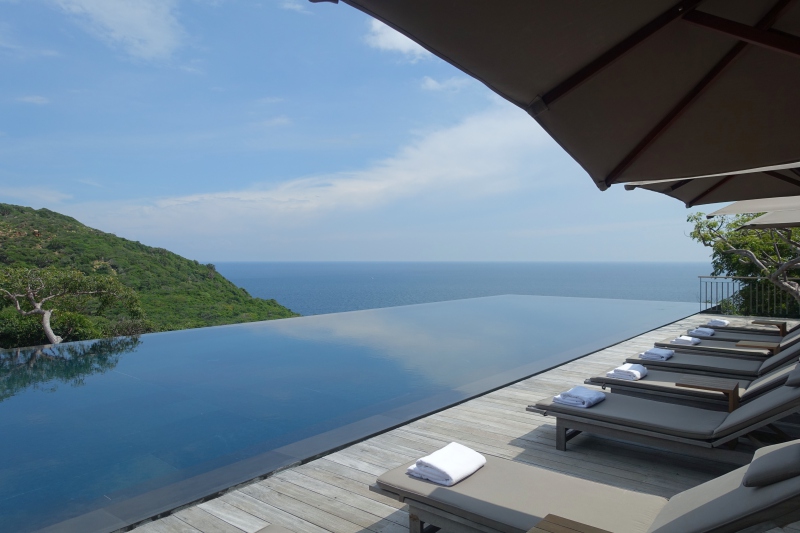 This Amanoi Review is part of a trip report including luxury hotels in Vietnam and Hong Kong and Cathay Pacific First Class. Amanoi is by Vinh Hy Bay in Vietnam, and is the perfect place to relax and unwind with beautiful ocean views. It makes a great last stop after cultural stays at Amansara to see Angkor Wat and other temples in Siem Reap, Cambodia, and at Amantaka in Luang Prabang, Laos, and/or elephant mahout training at Anantara Golden Triangle in Chiang Rai.
For the previous posts in this trip report please see:
Review: The Centurion Lounge New York LaGuardia Airport (LGA)
Review: American Airlines Old A321 First Class with Recliner Seats
Qantas First Class Lounge Los Angeles LAX Review
Review: Cathay Pacific 777 First Class
Review: Cathay Pacific The Pier First Class Lounge, Hong Kong Airport
Review: Cathay Pacific The Wing First Class Lounge, Hong Kong Airport
Review: Cathay Pacific's Renovated The Pier Business Class Lounge, Hong Kong
Hotel Review: The Reverie Saigon, Ho Chi Minh City
Amanoi is a Virtuoso hotel, so TravelSort Clients receive these benefits when booking a qualifying rate:
Upgrade on arrival, subject to availability
Continental breakfast daily, for up to two in room guests, served in the restaurant
A complimentary lunch for up to two people, once during stay, excluding alcohol, taxes and gratuities
Early check-in/late check-out, subject to availability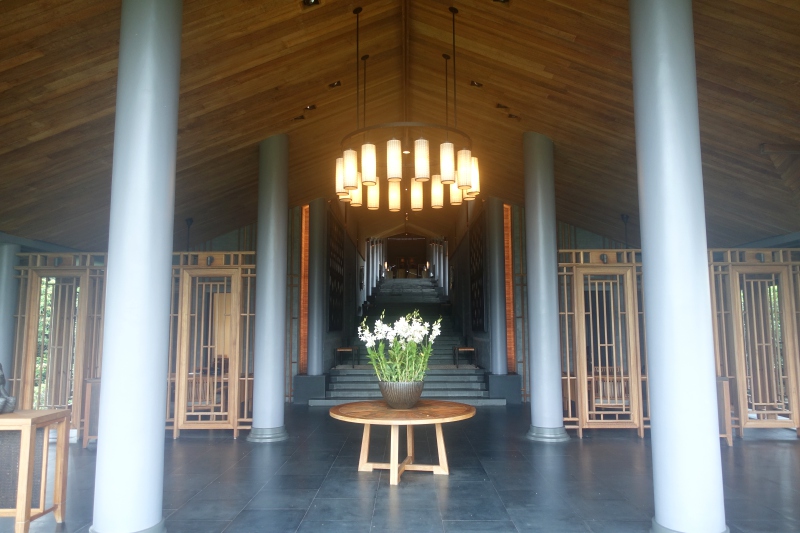 Amanoi Location, Lobby and Check-In
Amanoi is located in Nua Chua National Park, by Vinh Hy Bay, with gorgeous ocean views. The closest airport is Cam Ranh (CXR), about a 1 hour 15 minute drive away. Cam Ranh is connected to these major cities:
Da Nang (Vietnam Airlines)
Guangzhou (China Southern Airlines)
Hanoi (Vietnam Airlines)
Ho Chi Minh City (Vietnam Airlines)
Hong Kong (HK Express, begins November 9, 2016)
Shanghai Pudong (Spring Airlines)
Seoul (Asiana, seasonal)
Currently the cost of the private transfer is $85 + tax each way, and it was seamless on my visit: I was met in the airport arrivals area by the Aman driver, who held an Amanoi sign, he escorted me outside to a waiting area, and it just a few minutes he'd retrieved the car and we were on our way. The car included bottled water, snacks, and was equipped with WiFi, so I was able to get caught up on email during the trip.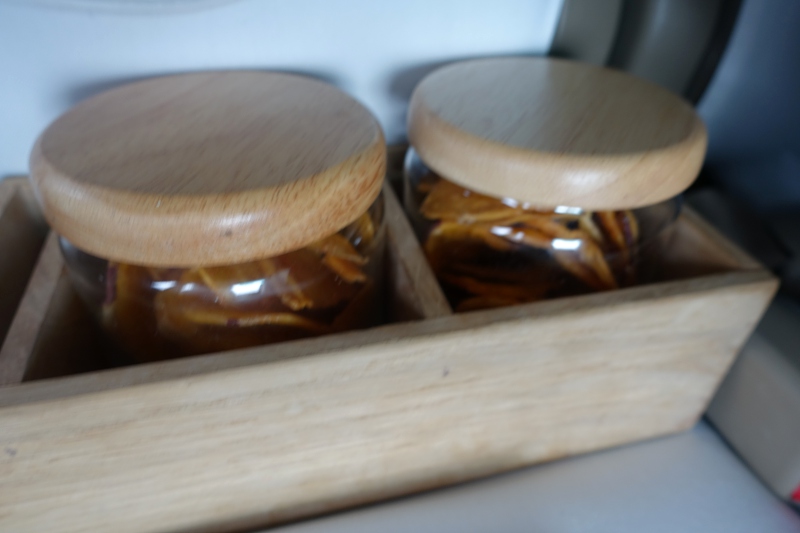 The day of my arrival was a bit overcast, but I was just happy that it wasn't raining, since the weather forecast for my visit was for thunderstorms. Fortunately, the forecast was largely wrong. As we got closer to Amanoi, I was able to catch a glimpse of Vinh Hy Bay, and the many fishing boats of the nearby Vinh Hy fishing village. While I didn't get to the village during my stay, apparently it's very quiet during the day, since the fishermen work largely at night, get back in the early morning, and sleep during the day until it's time to go out on their boats in the late afternoon.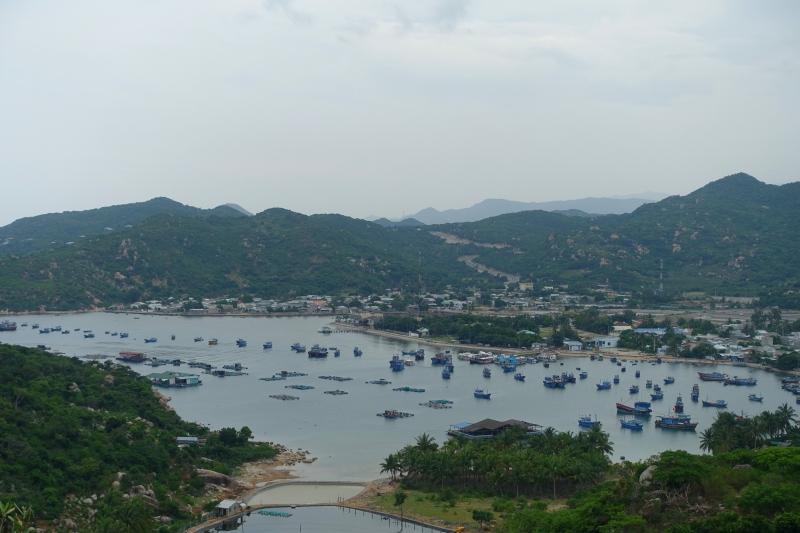 We soon arrived at the Amanoi entrance, where there's also a security guard who waved us in.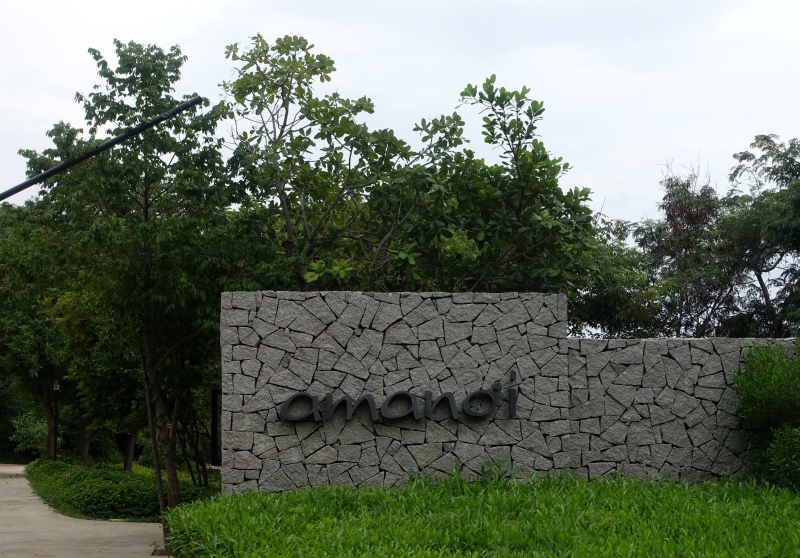 At the main pavilion, I was offered a refreshingly cool moist towel scented with lemongrass, and a lemongrass infused welcome drink that was delicious: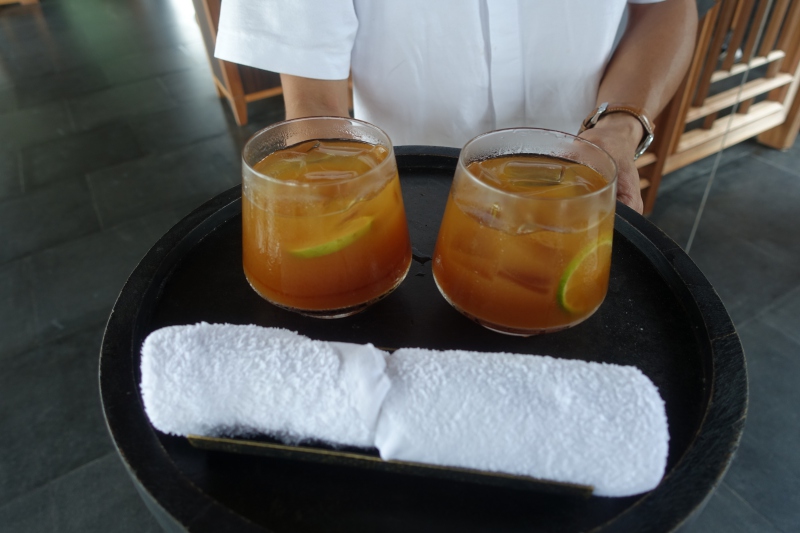 While General Manager Sean Flakelar was away on business during my brief visit, his right hand Assistant Manager, Joy Arpornrat, who previously managed Food & Beverage at Amanjiwo and Amanjena, took excellent care of me, together with the rest of the Amanoi team.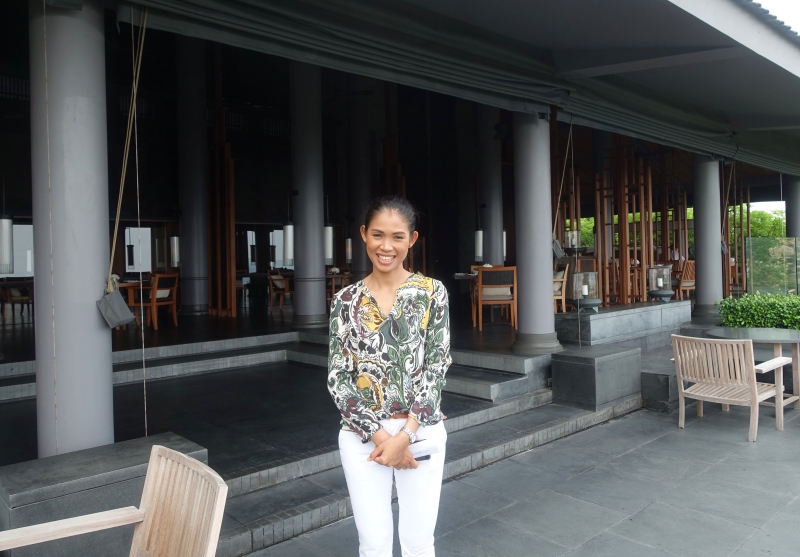 Amanoi Pavilions and Villas
Amanoi offers 5 types of Pavilions and Villas, all of which are similar in their interior space, but offer different views, and some with private pools:
Mountain Pavilions (1022 square feet) with mountain and National Park views;
Lake Pavilions (1022 square feet) with views of Amanoi's lake
Ocean Pavilions (1022 square feet) with lovely ocean views
Mountain Pool Villa (1345 square feet) with mountain views and a private infinity pool
Ocean Pool Villa (1346 square feet) with gorgeous ocean views and a private infinity pool
Here is the resort map, showing the placement of Amanoi Pavilions and Villas: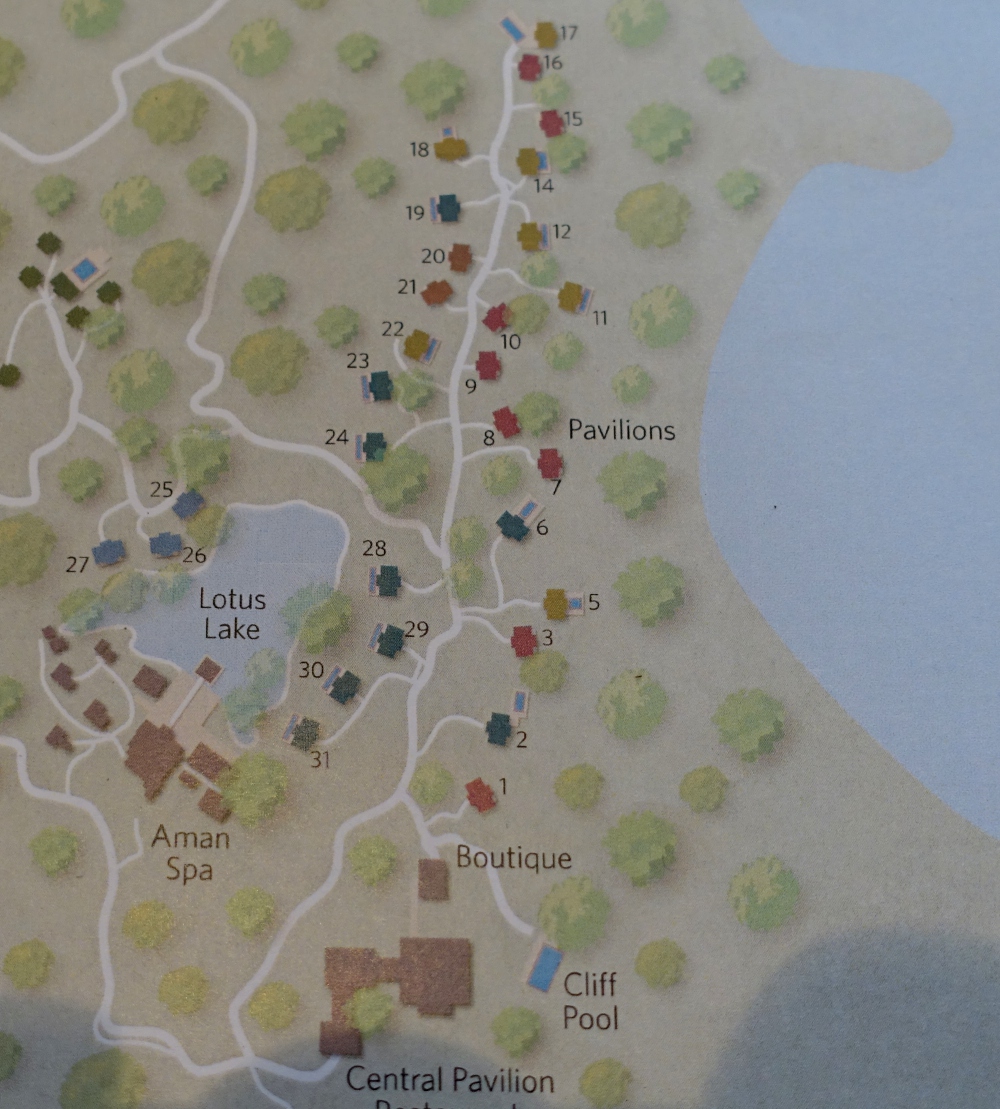 I was given a Mountain Pool Villa, #2, which I loved for several reasons. It was convenient to the main Pavilion and restaurant, making it convenient for dining, and its position high on the hill meant that from its outdoor pool deck the National Park as well as the ocean were visible. And while I was unfortunately traveling solo, if my husband and son had been with me, they would have adored relaxing (well, my husband) and splashing around (my son) in the private pool, without worrying about disturbing any neighbors, since the stand alone pavilions and villas are spaced well apart from each other.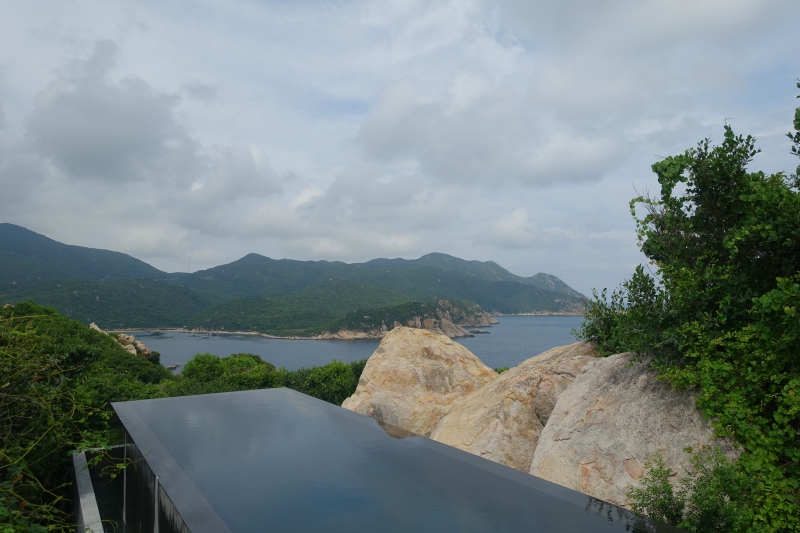 Here's the path leading to Pool Villa #2: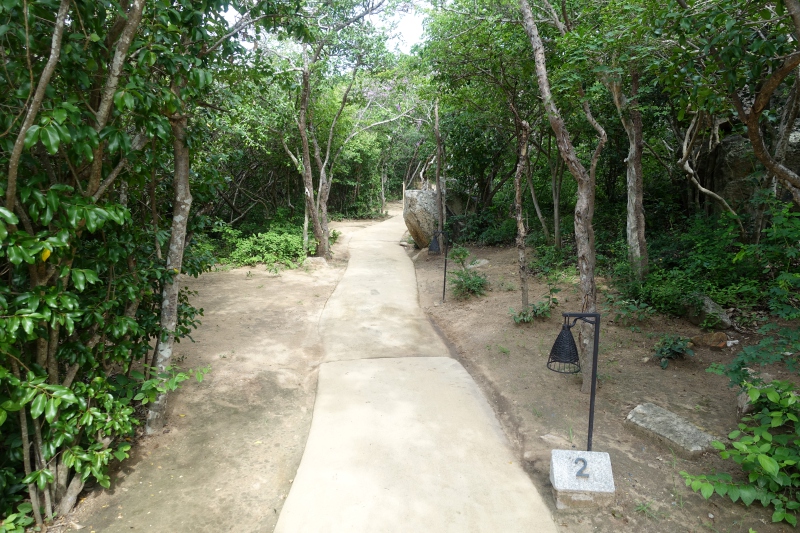 The villa interior is elegant, with clean lines and Vietnamese accents: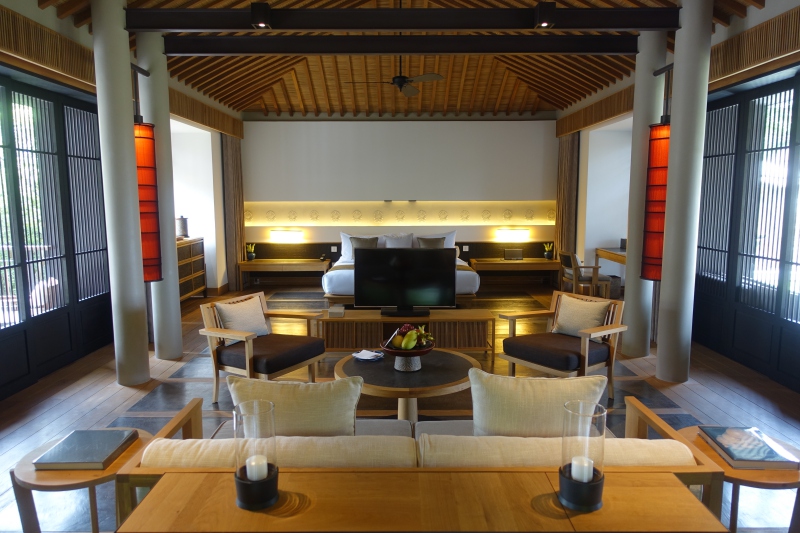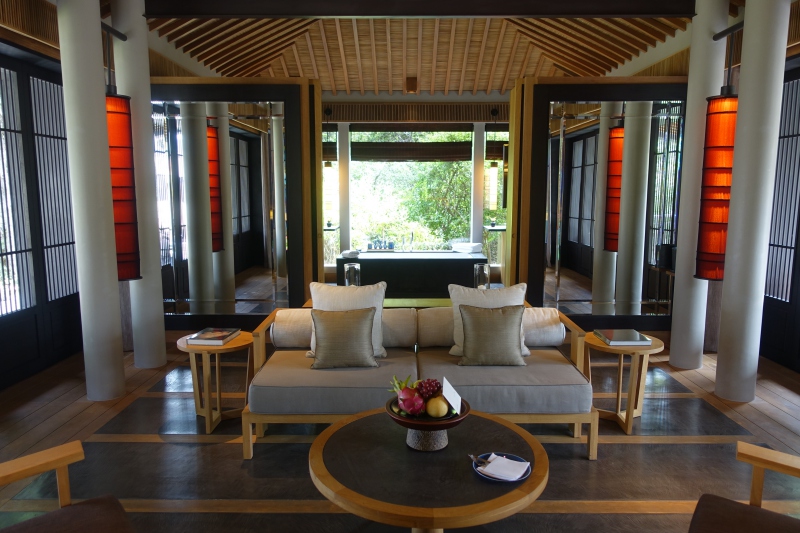 As with most Aman resorts, the pavilions and villa are open plan, with a spacious sleeping and living area. The bathroom had sliding doors separating it from the living area, with dual vanities and between them, a large soaking tub.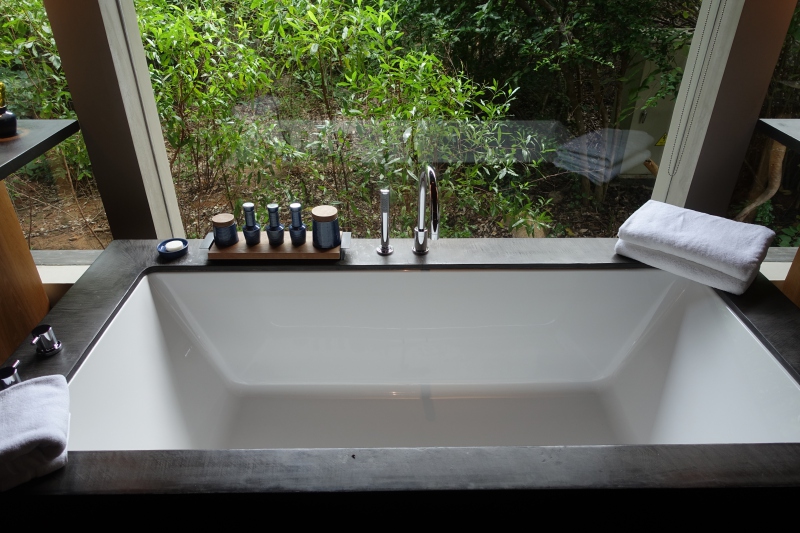 There was a separate toilet chamber, and also a walk-in rain shower: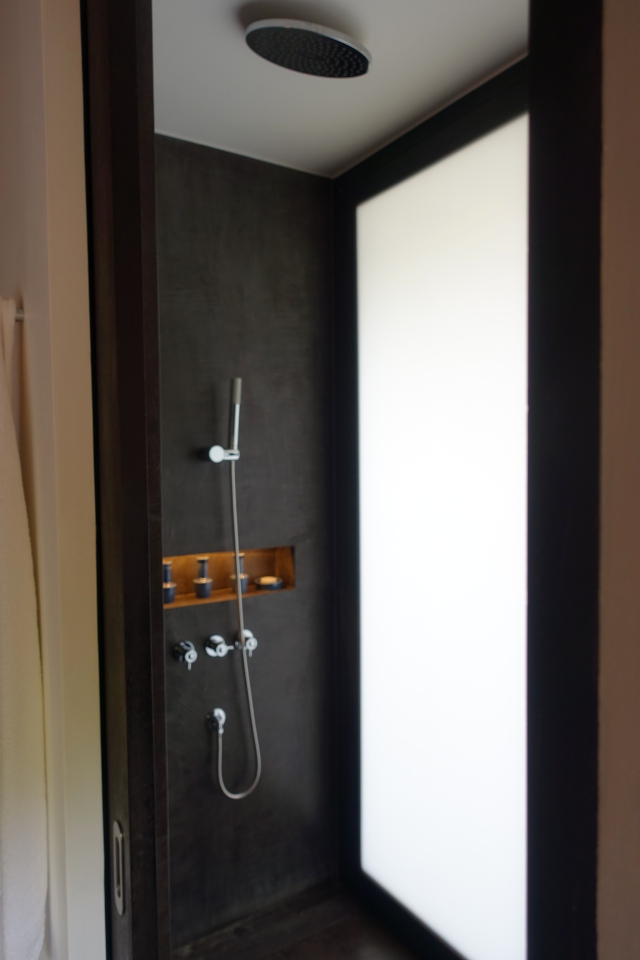 Bath products are handcrafted locally, and had a pleasing lemongrass scent: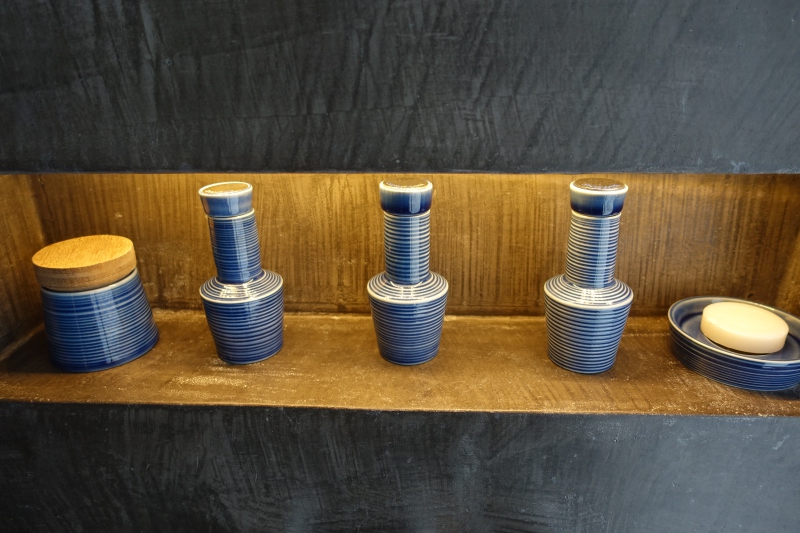 A Nespresso machine was available, along with complimentary nuts and housemade cookies: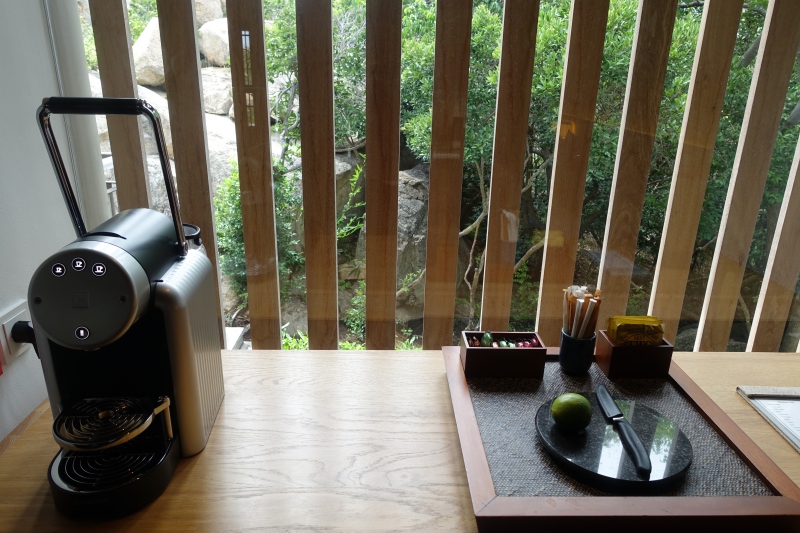 Here's a video to give an additional sense of the villa:
Amanoi Beach Club, Cliff Pool and Fitness Center
Because Amanoi is built right into the rather steep cliff, most guests will want to take a buggy to and from the private Beach Club. For some exercise, I walked there and back, and it was about a 15 minute walk down and about 25 minutes going back.
The Beach Club offers dining, which is great for a scenic lunch, and a golden sand beach with clear water. Beach loungers and umbrellas are set up to enjoy the view, and would have been a great place to relax with a loved one and a good book, if I hadn't been busy with my site inspection visit.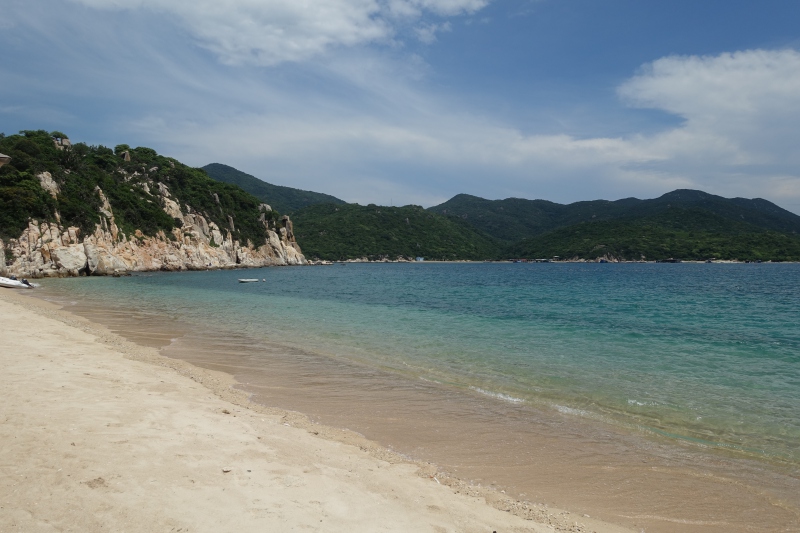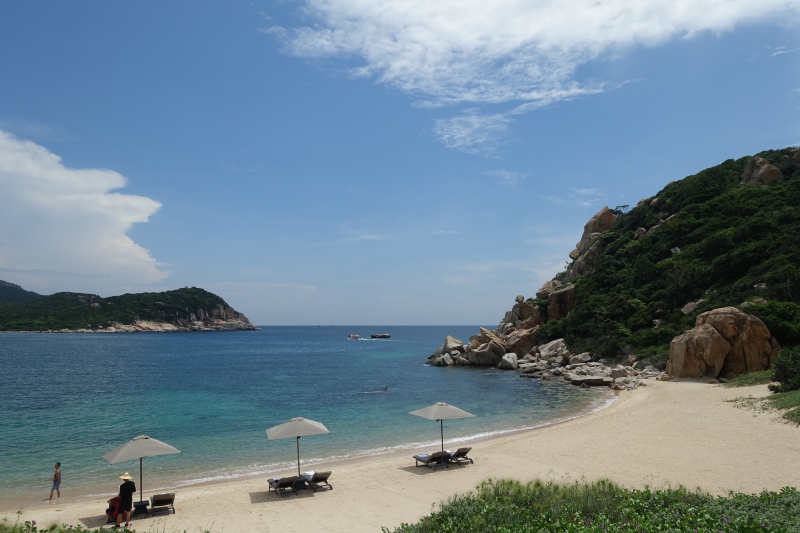 There's also a pool at the Beach Club: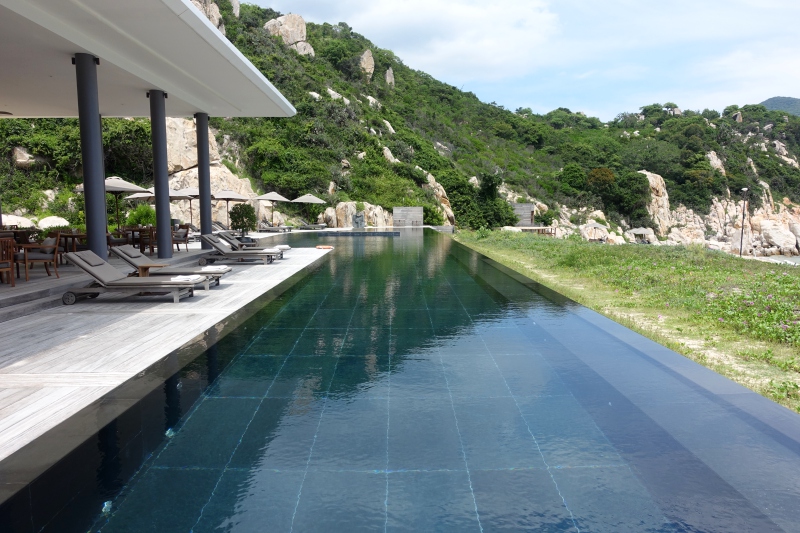 That said, my favorite pool at Amanoi was the Cliff Pool, with its dramatic ocean view.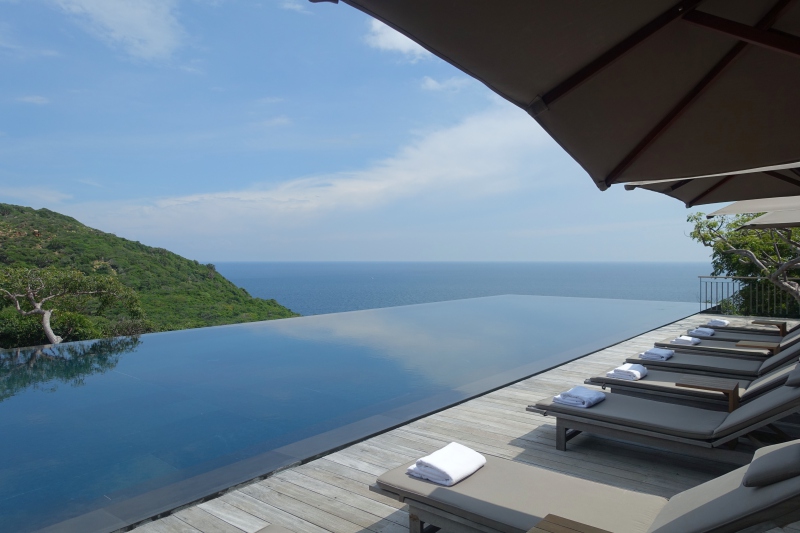 While you could get a workout just walking between your pavilion or villa and the Beach Club and back, if you prefer a gym workout Amanoi has the largest gym I've seen in an Aman Resort (keep in mind there are just 31 Pavilions and Villas).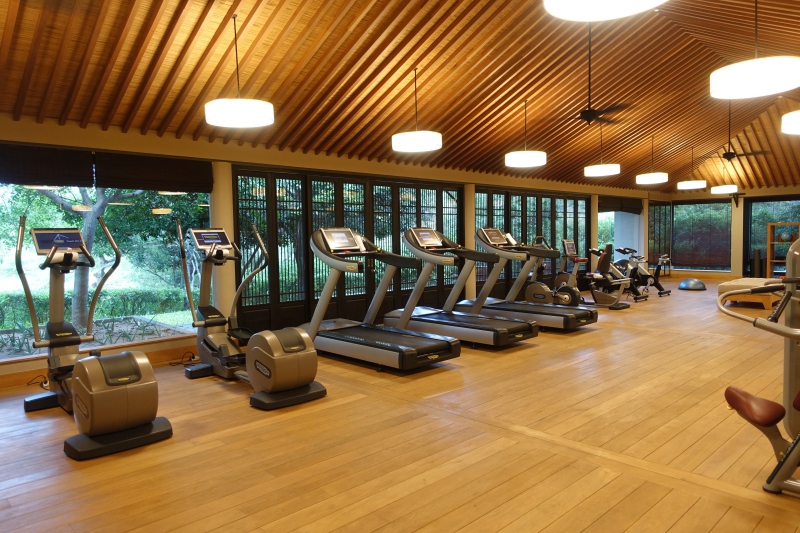 There's also a separate yoga and pilates studio, where complimentary yoga or pilates sessions are held at 8am daily.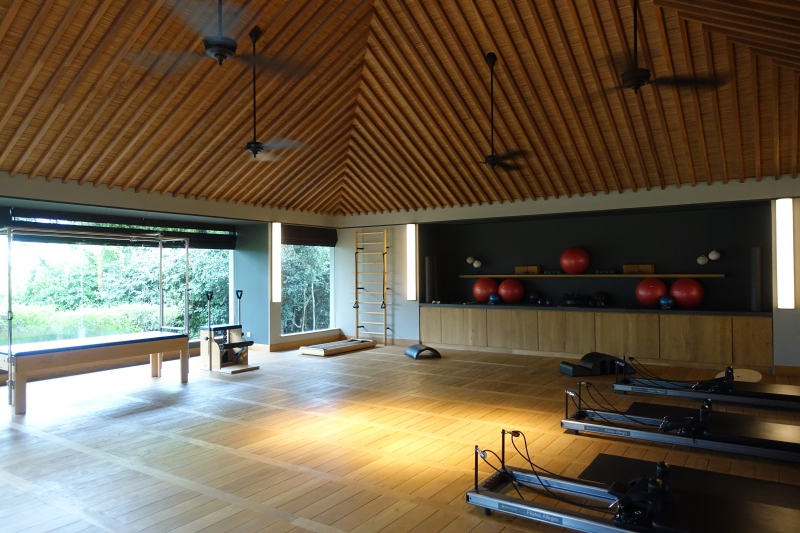 Here's the schedule for my visit, but note that the exact class schedule changes.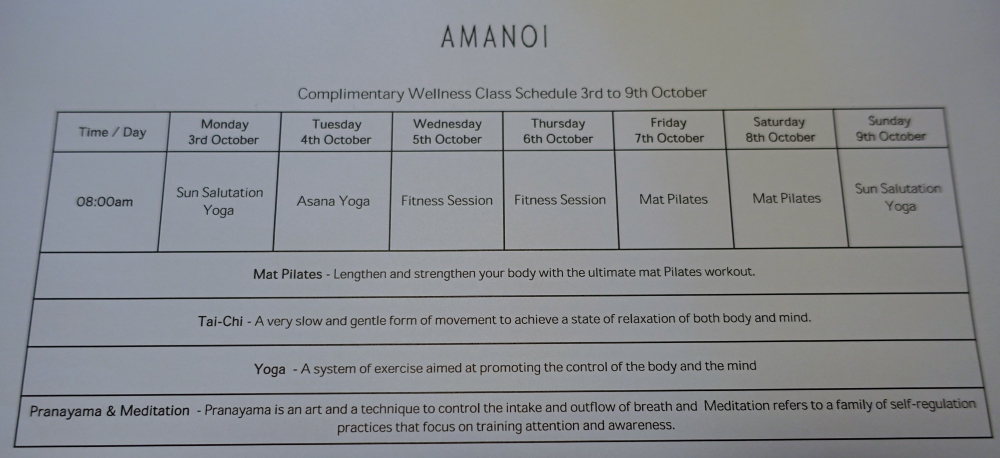 Of course there's also the Amanoi Spa, where you can indulge in a relaxing massage. I really enjoyed my massage, even though I'm not usually a spa-goer, and my therapist used the perfect pressure on the knots in my shoulders and neck, which felt so much better after the treatment.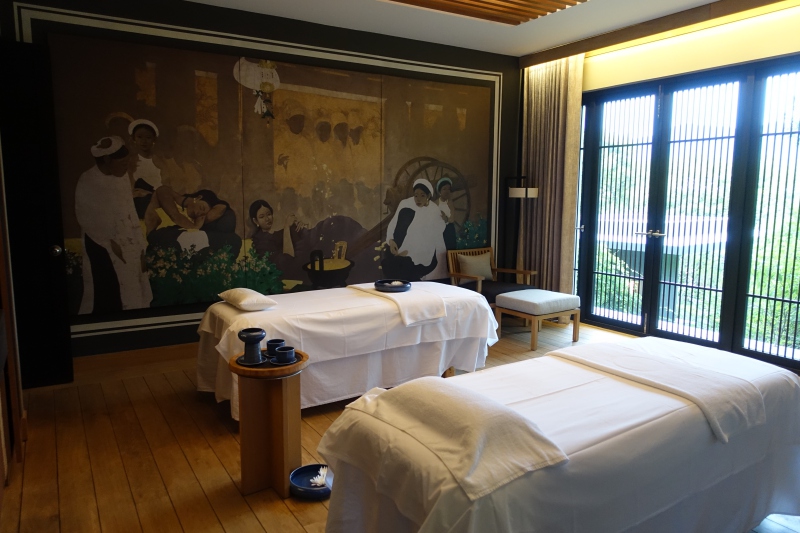 Amanoi Dining
Vietnamese cuisine is one of my very favorites, along with Japanese and French, so I was excited to try Amanoi's offerings. I'll review Amanoi's restaurant and Beach Club in a future post.
The Verdict
Amanoi is one of my very favorite Amans, thanks to its beautiful views, great staff, new and thoughtfully appointed pavilions and villas, and excellent dining, both Vietnamese and international dishes. This is a relaxation destination, so it's the perfect place to end up after busy adventure and cultural immersion elsewhere in Asia. If you enjoy boutique luxury and are planning a visit to Vietnam or Southeast Asia, don't miss it.
Related Posts
Amantaka Luang Prabang, Laos Review
Where to Go in August: Best Luxury Travel Destinations and Where to Stay
Book Luxury Hotels in Advance or Last Minute?
Top 2016 New Luxury Hotel Openings
Disclosure: I was a guest and enjoyed a complimentary stay and breakfast at Amanoi, however the views expressed in this post are my own.
Need Award Booking Help? Our fee is as low as $75 per ticket if you book your hotel through us.
If you enjoyed this, join 200,000+ readers: please follow TravelSort on Twitter or  like us on Facebook to be alerted to new posts. 
Become a TravelSort Client and Book Your Aman Resort with Virtuoso Amenities!