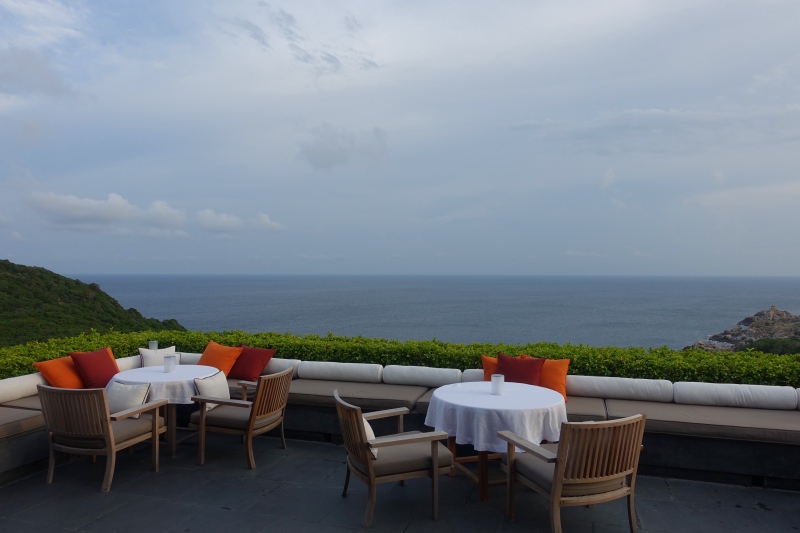 This Amanoi Restaurant Review and Menu post covers our food and dining experiences at Amanoi, by Vinh Hy Bay, Vietnam.
The post is part of a trip report including Cathay Pacific First Class, Cathay Pacific lounges in Hong Kong, and Vietnam and Hong Kong luxury hotel reviews. For the previous articles, please see:
Review: The Centurion Lounge New York LaGuardia Airport (LGA)
Review: American Airlines Old A321 First Class with Recliner Seats
Qantas First Class Lounge Los Angeles LAX Review
Review: Cathay Pacific 777 First Class
Review: Cathay Pacific The Pier First Class Lounge, Hong Kong Airport
Review: Cathay Pacific The Wing First Class Lounge, Hong Kong Airport
Review: Cathay Pacific's Renovated The Pier Business Class Lounge, Hong Kong
Hotel Review: The Reverie Saigon, Ho Chi Minh City
Amanoi is a Virtuoso hotel, so TravelSort Clients enjoy complimentary daily breakfast for two, along with a complimentary lunch for two once during the stay, excluding alcohol, taxes and gratuities.
Amanoi Restaurant and the Beach Club
Amanoi's main restaurant is reached after ascending the stairs from the lobby. There are a number of tables available for al fresco dining, including several on the terrace with an uninterrupted sea view: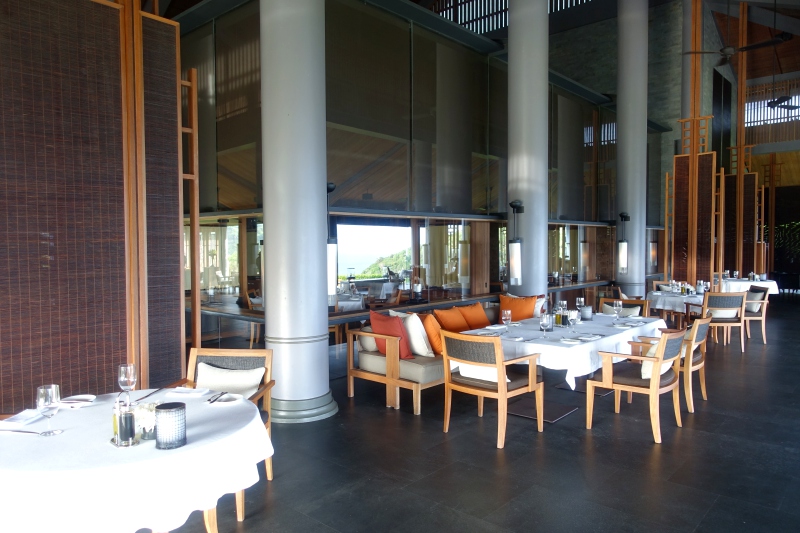 In the evening, since it was a bit warm and humid and there were some bugs outside, I opted to dine inside the air conditioned area that is open for even dining: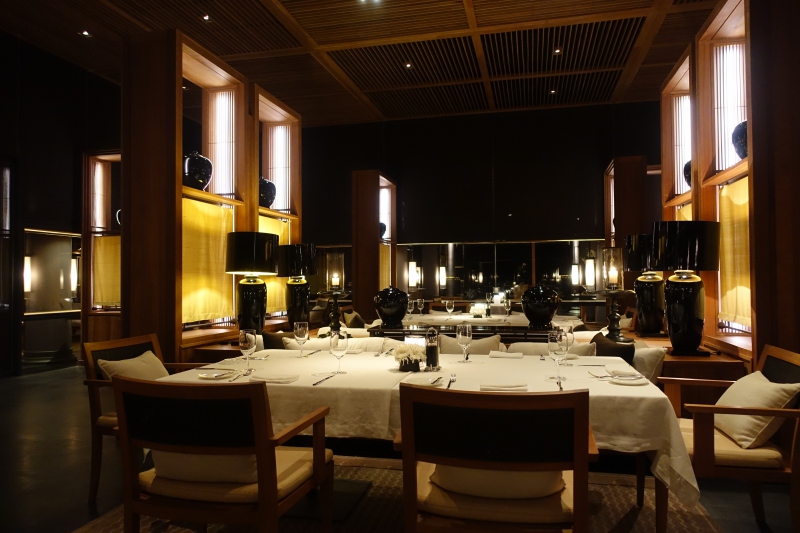 Amanoi's Beach Club is the perfect spot for lunch and light bites during the day, and has its own beautiful view: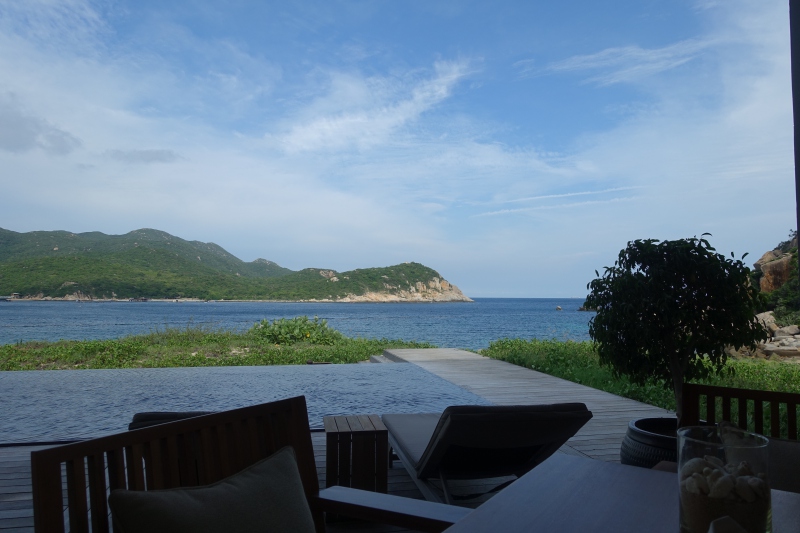 Amanoi Breakfast Menu and Breakfast Dishes
I was impressed with the extent of Amanoi's breakfast menu, considering there are just 31 pavilions and villas. Here's the breakfast menu, with a number of international as well as Vietnamese choices, including egg dishes and fresh squeezed juices, as well as smoothies: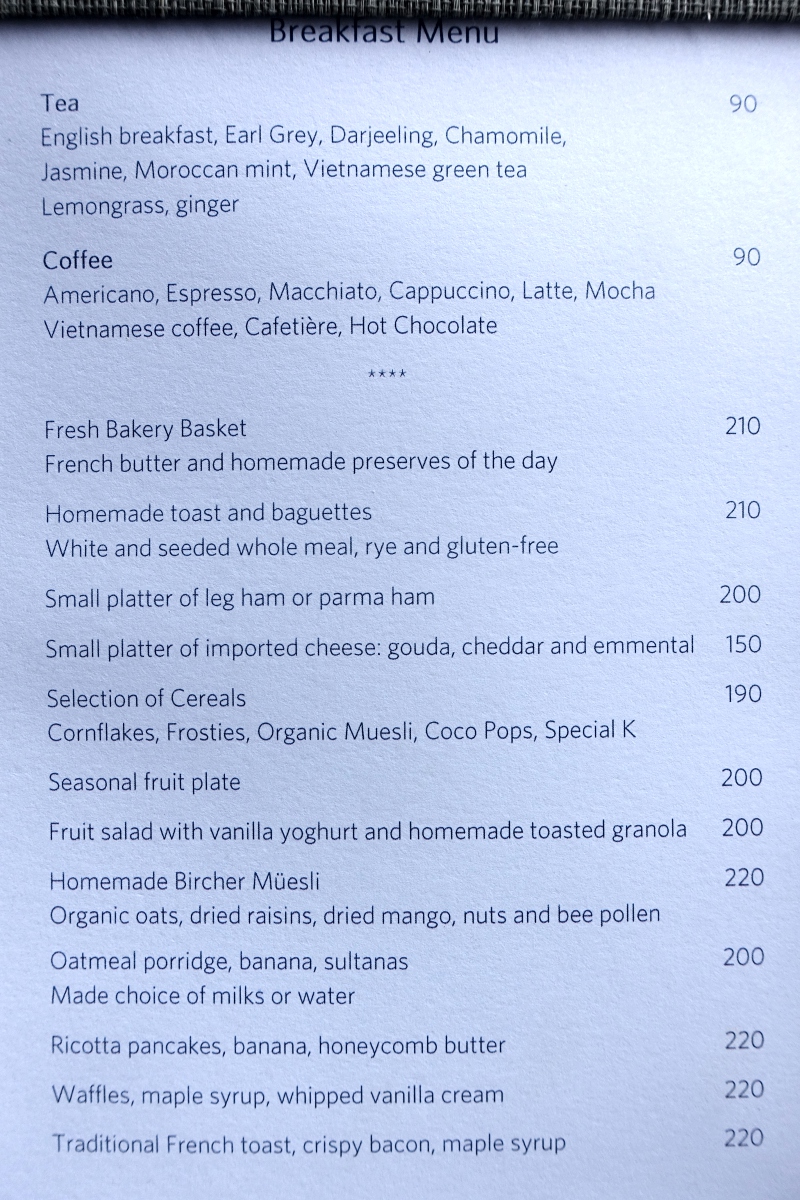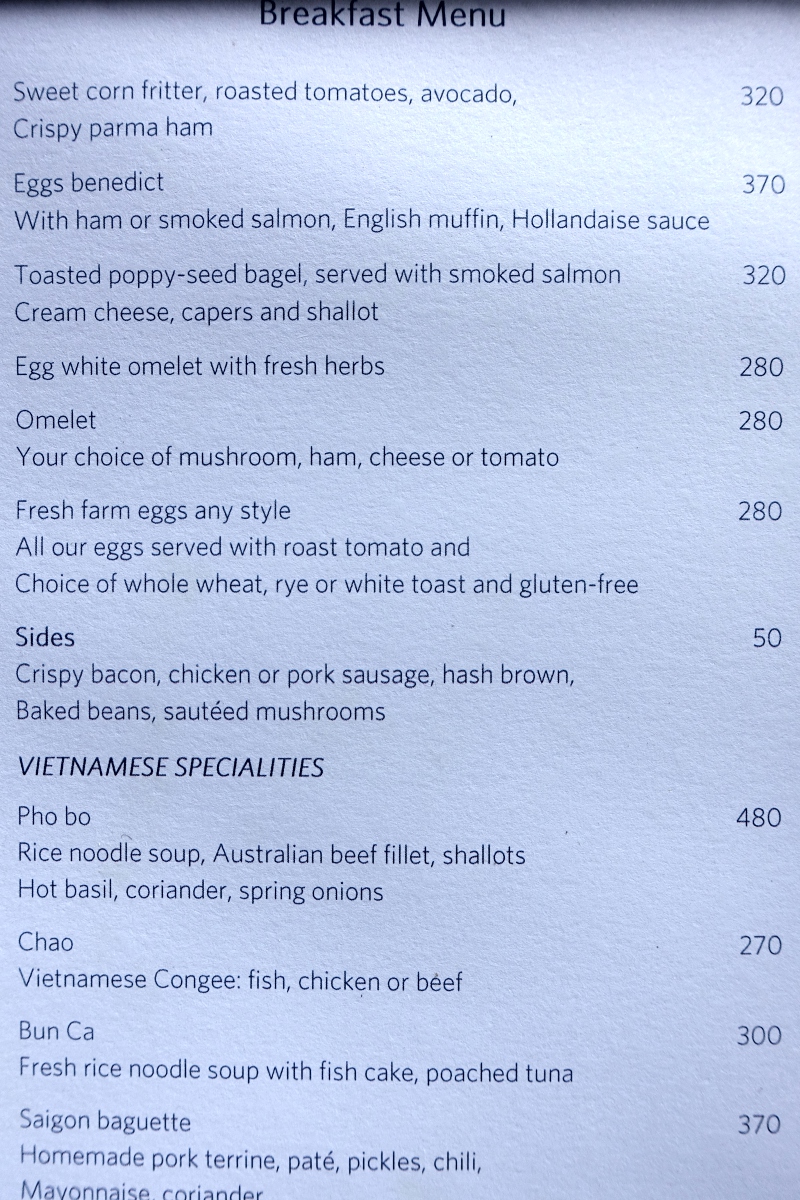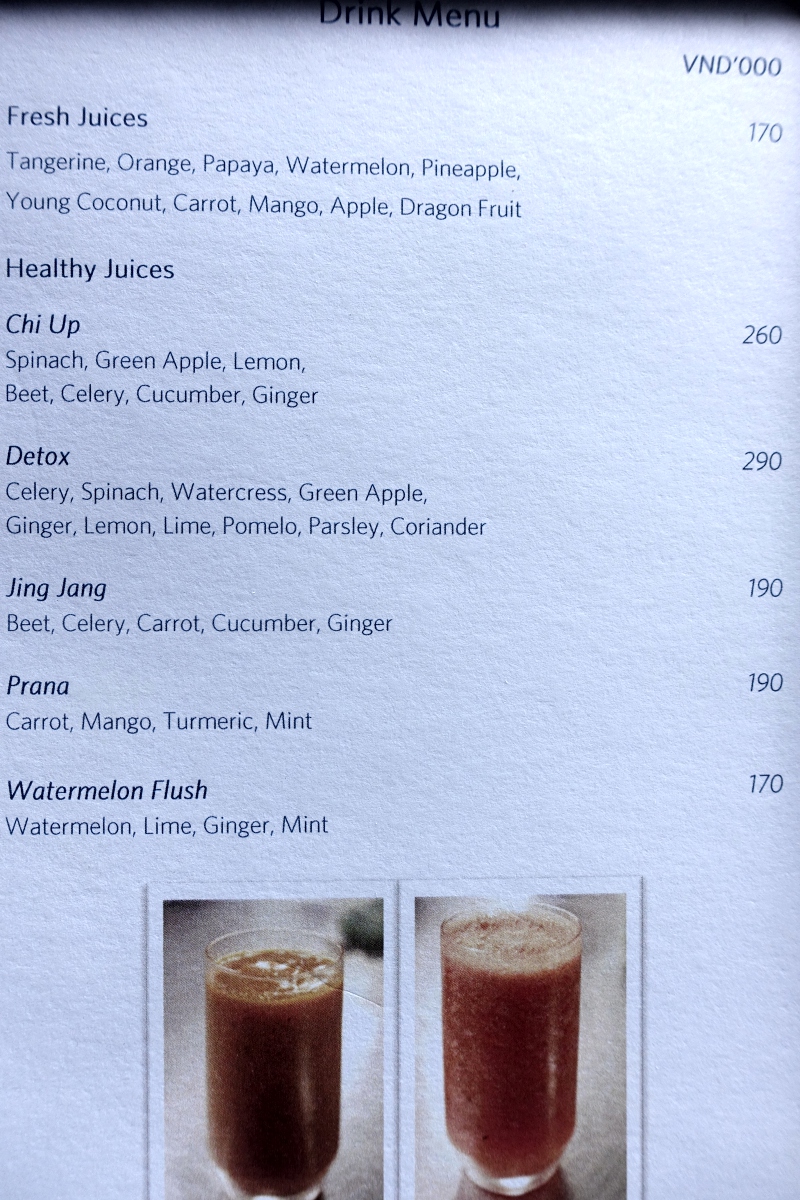 My favorite was the terrific house made vanilla yogurt with wonderful homemade toasted granola. I could see the vanilla bean specks in the yogurt, which wasn't overly sweet, and the granola was chock full of delicious toasted grains and nuts, with some dried fruit: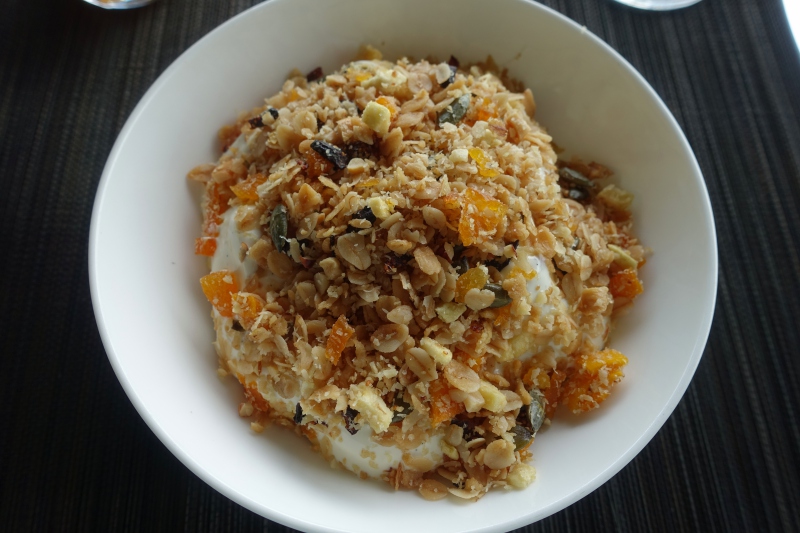 I also enjoyed the ricotta pancakes, even though they were a little dense for my preference; it's hard to beat the souffle pancakes we enjoyed at Amanjiwo. The taste was still excellent though, and especially nice with the honeycomb butter, bananas and syrup: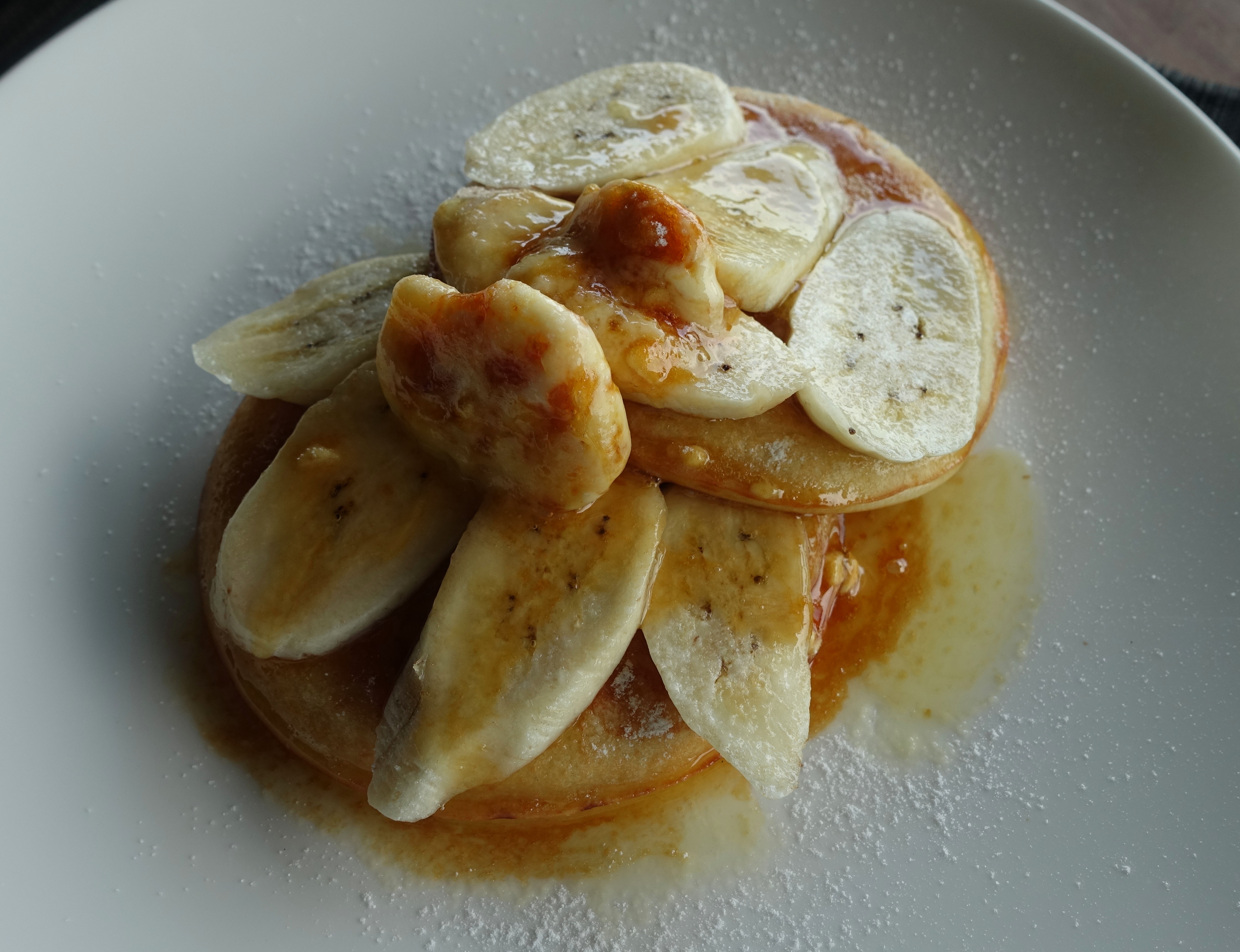 Fresh squeezed juices are a must for any luxury hotel, and it's great when there's more than just fresh squeezed orange juice. I tried a mixture of fresh squeezed orange juice and pineapple juice, which was a delicious combination.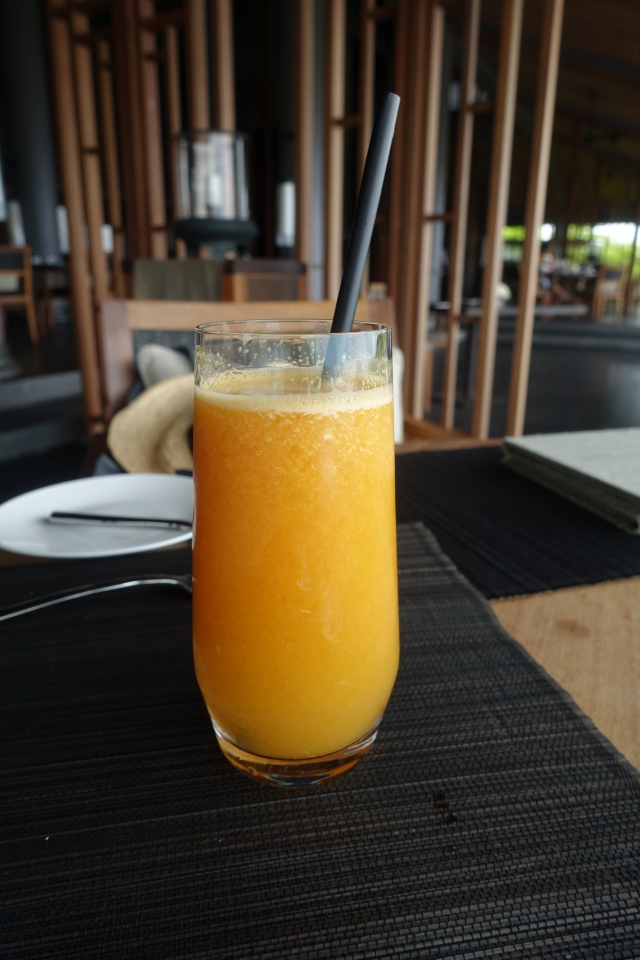 Coffee drinkers shouldn't miss Vietnamese coffee, which is prepared with flair, with a traditional Vietnamese filter setup. I was asked how sweet I like my coffee, which is not very, so my server just added a touch of the sweetened condense milk before stirring it over ice. Best Vietnamese iced coffee I've ever had!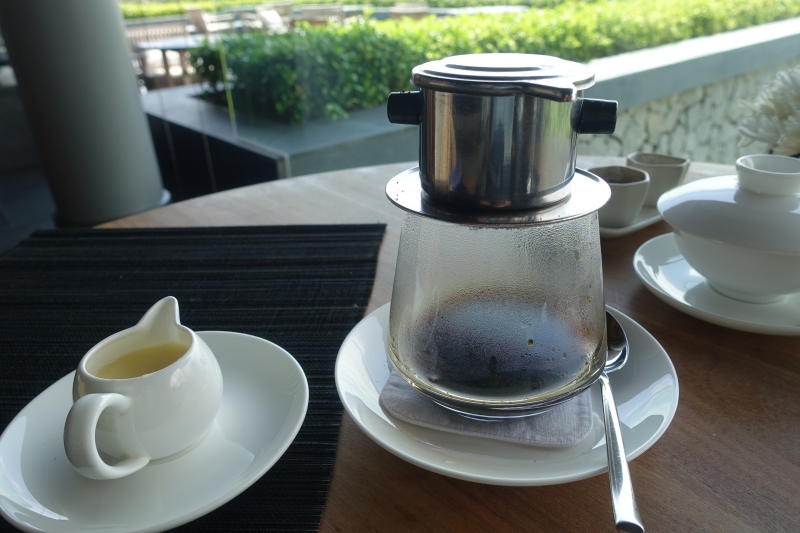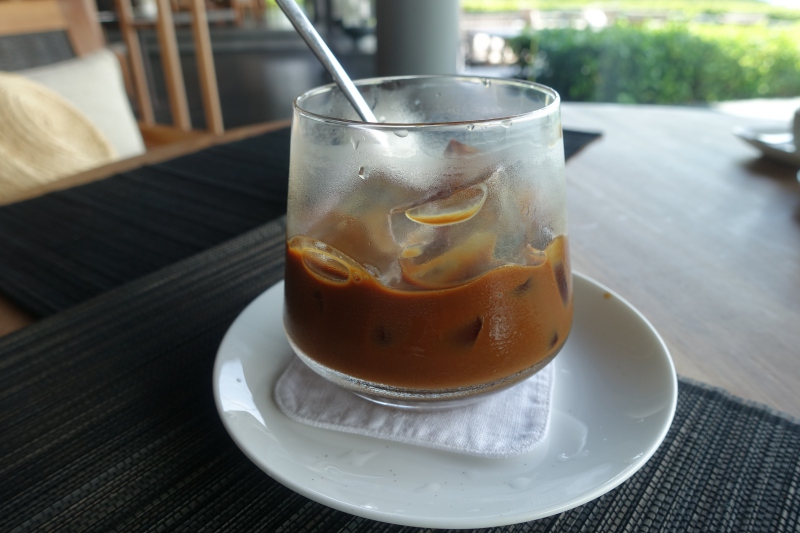 Amanoi Lunch, Afternoon Tea, Dinner and Dessert Menus and Dishes
My favorite savory dish at Amanoi that I sampled, was also one of the most traditional: Bun Thit Nuong Cha Gio, or rice noodle salad with marinated grilled pork and Vietnamese spring rolls. It's such a satisfying dish, and Amanoi's version was stellar: perfectly cooked rice noodles with julienned vegetables, tender grilled pork, and freshly made spring rolls (Vietnamese ones have thinner, crispier skins than Chinese spring rolls), with nuoc cham on the side. It's hard to imagine a more satisfying dish, yet one that leaves you energized and isn't too heavy.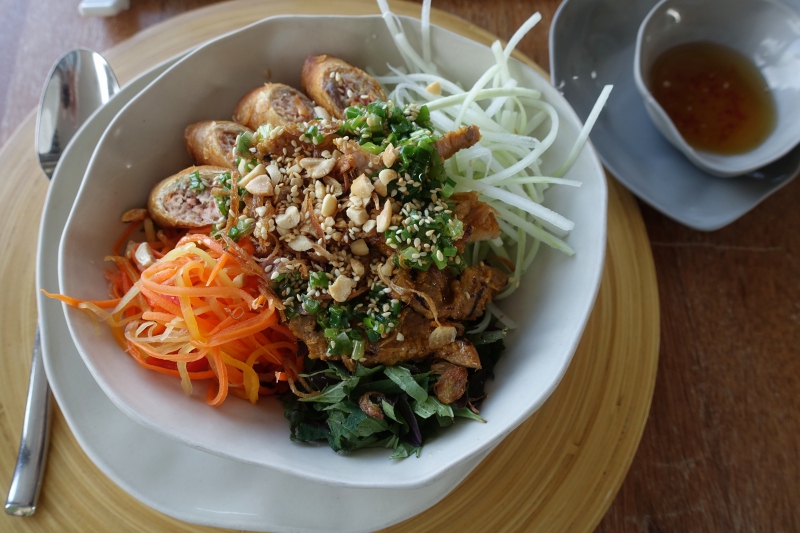 On the day of my departure I also tried Amanoi's Pho Bo, Vietnamese noodle soup with beef. It was certainly hearty and hit the spot, although I was somewhat surprised that the broth wasn't clearer. Usually the best pho broth has been skimmed so it's quite clear, although redolent of the charred onions, star anise, ginger etc. that is used to make the broth. This broth was darker and not as clear as I'm used to, although still tasty, especially with all the fresh Vietamese basil and rau ram offered alongside.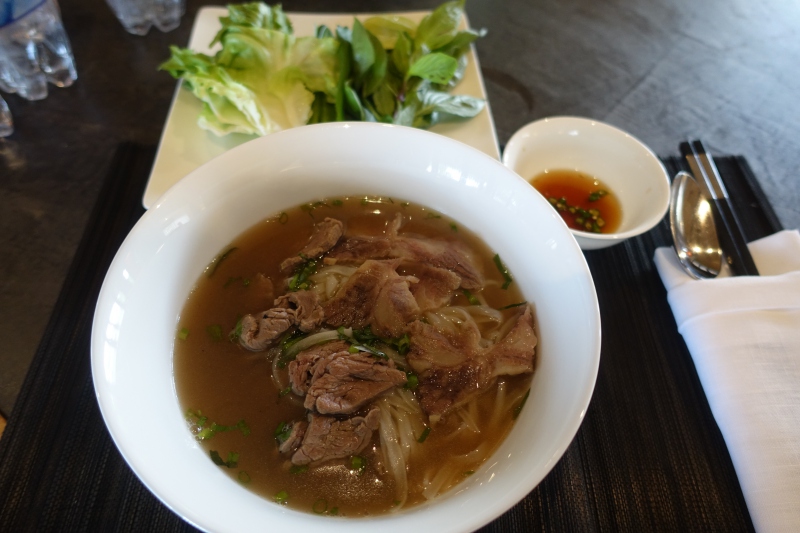 Afternoon Tea is available 3:30-4:30 at the main restaurant, but don't expect sweet cakes; instead, Vietnamese savory rice cakes are cooked traditional style, with a choice of chicken or scallop filling: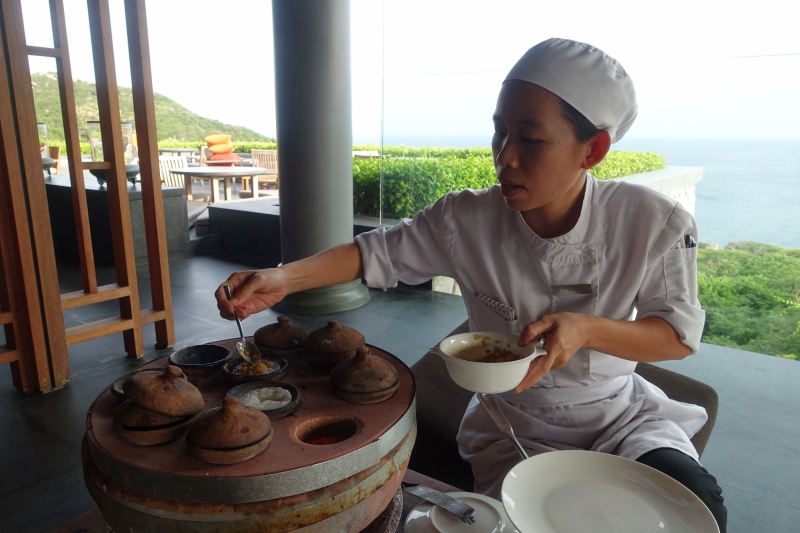 You can opt for coffee or tea (which I chose, since I avoid coffee late in the day due to the caffeine). My favorite were the rice cakes with scallops, but both were very good.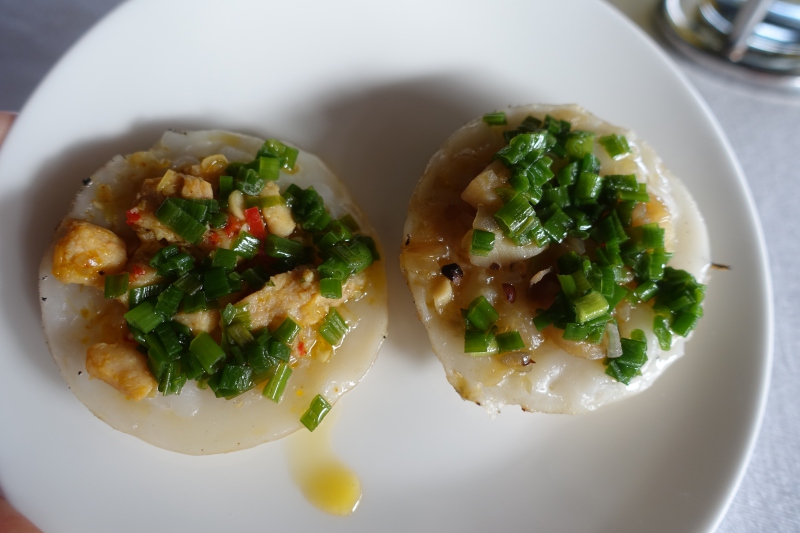 Amanoi's dinner menu offers both Vietnamese and Western dishes (including gluten free pasta dishes) but I love Vietnamese food, so I chose only from the Vietnamese menu items.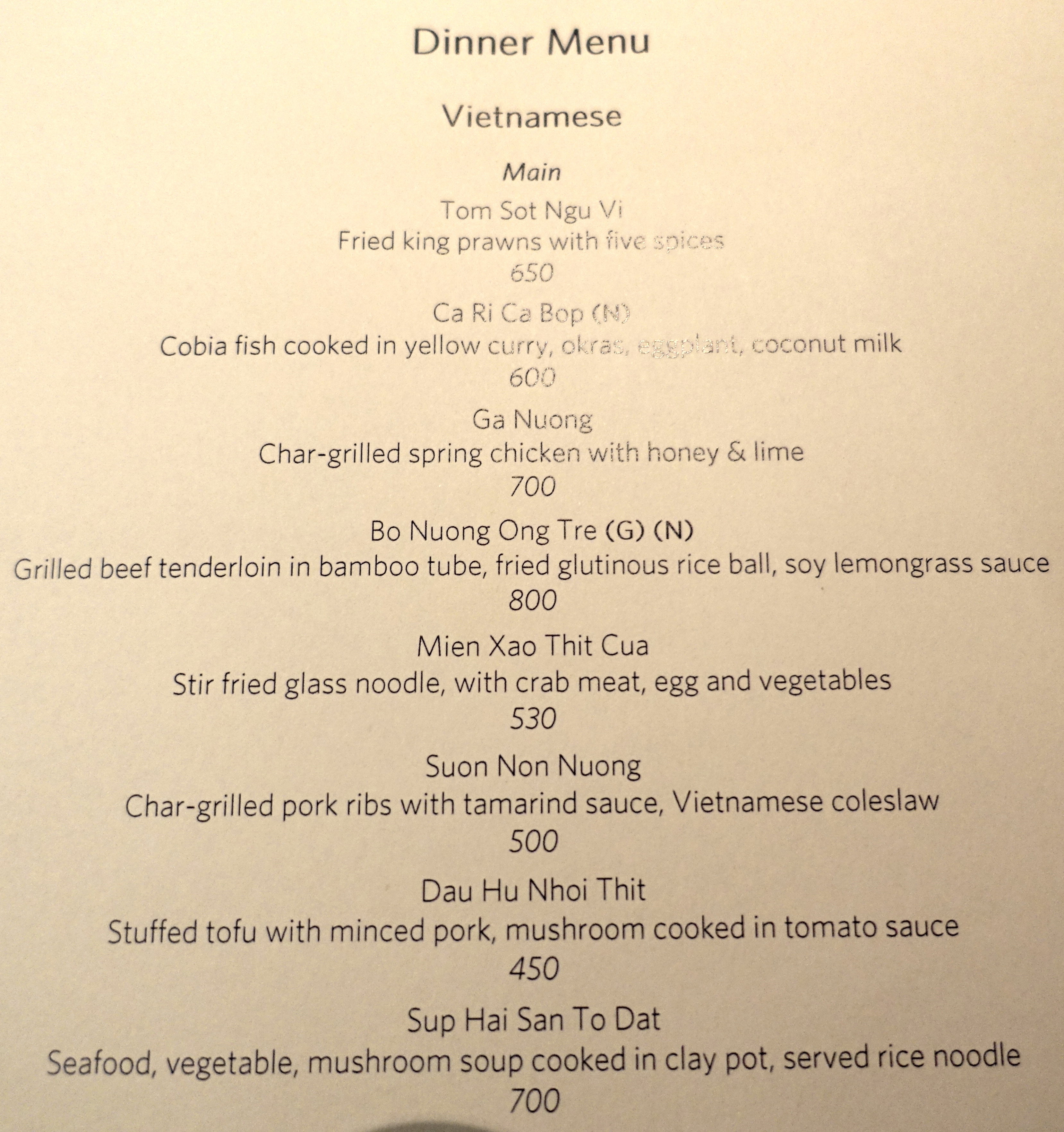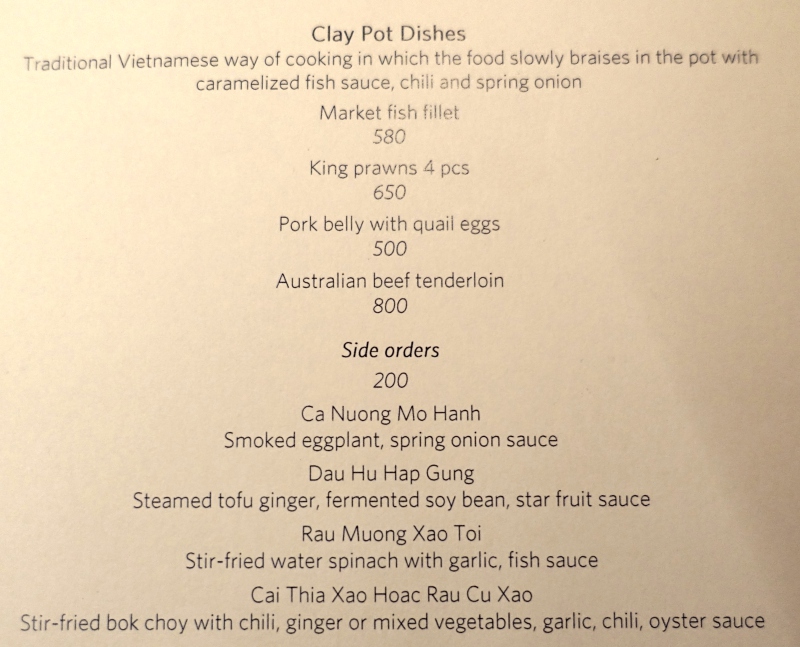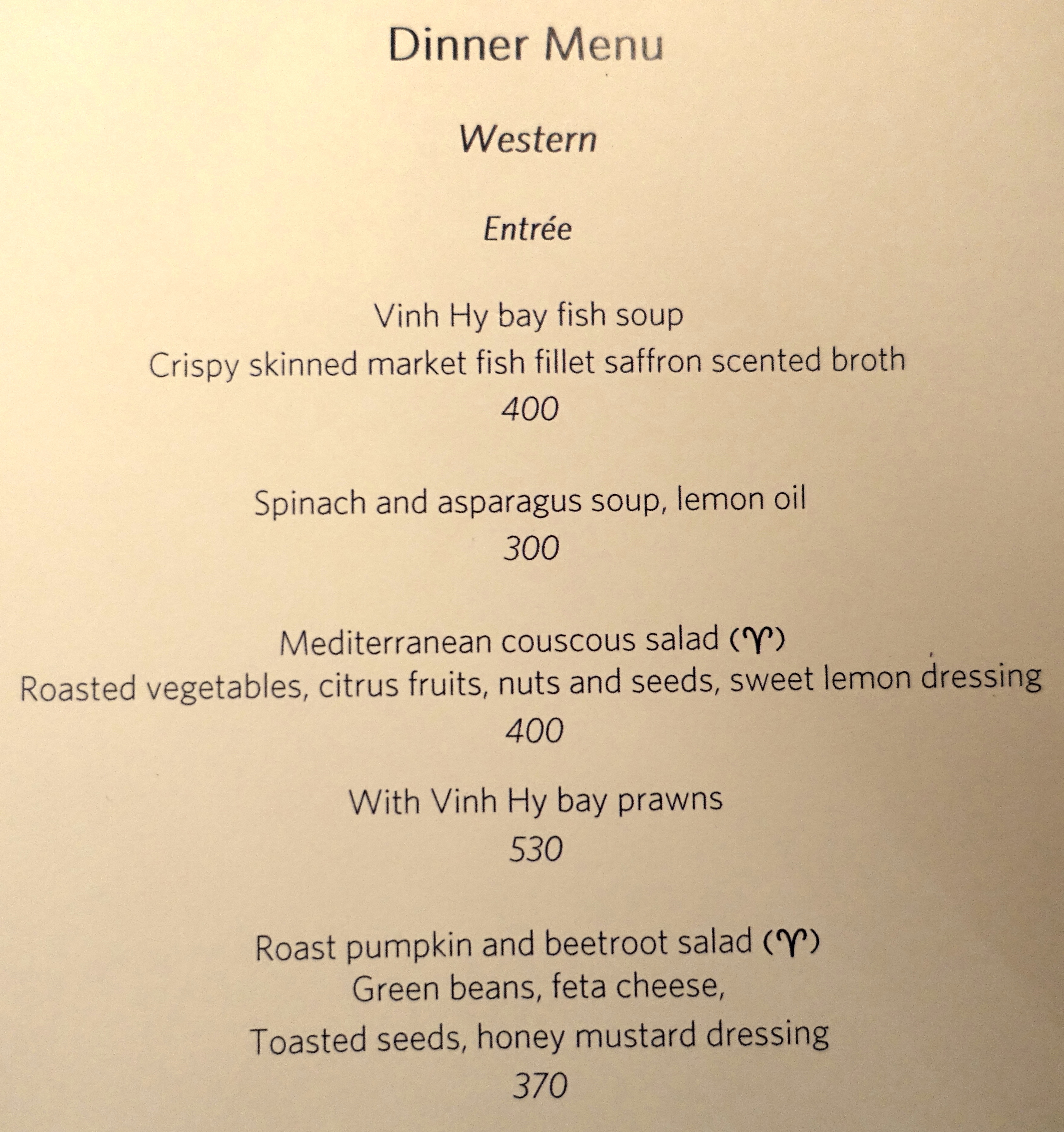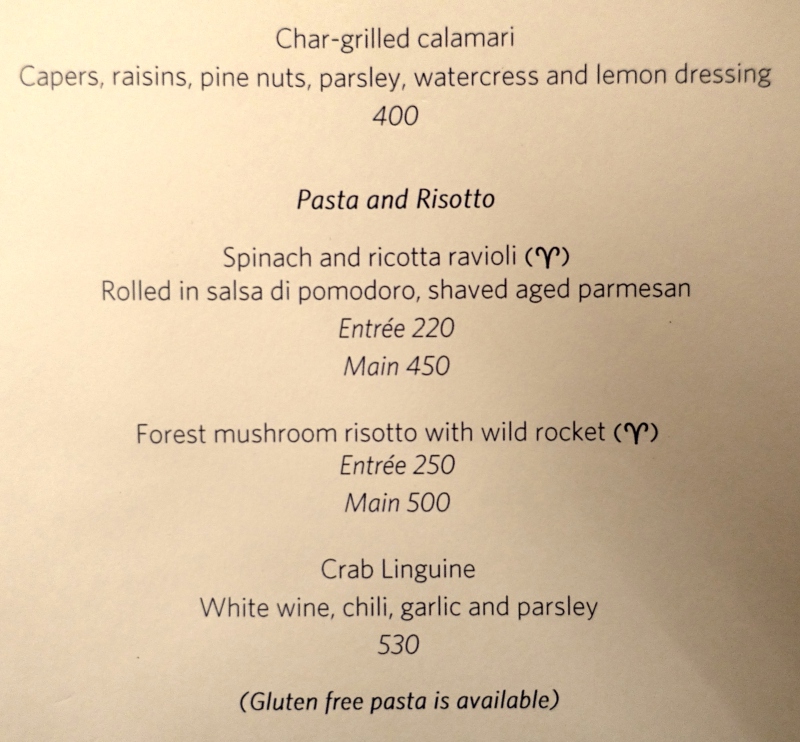 My Clay Pot Grouper contained 3 pieces of very fresh Grouper, caught by local fisherman, nicely caramelized, and served with rice: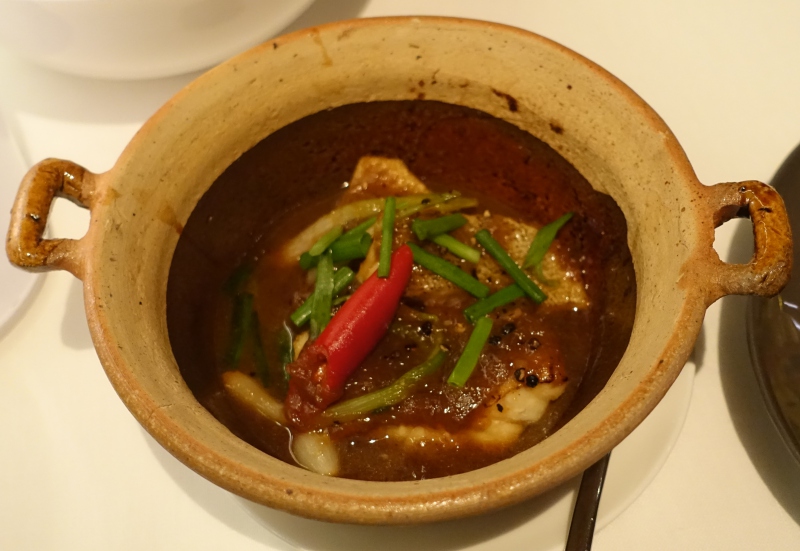 I also tried a side dish of smoked eggplant, which I recommend as well.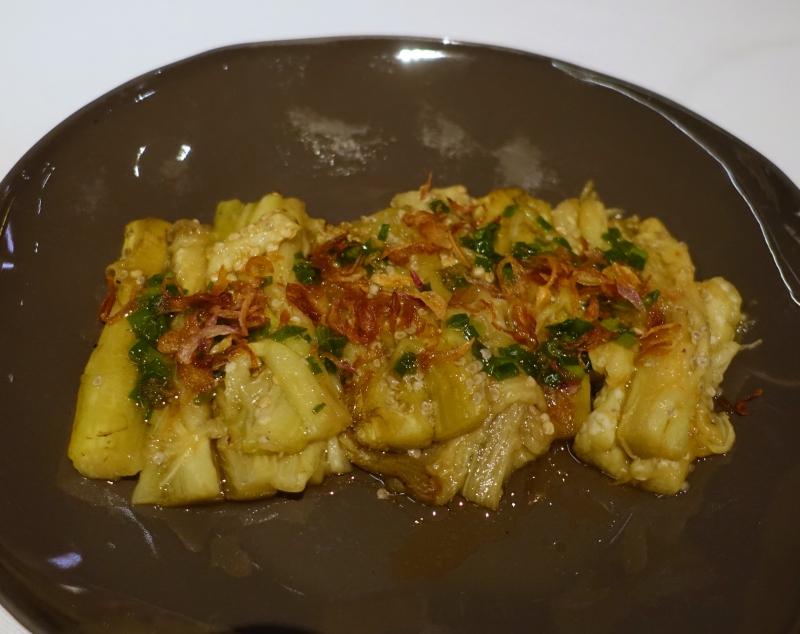 Be sure to leave room for dessert though, as Amanoi offers several tempting choices: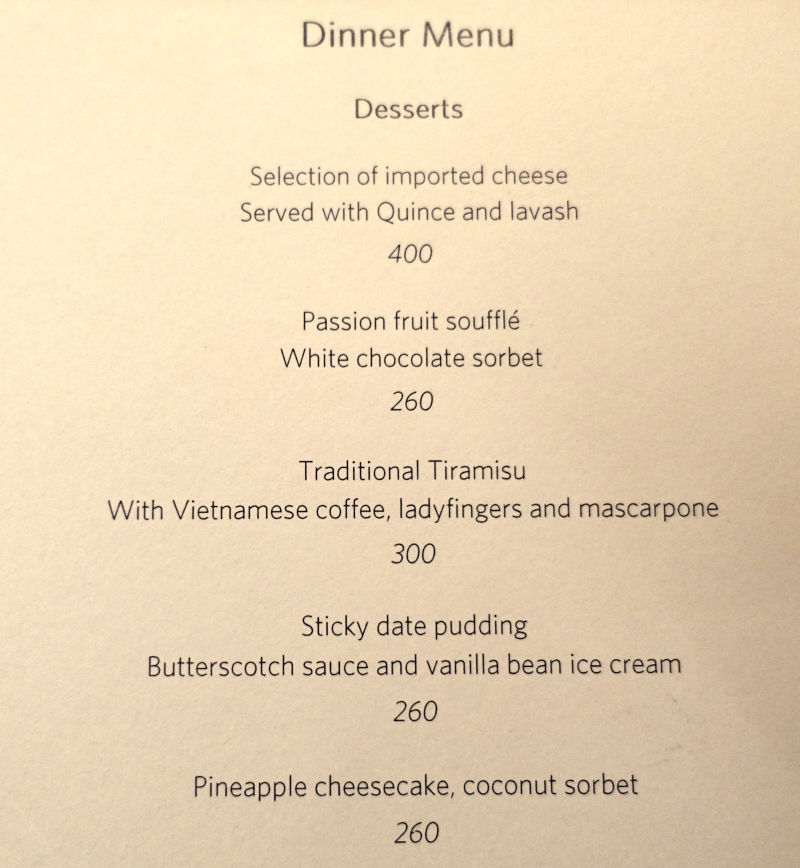 I chose the Passion Fruit Souffle, which had great tangy passion fruit flavor and reminded me of the delicious passion fruit souffle at Amankila.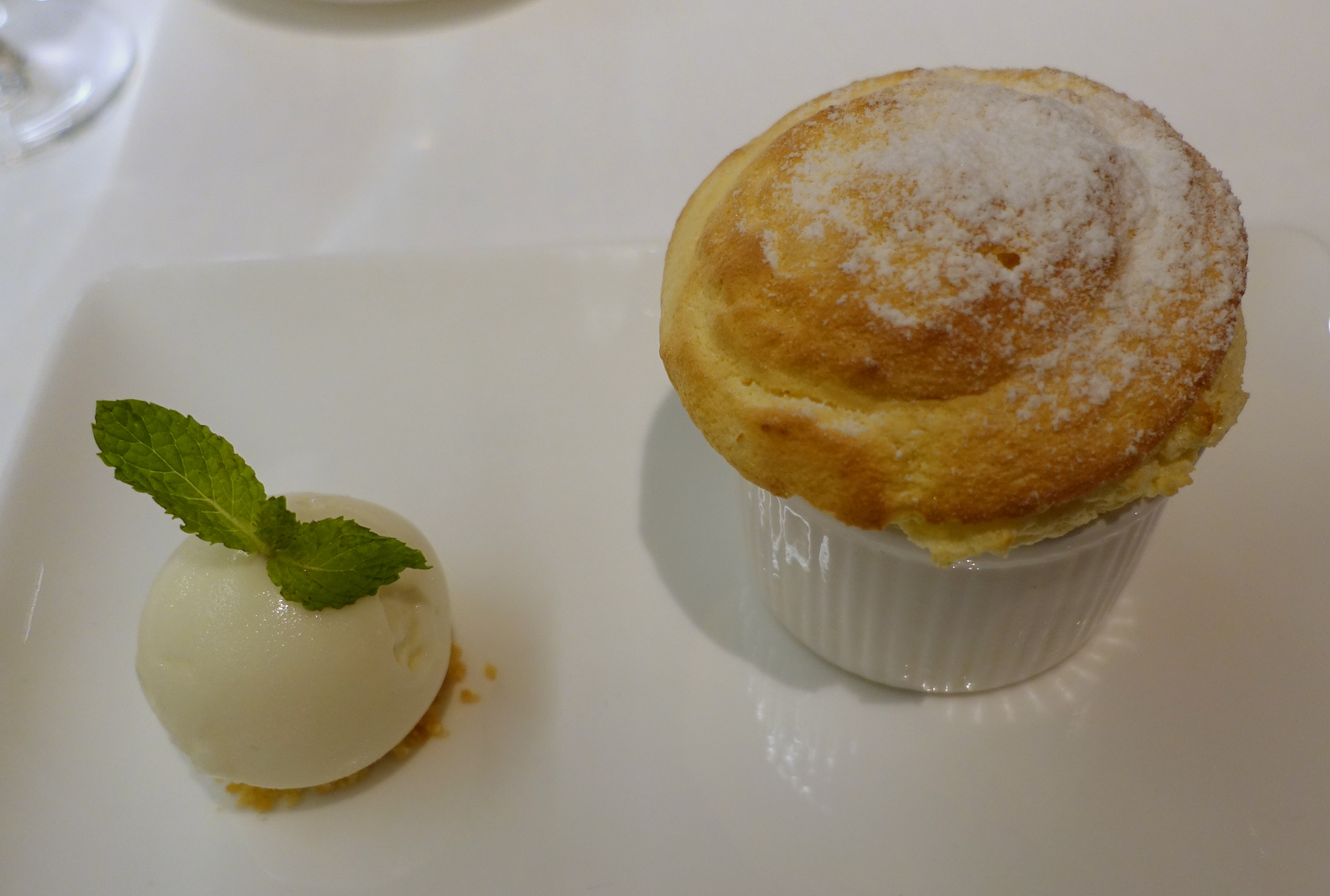 If you've dined at Amankila, what were your favorite dishes?
Related Posts
Where to Go in August: Best Luxury Travel Destinations and Where to Stay
Book Luxury Hotels in Advance or Last Minute?
Top 2016 New Luxury Hotel Openings
Disclosure: I was a guest and enjoyed a complimentary stay and breakfast at Amanoi, however I paid for my own lunch and dinner, and the views expressed in this post are my own.
Need Award Booking Help? Our fee is as low as $75 per ticket if you book your hotel through us.
If you enjoyed this, join 200,000+ readers: please follow TravelSort on Twitter or like us on Facebook to be alerted to new posts.
Become a TravelSort Client and Book Your Aman Resort with Virtuoso Amenities!