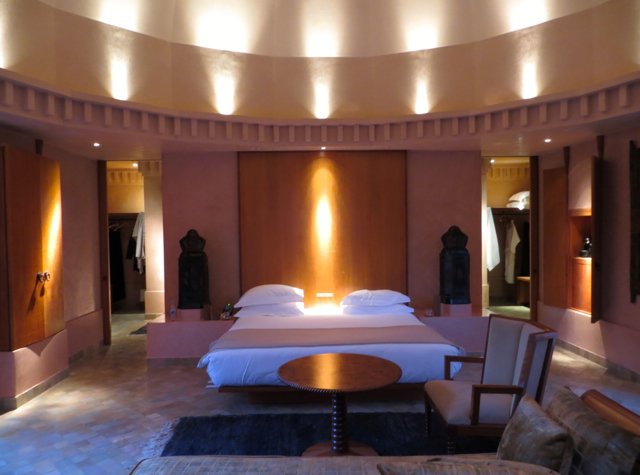 This Amanjena Review in Marrakech, Morocco, is part of a trip report including Iberia Business Class, plus reviews of luxury hotels and dining in Marrakech, Morocco. For the prior posts, please see:
British Airways Galleries Lounge at JFK Terminal 7 Review
Iberia New Business Class A330-300 Review
Solano at Four Seasons Marrakech Restaurant Review
Atlas Mountains Berber Village Experience
TravelSort Clients may book Amanjena with Virtuoso benefits:
Upgrade on arrival, subject to availability
Continental breakfast for two daily (review in future post)
Complimentary lunch or dinner for two once during stay (excludes alcohol, taxes and gratuities)
Early check-in and late check-out, subject to availability
Complimentary Transfer To and From Amanjena
Amanjena provides complimentary transfers to and from the resort from both Marrakech Airport and from other resorts in Marrakech. We were picked up right on time from the Four Seasons Marrakech by a BMW, and driven to Amanjena. We enjoyed some great views of the Atlas Mountains on our way there: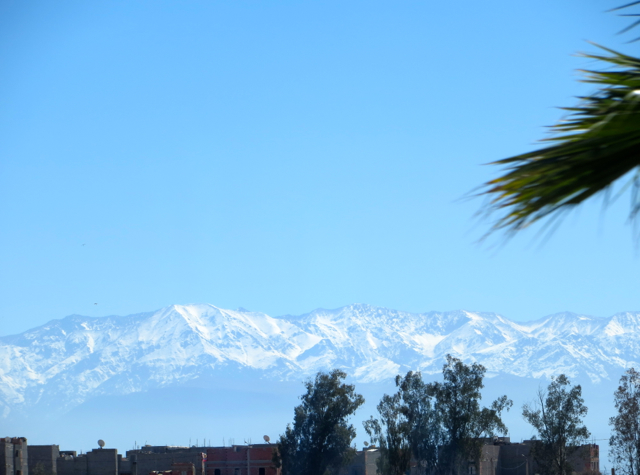 On our departure, we were driven to Marrakech Airport, about a 12 minute drive. Our driver even accompanied us into the terminal to ensure we were at the correct check-in counter, and briefed us on exactly where we would need to go after receiving our boarding passes.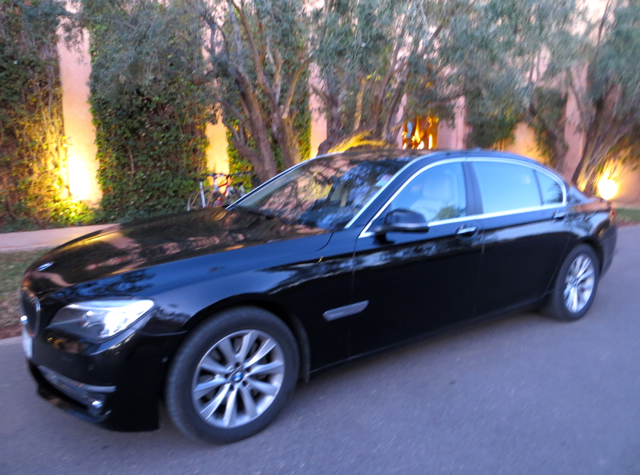 Amanjena Location, Lobby and Check-in
Amanjena is located on the southern road to Ouarzazate, the same one that we took on our way to L'Arbaa Tighdouine for our Atlas Mountains Berber Village Experience. After entering the gate, we drove up the driveway to the entrance, where, in classic Aman fashion, GM Gabriel Lousada (who prior to Amanjena was GM at Amanruya, in Turkey) and other Amanjena staff were on hand to warmly welcome us.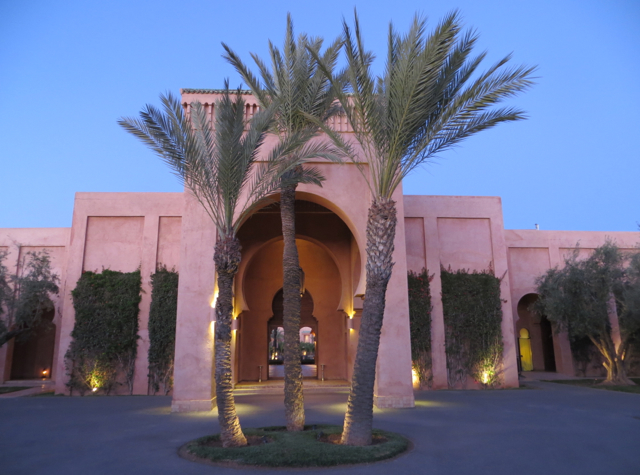 We were served Moroccan mint tea and offered some delectable treats, although I didn't manage to get photos as it all happened rather quickly. Here is my mint tea, with one of the marble fountains strewn with rose petals in the background: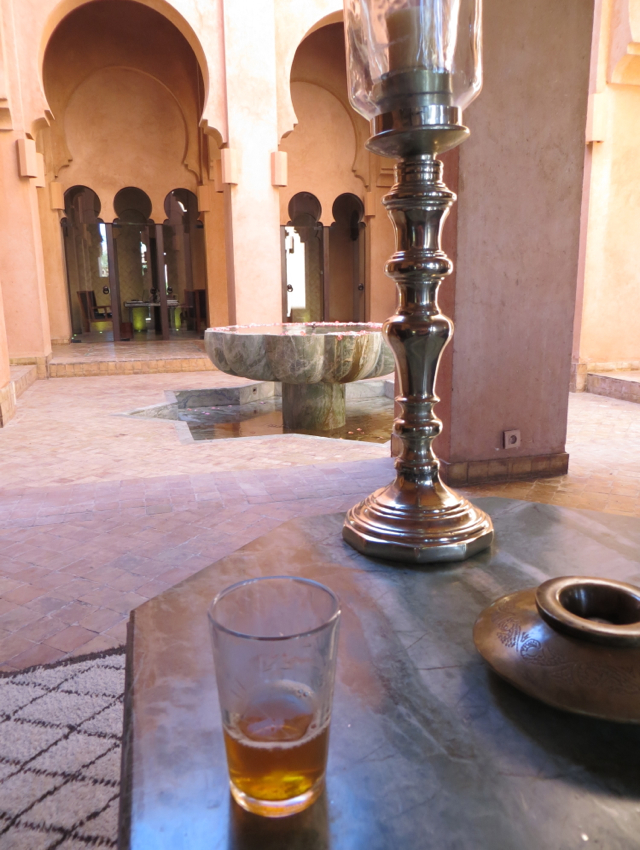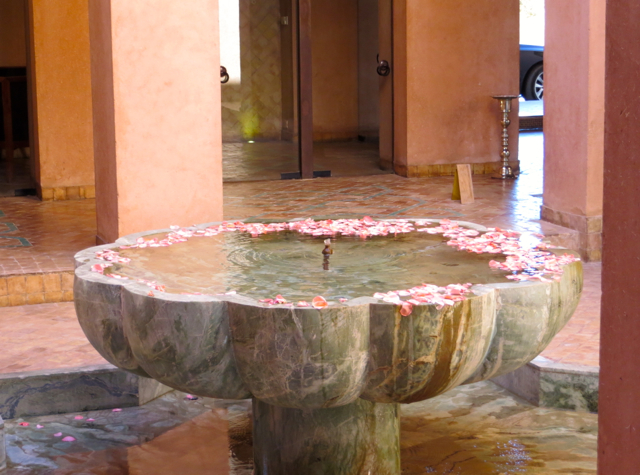 You can't help but notice the Atlas Mountains from the side of the resort we were on, near the golf course. As sunset came later that day, there was a beautiful pink hue to the sky, although as usual the photo doesn't really do it justice.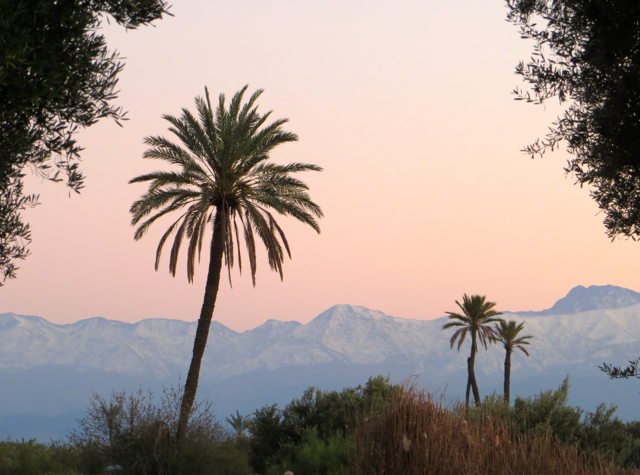 Amanjena Pavilion
Aman resorts are incredibly intimate properties, and Amanjena is no exception. It offers just 32 Pavilions, including 6 Pavilions Bassin with views of the central pool, and 8 Pavilions Piscine, with their own 25 square metre heated pools. There are also 6 two-storey Maisons with a master suite upstairs and separate second bedroom and bathroom downstairs.
While we were in one of the 32 entry level Pavilions, it was spacious and would be fine for a family with a young child, as long as you don't mind the child being in the same room, given the Pavilion's open plan. You enter through a wooden door into a garden courtyard, with sun loungers and a shaded seating area: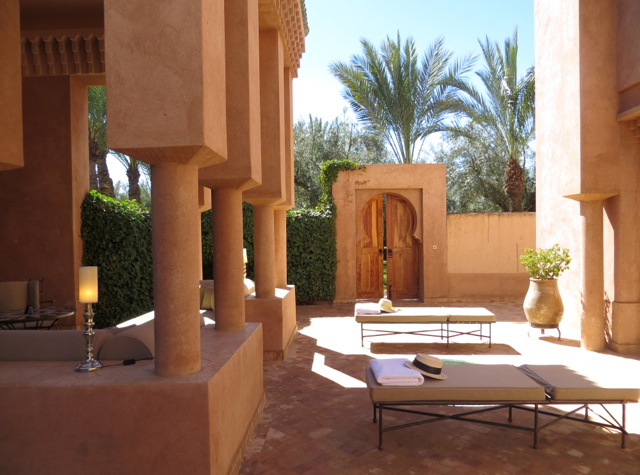 Inside, the sliding glass doors opened to reveal a grand open space with King bed, settee, writing desk, and open access to the equally spacious bathroom.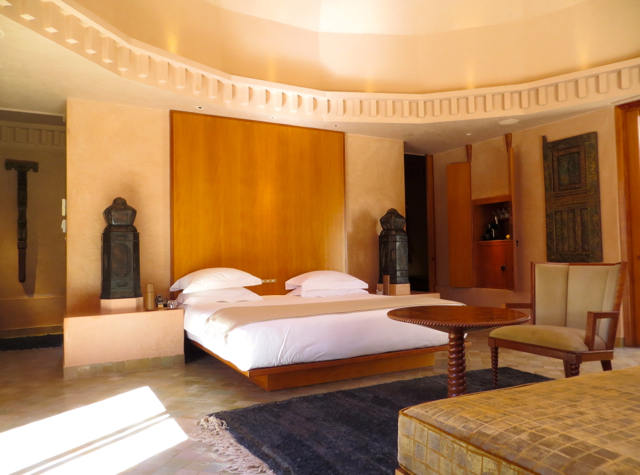 The writing desk featured a beautiful bouquet of sunset colored roses, as well as a platter of oranges, perhaps from Amanjena's own orchards. There were also bowls of pistachios and other nuts to nibble on, and even a bottle of wine, although I was traveling with the munchkin and wasn't up to drinking a bottle of wine on my own!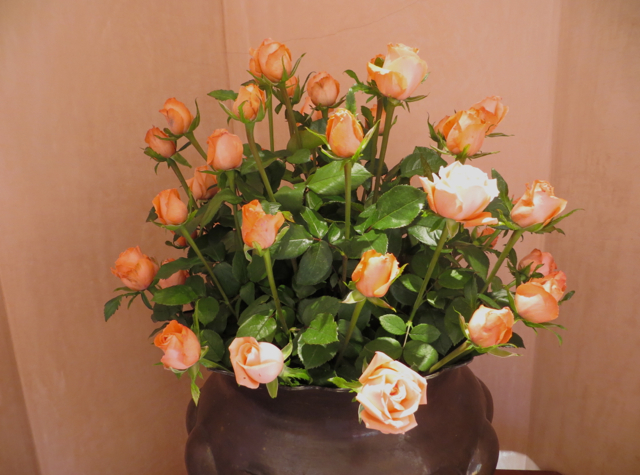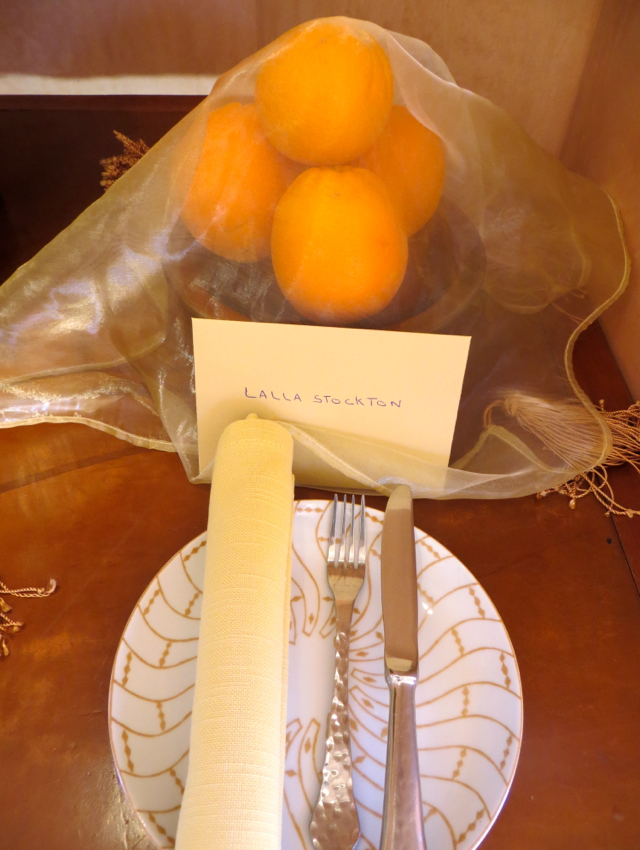 A Nespresso machine with complimentary capsules was provided, and the paid minibar featured top shelf liquor along with a fresh lemon for making your own drinks.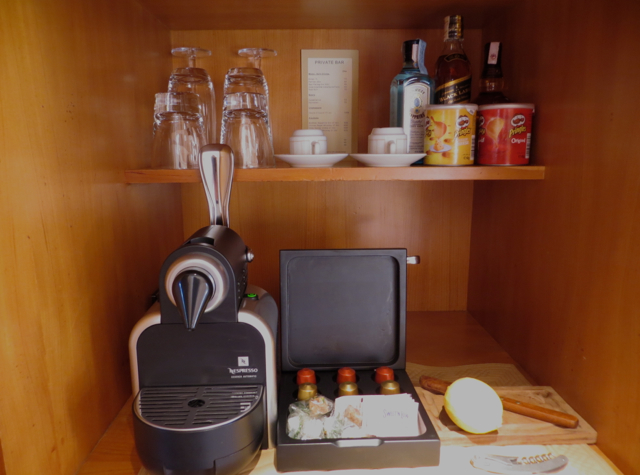 The Amanjena team member who accompanied us showed us the TV, unobtrusively hidden in its own cabinet, which is a first for me at an Aman Resort. Normally they don't have TVs, which is perfectly fine by us as a non-TV household, but in case anyone thinks they may have TV withdrawal symptoms, Amanjena Pavilions offer them.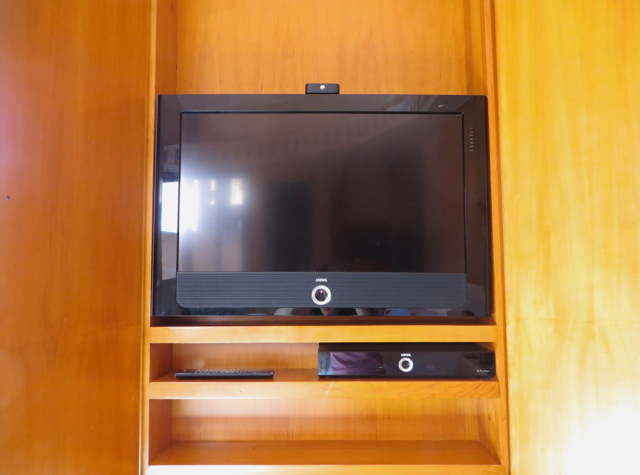 The bathroom featured dual vanities with his and hers sinks: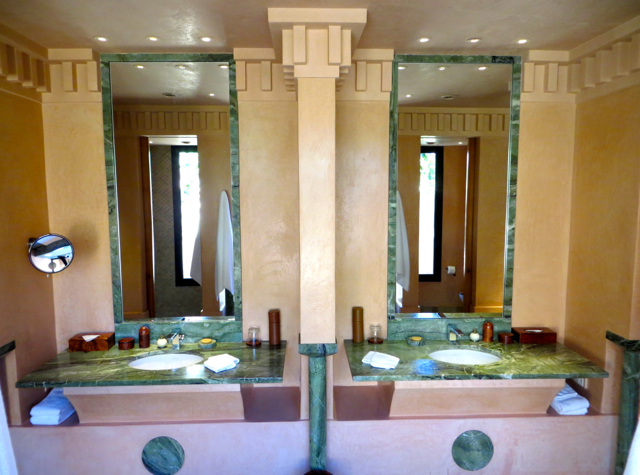 The deep soaking bath was perfect later, after a swim in the pool, for giving the munchkin a bubble bath: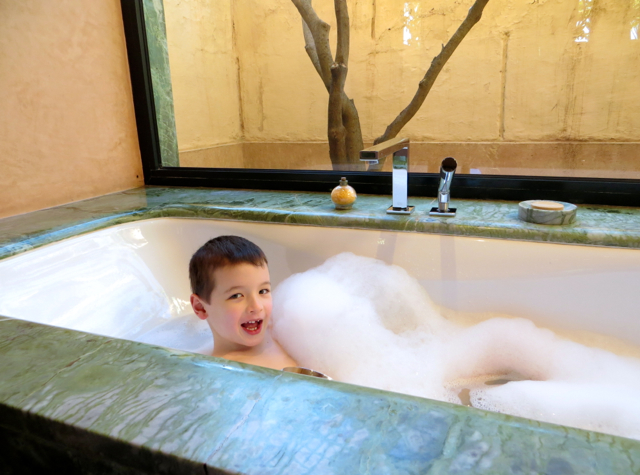 The bath amenities are locally made and in larger containers, which I didn't mind as they smelled wonderful (and, as you can see above, the bath foam made a terrific bubble bath).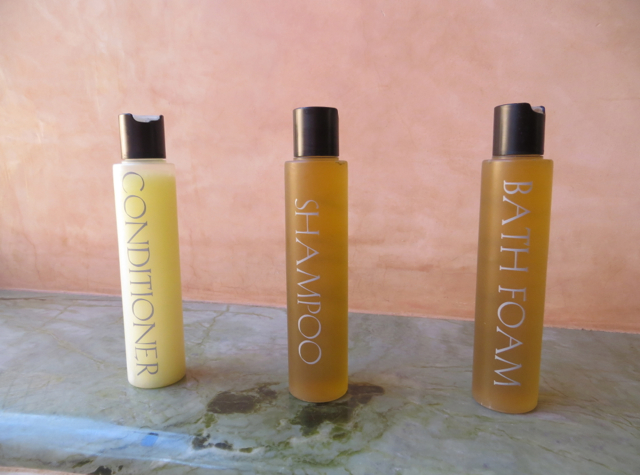 There was also a walk-in shower, and a separate toilet chamber.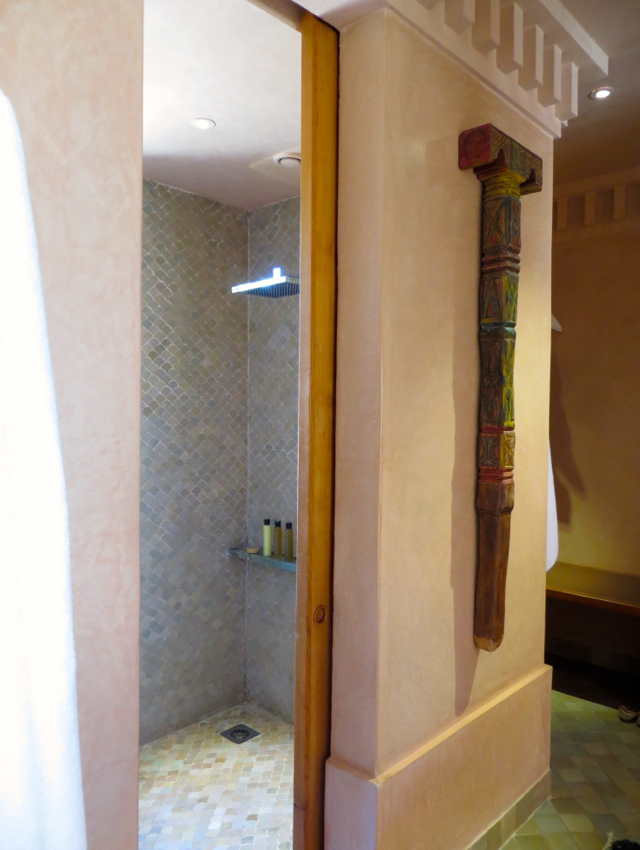 Each side of the room featured its own luggage and closet space, and what I loved is that there was a Berber robe for your use during your stay–a lovely and traditional touch.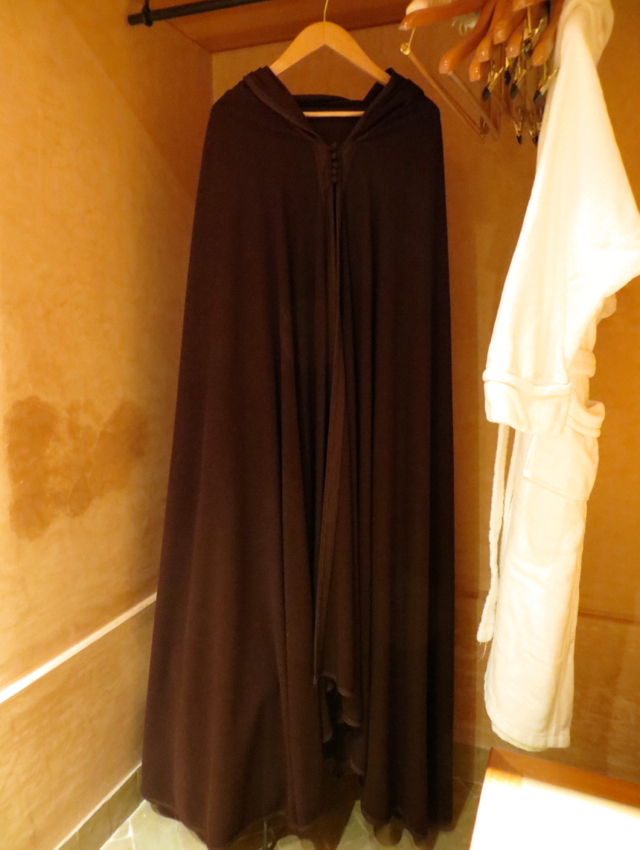 In the evening, after we returned from dinner, we enjoyed our beautifully lit Pavilion, and thought how nice it would be to have a fire in the fireplace. I wasn't able to get one started on my own, but a quick call and presently a staff member arrived to start a roaring fire–cozy!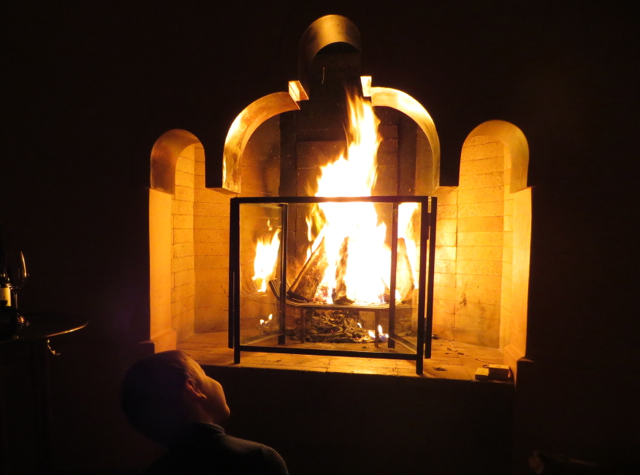 Amanjena Central Pool, Decorative Pools and Heated Outdoor Swimming Pool
Amanjena's pale peach stone buildings draw inspiration from Marrakech's Arabic name (Al Medina al-Hamra in Arabic, means "red city"), and architect Ed Tuttle has contrasted this with great use of pools throughout the resort, from the central pool that greets your view from the lobby, to the decorative long pools that flank either side of the resort's Pavilions. Here's the decorative pool right outside our Pavilion: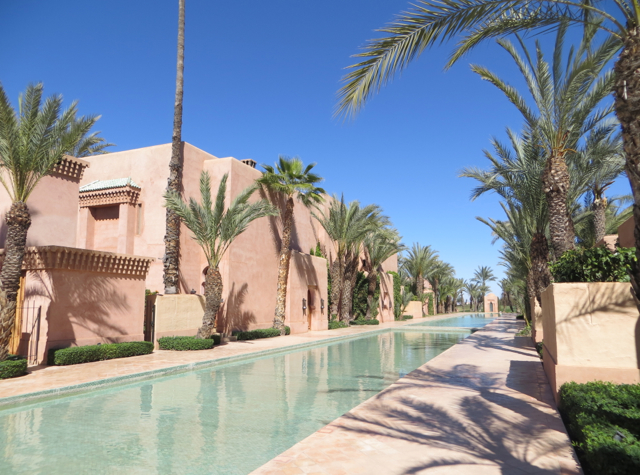 And Amanjena's central pool, which has carp in it, at twilight:
The munchkin couldn't wait to get on his swim things and try the main swimming pool, which he had been eyeing throughout our lunch. As soon as we arrived, an attendant was kind enough to set up two loungers with towlels, and also bring complimentary bottled water. Fortunately, as the munchkin was the only one in the pool, he wasn't overly noisy, so even though there were 2-4 other guests lounging poolside during our time there, they didn't appear annoyed with his splashing around.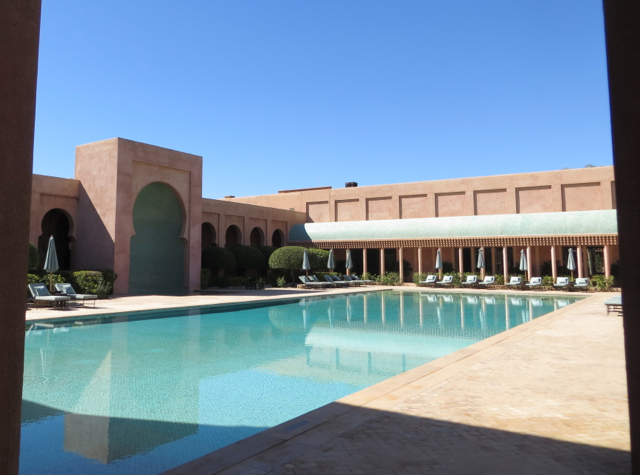 The pool is heated, but the outdoor air was a bit chilly, so before too long, he was ready to come out and bundle up. He read some of his books while I worked for a bit. An attendant came by with complimentary delicious homemade banana vanilla ice cream for everyone–yum!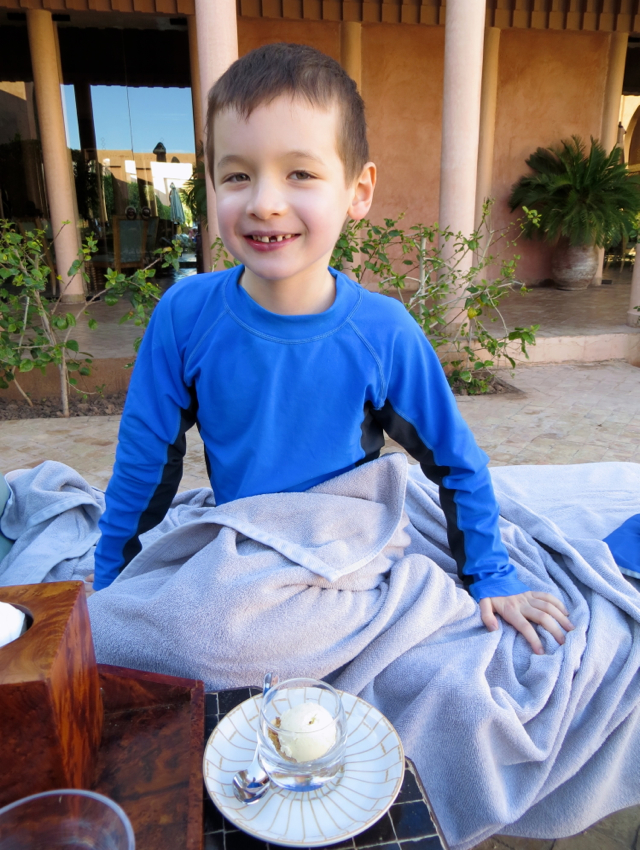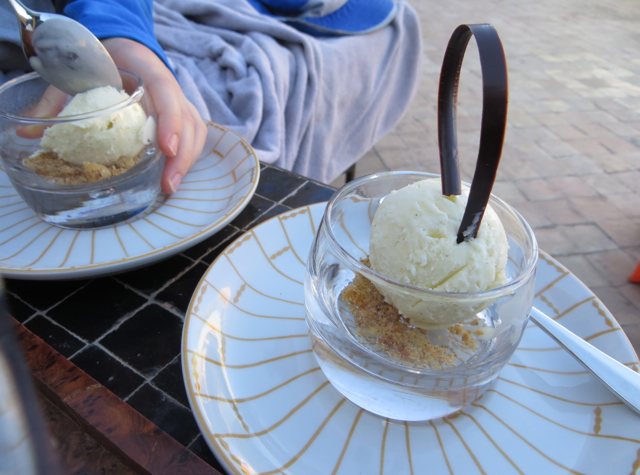 Amanjena Dining and Food
Everything we tried was delicious, from our Thai lunch to Moroccan dinner to an early morning breakfast taken at our Pavilion. I've written a separate post on Amanjena Restaurants and Menus.
The Verdict
If you're in Marrakech with your significant other and crave a beautiful, tranquil romantic getaway, Amanjena is a must, even if you have to save up for it for months. Particularly at twilight and in the evening, it's as if you stepped into your own Arabian Nights fantasy. Of course, if you need a lively vibe with plenty of other guests around, Amanjena isn't for you. But if the crowds of the Medina and uncertainty of whether you'll find a wonderful luxury resort with superb service have made you hesitate about visiting Marrakech, Amanjena should be your base if traveling as a couple, without kids.
I'll leave you with a short video of just a bit of the hauntingly beautiful traditional Moroccan music we listened to–the munchkin and I were the only audience, and were only sad there weren't more guests with us to appreciate it.
Disclosure: My family and I were guests and enjoyed a complimentary stay and breakfast at Amanjena, however the views expressed in this post are my own.
Related Posts
Atlas Mountains Berber Village Experience, Amanjena
Aman Resorts Spring Offers: Bali, Bhutan, Greece, India, Morocco, Turkey
Top Hotels in Madrid, Barcelona, Lisbon, Istanbul and Marrakech
Virtuoso Hotels: Bookings with Upgrades, Complimentary Breakfast and VIP Perks
Need Award Booking Help? Our fee is as low as $75 per ticket if you book your hotel through us.
If you enjoyed this, join 200,000+ readers: please follow TravelSort on Twitter or  like us on Facebook to be alerted to new posts. 
Become a TravelSort Client and Book your Aman Resort with Virtuoso Benefits!