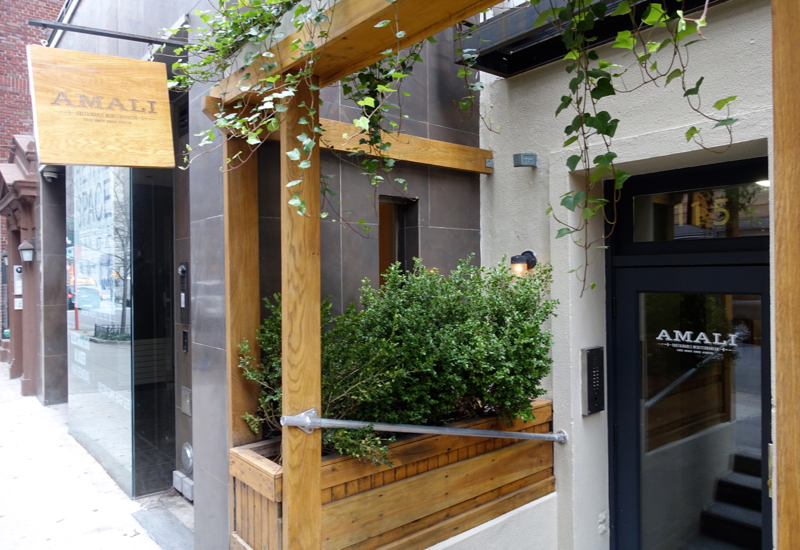 This Amali NYC Restaurant Review is from a recent visit, inspired in part by Amali's listing in NY Eater's 38 Essential New York Restaurants, and in part by a current BlackboardEats Citi cards offer of a complimentary crostata dessert when each diner purchases a main course (or two appetizers).
Amali is billed as a "sustainable Mediterranean" restaurant, and is owned by James Mallios, together with partners Steve Tsolis and Nicola Kotsoni. Sister restaurants include Il Cantinori, serving Tuscan cuisine, and Periyali (Greek cuisine).
Visiting New York? See all of our posts tagged NYC.
Getting to Amali Restaurant
Amali Restaurant is located at 115 East 60th Street, between Park Avenue and Lexington. It's just steps from the 59th Street subway station, with the 4, 5, 6, N and R trains, and a short walk from the Apple Store, Bergdorf Goodman, and 5th Avenue shopping.
The Scene
We arrived for a 12:30pm weekday lunch reservation. There were just two other parties in the main dining room, one a group of 4, and the other a couple of businessmen, although by the time we left, there was also a grandmother and her daughter, and another couple. All of us were seated in the cozy banquette side of the room, although there is apparently also an atrium like room in the back that is a nice respite from the noise of the front room, when the restaurant is busy during peak times.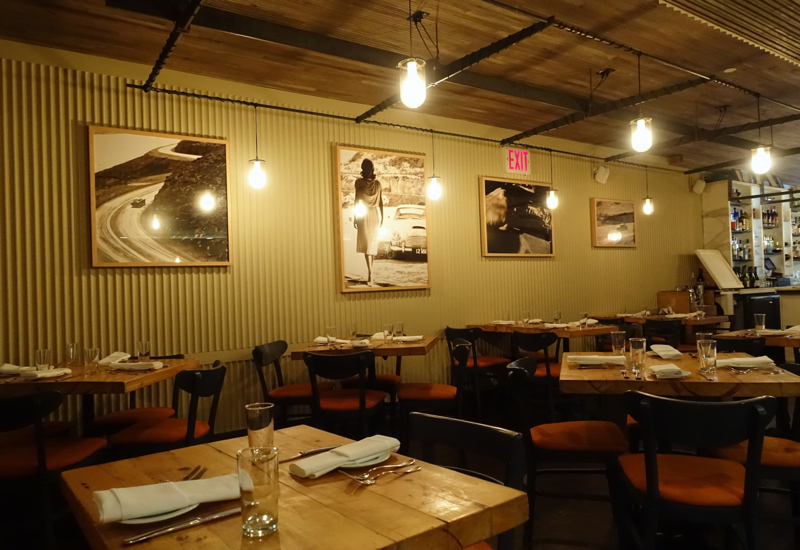 Amali Menu and Food
Amali's menu is quite short, explained no doubt by the restaurant (and presumably kitchen's) small size. There are about 10 appetizer choices, and 10 pasta, sandwich and main dish choices.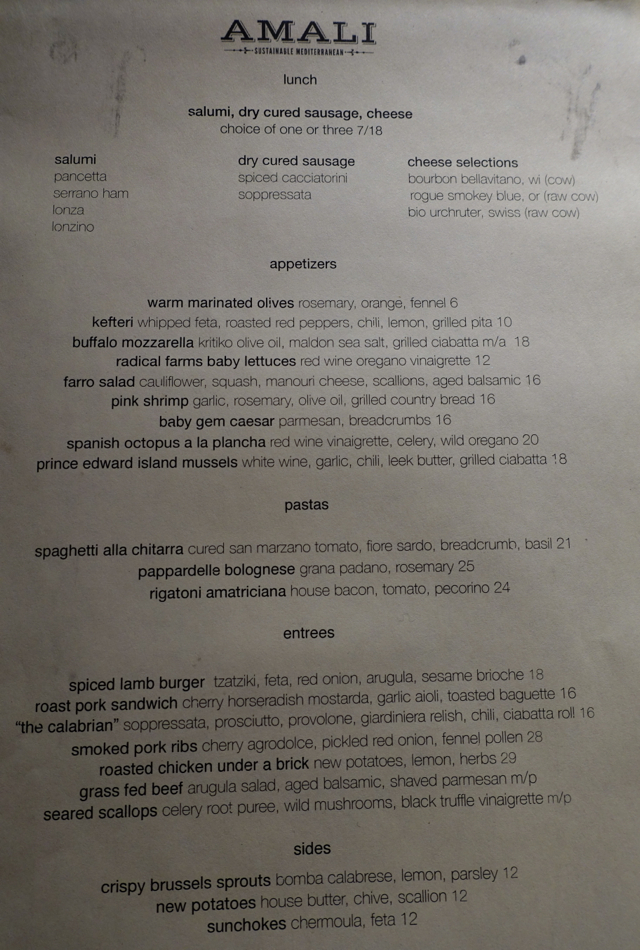 After our server introduced himself and took our water order, we asked if he'd tried the two sandwich options, the lamb burger and the roast pork sandwich. He particularly recommended the lamb burger, which my son already had said he wanted, so we ordered that for him, while I opted for the pork sandwich. Interestingly, when I presented our BlackboardEats offer, our server knew nothing about it and had apparently never seen it before. Some server training may be in order.
While waiting, we were brought some lavosh style crackers powdered with za'atar, a Middle Eastern spice mixture of sumac, thyme, oregano and marjoram, which I enjoyed and to my surprise my son also really liked (no doubt being ravenous helped).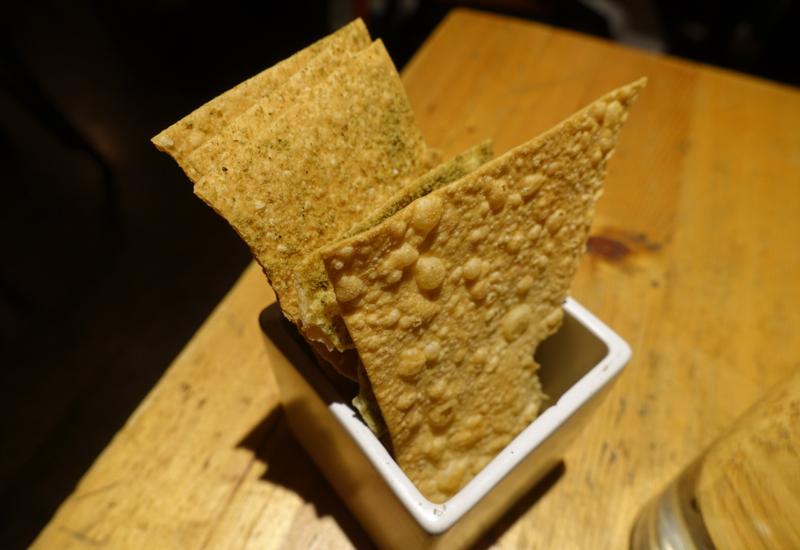 I'd read that you can also request grilled bread, even though it is not automatically brought out, so we asked for that too and were glad we did, since it took quite some time for our sandwiches to arrive.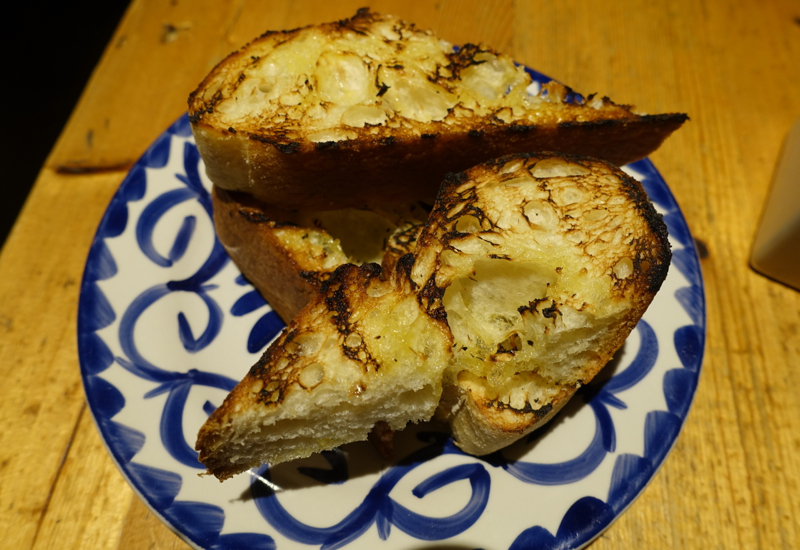 The wait was worth it, however, especially in the case of my son's lamb burger, which is the best I've had in NYC. It was a good sized portion, spiced nicely but not so much that my son objected, and with a delicious smear of tzatziki mixed with feta on the brioche buns.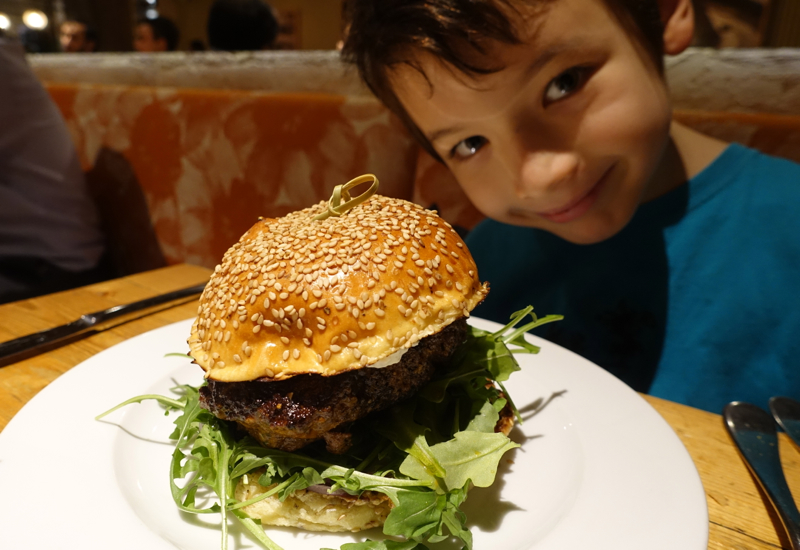 My pork sandwich was also good, particularly the unusual cherry horseradish mostarda which elevated it, although the pork could have been a little more generous on one half of the sandwich, and the presentation, with arugula falling out haphazardly, could have been improved upon.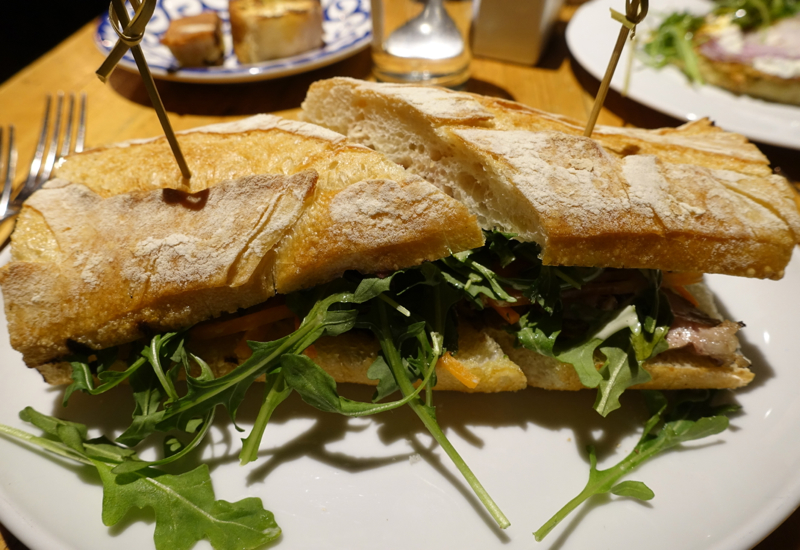 The crispy brussels sprouts with bomba calabrese were delicious, and the highlight of the meal (well, for me anyway–my son refused to try them)–together with the grilled bread, they would make a nice light lunch, especially if you're vegetarian.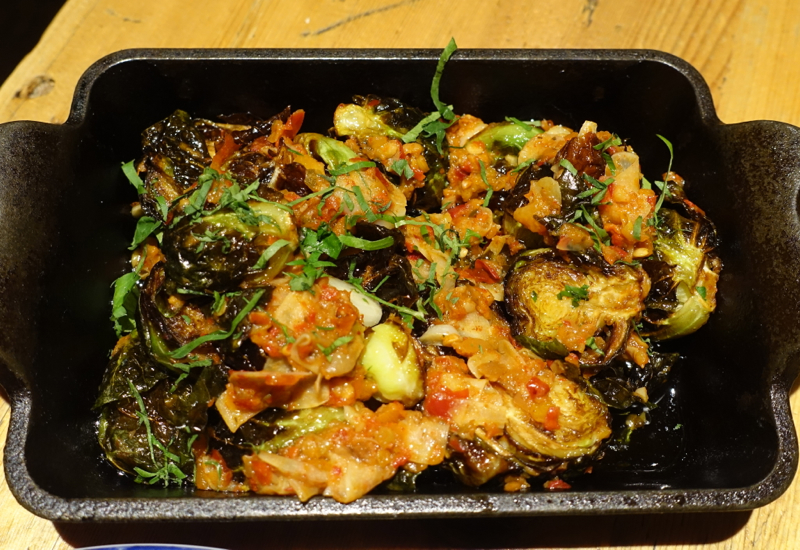 The complimentary crostata was a bit disappointing in that it wasn't the red wine pear crostata with pecan streusel and mascarpone gelato that was listed on the restaurant's dessert menu on the Web site, but instead a small apple pie and vanilla bean ice cream. While good enough for apple pie, it was nothing special or interesting, and I probably wouldn't have made a reservation if I'd known that this was to be the complimentary dessert.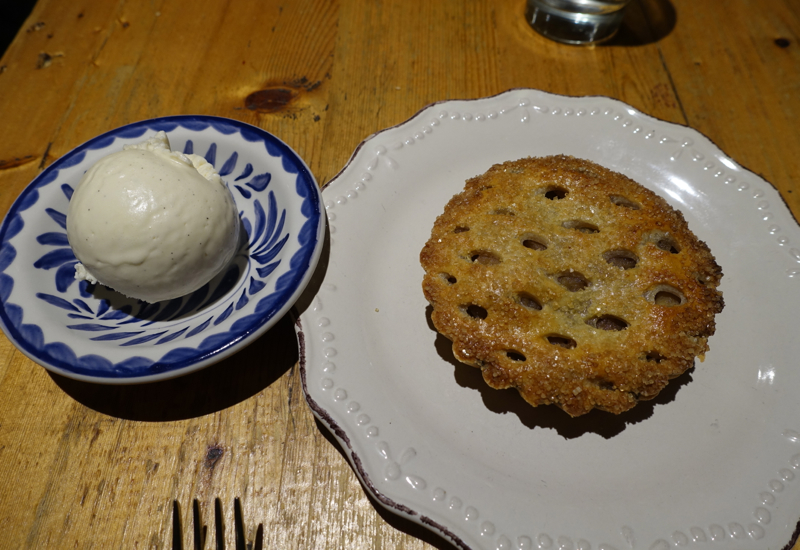 The Verdict
I'd rate Amali 3.5 stars out of 5 based on our experience. While the crispy brussels sprouts were fantastic and a must-order dish and the lamb burger also excellent, my pork sandwich was good, not great, and the size and ordinariness of the dessert was rather disappointing.
Given the midtown location, count on a good $30 or more per person for lunch, particularly if you order any drinks or side dishes. For that money in midtown NYC, I must admit I prefer a lunch of sushi or the Tuesday special chirashi at Tsushima, which may have a bit less atmosphere but offers prompter service and overall better value for money. And for more reasonably priced modern Greek, I prefer Fish Tag, on the Upper West Side, even though the lamb burger isn't quite as good. But if you're looking for a great lamb burger or brussels sprouts dish in midtown NYC, by all means give Amali a try.
Related Posts
Top 5 Best Value NYC Michelin Star Restaurants
Fish Tag NYC Restaurant Review
Pylos NYC Restaurant Review and Menu
Need Award Booking Help? Our fee is as low as $75 per ticket if you book your hotel or cruise with us.
If you enjoyed this, join 200,000+ readers: please follow TravelSort on Twitter or like us on Facebook to be alerted to new posts.
Become a TravelSort Client and Book Your Hotel with Virtuoso or Four Seasons Preferred VIP Amenities!