3/12/12 Update: I called Alaska Airlines Mileage Plan, and they confirmed that the Alaska Airlines Companion Ticket is still valid on First Class. According to them, "coach" was inserted because some people were getting confused about the 25,000 bonus miles being good for a first class award flight. Really? It's pretty clear in the terms and the Mileage Plan Q&A that you have to *pay* for the first ticket before paying $99 + taxes/fees for the free companion ticket. So those $99 First Class Companion Tickets using the Alaska Airlines Visa are safe…for now 🙂 Here's Alaska Airlines' response to my tweet: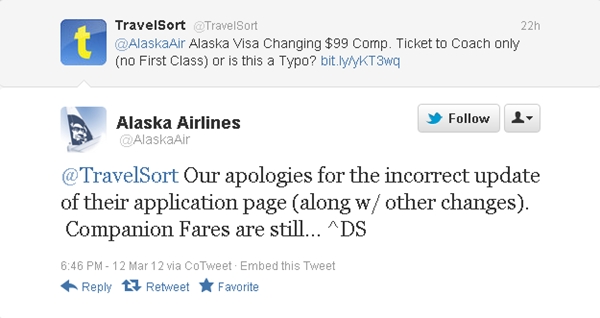 And another thing: the rep I spoke with mentioned that if you apply for the card by phone (800-654-5669, ask for Mileage Plan), you'll get an extra 1000 Alaska Mileage Plan miles, for a total of 26,000. If you apply through the Web site, it's strictly 25,000 miles. While neither is as good as the 40,000 bonus mile offer from last year, if you need to get the card soon, you should call so you can get the extra 1000 miles.
Original post:
While answering a reader question earlier today about getting a family of 5 to Hawaii, I took another look at the Alaska Airlines Signature Visa card. It currently only has a 25,000 mile bonus offer (last year they were offering 40,000 bonus miles at one point) but what surprised me most was that on a couple of the credit card applications, Alaska Airlines specified that the annual Companion Fare is limited to coach:
"Receive an annual coach Companion Fare from $110 ($99 base fare plus taxes and fees, from $11 depending on your Alaska Airlines flight itinerary)."
[Bolding is mine]
Here are two screenshots: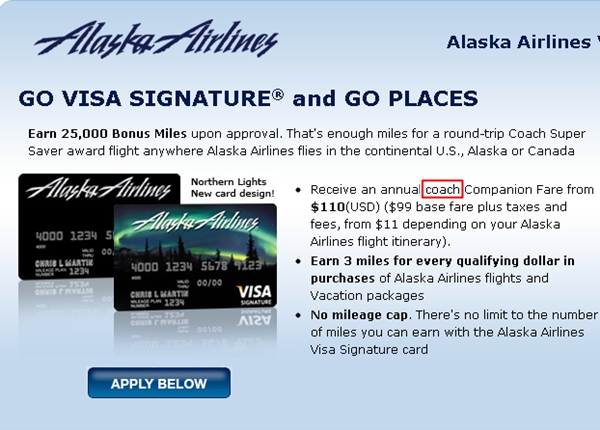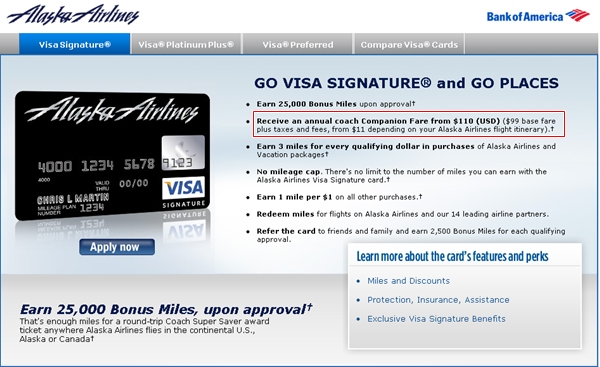 I checked the Terms and Conditions, and they make no mention of the companion ticket now being limited to coach tickets:
Cardholders that qualify for the Visa Signature card will receive an annual Companion Fare from $110 (USD) ($99 base fare plus taxes and fees, from $11 depending on your Alaska Airlines flight itinerary). The Companion Fare e-certificate is issued upon approval of a new account and on each anniversary thereafter. Mileage Plan miles cannot be used as a form of payment, however both the paying customer and the companion may accrue Mileage Plan miles. Passenger and companion are responsible for applicable checked baggage fees. Applicable taxes and fees are subject to change.
This would be a huge loss for many Alaska Airlines Visa cardholders, since the companion ticket being usable for domestic first class is the biggest benefit of this card, especially on flights to Hawaii. In fact, Ben called it "the best kept secret for reasonably priced first class airfare to Hawaii" in his post Tips for Booking Award Flights to Hawaii. Note that as of December 1, 2011, you can only redeem the companion ticket by booking online, not over the phone.
There are a few questions:
Is this real or a typo? (See below)
If this is real, and thus a major devaluation of the Alaska Airlines Visa offer, when does it take effect for all current cardholders? At their renewal date or on some other date?
Are currently issued companion ticket codes still able to book first class companion tickets? (I assume so, but I don't have a code to verify this, so would love input from anyone who does)
I also saw a comment on milepoint that someone had called Alaska on this, and was told there was a computer problem, and that the wording would be fixed in a few days.
Hmm, really? The word "coach" just kind of snuck in there due to a computer snafu? I don't think so…but in any case, if you have or planned to get the Alaska Visa, it wouldn't hurt to let Bank of America and Alaska Airlines know how you feel about this change (or typo, as the case may be):
Twitter: @AlaskaAir @BofA_News @BofA_Help
Facebook: Alaska Airlines
Check out and apply for the Best Travel Credit Cards.
If you enjoyed this, please follow TravelSort on Twitter or like us on Facebook to be alerted to new posts.
Become a Member to find your perfect luxury or boutique hotel at up to 50% off: TravelSort Hotels