Award availability trends are constantly changing due to a variety of factors, making it very tough to keep track of the best options. Award availability can change in an instant due to a change in frequency or aircraft type on a particular route, seasonality, a new first/business class product, etc.
Nonetheless there are some routes that are "gold mines" compared to others when it comes to first and business class award availability. Unfortunately it's typically no science (ie, 330 days out ANA opens up two first class and five business class seats on a certain route), though by knowing the trends you'll be best positioned to find award space when the time to book comes. The good news is that some websites like ExpertFlyer let you set an alert for award space on particular airlines, including Air France, Alitalia, American, Qantas, United, and many more.
To keep things simple we'll go through each alliance individually. Unless otherwise stated, assume that airlines typically open up award space around the same time their schedules open, which is between 330 days and a year before departure. While many airlines will release space when their schedules open, others only open up space 10 months or even two months before departure. It really varies by airline, flight, and route, so there's no simple rule of thumb that applies to every situation.
Star Alliance
All Nippon Airways

Los Angeles to Tokyo Haneda:
Over the past couple of years Tokyo Haneda opened itself up to international longhaul traffic, which many thought would be the best thing since sliced bread. While Tokyo Haneda is a bit closer to the city than Narita Airport, the airport only opened up slots at very inconvenient times, mostly between 10PM and 5AM. So while we've seen airlines scale back on Haneda service, ANA still flies there daily from Los Angeles, and they usually release multiple (typically two to four) business class seats on every flight (there's no first class on this route).
Washington Dulles/Chicago to Tokyo Narita:
ANA regularly releases multiple (typically two to four) business class award seats on their Washington Dulles and Chicago to Tokyo Narita flights.
A lot of people seek out ANA first class award availability, though it's one of the toughest products to get first class award space on. They'll occasionally release award space within one or two weeks of departure, though other than that the only time they regularly open up first class award seats for is for travel between late January and early March. Best of all, they'll usually release two first class award seats per flight. So if you're looking at traveling that time of year, start planning as far out as you can so you can secure one of the best first class products out there.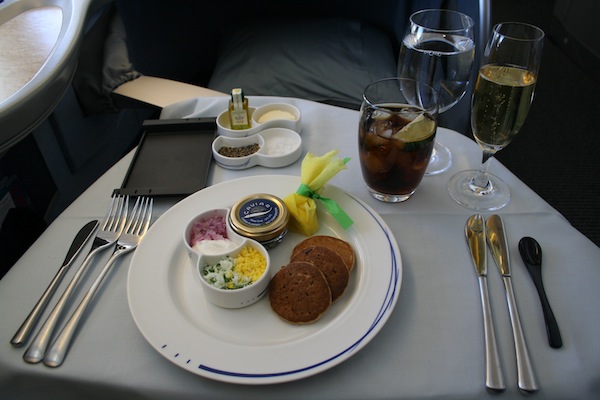 Asiana
Los Angeles/San Francisco/Seattle to Seoul:
Asiana regularly releases multiple (typically two to four) business class award seats out of their west coast gateways to Seoul. They even offer a three cabin product out of Los Angeles, so it's not unusual to see two first class award seats available on one of their two daily flights.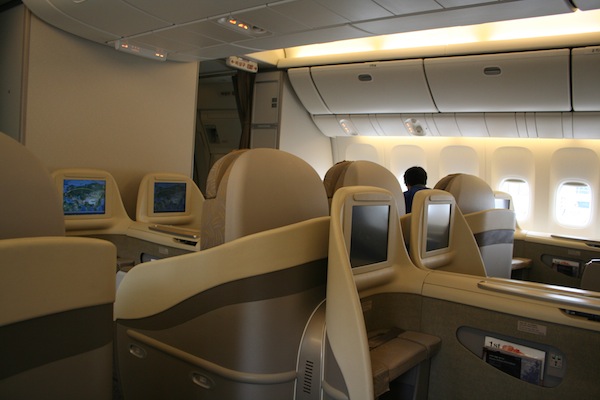 Singapore Airlines
Singapore Airlines first and business class seem to be the holy grail of award redemptions. Bad news, unfortunately – they don't release first or business class award availability to any of their partner airlines for any of their routes out of the US. Even out of Europe, almost all of their flights are operated by the new product, making premium cabin redemptions near impossible. Now, Singapore's KrisFlyer frequent flyer program is a transfer partner with Membership Rewards and Starwood, though the redemption rates are exhorbitant and they impose fuel surcharges on award redemptions, so rarely is it worth it to fly Singapore in my opinion. As an example, Los Angeles to Singapore in business class will cost you a minimum of 240,000 KrisFlyer miles.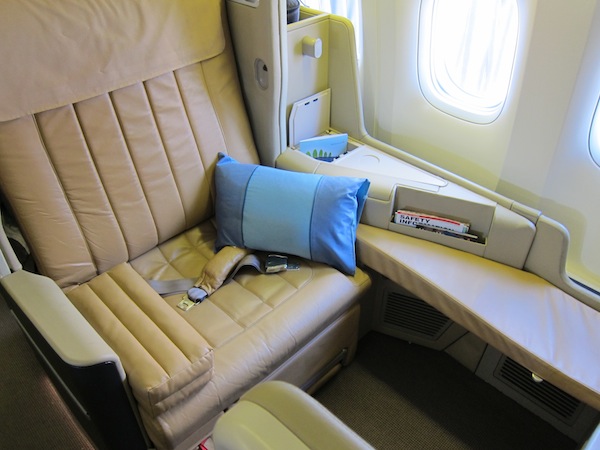 Thai Airways
Thai's only destination in the US is Los Angeles. While award availability used to be great on the flight, as of late it has gotten much worse. So if you want to fly on Thai Airways, I suggest routing through Europe, so you can fly Lufthansa or another European airline as far as Europe, and then Thai from Europe to Asia. They release a good amount of both business and first class award space out of Europe.
United
San Francisco to Seoul:
United will often release two first class award seats and up to nine business class award seats on this flight, though it does vary. Given that this route is typically operated by a 747 featuring their new product, it's not a half bad option.
Seattle to Tokyo Narita:
This is United's only longhaul international flight out of a non-hub, so award space tends to be pretty good. It's not unusual to see two first class award seats and even more (anywhere from two to nine) business class award seats on this flight. Keep in mind this route is operated by a 777, and United is still in the process of reconfiguring some of them, so you may end up with their old product.
OneWorld
American Airlines
Simply put, American has spectacular award availability on almost all of their routes to Asia, both in first and business class. It's not unusual to see over four award seats in first class and over seven award seats in business class on their routes to Tokyo, Shanghai, and Beijing.
Cathay Pacific
San Francisco to Hong Kong:
While business class award space out of San Francisco isn't great, Cathay Pacific often releases two first class award seats per flight on their two daily flights to Hong Kong. If they don't release the space right when the booking window opens, they're pretty good about releasing first class award space last minute.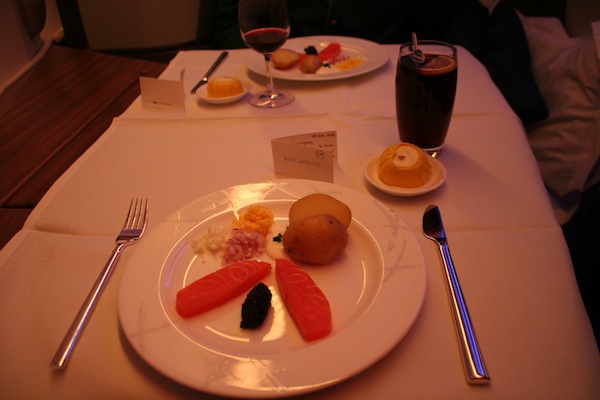 Los Angeles to Hong Kong:
First class award space out of Los Angeles is abysmal, though they often release up to five business class award seats out of Los Angeles on each of their three daily flights.
Toronto/New York to Hong Kong:
Cathay Pacific tends to release two business class award seats per flight on each of their flights out of New York. Out of Toronto they tend to release two business class award seats, and on flights which offer a first class two first class award seats as well (this is because some of the planes Cathay Pacific flies to Toronto don't have a first class cabin). Note that there's higher demand for the New York-Hong Kong first class seats, so if these are gone by the time you book, consider adding a New York-Toronto leg on a date when there is Toronto-Hong Kong first class availability. Also see Time to Redeem British Airways Miles for Cathay First Class
Japan Airlines
Los Angeles to Tokyo:
Japan Airlines regularly releases two or more business class award seats on their flights from Los Angeles to Tokyo around 11 months out. They occasionally release first class award space as well, though I haven't noticed any discernable pattern. What's interesting about the way they release first class award space in my experience is that they won't have first class award space for an entire month, and then the first available date has four first class award seats, which is half the cabin.
Boston to Tokyo:
Next April JAL is launching service from Boston to Tokyo on the 787, and many dates have four business class award seats available. JAL doesn't have a first class cabin on their 787s.
Sky Team
SkyTeam on the whole is the toughest alliance for which to generate trends. While Star Alliance and OneWorld both have plenty of online tools that clearly show information (availability, number of seats available, etc.), SkyTeam displays very little information online.
Delta
It's pretty tough to point out specific Delta routes that have great award space, simply because there's often not a discernable pattern. While there are plenty of Star Alliance and OneWorld airlines that release award space 11 months out for a particular flight day after day, I can't say I've noticed any Delta flights with such a pattern. Some of the "better" routes in terms of availability might show space two days a week for a few weeks, and then nothing for the next few weeks. As noted in How to Find SkyTeam Award Availability, you can't book first class on SkyTeam partners.
That being said, here are a couple:
Seattle to Beijing:
Delta will often release two business class award seats on Tuesday/Wednesday flights on this route.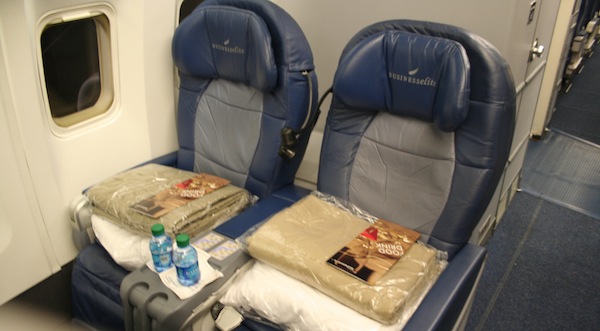 Detroit/Atlanta to Shanghai/Beijing:
While it's very much seasonal, award availability to China remains decent, at least in the context of the alliance with the least award space.
Korean Air
Korean Air has nearly a dozen destinations in North America, and is actually pretty good about releasing award space. The challenge, though, is that they don't publish award availability online, so if you're booking with Delta miles you have to call Delta directly to ask about award availability. That makes it tough to figure out any trends. Furthermore, they also have quite a few blackout dates throughout the year.
That being said, I've found award space to be excellent out of Las Vegas, Seattle, and Los Angeles, even for multiple passengers. I've booked as many as four people in business class out of those gateways with ease. Out of Seoul their award availability is also quite decent to the rest of Europe. So Korean Air as a whole really is the secret weapon of SkyTeam, assuming you have the patience to deal with Delta's call center.
Hopefully this rundown was helpful. I'll be covering other destinations in future posts. Happy award hunting!
Related Posts
Bye Bye US Air 90K North Asia Business Class Awards
Top Tips for Using Delta SkyMiles for Asia Award Tickets
Best Frequent Flyer Program and Credit Cards for Award Flights to China?
Need Award Booking Help? Our fee is as low as $75 per ticket if you book your hotel through us.
If you enjoyed this, join 100,000+ readers: please follow TravelSort on Twitter or  like us on Facebook to be alerted to new posts. 
Become a TravelSort Client and Book 5-Star Hotels with Virtuoso or Four Seasons Preferred Partner Amenities!