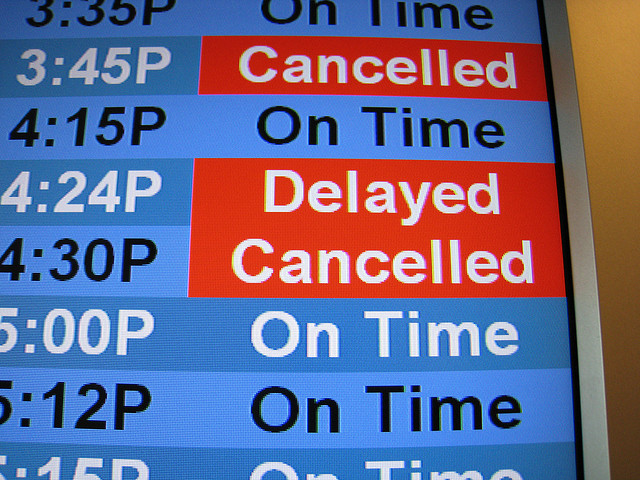 While you probably know that the Department of Transportation (DOT) has gotten stricter about tarmac delays, what are your rights as an airline passenger in other scenarios? Here are some of the flyer rights issues we get asked about the most. As always, make sure to check the Contract of Carriage for the airline you're flying.
Airline Disclosure of Taxes and Fees in Published Fares
As of January 26 2012, the DOT requires airlines to include all mandatory taxes and fees in published airfares, instead of simply putting asterisks with all the taxes and fees in the fine print. Airlines must also disclose baggage fees, though this can come in the form of a link to another Web page with the baggage fee information.
Need to Change or Cancel the Ticket
If you realize within 24 hours of buying your ticket that you need to change or cancel it, you can do this without penalty (assuming you're booking at least 1 week before departure). You can also hold a reservation for 24 hours before paying for it.
Note, though, that if it's after the 24 hour window, you're stuck with whatever the airline's change and cancellation penalties are. For a non-refundable fare, penalties can be steep–$150 or more—and this hasn't changed. Also note that you can't transfer the ticket to someone else. You'd need to cancel your ticket, with any penalties that entails, and book an entirely new one for the new passenger.
Route Change
DOT now requires airlines to give you prompt notification of delays, cancellations and route changes. Unfortunately, while notification is required, airlines can still change your routing drastically, for example from a nonstop flight to one involving several connections, even if the airline still flies the original nonstop route. As maddening as it is, your only recourse in this scenario is to get a full refund of the fare (which the airline should give you without imposing any cancellation penalties, even for a nonrefundable fare) and rebook (at your own expense) a more suitable flight. You should still seek to be reinstated on your original flight however, even if the airline has no contractual obligation to comply. See our post How to Complain to Airlines and Hotels and Get Compensated.
Schedule Change
Similar to the routing changes, if the airline changes your scheduled flight to a different time or day, you aren't legally entitled to any compensation, only a refund of the ticket price you paid. The airline won't cover any incidental costs either, such as the fare difference of having to book a more expensive flight on another airline or that you'll now need to spend an extra night in a hotel, etc.—all of that is at your own expense. Unfortunately even most travel insurance policies won't cover this scenario.
Baggage Fee Coordination
The DOT now requires the same baggage fees and allowances to apply to all segments of your trip, putting the onus on the airlines to coordinate this. If you don't have the same baggage fees and allowances for your trip and are overcharged, the airlines are required to reimburse you.
Bumping
Domestic:
If the flight is overbooked and you're bumped from a domestic flight and arrive one to two hours later than your scheduled arrival time, you're entitled to the one-way fare of your ticket up to $400. If you're delayed two to four hours from your original scheduled arrival time, you're entitled to 200% of the one-way fare, up to $650; if you arrive more than four hours later than your scheduled arrival time you're entitled to 400% of the one-way fare, up to $1300. You're entitled to payment in cash, so if the airline tries to give you a voucher, insist on cash, since vouchers usually come with restrictions and can sometimes only be redeemed at the airport itself. If you're bumped and the airline rebooks you on a flight that arrives less than one hour after your scheduled arrival time, you aren't legally entitled to any compensation, but it doesn't hurt to ask for a goodwill gesture, such as frequent flyer miles.
International flight departing from the U.S.:
You'll receive 200% of the one-way fare, up to $650 if you arrive one to four hours after your scheduled arrival time; if you arrive more than four hours later than your scheduled arrival time you're entitled to 400% of the one-way fare, up to $1300.
E.U.
The European Union's Regulation 261/2004 applies if:
Your flight is departing from an airport located in an EU Member State; or
Traveling to an EU Member State on an airline based in an EU Member State
If you have a confirmed reservation on the flight and arrived in time for check-in, UNLESS you're travelling on a free or discounted ticket (does not include a frequent flyer ticket; so you are still covered by EU 261/2004 on an award ticket).
There are three components of compensation: cash compensation, rerouting or refunding, and refreshments/communication/accommodation.
Cash compensation depends on the length of your flight:
Flight of <1500 km: 250 EUR
Flight within the EU >1500 km; OR any flight >1500 km but <3500 km: 400 EUR
Flight not within the EU >3500 km: 600 EUR
Cash compenstion is due not only for cancellations, but also for flights that are delayed and arrive more than 3 hours later than their scheduled arrival time. Also see
Getting United to Pay EU Compensation for a Flight Delay
for our advice on getting a U.S. carrier to pay compensation on a flight from or to an EU destination when that flight is cancelled or severely delayed and there is no "extraordinary circumstance" defense.
Rerouting or refunding
The passenger may choose one of these three options:
Airline reimburses the cost of the unused flight tickets, and for used tickets where the flight taken no longer serves any purpose for the passenger's original travel plan. In the latter case, the airline must provide a flight back to the original point of departure at the earliest opportunity.
Airline reroutes passenger under similar conditions to the intended final destination at the earliest opportunity.
Airline reroutes passenger under similar conditions to the intended final destination at the passenger's leisure, subject to the availability of seats
Refreshments, Communication and Accommodation
The airline is required to provide to delayed passengers, free of charge:
Meals and refreshments in proportion to waiting time
Two phone calls or emails
Hotel accommodation and transport between the airport and hotel, if a stay of one or more nights becomes necessary
The airline may only reduce or withdraw these entitlements if offering them would delay the flight further.
Delayed or Canceled Flight
As with routing and schedule changes, your main option in the face of any kind of significant delay is usually to get a refund of the unused portion of your ticket. You need to check the contract of carriage for your airline. For example, Delta provides that for cancellations or "delays of greater than 90 minutes, or delays that will cause a passenger to miss connections" Delta will, upon your request, cancel the remaining ticket and refund the unused portion of it. If the delay or cancellation requires an overnight stay, airlines will typically provide overnight accommodation if the delay was within the airline's control, such as a mechanical issue. If the delay is due to a "force majeure" event, however, such as weather, the contract of carriage usually does not require the airline to provide anything, so vouchers, etc. are at the airline's discretion.
Also at the airline's discretion is whether to put you on another carrier. Typically the contract of carriage only stipulates that the airline will put you on its own next available flight. For example, American Airlines provides "When cancellations and major delays are experienced, you will be rerouted on our next flight with available seats."
American Airlines Contract of Carriage for Delays
Delta Airlines Contract of Carriage (Domestic)
United Airlines Contract of Carriage
US Airways Contract of Carriage
Seat Selection
If you pre-selected an aisle in the bulkhead are you owed compensation if the airline changes it to a middle seat in the back of the aircraft? The answer is no—seat assignments aren't part of the contract of carriage, so unfortunately there's no remedy or compensation owed if the airline puts you in a different seat. Of course, if you are forced out of your first class seat into a coach seat, you should be able to get the fare difference (or miles, if an award) back from the airline, given the different class of service.
Tarmac Delays
DOT rules prohibit tarmac delays of more than three hours for domestic flights with the following exceptions: 1) If the pilot-in-command determines there is a safety or security-related reason why the aircraft cannot leave its position on the tarmac to deplane passengers; or 2) Airport air traffic control advises the pilot-in-command that returning to the gate or another point to deplane passengers would significantly disrupt airport operations.
Delayed Baggage
What if you're flying to your destination wedding and your luggage, containing your wedding dress, is delayed? While our first recommendation would be to not pack anything valuable in your checked luggage (see Tips for Making Sure Your Luggage Doesn't Get Lost) sometimes, with a bulky wedding dress, it can't be avoided.
Make sure to notify a baggage representative promptly, at the airport, within 4 hours of arriving at your destination
Check with the representative for the airline's reimbursement guidelines. Typically only basic toiletries and essential items will be covered
Keep all receipts for your purchases, so that you can submit them for reimbursement
Lost Luggage
If the airline really did lose your checked bags entirely, and it was domestic travel, the airline is required to reimburse you for up to $3300. However, the airline may request receipts or proof of purchase for the claimed items and will only reimburse the depreciated value of your suitcase and its contents. It really helps to have a list of everything you packed (if not receipts) for this purpose. Note that if you're flying internationally, compensation will depend on the country and carrier, so it may be much lower.
Related Posts
Getting United to Pay EU Compensation for a Flight Delay
How to Complain to Airlines and Get Compensated
Best and Worst U.S. Airlines: Late Flights, Cancellations, Lost Luggage
Tips to Avoid and Deal with Lost Luggage
Airline Ticket Name Change or Transfer to Another Person?
Need Award Booking Help? Our fee is as low as $75 per ticket if you book your hotel through us.
If you enjoyed this, join 200,000+ readers: please follow TravelSort on Twitter or like us on Facebook to be alerted to new posts.
Become a TravelSort Client and Book 5-Star Hotels with Virtuoso or Four Seasons Preferred Partner Amenities!
Photo credit: {Guerrilla Futures | Jason Tester}