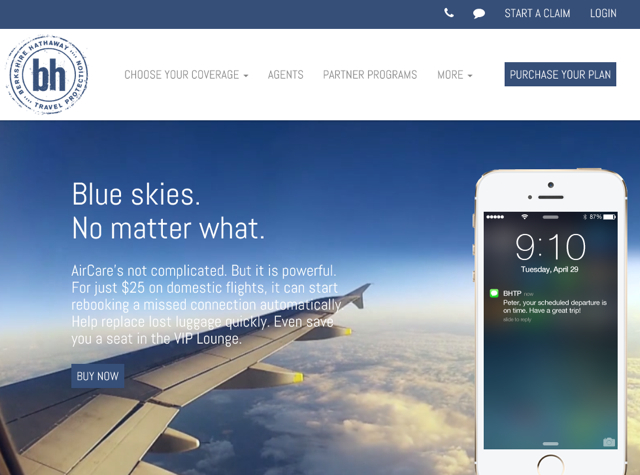 AirCare travel insurance will pay you $1000 if you spend over 2 hours on the tarmac, and $500 if you suffer a missed connection due to a flight delay.
AirCare is a new product from Berkshire Hathaway and got a glowing write-up in the WSJ from Scott McCartney ("The Middle Seat"). AirCare will mostly be useful for domestic road warriors, since current coverage is for domestic travel, although it does plan to offer international plans soon, which will make it a lot more useful for readers and TravelSort Clients.
Here are the details, if you're not yet familiar with AirCare:
Buy at least 1 hour before departure
Cost: $25 flat fee
Flight delay of 2 hours or more: $50
Missed connection due to a flight delay: $500
Luggage delayed over 12 hours: $500
Luggage lost or stolen: $1000
Tarmac delay over 2 hours: $1000
AirCare FAQ
Who Can Buy AirCare?
Residents of most (but not all) states can purchase AirCare online, using the AirCare app, or through their travel advisor. You must be 18 or older to buy AirCare.
How to File a Claim?
In most cases of a flight delay or tarmac delay, you won't even need to file a claim, as AirCare has your flight details and tracks the flight, so that if your flight shows as delayed 2 hours or more the $50 will be deposited automatically in your bank account. In other cases, such as luggage delay or stolen luggage, you can file a claim using the app or online at
File a Claim
. For example, if your luggage is lost, send a picture of your airline issued baggage claim form.
How Soon is the Claim Paid?
Claims for flight delays and tarmac delays are typically paid automatically, since AirCare is already tracking your flight. AirCare claims a much faster payout for its lost luggage and delayed luggage claims than traditional travel insurance providers, but I look forward to hearing what customers' experiences are once someone actually collects on an AirCare luggage claim.
If the Flight is Delayed Due to Extreme Weather is That Covered?
Yes, if you bought your AirCare coverage before there were any weather warnings related to your departure or arrival city, you're covered if your flight is delayed by 2 hours or more, you miss a connection due a flight delay or you sit on the tarmac for over 2 hours.
What About Cancelled Flights?
Unfortunately AirCare doesn't cover flight cancellations, which is unfortunate, as many of the hassles travelers experienced over this past winter involved flights that were outright cancelled.
Aren't Long Tarmac Delays a Thing of the Past Given the Department of Transportation Penalties?
It's true that airlines are much more likely to go back to the gate now than they were before the DOT regulation, which fines airlines $27,500 per passenger when airlines keep passengers on planes on the tarmac for over 3 hours on domestic flights without giving them an option to disembark.
That said, in January 2014 there were 18 tarmac delays of over 3 hours on domestic flights, and likely a number of others that were over 2 hours and under 3 hours, which would have triggered a $1000 AirCare payout had the product been available then. So while definitely less common than they used to be, tarmac delays over 2 hours are still a small possibility.
Don't Travel Rewards Credit Cards Provide These Protections?
A good travel credit card, such as the Citi Executive AAdvantage card or American Express Platinum, will provide a lost or stolen luggage benefit. For example, the AMEX Platinum will reimburse up to $2000 in replacement costs for checked baggage, and up to $1250 for replacing carry-on luggage, up to a combined total of $3000 for a covered trip. The Citi Executive AAdvantage card covers up to $3000 for lost checked luggage, up to a maximum of $2000 per bag.
But even the best U.S. travel credit cards do NOT cover flight delays or missed connections due to flight delays as AirCare does, much less tarmac delays. The best I've seen for North American credit cards is the CIBC Aerogold Visa Infinite (see
Trip Delay and Trip Interruption Insurance: Which Credit Cards?
), and that only pays out after a trip delay of more than 4 hours from the scheduled departure, plus of course you have to deal with the cumbersome documentation that pretty much all credit card travel insurance requires.
That, and AirCare's automatic transferring of funds to your bank account, are where AirCare really shines.
Should I Spend $25 When I Probably Won't Collect on a Claim?
Only you can answer that–insurance is more about peace of mind, and most travelers hope for a smooth flight, without the need to collect on a claim.
That said, if you have a trip with multiple connections or are traveling during winter and fear a long tarmac delay, it could be worth it, at least if the modest payouts would significantly improve your state of mind.
When Will AirCare Offer International Travel Insurance?
No date has been set yet, but AirCare does plan to offer international plans in the future at higher cost and with higher payouts.
What Are the Most Delayed Domestic Flight Routes?
I don't suggest using AirCare to bet against the airlines, as Scott McCartney's catchy title suggests, but if you do just want to consider buying AirCare for some of the most chronically delayed flights, have a look at the DOT statistics. For example, the worst delayed flights in March 2014 were mostly on Southwest, although the average delay was in the 1-1.5 hour range, so wouldn't have resulted in a payout: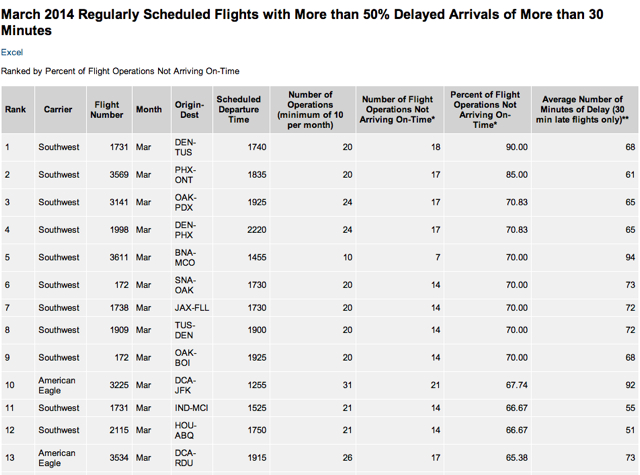 Would you buy AirCare travel protection?
Related Posts