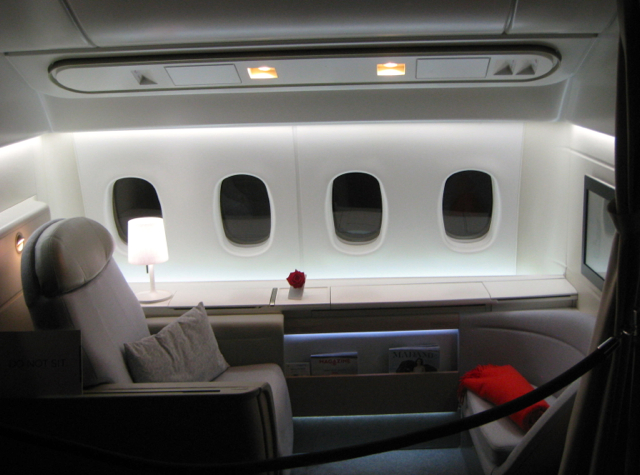 Air France's New Business Class and New First Class La Premiere were featured at the Air France Expo in NYC last weekend, so I stopped by for some photos. The Air France Expo has already been held in Shanghai in NYC, so its next and final stop is in Paris, September 20-21.
Air France New Business Class
As I mentioned in February in Air France New Business Class Seat Announced, Air France's New Business Class seat may be new to Air France, but it's been around for 4 years and is already featured in Cathay Pacific Business Class, US Airways Envoy Class, EVA Business Class and AA's New Business Class on the 777-300ER.
The reverse herringbone design offers great privacy and converts into a fully flat bed, with a duvet, feather down pillow, and 16 inch HDTV with programming in 12 languages.
It's one thing to have the airline's concept photos, and another to see the product in person, so here are my photos of Air France's new business class seat and initial thoughts.
It's a stylish business class seat, but not all that comfortable in its full upright mode. The seat is quite firm, and not as well padded as I would like. It wasn't possible to recline the seat used at the Expo, but no doubt that would help in the actual seat with the comfort level.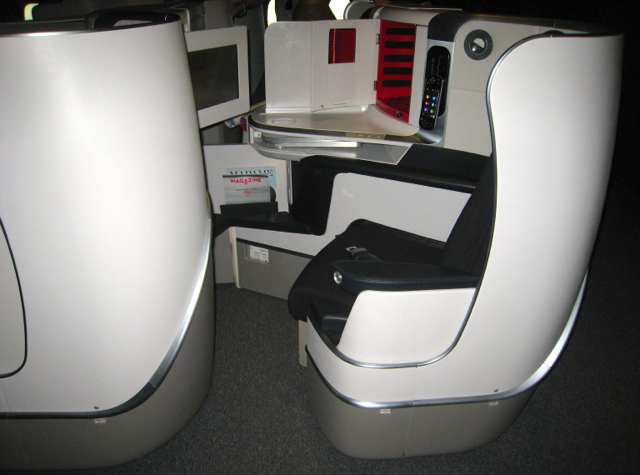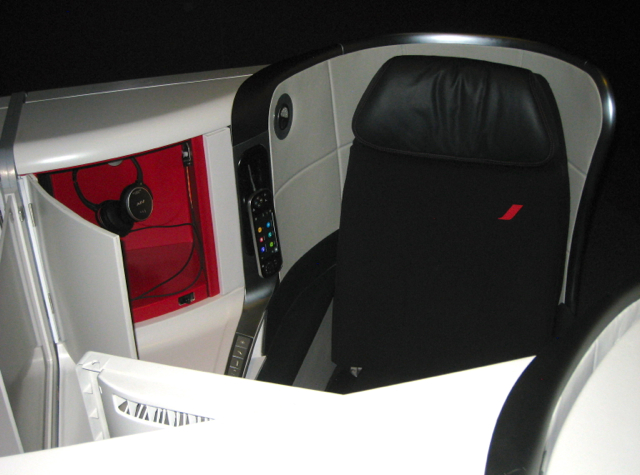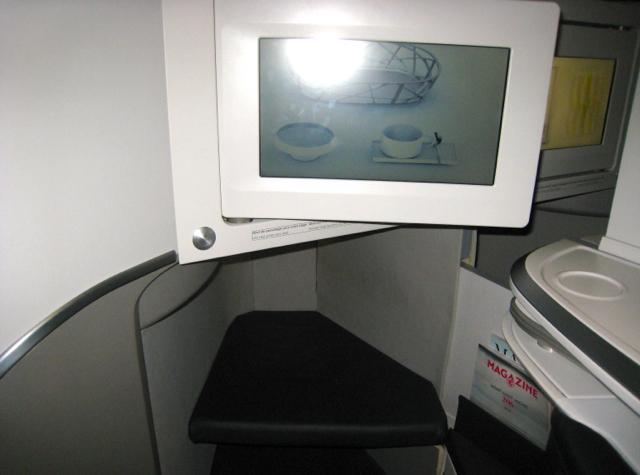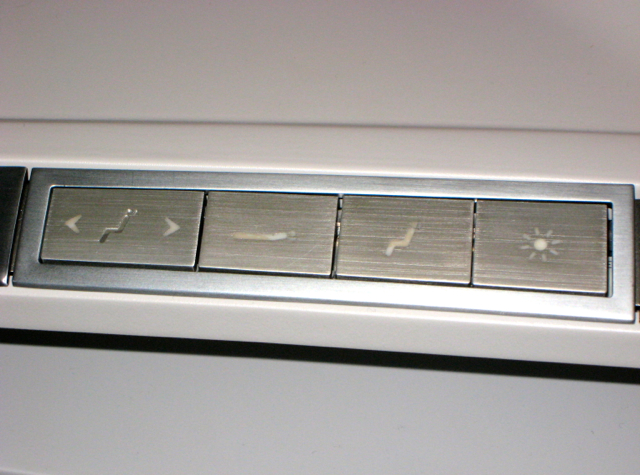 I do really like the red interior of the storage compartment that contains the headphones. It's a welcome splash of color, without injecting too much red into the cabin itself, since it's an interior space.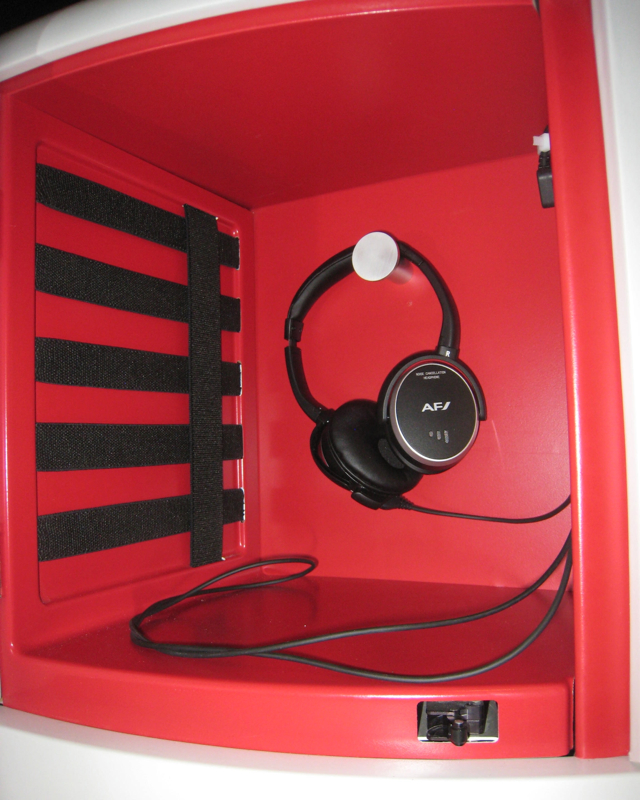 As usual for business class, there's no mattress pad, so I would likely end up using the duvet to add additional cushion and bring my own shawl as a light blanket. It wasn't possible to try out the Air France new business class seat in flat bed mode, but it was fully flat, so that's not the issue–the comfort of it could be an issue though, unless you prefer *very* firm bed surfaces. The duvet is quite thin though, so not a lot of padding to be gleaned from it either.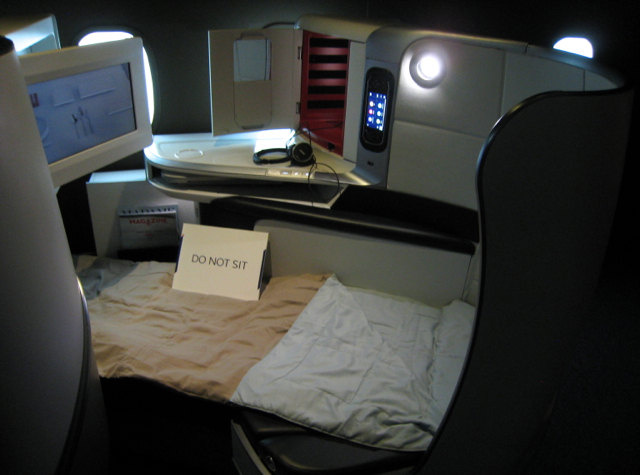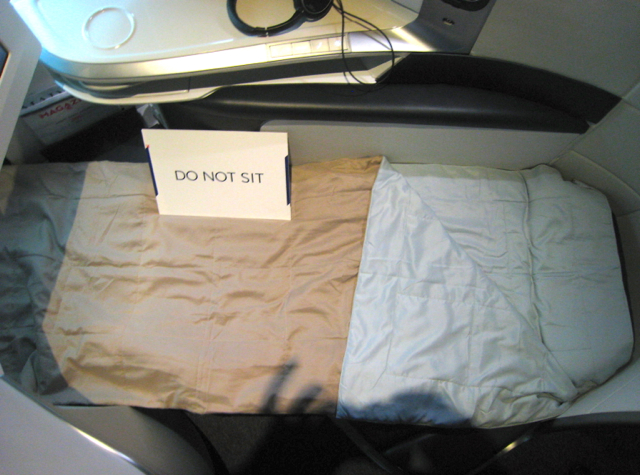 The feather down pillow is a nice touch, well, unless you have an allergy to feathers, in which case you'll want to bring your own. As is standard for business class, slippers are also provided.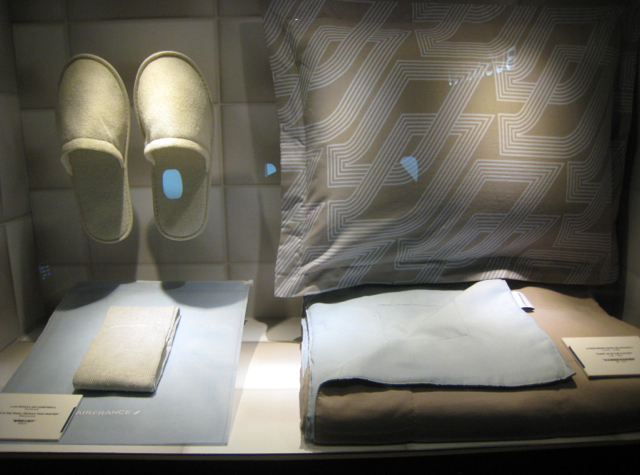 Business class is really about the privacy and sleeping experience, so Air France's new business class should do ok on both counts if you can deal with the firmness of the seat/bed. Air France catering is usually quite good, and tableware looks modern and nice, not that you'd ever choose an airline to fly based on that.
The amenity kit is stylish on the outside, if somewhat pedestrian inside, apart from small Clarins amenities (I gather that larger size Clarins amenities will be available in the lavatories).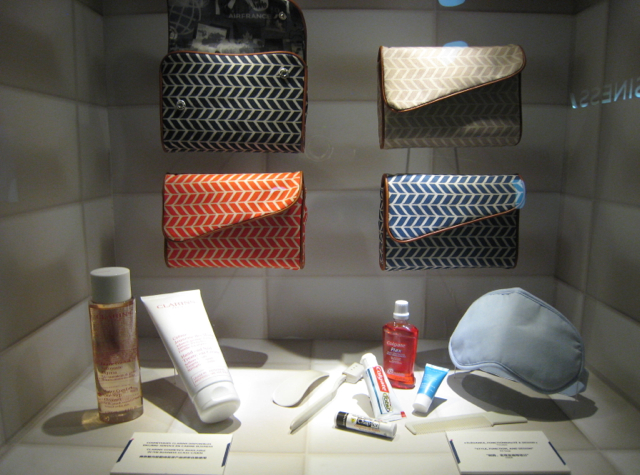 Air France's New Business Class is planned to be installed on virtually all of its Boeing 777 by the end of 2016, and its Airbus 330-200s are also slated to be upgraded with Air France new business class seats by the end of 2016, which should make travelers on Air France's India routes happy, since many of the A330s serve India.
Air France New First Class "La Premiere"
Air France's New First Class La Premiere Suite was also on display, although roped off, so photos only. It's spacious, as you'd expect, with 4 windows in the case of the 2 window suites. There are just 4 first class suites total: two window suites, and two in the center, ideal for couples traveling together. No double bed, however–for that you'd need to fly Singapore Suites.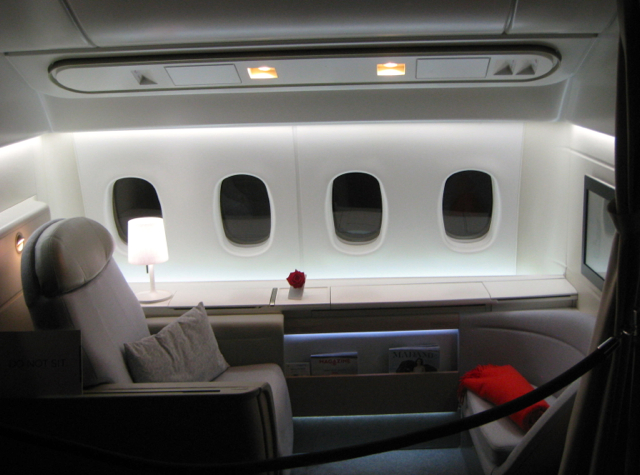 Apparently the new First Class seat will also have a massage function, but unclear how well that will function. I've been in business class seats that supposedly have a massage function, such as SWISS Business Class, that you can barely detect when it's on. On the other hand, Emirates First Class, even though it's one of my least favorite first class products overall, does have a quite powerful massage function.
The bedding is by Sofitel, and although the New First Class Suite on display was in seat mode, one of the Air France flight attendants was kind enough to open the closet to let me see the mattress pad. It's actually a good thickness as first class mattress pads go, although not a memory foam pad as Singapore Suites offers, which I find most comortable.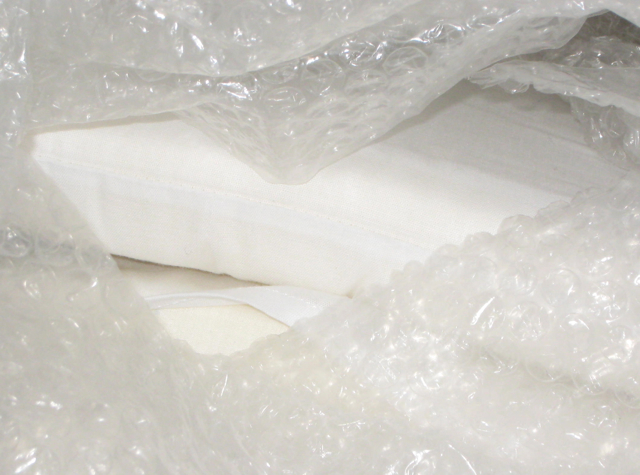 One of the disappointments was that I found the curtain to be very thin–I really expected a much thicker, more luxurious curtain and this one looked and seemed quite flimsy. From the concept photos I was expecting much better. I hope that if this is the actual curtain planned for La Premiere, it gets upgraded to a thicker and more opaque material soon.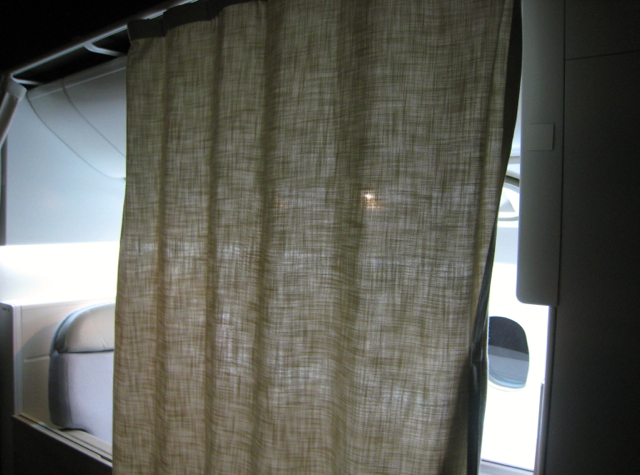 Again, while no one chooses First Class based on tableware, I must say that the Bernardaud porcelain and Christofle glassware is very elegant and befitting the Joel Robuchon menus planned to be served on them. Note that the La Premiere first class lounge in Paris Charles de Gaulle offers a menu developed by Alain Ducasse.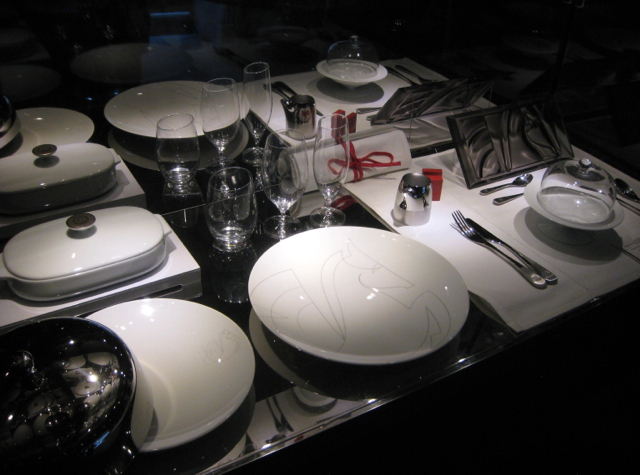 Pajamas by comparison look fine, but nothing special, although the Givenchy amenity kit looks quite sleek.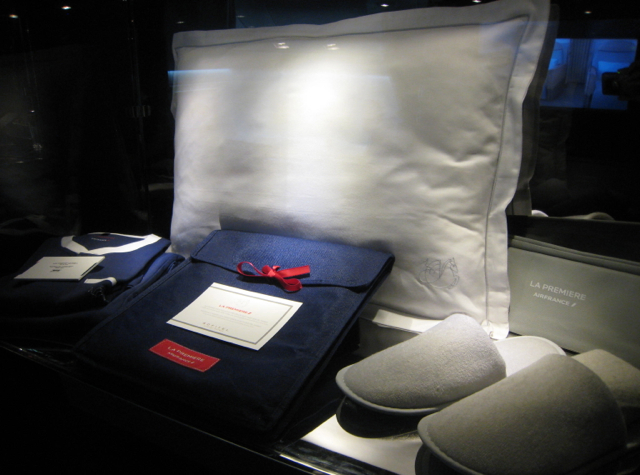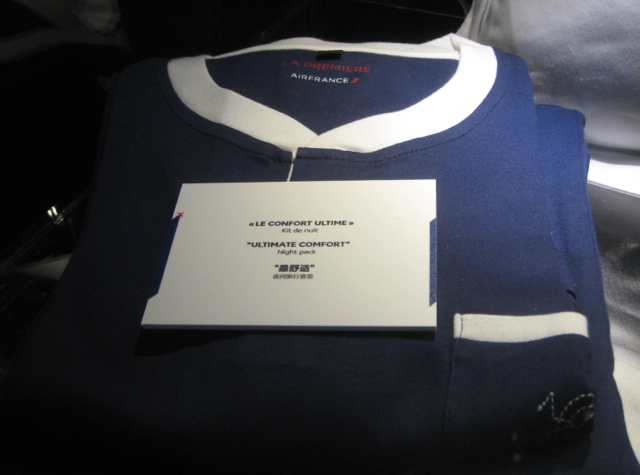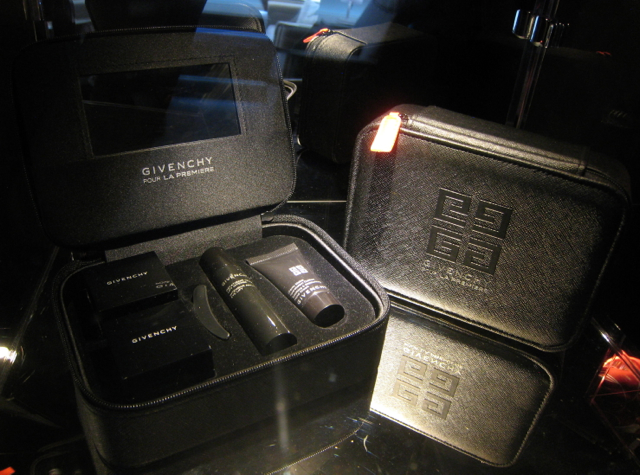 Unfortunately, unless you're an Air France Flying Blue top-tier elite or happy to buy a paid ticket, you're unlikely to be flying Air France's New First Class, since Air France does not permit others to even redeem for Air France First Class (similar to SWISS, which also now restricts SWISS First Class award redemptions to top tier elites in its Miles & More program).
What are your thoughts on Air France's New Business Class and New First Class?
Related Posts
Air France New Business Class Seat Announced
Air France New La Premiere First Class Suite
Air France Flying Blue Changes: Cheaper Economy Awards, More Expensive Premium Awards
Air France and Charles de Gaulle Travel Hell
Need Award Booking Help? Our fee is as low as $75 per ticket if you book your hotel through us.
If you enjoyed this, join 90,000+ readers: please follow TravelSort on Twitter or  like us on Facebook to be alerted to new posts. 
Become a TravelSort Client and Book 5-Star Hotels with Virtuoso or Four Seasons Preferred Partner Amenities!