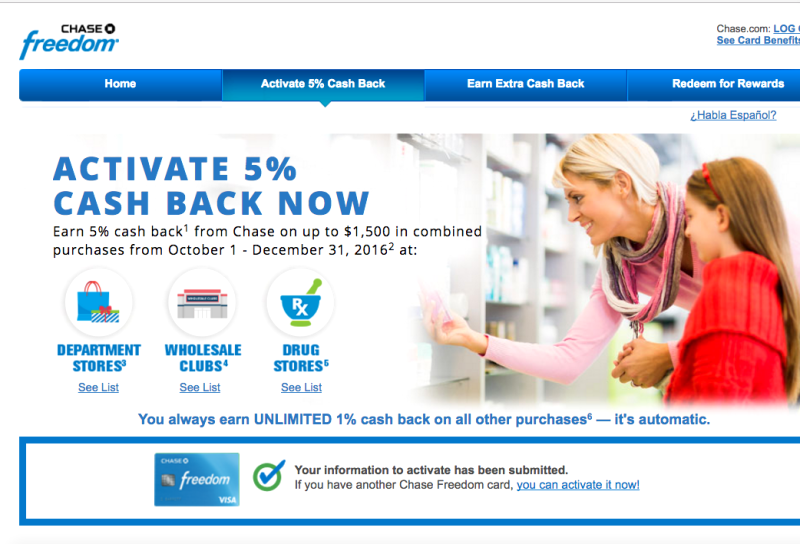 Activate your Chase Freedom 5X for Q4, 2016 for the following categories:
Drug Stores (including CVS, Walgreens, Duane Reade, Long's Drugs, Rite Aid)
Wholesale Clubs (including Costco, BJ's, Sam's Club, Texas Jasmine)
Department Stores (Bergdorf Goodman, Bloomingdale's Nordstrom, Macy's, Sears, JCPenney, Kohl's, etc.)
As usual, you'll earn 5X for purchases in the above categories up to a maximum of $1500 total spend per Chase Freedom card for October-December, 2016. Also note that certain spend at wholesale clubs will NOT receive the 5X bonus: gas/fuel and specialty services, such as travel, insurance, cell phone and home improvement services.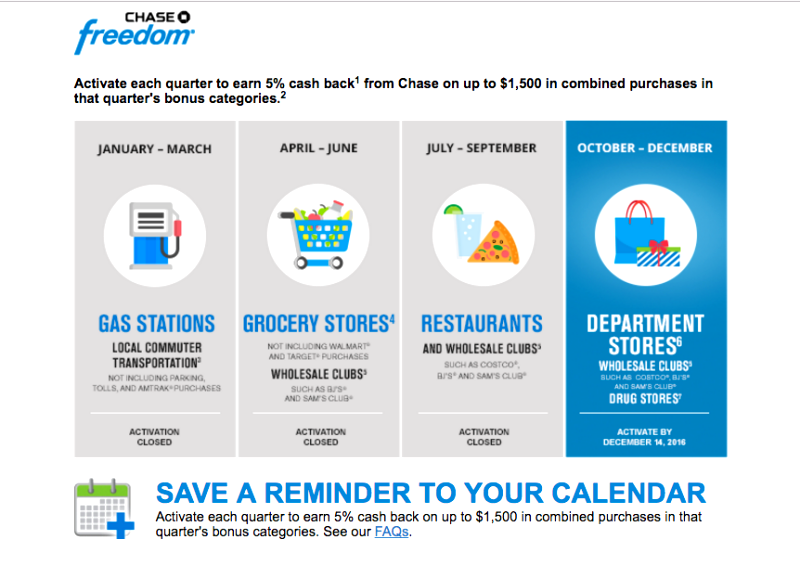 Retroactive 5X Activation for a Recently Converted Chase Freedom Card
After being approved for the Chase Sapphire Reserve, I recently converted my Chase Sapphire Preferred to a second Chase Freedom. It also would have been possible to convert to a Chase Freedom Unlimited, but I prefer having another Chase Freedom card that will earn 5X on categories such as restaurants and grocery stores, since we tend to already max out the $3000 spend from my and my husband's current Chase Freedom cards for those quarters.
The problem? I converted on September 13, and even though the card already showed up as a Chase Freedom in my online account as of September 14, I was unable to activate the Q3 2016 5X bonus for restaurants and wholesale clubs, either online or by phone. September 14 was the last day to activate the Q3 5X bonus.
I was told by a Chase rep, however, that I'd be able to have the Q3 5X bonus activated even after the deadline, since I'd already converted my card before then. Today I called again, using the Chase Sapphire Preferred number on the back of my card, 800-493-3319, and explained to the friendly representative what I'd been told, and that I was unable to activate my new Chase Freedom card on September 14. She asked to put me on hold while she spoke with Chase Freedom representatives.
When she came back on the line, she explained that while it wasn't possible to activate the Q3 2016 bonus at this point for the card, she had noted in my account that restaurant and wholesale club spend up to $1500 would be manually adjusted to receive the 5X bonus for the rest of September 2016 spend.
And while I haven't yet received my replacement Chase Freedom card, I was able to activate 5X online, for the Q4 2016 bonus categories.
So if you recently converted your Chase Sapphire Preferred to a Chase Freedom 5X, before September 14, but weren't able to activate the 5X by September 14, try calling in–you should be able to get your account noted so that 5X is applied to your remaining September restaurant and wholesale club spend, although this will be a manual adjustment.
Related Posts
2016 Chase Freedom 5X Calendar: Gas, Grocery Stores, Restaurants, Holiday Shopping
Chase Sapphire Reserve: Downgrade the Sapphire Preferred and Other Cards?
Costco Will Accept Visa June 20: Earn 5X on Costco via Chase Freedom
How to Get Approved for the 100K Chase Sapphire Reserve If Over 5/24
Best Ways to Use 100K Ultimate Rewards Points?
Need Award Booking Help? Our fee is as low as $75 per ticket if you book your hotel through us.
If you enjoyed this, join 200,000+ readers: please follow TravelSort on Twitter or  like us on Facebook to be alerted to new posts. 
Become a TravelSort Client and Book 5-Star Hotels with Virtuoso or Four Seasons Preferred Partner Amenities!