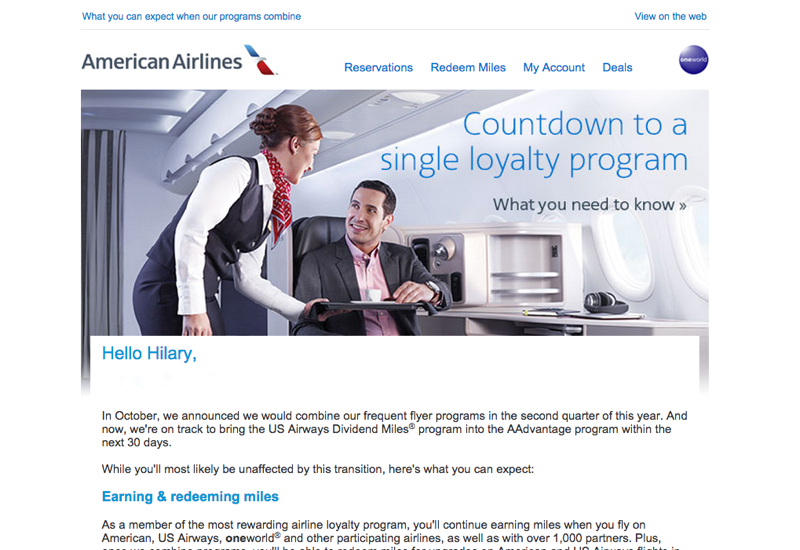 AAdvantage and Dividend Miles are merging within 30 days, per emails being sent to AAdvantage members:
"…we're on track to bring the US Airways Dividend Miles® program into the AAdvantage program within the next 30 days."
Update: We now know that Dividend Miles will combine with AAdvantage Miles on March 28, 2015, with all Dividend Miles converted to AAdvantage miles, and only the AAdvantage award charts and frequent flyer program left.
Here's what I'd recommend doing before Dividend Miles become AAdvantage miles:
1. Link Your Accounts Before March 20, 2015
Per this AA page "If you have an account in both programs, let us know by March 20, so we can transfer your miles and activity into your existing AAdvantage account when we combine loyalty programs."
In my case, I wasn't able to link my Dividend Miles and AAdvantage accounts online, since my account details didn't match exactly. I recommend calling the AAdvantage program to resolve this, since US Air's call center is notorious for not being available.
Note that if you don't link your accounts before March 20, 2015, your Dividend Miles account will be assigned a new AAdvantage account number, and you'll need to wait until sometime in April to merge this new AAdvantage account with your existing AAdvantage account.
2. Apply for the 50K US Airways Dividend Miles MasterCard
I recommend applying for the 50K US Airways credit card if you haven't applied for this card recently and don't have too many credit inquiries in the past 6 months (Barclays is among the pickiest issuers, and routinely denies even applicants with high credit scores if they've applied for a number of credit cards recently). You have 2 weeks, perhaps a little more depending on when in April the Dividend Miles and AAdvantage programs combine.
3. March 25 is the Last Day to Redeem Using the Dividend Miles Award Chart
Time is running out if you intend to redeem Dividend Miles using the current Dividend Miles award chart and award rules: March 25, 2015 is the last day to redeem. While I haven't been a huge fan of Dividend Miles because I usually book one way award tickets, there's no denying that it offers much more routing flexibility, and it's sad to see that go, especially since that flexibility helped compensate for the elimination of AAdvantage Explorer Awards about a year ago.
4. If You're a US Airways Chairman's Preferred, Redeem Your Systemwide Upgrades
Use it or lose it: if you're a top-tier Dividend Miles elite, be sure to redeem your SWUs before Dividend Miles become AAdvantage miles, even if for future travel.
FAQ
Which Mile Expiration Policy Applies?
Once the programs combine, the longer miles expiration policy will apply.
Does the Merger of Dividend Miles into AAdvantage Miles Reset the Mileage Expiration Clock?
No–the conversion of Dividend Miles into AAdvantage miles does NOT reset the mileage expiration clock–it does not count as mileage activity.
Which Business and First Class Award Tickets are Cheaper with Dividend Miles Than AAdvantage Miles?
Awards such as Cathay Pacific First Class to Hong Kong and North Asia, First and Business Class to Africa, First and Business Class to India and the Maldives, and First and Business Class to Australia and the South Pacific are cheaper with Dividend Miles than AAdvantage miles. Also see Pros and Cons of Dividend Miles.
What If I Need to Change a Dividend Miles Award: Will It Reprice at the Higher AAdvantage Award Price?
In the case of a Dividend Miles award that you book before the merger, say one where the Dividend Miles award price is cheaper than the AAdvantage award price, you'll be able to make only date or time changes without repricing the award, because those changes don't cause the ticket to be reissued. If, however, you make any other type of changes, such as a change to the cabin of service, the origin, destination or routing, the ticket would have to be reissued so you'd have to pay the difference in miles as per the current AAdvantage award chart.
Similarly, if you book an award that is legal under Dividend Miles rules but want to make a change to it that will cause a ticket reissue, expect to be charged whatever it would be under AAdvantage rules. That means you might be charged the price of two awards, due to AAdvantage's stricter award rules about transiting a third region.
Keep in mind that if you are just making a date or time change (no origin, destination or any other changes), you may want to wait until the programs combine to avoid the $150 change fee, which Dividend Miles charges but AAdvantage does not.
I'm a Higher Elite Status with Dividend Miles–When Will I Receive the Equivalent Status with AAdvantage?
You should receive it later this week, on or prior to March 28, 2015, if you've already linked your Dividend Miles account to your AAdvantage account.
What About My US Airways MasterCard $99 Companion Certificates–Can I Still Use Them After the Merger?
Even after the Dividend Miles and AAdvantage frequent flyer programs combine, US Airways and American Airlines will be on two different reservation systems (until later this year) so you should be able to use the companion certificates while that's still the case. The certificate will still only be valid on US Airways operated flights, not on American flights.
What Will My Current US Airways Dividend Miles MasterCard Become?
It will automatically become an AAdvantage Aviator Red Card with these features:
$89 annual fee
2 AAdvantage miles per $1 for purchases directly with American Airlines / US Airways
1 AAdvantage mile per $1 spent on all other purchases
First checked bag free for cardholder and up to 4 companions on AA and US Air flights
10% mileage rebate for redeemed AAdvantage miles, up to 10,000 per year (note this is per AAdvantage account, not per card)
No foreign transaction fee
What are you looking forward to (or not) with the Dividend Miles and AAdvantage frequent flyer programs merging?
Related Posts
American Airline's New AAdvantage Program: Winners, Losers and FAQ
When Buying US Airways or AAdvantage Miles is Worth It
50K US Airways MasterCard Signup Bonus Offer
Best Miles for Europe in First Class and Business Class
US Airways Not Answering Your Phone Call? Call Abroad for Better Customer Service
Need Award Booking Help? Our fee is as low as $75 per ticket if you book your hotel through us.
If you enjoyed this, join 150,000+ readers: please follow TravelSort on Twitter or like us on Facebook to be alerted to new posts.
Become a TravelSort Client and Book 5-Star Hotels with Virtuoso or Four Seasons Preferred Partner Amenities!