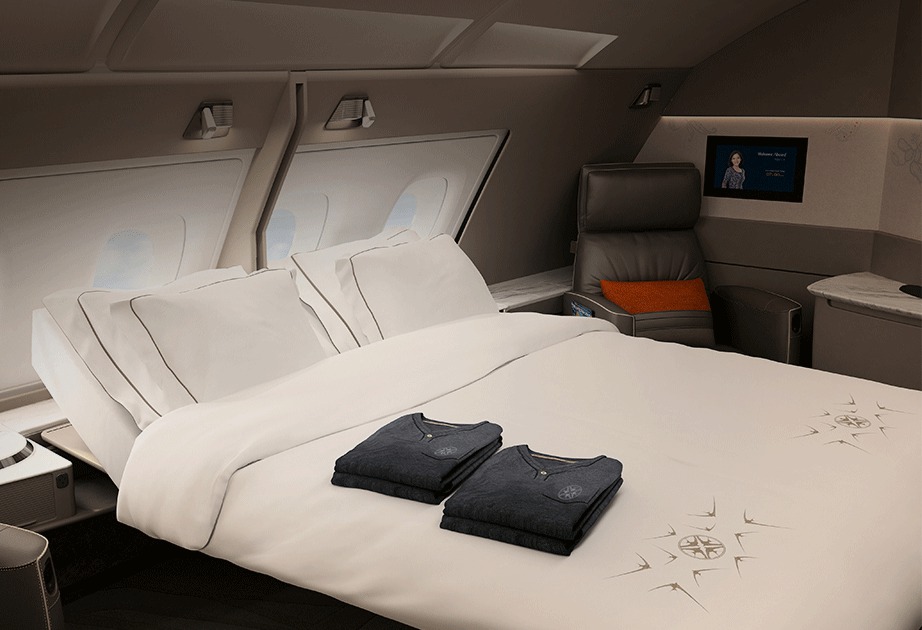 The A380 New Singapore Suites and New Singapore Business Class Seats have been announced, with the first new A380 due to enter service next month, December 2018. Four other new A380s are on order, and 14 existing Singapore Airlines A380s will be retrofitted with the new A380 Suites and Business Class starting in late 2018, with completion anticipated in 2020.
New A380 Singapore Suites
The new A380 Singapore Suites differs in several ways from the current A380 Singapore Suites product. First, there will only be 6 suites, half as many as the current 12. That will make it much more difficult to book Singapore Suites with KrisFlyer miles, particularly at the saver award level.
Instead of the seat being transformed into a bed, there will be both an armchair and a bed, although the bed can be folded away when not in use. This is similar in concept to A380 Etihad First Apartments, although at least the Singapore Suites bed looks a bit wider than the Etihad First Apartment bed, and hopefully the mattress pad will still be the memory foam type pad that is currently used in Suites, if not better, compared to the woefully insufficient mattress pad used in Etihad First Apartment.
That said, the new Singapore Suites bed length will only be 76 inches, instead of the current 78 inches, so tall people such as my husband, who is 6'5″ tall, won't be quite as comfortable.
The armchair is just 21 inches in width, not terribly wide, considering that many international business class seats are 21 inches or wider, and although the chair will be able to swivel 135 degrees, its recline is only 45 degrees. That isn't much at all, so I'm hoping that this is a typo in the press release, since the actual chart, also in the press release, shows a recline of 135 degrees. Even that is less than Virgin America First Class seats, which recline 165 degrees.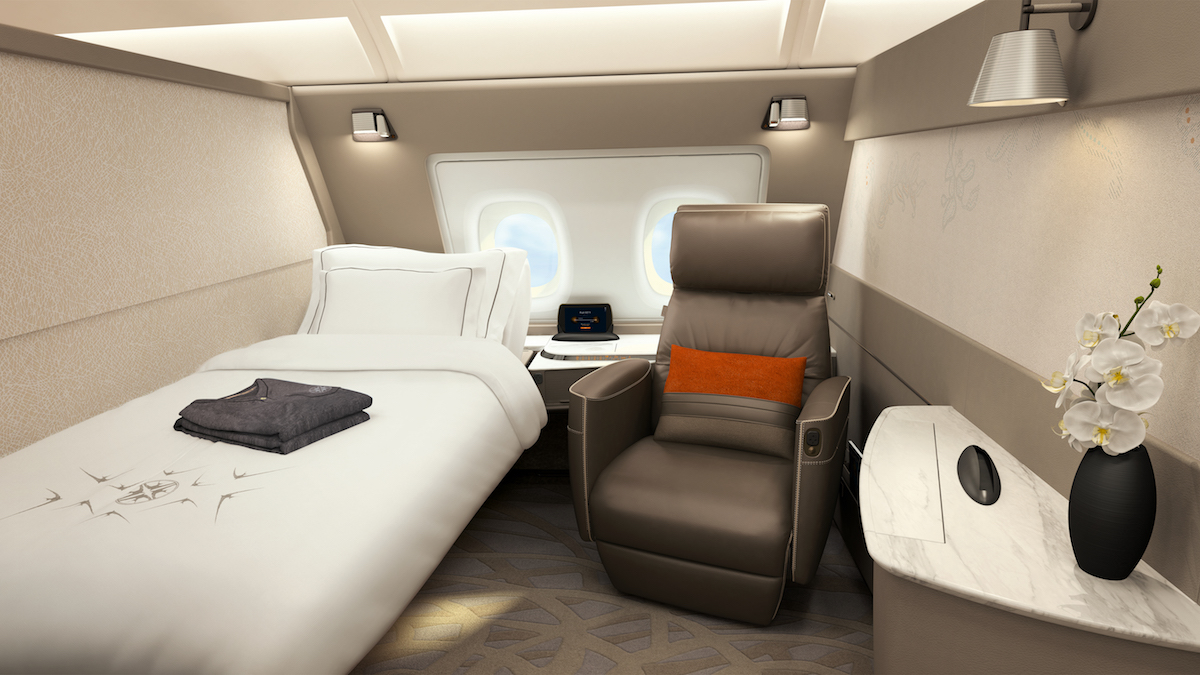 The biggest draw for the new Singapore Suites is that the first two rows will feature the ability to join the beds into a double bed, as pictured below: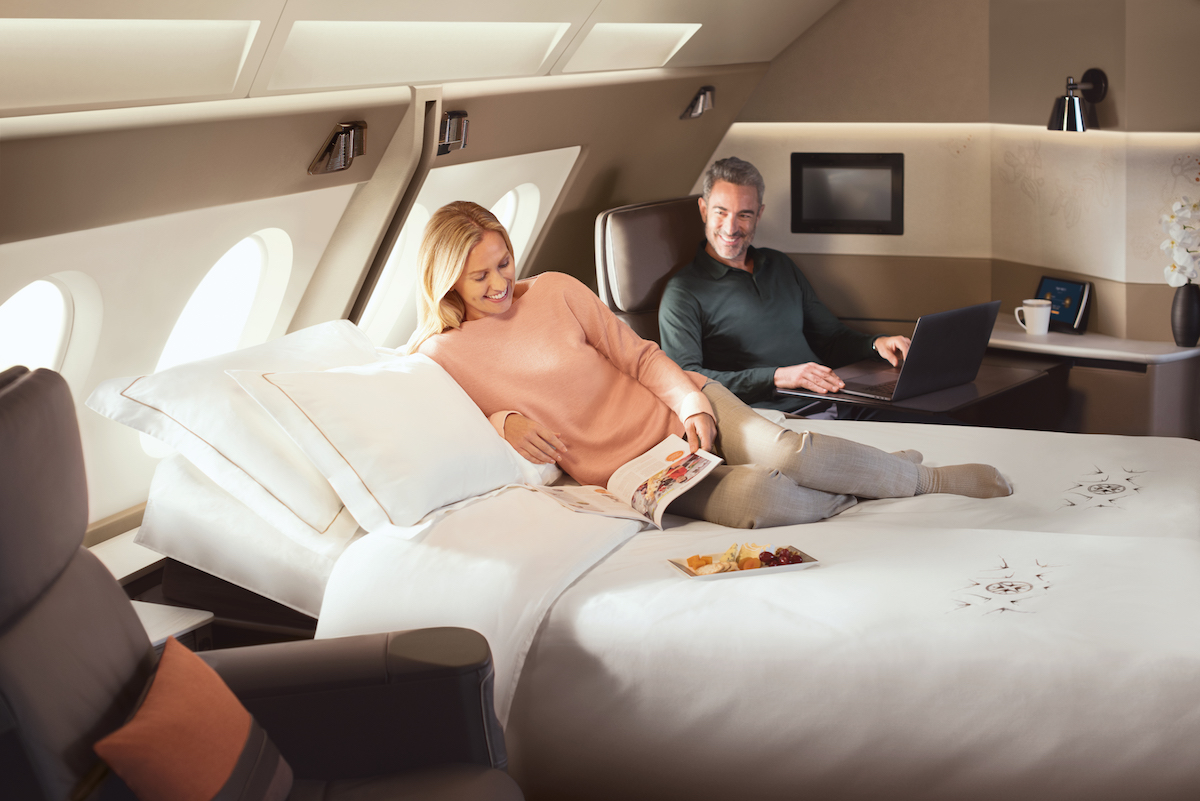 The 32 inch HDTV can swivel, to accommodate the different viewing vantage points from the chair and bed. There are also two lavatories for first class, one of which has a sit down vanity. Unfortunately, however, no shower, unlike Etihad First Apartment and Emirates A380 First Class.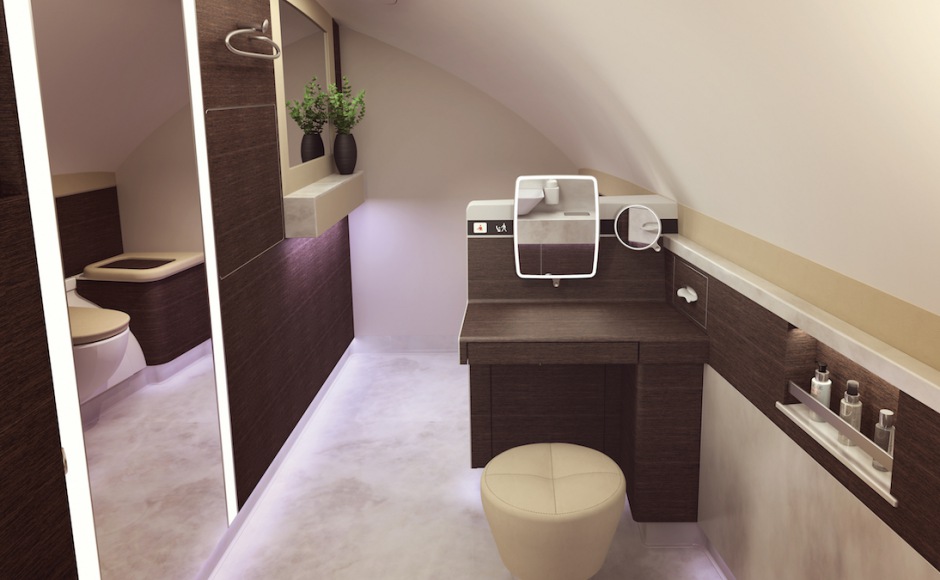 It's also curious that, at least from the photos and description so far, there doesn't seem to be a good way for travel companions to dine together. This is a feature of the current Singapore Suites and many other first class products, such as Cathay Pacific First Class, Qantas A380 First Class, Asiana A380 First Class Suites, Etihad First Apartment, and even some business class products such as Air New Zealand Business Premier.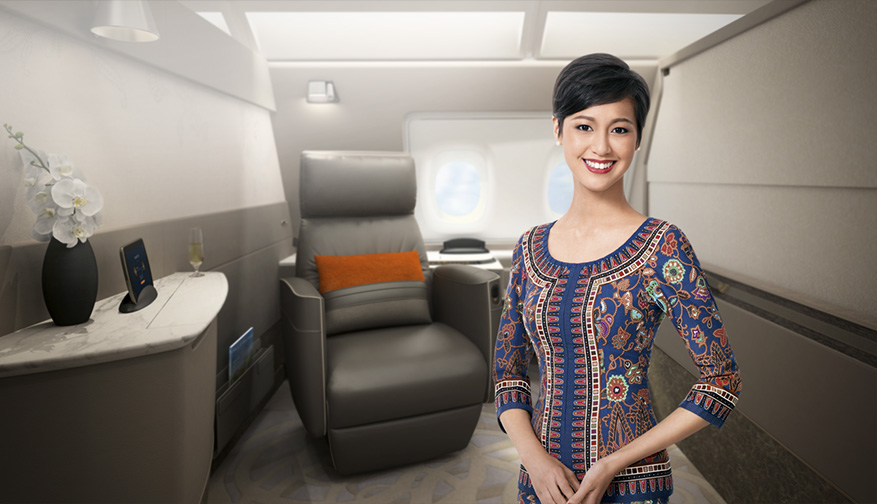 New A380 Singapore Business Class
Perhaps Singapore finally took to heart the fact that many passengers (myself included) dislike having to get up from their seat and flip the seat back down to create a bed, that is still uncomfortably hard (see my Review: Singapore Airlines Business Class 777-300ER). The A380 new Singapore business class seat will directly recline into a 78 inch long full flat bed. That might sound more attractive for tall folks than Suites, but unfortunately, note that you'll still have a fairly small cubby that your feet have to fit into, which isn't great since tall people usually also have big feet that may not fit so well in a cramped space.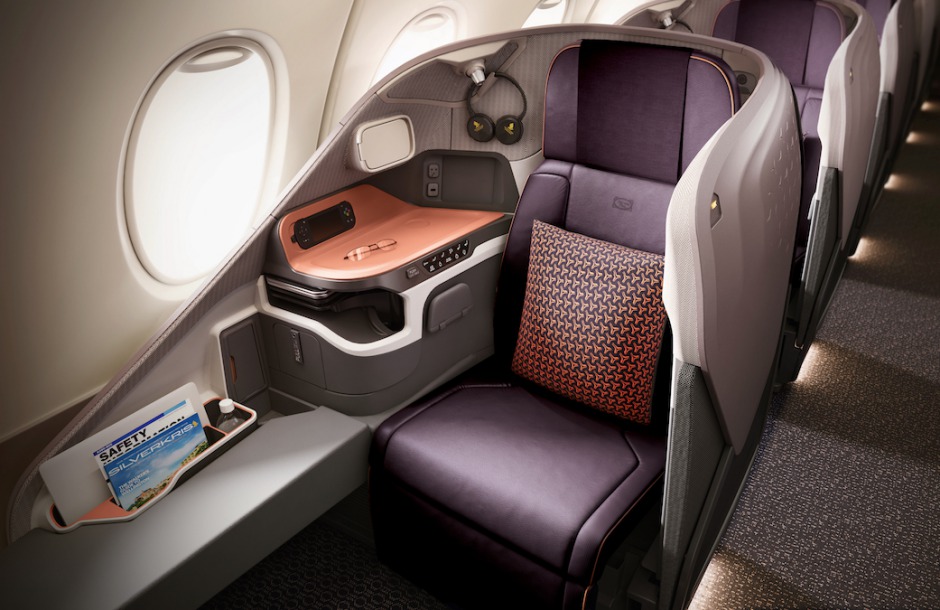 A unique aspect is that the two middle business class seats behind each bulkhead will be able to be made up as a double bed, but let's be realistic–who wants to cuddle with their loved one without any kind of privacy from the aisle? I think the main thought here, as Singapore Airlines itself expresses, is for families. It's certainly comforting to a child for a parent to be able to read a bedtime story and be right next to him/her, so these seats could be perfect for a parent traveling with a young child.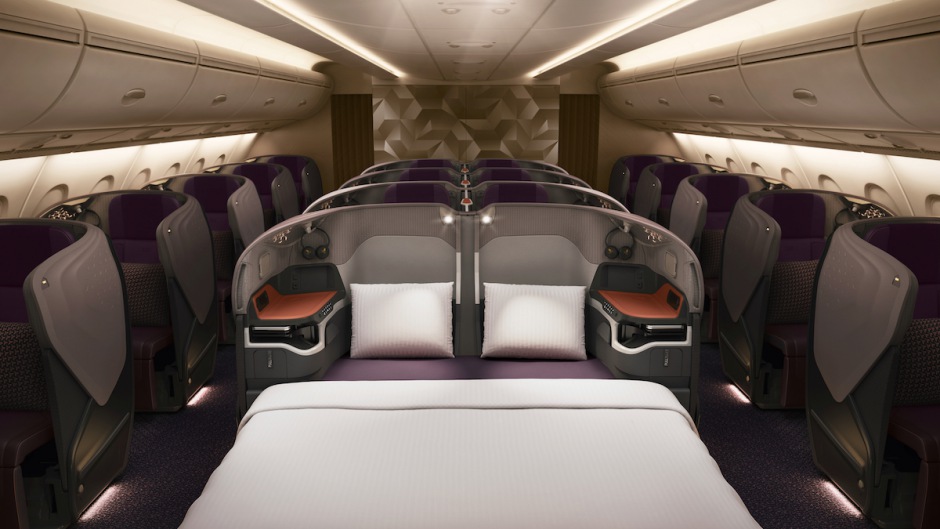 The new Business Class seat is much narrower, at 25 inches compared to the current 28 inches on its 4 class 777-300ER and A350-900 and 30 inches on its 3 class 777-300ERs. That would be fine, if Singapore would just match JAL Sky Suite Business Class and provide a high quality airweave mattress pad to make the bed more comfortable, but I don't expect that the bed will be much more comfortable than the current hard bed. When I try the new product, I'll definitely be bringing a Therm-a-rest mattress pad with me.
Which Routes Will Have the A380 with New Singapore Suites and New Singapore Business Class?
The new Singapore Suites and new Singapore Business Class will first appear on the 5 new A380 aircraft that Singapore Airlines is taking delivery of, starting with the first delivery in December 2017 and continuing over 2018. The first confirmed route to have the new A380 will be Singapore to Sydney, Australia, which is SQ221 and SQ232, starting December 18, 2017. Per Ben, the next destination to get them will be London Heathrow to Singapore.
The Verdict
I appreciate what Singapore Airlines was aiming to do with these changes and appreciate some of them (have the option of both a bed and chair for Singapore Suites, be able to recline the new Business Class seat directly into a flat bed, double bed option for bulkhead middle seats). And I continue to admire Singapore Airlines service, which tends to be consistently better than many competitors.
That said, it surprises me that there isn't more emphasis on the sleep experience, since it's an area that could be a true differentiator, the way the customizable Four Seasons bed is for Four Seasons. What other hotel company enables you to customize your mattress to your sleep preference? Currently, only JAL comes close to this with JAL First Class, where the airweave mattress offers a firm side and a soft side. What if, in addition to Book the Cook, it was possible to customize the mattress pad and pillow type for your Singapore Suites flight? For a long flight, that would make a huge difference in "making you feel at home" as Singapore's marketing copy reads.
For the business class product, I also think the continued tight cubby space for feet is a miss. While Singapore Airlines seems to always want to build its own custom seats, surely focus groups that included a good number of tall people would have had something to say about the space issues of these seats. Personally, I'd again take JAL Sky Suite Business Class, namely the window seats, any day over the new Singapore Airlines Business Class.
What do you think of the new Singapore Suites and new Singapore Business Class?
Recommended Posts
Review: Singapore Suites A380 with a Kid
Singapore Suites A380 Review, Frankfurt to Singapore
Review: Singapore Airlines Business Class A350-900 DME to SIN
Review: Singapore Airlines SilverKris Business Class Lounge T3, Changi
Singapore KrisFlyer Award Chart Devaluation: Up to 30% More
Need Award Booking Help? Our fee is as low as $75 per ticket if you book your hotel or cruise with TravelSort.
If you enjoyed this, join 200,000+ readers: please follow TravelSort on Twitter or like us on Facebook to be alerted to new posts. Get travel inspiration from TravelSort on Instagram or check out TravelSort on YouTube
Become a TravelSort Client and Book 5-Star Hotels with Virtuoso or Four Seasons Preferred Partner Benefits