4/18/13 Update: 20% off select items until midnight tonight, April 18 using coupon code APRIL20. Highly recommend the wild boar sausage, Berkshire pork and Wagyu beef burgers….
Have a favorite French restaurant, and wish you could taste their classic dishes at home? It can be pretty hard to replicate them exactly, unless you're a trained chef with access to the dizzying array of specialty products and labor intensive, housemade preparations that restaurants rely on. While I can't help with chef qualifications, one of my favorite online specialty food stores, D'Artagnan, is offering a 20% off sale (use code APRIL20) that ends midnight today, so I thought I'd share, along with a few of the products I recommend. No, there's no referral for me, I simply enjoy the products they offer. Oh, and an idea for readers out there who are husbands and fathers: order your favorite D'Artagnan ingredients and prepare a Mother's Day feast–Mom will be thrilled! It may not be a trip to Paris, but the flavors might bring back memories of your favorite bistro there. D'Artagnan is not featured on any of the miles or points shopping malls, so there's not really a way to earn extra bonus points for these purchases, although you could user your Ink Bold to buy Vanilla refills at 5X to load on to AMEX Bluebird or the AMEX Prepaid card, or, if you can't find Vanilla refills, buy Visa gift cards at 5X bonus points at Office Depot and get up to an effective 4.5x on this and other purchases. See Maximizing the Chase Ink Bold 50,000 Bonus-How to Meet Minimum Spend
D'Artagnan has been around over 20 years, and claims to be the "leading purveyor of foie gras, pâtés, sausages, smoked delicacies, organic game and poultry in the nation. All of New York's four-star restaurants, for example, have D'Artagnan products on their menus." Here are my favorite products, and ideas for using them:
We've tried all of D'Artagnan's sausages, and this is our favorite, followed by the lamb merguez and the Duck & Armagnac (which of course is more French, and would be perfect if you want to whip up some cassoulet).
Uses: Tonight I served it nontraditionally as part of a quick Greek dinner of Spanakopita and Greek Salad (see Chase Freedom Rewards 5x Grocery Bonus Sunday Supper: Greek) but we also like to cut the cooked sausage into pieces and sprinkle over sweet potato gnocchi with sage butter sauce (check out the Trader Joe's frozen section) or put them into quesadillas (see Chase Freedom Rewards 5x Grocery Bonus Sunday Brunch-Tex Mex).
Pairing: Wild boar stands up to a hearty red. We prefer a velvety Cabernet, robust red Zinfandel or slightly spicy Malbec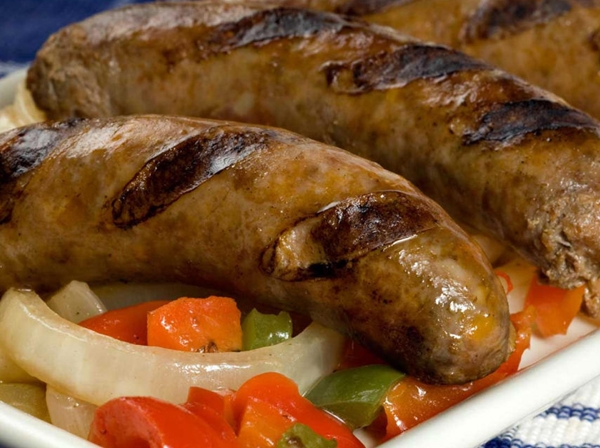 One of our new favorites are the D'Artagnan Wagyu Beef Burgers–we even ordered in bulk last time to have a stash in the freezer, they're so good. I recommend thawing slowly over a day or so in the fridge, and either grilling or pan frying before finishing under the broiler topped with your favorite sharp cheddar cheese. Use lightly toasted brioche buns and your favorite Dijon mustard, ketchup and other fixings and with a side salad or perhaps some oven roasted sweet potato fries it makes the perfect quick dinner.
Pairing: Go for a hearty red: we enjoy the Clos du Bois Sonoma Reserve Cabernet Sauvignon from Trader Joe's, the lush Earthquake Zinfandel, or a Malbec.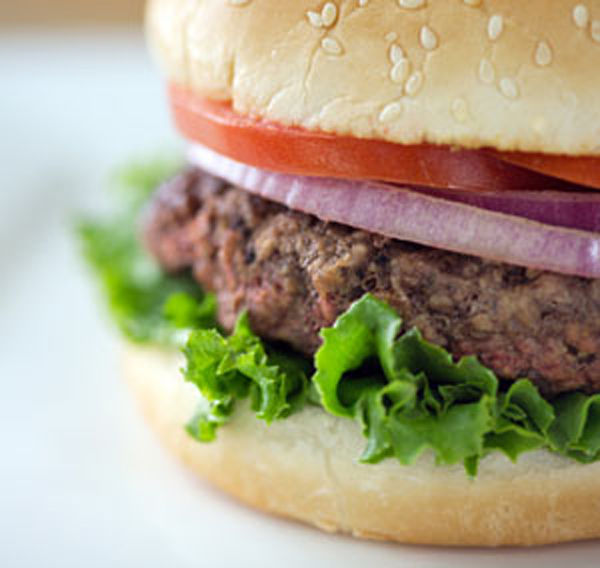 3. Medallion of Duck Foie Gras with Black Truffles
It would be pretty easy to sneak a few tastes while slicing this Medallion–we won't tell! This is more an autumn and winter food, so I didn't order any this time, but it's a favorite around the holidays.
Uses: Slice with a thin, sharp knife into rounds, and place atop very lightly toasted brioche. Eat as is, for an appetizer, or place atop a simple salad dressed with walnut oil/champagne vinegar.
Pairing: Sauternes is traditional, but I've found Jackson-Triggs Ice Wine to work very nicely as well.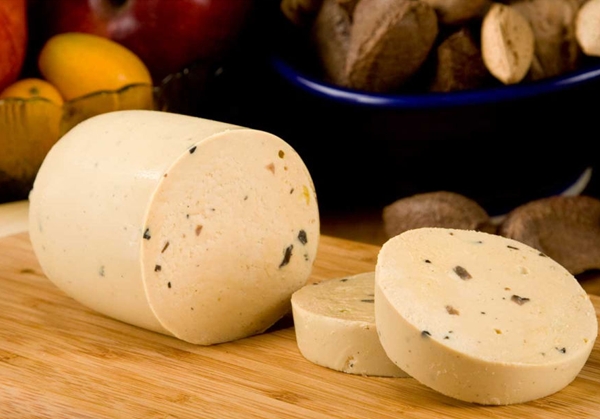 D'Artagnan is known first and foremost for duck and foie gras, so I always order Moulard Duck from them. I do have a preference for Muscovy Duck, but in my view the price premium just isn't worth it.
Uses: Our favorite preparation is to pan sear, finish off in a hot oven (make sure not to overcook and to let it rest before slicing) and to serve with a brandied cherry sauce. I can provide the recipe to anyone who's interested. This is a special occasion dish for us, usually in autumn and winter, so we pair with parsnip and sweet potato purees, and sometimes a brussels sprout chestnut gratin.
Pairing: Many folks pair a Pinot Noir with duck, but I'm just not a fan of light reds. At least for us, the fruitness of the sauce allows us to pair it with a fruit forward Zin or Malbec. Your actual pairing will depend on your preparation and preferences.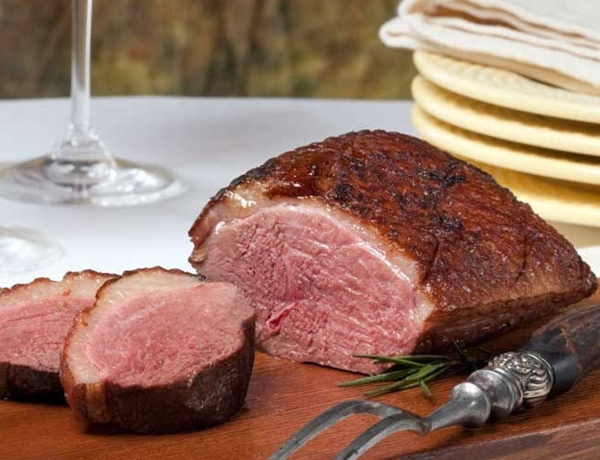 Prepared demi-glace is a godsend for anyone who doesn't have hours to create one from scratch. I mostly use this is the above brandied cherry sauce.
I recently tried this, with some trepidation, as I have never before bought a big cut of meat (my family mostly eats chicken, fish and vegetarian mains for everyday meals). But we'd had Berkshire Pork at restaurants and really enjoyed it, so we tried making it ourselves. It turned out quite well for a first attempt–very succulent and moist, even if presentation left a bit to be desired.
Uses: I've only made this once, and first brined it, then seared and finished in a hot oven and served with a pear brandy cream sauce and potato puree.
Pairing: Frankly, I dread pairing cream sauces, and perhaps someone will chime in with some suggestions. I think we ended up going with a well-balanced Riesling and it worked decently.
I challenge you to find this (or even most of the above products) at your local grocery. Duck bacon is leaner than pork bacon, and its own distinct flavor profile.
Uses: I like to use this in a creamy risotto, but it would be great as part of a special brunch (eggs benedict, anyone?) or sprinkled atop a salad with avocado and blue cheese.
Of course, if all this French food just whets your appetite for a trip to Paris, we have some recommendations for that too:
Romantic Travel Guide to Paris
Paris for Foodies: Where to Eat
The Best Paris Restaurants Open in August
Don't Miss These Paris Desserts
Le Cinq at Four Seasons Paris Restaurant Review
Enjoy!
Need Award Booking Help? Our fee is as low as $75 per ticket if you book your hotel through us.
If you enjoyed this, please follow TravelSort on Twitter or like us on Facebook to be alerted to new posts.
Become a Member to find your perfect luxury or boutique hotel at wholesale prices: TravelSort Hotels
Photos: D'Artagnan