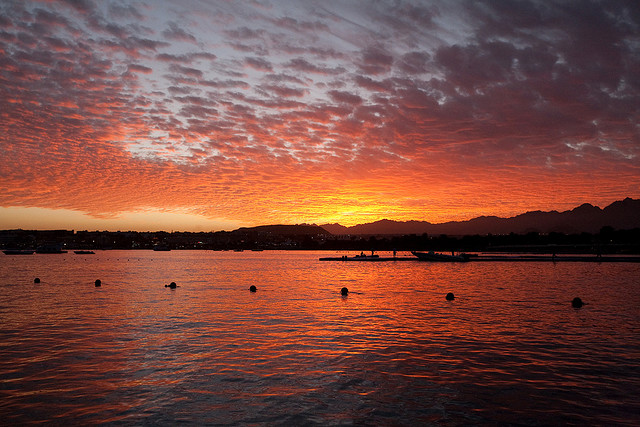 Why Go
With some of the world's best diving and snorkeling hotspots, beautiful beaches, and vibrant nightlife, the real question to ask is why you wouldn't go to Sharm el Sheikh. This beautiful town, located on the Red Sea, is full of gorgeous hotels and resorts, amazing restaurants, and famous endless beaches. Sharm el Sheikh, often referred to simply as Sharm, is a westernized city in a conservative Middle Eastern country. There is probably no other place in the world quite like it, and it is best described as being Egypt's version of Las Vegas or South Beach, Miami.
If you are a diving enthusiast, the waters around Sharm el Sheikh are some of the best on the planet. History lovers will appreciate Sharm's proximity to breathtaking landmarks such as the Giza Pyramids, Petra, Cairo, and Mount Sinai. And if you want a relaxing week at the beach or pool, it's a perfect destination, too. Adventure seekers can go on a thrilling desert safari or a trek through the Sinai Mountains, while party animals will love the endless clubs and bars that stay open until the early hours of the morning, something you will be hard pressed to find anywhere else in the Middle East. The foodies will be thrilled by the variety of international restaurant options in Naama Bay, and there are even a few casinos for tourists who want to do a little gambling. With so much available, Sharm el Sheikh is a perfect destination for couples, no matter what makes up their ideal vacation.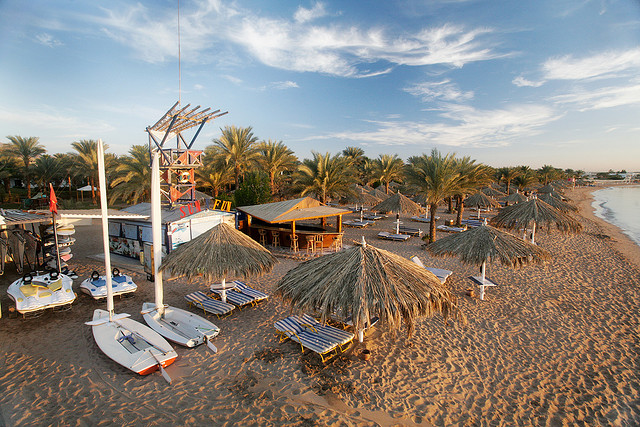 Insider Tips
Although the security situation in Luxor, Aswan, and the Red Sea Resorts, including Sharm el Sheikh, is calm, the U.S. State Department warns that the situation across Egypt remains unpredictable and subject to change. Travelers should remain in contact with their tour operators and check on the latest news before departure. The Government of Egypt has implemented a country-wide curfew, which should be obeyed by travelers. As of March 29, the curfew hours are from 2:00 a.m. to 5:00 a.m.
A round-trip flight from Cairo to Sharm el Sheikh International Airport (often referred to as "Ophira") will cost about $150 and it only takes one hour to get to this beautiful beach city. The airport is located about fifteen minutes from Naama Bay, and traffic is never really a problem. You will find a large number of taxis waiting outside of the arrivals terminal, but your hotel or tour group may provide a free hotel pick-up, so check with them before arriving.
Be warned that the taxis waiting outside the airport run a dishonest scheme that leads to incredible price gouging. A local would be charged about 70 Egyptian pounds ($13 USD) for the ride to Naama Bay, but the drivers will charge a tourist about 200 pounds ($36 USD.) If you ask the drivers the price in advance, they will all insist that the cost is 200 pounds because you have to pay for their parking ticket. This is a lie. To avoid this scam, either arrange a pickup with your hotel or tour group, or simply get in the cab without asking about price. Then just pay them the 70 pounds after everyone has exited the cab and you have retrieved all your bags. If the driver protests, simply tell the driver that you know this is a fair price and walk into the hotel. The driver will likely then leave you alone and realize you're not as easy a target as he hoped.
There are a handful of developed areas stretching along the coast of the Red Sea in Sharm el Sheikh. Unfortunately, the only way to get between these various hotels, restaurants, and beaches is by taxi. There is an abundance of taxis in Sharm and they will repeatedly pull up to you on the street as you walk down the sidewalk. The cost of taking a taxi between the various parts of Sharm is about 60 Egyptian pounds ($11 USD) .
At the heart of Sharm el Sheikh is Naama Bay. Most of the city's beaches, restaurants, hotels, bars, and clubs are clustered around this part of town. If you stay in a hotel in this area, you'll be able to walk to any of the city's hot spots. However, rather than walking along the main highway along Naama Bay, take a stroll down the walking street next to the beach. This will give you a more scenic view, a livelier atmosphere, and will save you from having to hear the incessant honking of taxicab horns.
Since Sharm el Sheikh is one of the most popular beach destinations in the world, bringing a swimsuit is an absolute must. Don't forget sunscreen and sun protective clothing, as the sun can be absolutely relentless. If you are into diving or snorkeling, Sharm is renowned for these aquatic activities, so come prepared. Sharm's convenient location also allows visitors to take an endless number of treks to some of the world's greatest sites, including trips to the Giza Pyramids, Petra, Mount Sinai, and even desert safaris. If you're planning on exploring, be sure to pack the necessary shoes and clothes.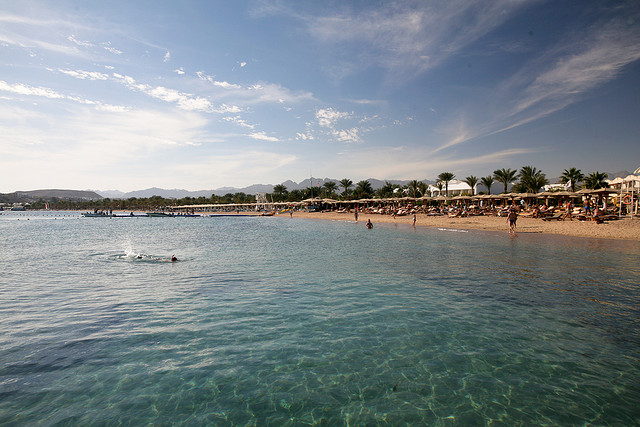 Where to Stay
Although there are a seemingly endless number of hotels and resorts in Sharm el Sheikh, you should stay somewhere near Hadaba or Naama Bay. Things will probably be a bit more peaceful in Hadaba, but Naama Bay is where most of Sharm's restaurants, shops, and clubs are located. If you want to stay right in the heart of the city, there are a number of hotels located along the Naama Bay strip, as well as a number a bit further from the action that will offer you both a convenient location and some peaceful solitude. However, be sure to confirm your hotel's location before booking, because many of the hotels advertise that they are located in Naama Bay, but in reality, they are actually a few miles away, which can put a damper on the ease of walking from place to place.
There are a number of heavenly resorts in Sharm that charge more than $400 USD a night for a double room. However, you can find a number of resorts that offer spacious and beautiful rooms for about $200 a night. If you are traveling in the off-season and are an avid bargain hunter, you can probably find a nice room in one of the resorts for about $100 a night. There are also a number of moderately priced hotels in Sharm where a room will cost around $60, as well as a few budget options that will only charge around $20 a night.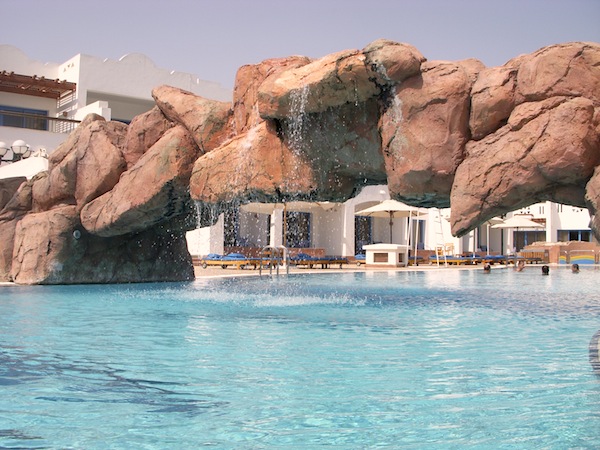 It would be impossible to find a hotel in Sharm el Sheikh with a better location than the Hilton Sharm El Sheikh Fayrouz Resort. The resort is built along the beautifully sandy beaches of the Red Sea and is only a short walk from the excitement of the Naama Bay Strip. Just a few steps from your private chalet, you'll find a private beach full of umbrellas, palm trees, and plenty of comfy chairs. Along this beach, you'll also find a sand volleyball court, a mini soccer field, and plenty of opportunities for aquatic adventure. Even better, there is a walking street that winds its way from the hotel all the way down to the heart of Naama Bay. Thus, within a minute walk from your room, you'll find about a dozen different bars and restaurants. Only a few steps further, and you'll hit the bright lights, blaring music, and endless restaurants, clubs, and bars that make up the Naama Bay Strip. A stay at the Hilton Fayrouz puts you close enough to everything you need in Sharm, whether it be beaches or bars, but far enough away to get some peace and quiet. And like Hiltons around the world, the amenities and service is superb.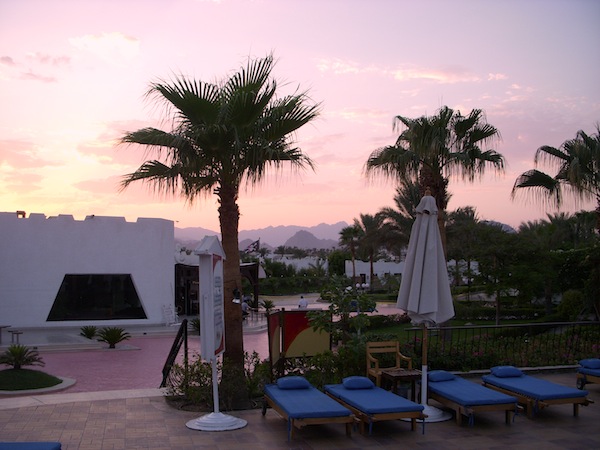 While the Hilton Sharm Dreams across the street can get a bit wild, the Hilton Fayrouz has a much more laid back atmosphere. Most of the complex is made up of cozy chalets, where you'll find comfortable beds and even a patio. The pools are beautiful, but again, you won't find a wild and crazy atmosphere at Fayrouz, even though there is a nice bar in the main pool. The staff is super friendly and the food served at the hotel restaurant is excellent. In fact, the endless waffles, French toast, and pancakes at the complimentary breakfast buffet alone make this resort worth a visit. Of course the quaint chalets, beautiful beach, and perfect location certainly don't hurt either!
What to Eat
A visit to Sharm el Sheikh will give you the chance to satisfy whatever culinary desires you and your significant other may have. There are plenty of places to get amazing Egyptian fare, but Naama Bay is also full of endless international options. You can find Italian, Greek, American, Thai, Chinese, and even Mexican restaurants on a single block! There are also a number of American chains in Naama Bay, including T.G.I. Fridays, McDonald's, and Kentucky Fried Chicken. However, with an exciting culinary world only a few steps away, a trip to Sharm is the perfect time to explore some excellent international cuisine, rather than focusing on what's normal from back home.
For a romantic dinner with that special someone, Fairuz is an excellent bet. A delightfully traditional Lebanese restaurant with breaktaking views over the bay, Fairuz makes a great pick for those who want attentive service and delicious dishes at a leisurely place befitting of date night. Don't forget to try their famous coffee at the end of what promises to be a most enjoyable meal.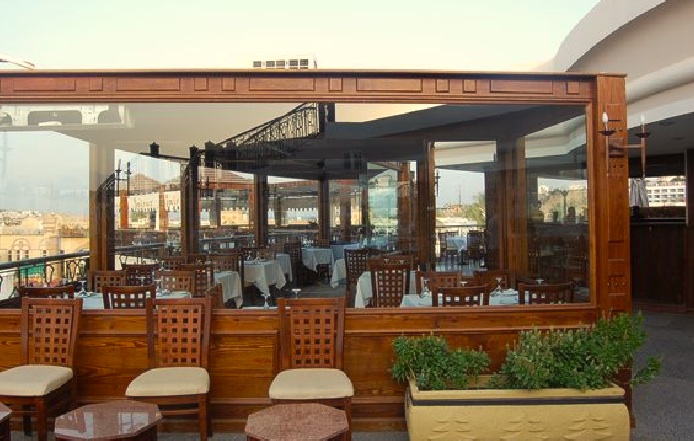 More than chain spots, Naama Bay is also full of a number of "Bedouin-style" restaurants. These places are impossible to miss. They are set up in the middle of the street and are full of young Egyptian men wearing traditional Bedouin attire and dancing to western music. These restaurants are also covered with bright lights and gaudy decorations. It is quite a spectacle and a visitor who has traveled to other parts of Egypt will wonder how this could be the same country. Although these restaurants are very touristy, you can find some amazing Egyptian food at any of these places. If you order a kebab meal, you'll end up with a massive grill on your table full of beautiful veggies and generous portions of meat. These restaurants are also a great place to lounge around and smoke some shisha in an Egyptian hookah. Eating at one of these restaurants will give you one of the world's greatest people watching opportunities, as thousands of tourists walk the strip while shop owners, waiters, and tour operators all make entertaining sales pitches.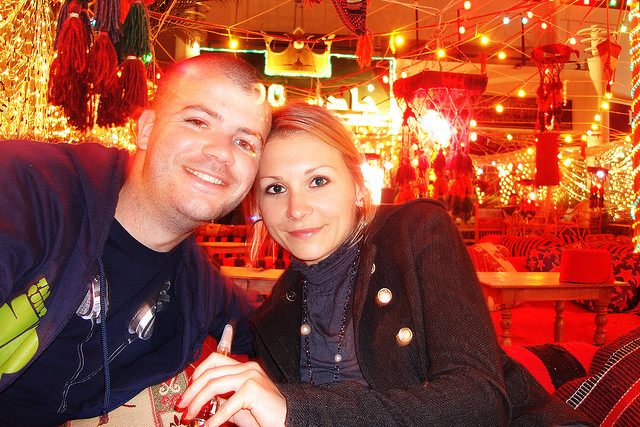 The only drawback to the dining options in Sharm el Sheikh is that the restaurants are considerably more expensive than the rest of Egypt. While a nice dinner in Cairo will cost you less than $5, prices in Sharm are comparable to those in Western Europe or the United States. However, with all the incredible dining options in this beach town, it will certainly be money well spent.
What to See and Do
Unlike the rest of Egypt, Sharm el Sheikh is not a place you visit to see nearby temples, landmarks, and museums. Rather, people come to Sharm for the beaches, diving, and natural beauty of the Sinai. However, there is an infinite number of tour groups operating in Sharm that can organize 1-2 day trips to Petra, Cairo, Mount Sinai, and Giza. A desert safari is another popular option for tourists. Depending on your desire for thrill and adventure, you can ride a jeep, motorbike or 4×4 during a desert safari, or even see the sights on the back of a camel or horse. Visitors can find information about these tours in hotel lobbies or in the numerous tourist shops along the Naama Bay Strip.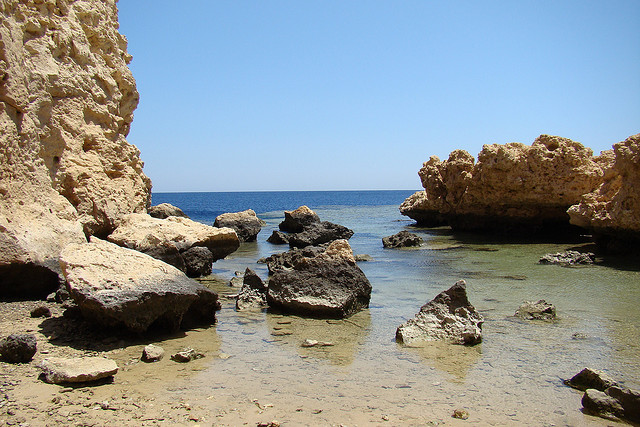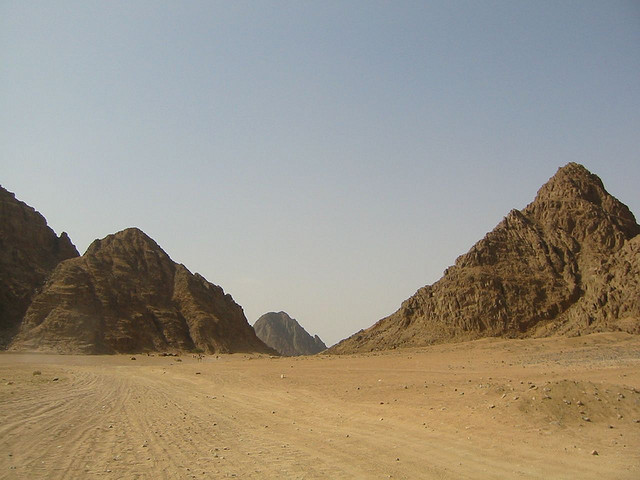 For a relaxing outing above the water, rather than down in it, it's also possible for travelers to rent sailboats or set up daily sailing trips through the various adventure companies. Taking to the azure blue waters by boat is yet another way to enjoy the sea breeze with that special someone, and the sights up above are almost as great as the ones down below! There's also a great deal of windsurfing in Sharm, and renting gear can be done through hotels or independent beachfront shops alike.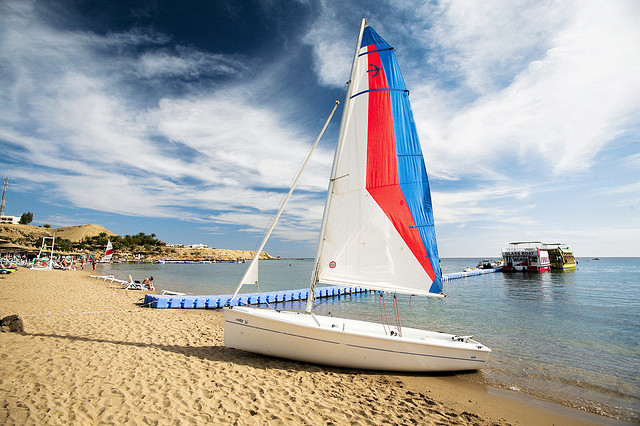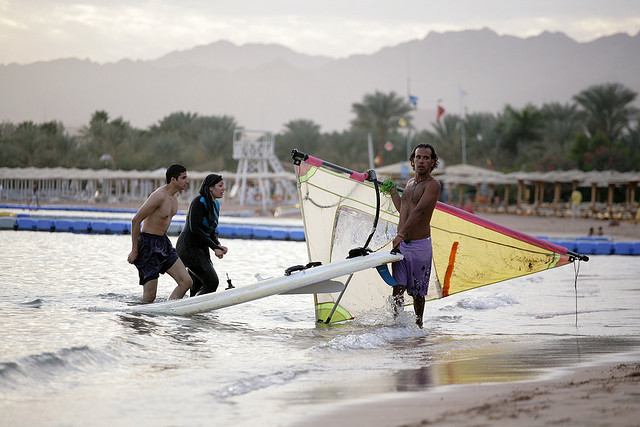 If you have satisfied your thirst for history and adventure but don't want to just lie on the beach with that special someone, there are two water parks in Sharm that could be a fun way to spend a day. Expect to pay about $30/adult and $20/child at the creatively-themed Cleo Park and the classic Aqua Blue Water Park, both of which are tons of fun.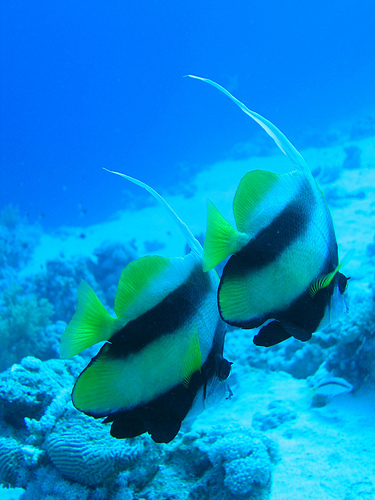 The waters around Sharm provide tourists with some of the best diving and snorkeling opportunities in the world. A stroll along the beach will quickly reveal why this is such a diving hotspot: the waters are crystal clear and brilliantly colored fish and coral are everywhere. You can spot schools of yellow, blue, and purple fish just by wading into the water a few feet. Thus, a snorkeling or diving trip is a must in Sharm el Sheikh. You can visit some of the popular areas right along the coast, or go on an all-day trip that takes you to the more remote areas around Sharm. Some of the most popular dive spots include Ras Mohamed, the Straits of Tiran, and the wrecks of the Dunraven and Thistlegorm. You can sign up for any of these tours with the tour groups associated with your hotel or at any of the tourist offices along the Naama Bay Strip. Additionally, there are a number of dive centers located in Naama Bay that offer great advice and equipment rental.
Photo credit: berdoszpaposz, Svetlana Grechkina, Erin Khoo, Argenberg, rick manwaring, ollie harridge,