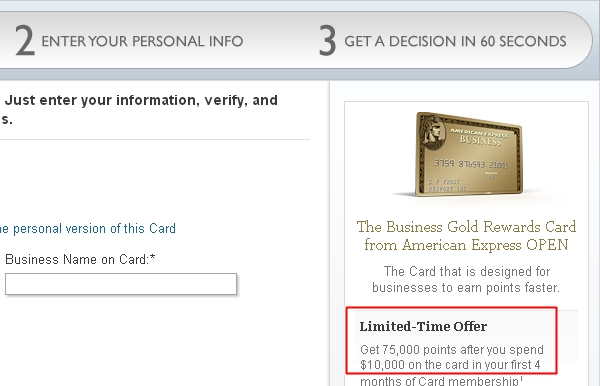 American Express is offering the AMEX Business Gold Rewards Card with a 75000 bonus points for today only, October 24, 2012. The 75,000 signup bonus points offer requires you to spend $10,000 within the first four months of card membership. This is exactly the same as last month's AMEX Business Gold Rewards 75,000 Bonus Points Offer.
The current offer is 50,000 points for $5000 in spend within the first 3 months, and that offer is good until November 26, 2012, unless terminated earlier.
Prior to last month, most of this year the American Express Business Gold Rewards card hadn't offered any bonus, and only since late summer was the 50,000 bonus points signup available. The 75,000 offer has been offered several times before, for example the AMEX Business Gold Rewards for 2 days in August and the one day AMEX Business Gold 75000 offer on November 3 in 2011. This is as good a public offer as I've seen for this card, although I got the prior incarnation, the "old" AMEX Business Gold Rewards card with a targeted 75,000 bonus for $2000 spend last year. I don't know if AMEX is running similar targeted offers for the new Business Gold Rewards card, but the required spend to receive the bonus has likely increased, even for targeted offers. Do let me know in the comments though, if you've received a targeted 75,000 offer for the AMEX Business Gold Rewards Card with a low minimum spend.
Offer Details:
75,000 Membership Rewards bonus points after spending $10,000 within the first 120 days of card membership: must apply today, October 24, 2012 to be eligible for 75,000 points
Bonus ID A3K4 (already coded into the link):
$0 introductory annual fee, then $175
3X points on airfare
2X points on advertising, gas and shipping
1X points on all other spend
Cash back with Open Savings for merchants such as Fedex (5%), HP (5%), Office Max (5%), Hyatt (3%) and others
FAQ
I don't have a business; can I still apply?
This is a small business card, so if you do anything that is a small business, such as selling books or other goods on Amazon, eBay or etsy, renting our property, consulting, etc., you have a good chance of qualifying. You can apply as a sole proprietor with your social security number, you do not need an EIN to apply. Also see
Ink Bold Sign Up Tips
I applied for the 50,000 points offer; can I switch to the 75,000 offer with higher spend requirement?
Very unlikely, although you can call and ask. American Express has become very reluctant to match or switch offers.
I had the AMEX Business Gold Rewards Card but cancelled it earlier this year; can I get the bonus again?
No: per the terms: Welcome bonus offer not available to applicants who have had this product or any Business Gold, Green or Platinum Card account within the last 12 months.
How do I ensure I get the points?
Meet the minimum spend of $10,000 within the first 120 days. I definitely recommend screenshots for these one or two day offers; you can use the ones I'm including in the post.
What are the best partners to transfer AMEX Membership Rewards points to?
Ever since the United-Continental merger, you can't transfer points to United MileagePlus. You can transfer to Air Canada's Aeroplan program to book Star Alliance awards, but in most cases it's not a good option due to the post-devaluation award chart and fuel surcharges on most partners.
The best transfer opportunities are:
British Airways Avios, if you can take advantage of a transfer bonus. Prior transfer bonuses have been 30%, 40% or 50%
Singapore Airlines KrisFlyer to book first class and business class (KrisFlyer offers better award availability to its own frequent flyer program members than it does to partners)
There are also periodic transfer bonuses to Delta or Air France/KLM, but I can't really get excited about either as you can't book first class awards on partners using Delta miles.
So Should I Apply for the AMEX Business Gold Rewards Card for 75,000 or the AMEX Business Gold Rewards Card for 50,000 or the Ink Bold or Ink Plus?
1. Decide Based on Ease of Meeting Spend: Only the AMEX Business Gold Rewards 75,000 vs. 50,000 point offers are mutually exclusive; it comes down to how easy it is for you to spend $10,000 in 4 months vs. $5000 in 3 months. If you have significant business expenses and/or reimburseable spend, go for today's 75,000 point offer (make sure to apply today, using the link above) in order to pick up 25,000 additional Membership Rewards points. But if it's going to be hard for you to make the spend (and especially if you want to apply for some other cards as part of a mini-churn) go for the 50,000 points offer.
You can get all three of these cards, although I wouldn't advise applying for the Ink Bold and Ink Plus at the same time. If you have high spend, you could apply for the AMEX Business Rewards Card and *either* the Ink Bold or Ink Plus.
It's best to diversify your points, so I would recommend, over time, getting all three cards. I definitely value Ultimate Rewards points more than Membership Rewards points, so as far as the bonus offers, 50,000 UR points for the Ink Bold or Ink Plus is worth more than the 50,000 MR points offer–but unfortunately, there's also double the spend requirement: $10,000 vs. $5000.
3. 3X for Airfare vs. 5X for Everything (If You Can Find/Deal With Reloads or Gift Cards): For spend, the AMEX card will be valuable if you have high airfare spend and want nothing to do with prepaid cards or gift cards, since you get 3X on airfare purchased directly with airlines. The Ink Bold and Ink Plus are more valuable if you are willing to use Bluebird, AMEX Prepaid, or gift cards in order to get 5X points on virtually everything.
Cards to Consider as Part of a Churn
Able to Spend $10,000 Within 3-4 Months and 15,000 Within 6 Months
Hilton HHonors AMEX: 65,000 points = 40K after $750 spend within 3 months and 25K additional points after spending total of $3000 within 6 months
Chase Freedom: 10,000 points + Chase Exclusives: 10K points after $500 within 3 months, but main reasons to get this no fee card are 5X categories (airlines, hotels, Best Buy, Kohl's this quarter) and to be grandfathered into Chase Exclusives bonuses. See Get Chase Exclusives Bonuses While You Can OR
Note: I recommend applying for maximum 2 Chase cards at the same time: 1 business and 1 personal card, or 2 personal cards
Disclosure: I do not receive a referral fee for either the AMEX Business Rewards Gold Card or the Hilton HHonors AMEX. I do receive a referral fee for the Ink Bold, Ink Plus, Freedom and Hyatt cards mentioned. All links are the best available public (non-targeted) offers that I am aware of.
Related Posts