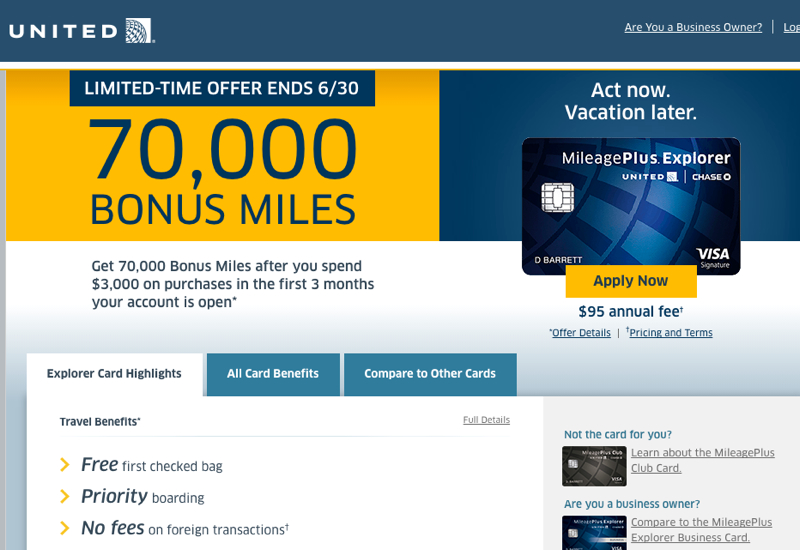 A 70K United MileagePlus Explorer bonus offer is being targeted to some MileagePlus members. Just keep in mind that MileagePlus is increasing award change/cancellation fees and changing stopover rules effective October 6, 2016. Here are the offer details:
70,000 bonus MileagePlus miles after spending $3000 in purchases in the first 3 months after account opening
5000 bonus miles after adding the first authorized user and making a purchase in the first 3 months after account opening
10,000 bonus miles after spending $25,000 in net purchases on the card each year
Earn 2 miles per $1 spent on tickets bought directly from United
Free first checked bag for primary cardmember and one companion traveling on the same reservation
No foreign transaction fees
2 United Club passes each year
$95 annual fee is NOT waived the first year
To apply, go to
this link
and log in with your United MileagePlus number and password.
FAQ
Am I Eligible for the 70K Bonus If I Previously Had the United MileagePlus Explorer?
If you can see the 70K offer and don't currently have the United MileagePlus Explorer, you're eligible if you haven't received a bonus for this card within the past 24 months.
Does Being Targeted for this Offer Exempt Me from Chase 5/24?
Chase previously applied its 5/24 rules to cobranded cards, in addition to its own cards. What this means is that you will generally be declined if you have opened 5 new credit cards of any type (not just Chase cards) within the past 24 months. This includes being added as an authorized user.
Some with targeted offers have been able to be approved despite opening more than 5 new cards in the past 24 months, but others have been denied, so if you do have opened more than 5 cards in the past 2 years know that you may be declined.
I Got the 50K United MileagePlus Explorer Recently! Will Chase Match Me to the 70K Offer If I'm Targeted?
Unfortunately very unlikely; Chase generally does not match when the new offer includes an annual fee, as this does. Nor can you just offer to pay the annual fee; it's basically a different offer. In cases where both offers waive the annual fee, Chase generally will match if you got the card within the last 90 days, but the differences in the annual fees preclude that here.
Do I Have to Add My Spouse / Domestic Partner as an Authorized User to Earn the Additional 5000 United MileagePlus Miles?
No, the authorized user may be someone else such as another relative, not your spouse. Naturally, make sure it's a responsible person (or get their permission to keep their authorized user card). Some people even add their kid or their pet, not that I'm advocating that.
What are the Best Uses of MileagePlus Miles?
After the United Award Chart Devaluation I've scarcely booked MileagePlus awards for my own personal travel. The best uses of MileagePlus miles will depend on your travel needs and preferences, but some good uses of MileagePlus miles for those who value business class or first class include:
South African Business Class NYC JFK to South Africa (JNB) nonstop for 80K miles each way
United Business Class U.S. to Asia for 70K miles each way
SWISS Business Class U.S. to Europe for 70K miles each way
United First Class U.S. to Europe for 80K miles each way; best value is for West Coast to Europe nonstops
Asiana Smartium Business Class on the A380 U.S. to Asia for 80K miles each way
Are you targeted for the 70K United MileagePlus Explorer?
Related Posts