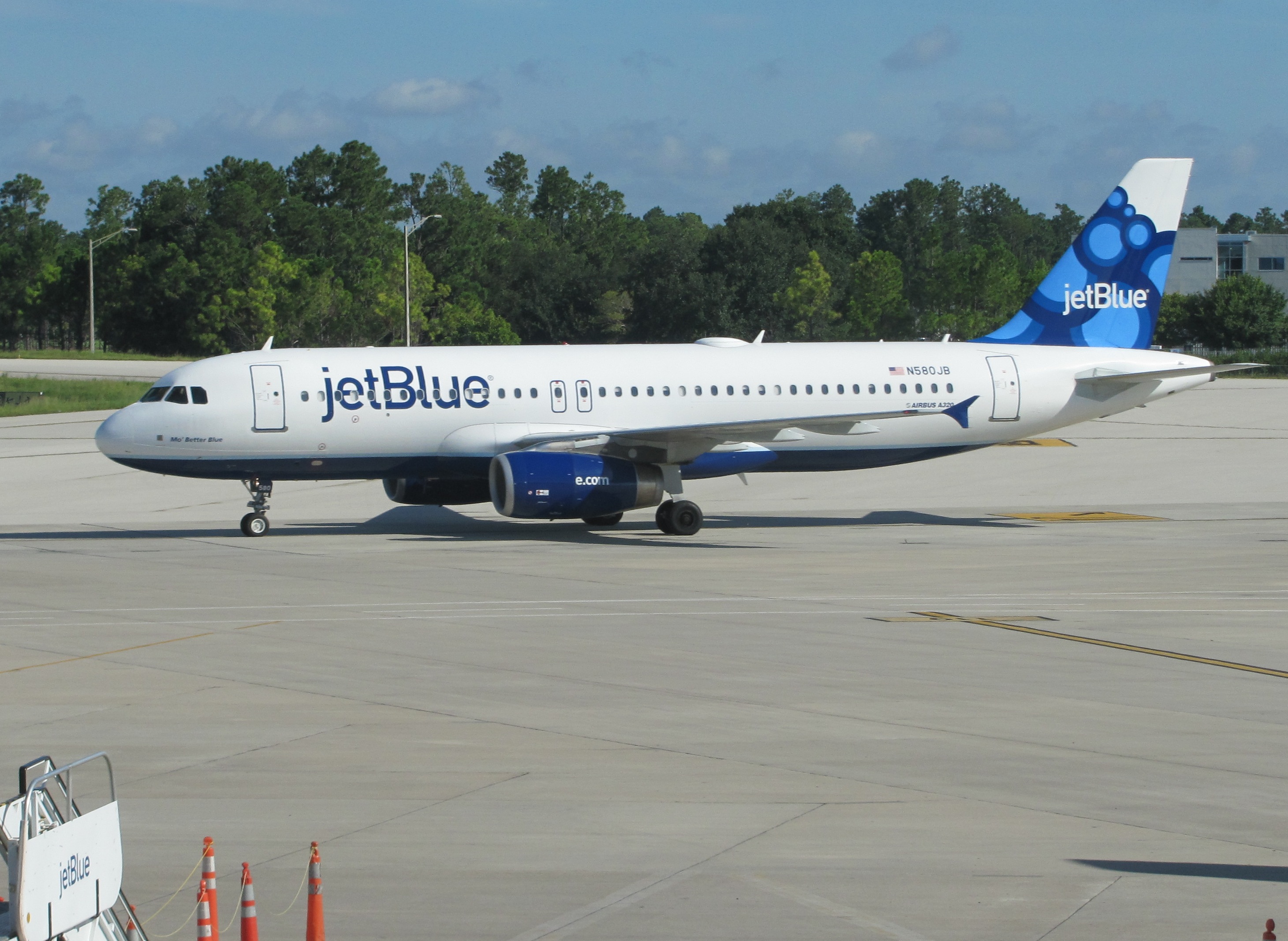 JetBlue is by far my top choice if flying Economy in the U.S., and this was reconfirmed during a quick recent trip. We don't fly much domestically or in economy, but the times I've flown economy on legacy carriers have mostly been memorable for the wrong reasons, such as surly service or a duct taped tray table that was unusable (see American Airlines: "Preferred" Seat Doesn't Work But No Refund of Fee). Here are the reasons I prefer JetBlue for our occasional domestic economy flights:
1. More Leg Room
Our A321 had 33 inches of seat pitch for our ordinary main cabin seats, and Even More Space has at least 37 inches of pitch if you pay extra for it. We didn't regret our ordinary Economy seats, however, and had ample leg room. Compare that to United, which often has just 30 inches of seat pitch for Economy on its A320s, or American, where seat pitch in Economy is often 31-32 inches in Economy.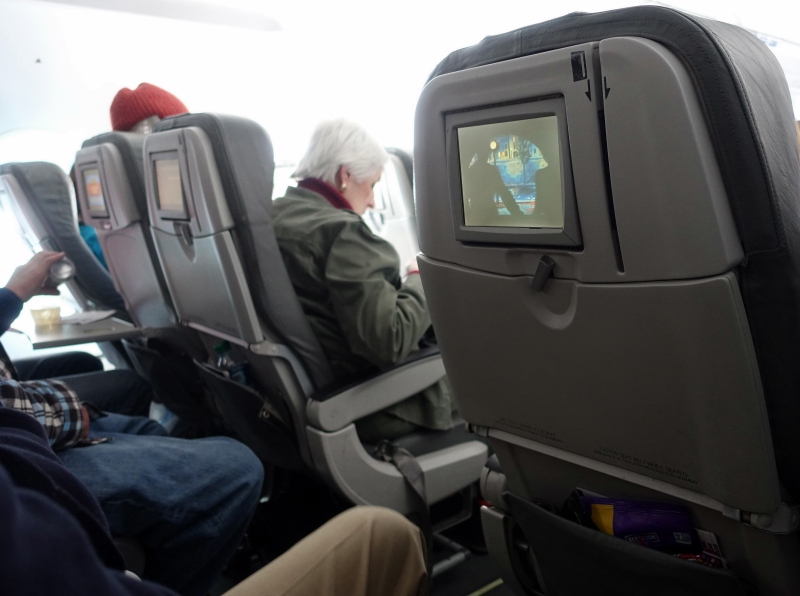 2. Free WiFi That Works
Perhaps I've just had bad luck, but each time I've attempted to use Gogo in-flight WiFi on a legacy carrier, it's been so slow as to be unusable. I've never had this problem (so far) with JetBlue Fly-Fi, which has worked well not only for email but even uploading my posts and images.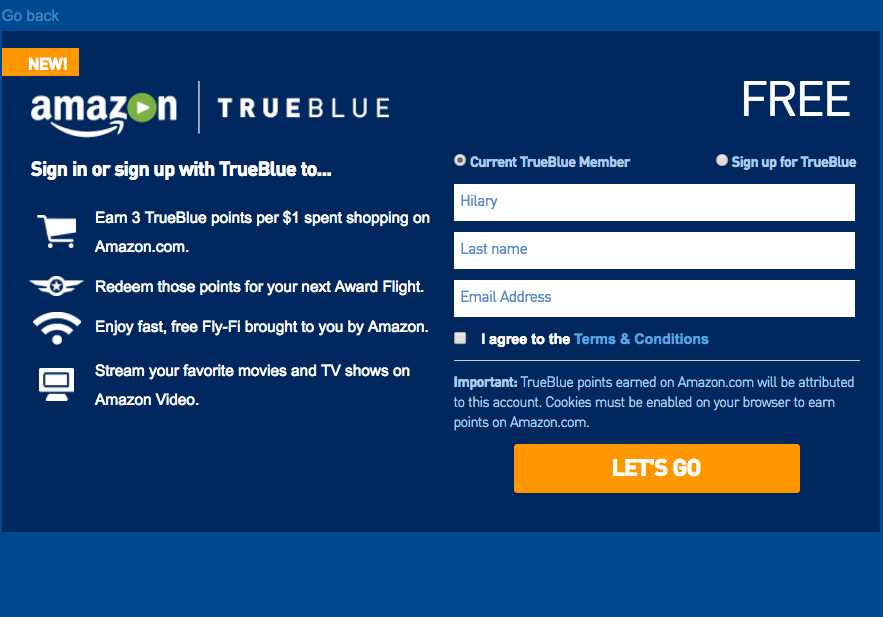 3. Actually Nice Flight Crew
While I can certainly remember some great flight crews on legacy carriers, in particular old Continental crews in Business Class on the Newark to Honolulu route, that was in business class, and I haven't had any great experiences on legacy U.S. carriers in Economy Class over the past several years.
On JetBlue, I've only had positive experiences, even on flights that have been very full. I've been impressed that drink and snack service hasn't been just a perfunctory go-through-the-motions action, but that the flight attendants on our 2.5 hour flight made another sweep through, offering additional beverages and complimentary snacks.
4. No Drama (So Far) from Other Passengers
In addition to the flight crew, actions from other passengers can really color one's experience, although the airline can't control who books its tickets. Granted, I'm not a road warrior, so I have fewer data points to go on and could be lucky, but so far I haven't experienced any crazy drama from other passengers. I've been able to recline my seat without angering any passengers (the extra leg room helps avoid this being too much of an imposition), and when we inadvertently took someone else's seat, the other passenger was happy to switch, even though of course we apologized and were ready to switch my son to his originally assigned seat.
5. IFE Screens with Free Movies and DIRECTV
While I almost never use the IFE, I'm happy that there are still IFE screens on JetBlue (American Airlines is eliminating seat-back screens for its future 737 jets, and United Airlines will also be eliminating screens on its single aisle jets) since we don't even own an iPad (on purpose) much less travel with one. My son enjoyed some cartoons, and my husband watched La La Land on our most recent JetBlue flight, all for free.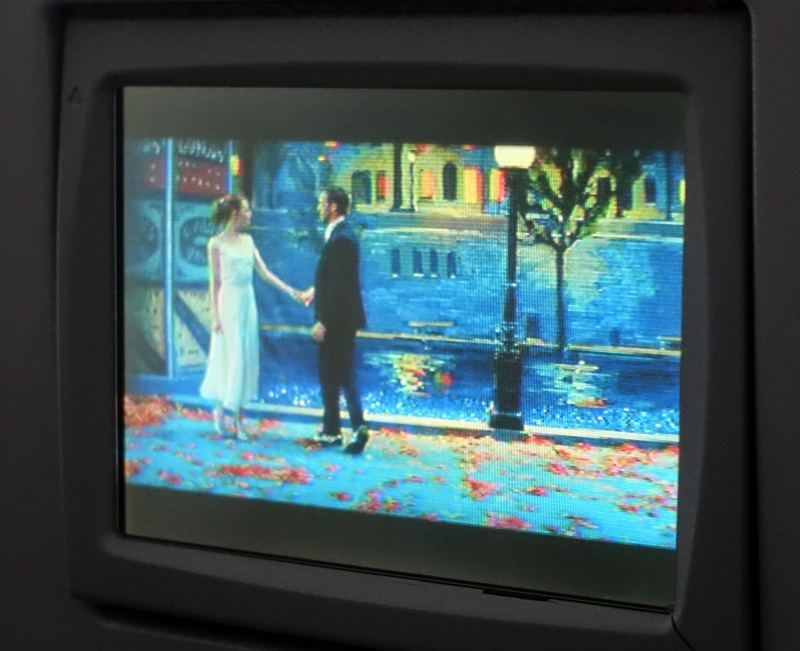 6. Terra Sweets & Blues Potato Chips
While we always bring some of our own snacks with us, I like that JetBlue offers Terra Sweets & Blues potato chips as one of the complimentary snack options. I'd even rather have this than most of the nuts that I've been served in First Class or Business Class (well, maybe with the exception of Macadamia Nuts in Lufthansa First Class).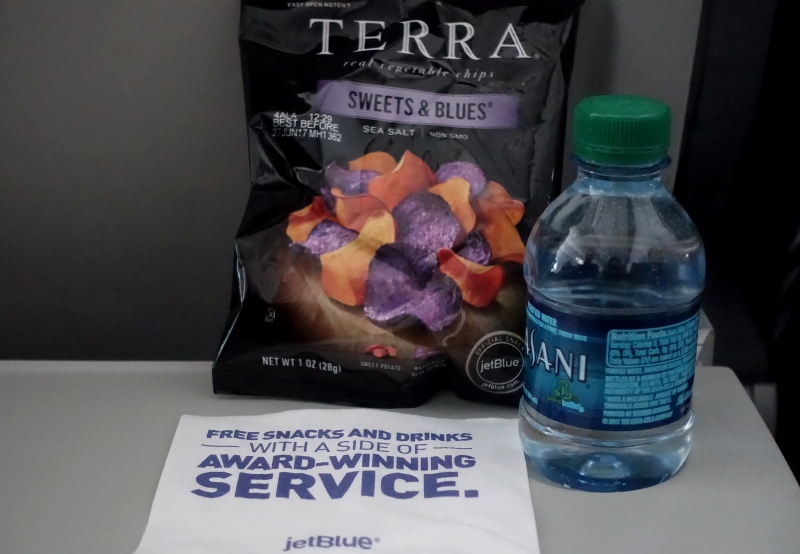 7. Extra Miles With Our Amazon Purchases
In general I don't go out of my way to earn JetBlue TrueBlue points because it's a revenue-based program, but since we do so much shopping on Amazon anyway, earning 5X Ultimate Rewards points per dollar, I like that you can now earn 3X JetBlue TrueBlue Points for Amazon Spend to get those points to add up faster, even without flying. Perhaps eventually we'll have enough for one way in JetBlue Mint, which is what we prefer now for paid transcon business class.
Which airline do you prefer for domestic U.S. economy class flights?
Recommended Posts
JetBlue Travel Bank Credit Compensation for Delayed Flight
JetBlue Mint or American A321 Business Class: Which Is Better?
New JetBlue Credit Cards Worth It?
JetBlue Mint Expands to Seattle, San Diego, Las Vegas, Caribbean
Best and Worst Airlines for Peanut and Nut Allergies
Need Award Booking Help? Our fee is as low as $75 per ticket if you book your hotel through us.
If you enjoyed this, join 200,000+ readers: please follow TravelSort on Twitter or like us on Facebook to be alerted to new posts.
Become a TravelSort Client and Book Your Hotel with Virtuoso or Four Seasons Preferred Partner Benefits!