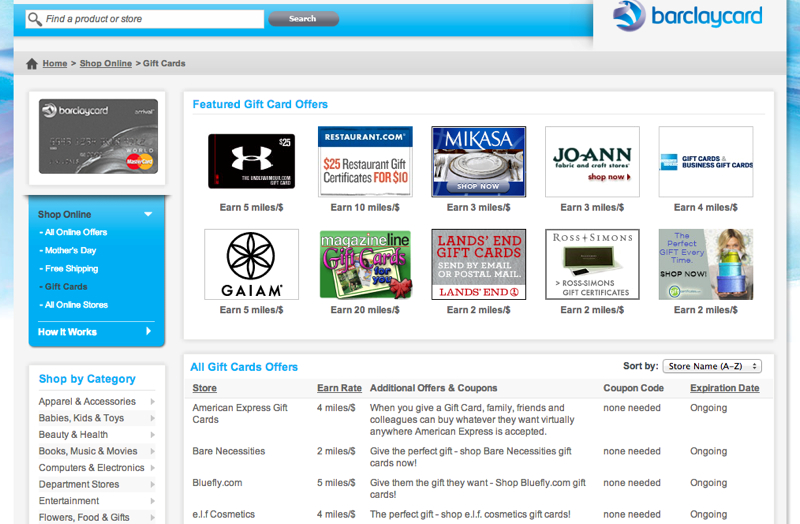 Update: Unfortunately this offer is no longer available on the Barclaycard Shopping Portal and the Barclaycard Arrival Plus benefits have changed. See our Best Travel Credit Cards page for current top offers.
—Old Post—-
6X on AMEX gift cards with your Barclaycard Arrival Plus™ World Elite MasterCard is back, equivalent to 6.6% cash back on travel. Here are the details:
Earn 4X via the Barclaycard Shopping Portal

Earn the usual 2X on all spend with your Barclaycard Arrival Plus card

Get 10% of your miles back as a rebate when redeeming Barclaycard Arrival Plus miles for incurred travel expenses

Altogether, that gives you a 6.6% cash back return on AMEX gift cards bought through the Barclaycard RewardsBoost shopping portal

Expiration listed as June 30, 2014, although it could be pulled earlier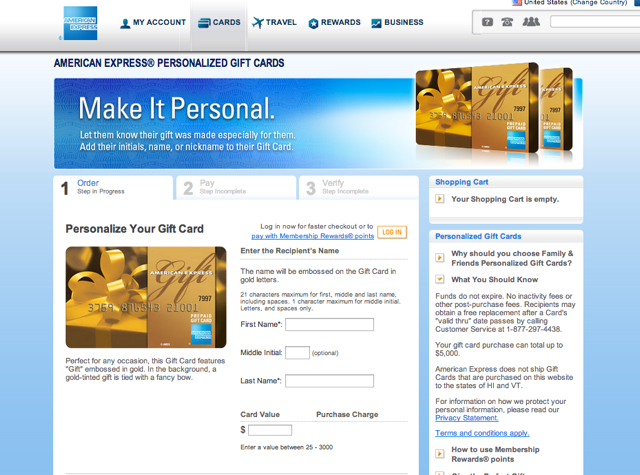 FAQ
Do I Need a Barclaycard Arrival Plus Card to Get This Deal?
Yes–you must have a Barclaycard Arrival Plus World Elite MasterCard to be able to shop via the Barclaycard Shopping Portal and access 4X for American Express Gift Cards. That said, you could use a different card to actually pay, if you're trying to meet credit card minimum spend. Just don't use a Citi card, since an AMEX purchase will be coded as a cash advance.
What's the Maximum AMEX Gift Card Denomination?
The maximum amount for an AMEX gift card is $3000. You can enter a value between $25 and $3000 for a personalized AMEX gift card, and I recommend a higher amount, since you do pay a USPS shipping fee of $9.95 for amounts of $200 or more. If you bought a $3000 AMEX gift card, you would earn 18,000 Barclaycard miles, giving you $180 off any travel expense. You'd also receive 10% miles back, so 1800 miles back to your account, the equivalent of $18. That's equivalent to 6.6% cash back for travel.
Can I Use a Coupon Code to Get Free Shipping?
I wouldn't take that risk, since the Barclaycard Shopping Portals (and other shopping portals) specify that you're only able to use coupon codes that are listed on the shopping portal site. Using a coupon code from elsewhere could mean you won't get the 4X, as it can disrupt the referral tracking.
How Long Does It Take Barclaycard Arrival Plus Miles to Post?
It varies, but expect it to take 2-3 weeks.
Can I Somehow Leverage This to Reload AMEX Bluebird?
Only if you're able to find a store selling OneVanilla Visa cards that is willing to accept your AMEX gift card as payment (note that CVS usually requires a match between your ID and a credit card or debit card, so a gift card normally won't work) AND if you're near a Walmart, so that you can set a PIN and use the OneVanilla card to reload your Bluebird. For most folks one or both of these won't work out, or it won't be worth the hassle due to the time needed to get to one or both stores.
How Else Do I Cash Out the AMEX Gift Card?
If you don't wish to use it for regular spend, you can liquidate your AMEX gift card using Amazon Payments. See Amazon Payments: Cash Out Gift Cards Bought to Meet Minimum Spend.
Related Posts
Amex Offers: 5000 AMEX Points for Buying Amazon Prime (Targeted)
Amazon Payments: Cash Out Gift Cards Bought to Meet Minimum Spend
Meet Minimum Spend on Credit Cards: Top 20 Tips
Need Award Booking Help? Our fee is as low as $75 per ticket if you book your hotel through us.
If you enjoyed this, join 200,000+ readers: please follow TravelSort on Twitter or like us on Facebook to be alerted to new posts.
Become a TravelSort Client and Book 5-Star Hotels with Virtuoso or Four Seasons Preferred Partner Amenities!
Editorial Disclosure: The editorial content on this site is not provided by the companies whose products are featured. Any opinions, analyses, reviews or evaluations provided here are those of the author's alone, and have not been reviewed, approved or otherwise endorsed by the Advertiser.