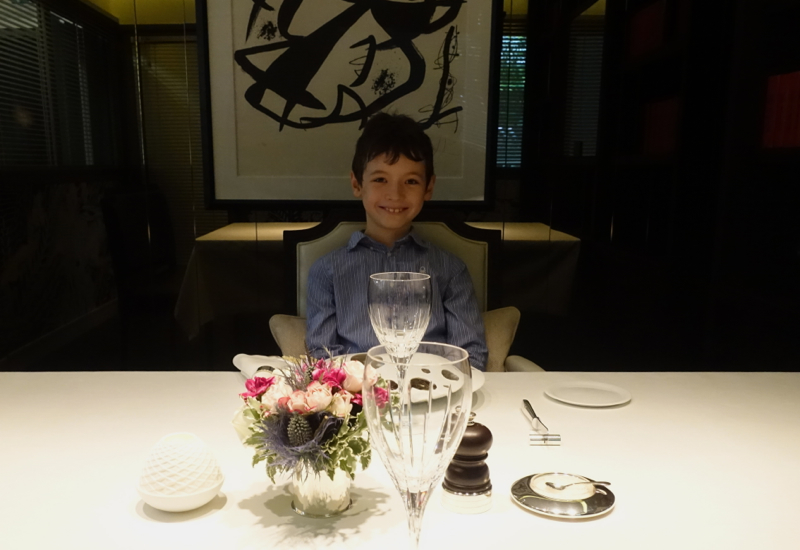 Are Michelin-star restaurants off limits to kids? Not necessarily. If you're a foodie and now have a family, you don't have to relegate yourself to cafes, family-friendly restaurants, take-out and room service when traveling, any more than you have to travel economy instead of first class or stay at a motel instead of an Aman Resort. But you also can't assume that you can take your child to any Michelin-star restaurant, either.
Some people might say–why bother? Why take a child to a Michelin-star restaurant instead of leaving him/her with a babysitter? I can't speak for others, but in our case, it's because we enjoy dining together as a family, including special meals out. All of us, including our son, enjoy trying new dishes and appreciate good food and good company. The only thing he doesn't really care for is getting dressed up, but that usually goes with the territory of a Michelin star restaurant.
Having brought our now 9-year old to a variety of restaurants while traveling, from 1 Michelin-star to 3-Michelin star restaurants, here are our tips.
1. Know Your Child's Limitations
Some adults scoff at taking children to fine dining restaurants the way they deplore taking kids on international trips, saying they won't remember it, or will be bored. Well, it depends on the kid. From the time he was a baby, our son enjoyed meal time, and took plenty of time dining and socializing. That suits us, since Michelin-star meals and fine dining generally is often at a relaxed pace and can take a good 2 hours or more.
And even as a toddler, he was pretty even-keeled most of the time (until he got hungry or tired), so we didn't worry too much about tantrums. Still, you have to be prepared for the worst, hence my next point.
2. Be Prepared to Take Your Child Outside if Disruptive
You do need to be respectful of other diners at the restaurant, many of whom may be celebrating a wedding anniversary, birthday, honeymoon, or other special occasion. In virtually any restaurant, but especially a fine dining one, my belief is that parents should only take children that are usually well behaved. And if for some reason a child causes or is about to cause a disruption of some kind, one of you has to be prepared to take him/her outside until s/he can behave well again. And if s/he is unable to behave well enough to re-enter, then you have to be prepared to leave. That perhaps is what stops some parents, even foodies, from taking their kid(s) with them to a Michelin-starred restaurant.
3. Go for Lunch if Possible
A number of Michelin star restaurants only serve dinner of course, but even some 3 Michelin star restaurants such as Le Cinq at Four Seasons Paris and Epicure at Le Bristol in Paris, Lung King Heen in Hong Kong, etc. do serve lunch. Lunch is usually a shorter meal, so it's more manageable for kids. Plus, lunch is also usually less expensive than dinner, so a great option when paying for 3 or 4 or more people.
4. Know the Culture
Some cultures are just not as friendly toward kids, even well-behaved ones, dining alongside adults at Michelin starred restaurants. Japan comes to mind–I've found that even some non-Michelin star sushi places such as Sushi Sora at The Mandarin Oriental Tokyo don't allow kids younger than 12 in the restaurant. Even though many Japanese kids are extremely well-behaved, there's not much of a local tradition of taking kids to high end restaurants, particularly sushi bars where there is bar seating only. A potential way around this is booking a private room, which some Michelin star restaurants have.
At the other end of the spectrum, Scandinavian countries such as Denmark are usually the most welcoming of kids, although I still strongly believe in point 2 above–you need to ensure your kids behave appropriately.
5. Pick a Place All of You Will Enjoy
Since there's a wide range of Michelin-star restaurants, cuisine types and ambiences, pick a place that has both food and an atmosphere that all of you are likely to enjoy. For instance, you probably don't want bring your kid to Brooklyn Fare, even if you can get a reservation, given that much of the seating is at the bar and hence harder to enjoy as a family over the 2.5 hours, not to mention there's no a la carte menu, so your child will also be $330 + tax.
On the other hand, if you dine at Le Cinq at the Four Seasons Paris, also 3 Michelin stars, your child will be welcomed with his/her own kids' menu and with a coloring book and pencils if s/he is young enough to enjoy it. You'll simply be able to be more at ease given the welcome afforded your child(ren).
Or try a low key 1 Michelin Star restaurant, such as Uncle Boons, with its delicious northern Thai specialties and casual atmosphere.
6. Practice at Home
For Michelin-star dining to be enjoyable for everyone, kids should have an open mind to new flavors and foods, and also use good manners (something we are still working on). This usually isn't innate, so it will require some practice at home. That does require some parental effort: purposely serving healthy and interesting food, not just pizza and mac and cheese, and also correcting manners. But the payoff, at least if you enjoy Michelin star dining, is worth it. And broadening your child's food horizons and improving his/her manners is a good idea for his/her future development and social skills, whether or not you take them out to Michlein star restaurants.
If you've taken your kids to any Michelin star restaurants, which ones were they, and what was your experience?
Recommended Posts
Le Cinq Restaurant Review, Four Seasons George V Paris
Restaurant Gordon Ramsay Review, 3 Michelin Stars
Review: Mathieu Pacaud Histoires Paris, 2 Michelin Stars
Review: Casa Mono New York-1 Michelin Star
Le 1947 Maldives Review, Cheval Blanc Randheli
Need Award Booking Help? Our fee is as low as $75 per ticket if you book your hotel through us.
If you enjoyed this, join 200,000+ readers: please follow TravelSort on Twitter or  like us on Facebook to be alerted to new posts. 
Become a TravelSort Client and Book Your Hotel with Virtuoso or Four Seasons Preferred Partner Amenities!