Singapore is one of my favorite cities to eat in–not for sit down restaurants, although it certainly has a number of excellent fine dining restaurants, but for its hawker food. While today these are mostly found in "food centres," that's probably good news for those who are more squeamish about eating street food, since all of the stalls are inspected and rated for hygiene. Just don't worry about trying someplace rated "B" since most food centre stalls are rated that. I'm convinced the standards are stricter here, since I've yet to get sick from anything eaten in Singapore, but I wouldn't dine at any New York City restaurant rated a "B."
Anyway, on to the food! Here are my top 6 foods I highly recommend you try on your next visit to Singapore. And if you live in Singapore? I'm jealous.
1. Laksa
Laksa is so good that the other day, I had it both for lunch and dinner. Its rich taste comes from a heady spice paste of lemongrass, galangal, chilli, shrimp paste and tamarind, cooked with creamy coconut milk and seafood and/or fish cake. If you like spicy food, make sure to request it with sambal (chili paste)! The version I had at lunch was from the food court in the ION building by the Orchard MRT (subway) station–go down all the way to B4 to find it and many other vendors. It cost all of SGD $4.50.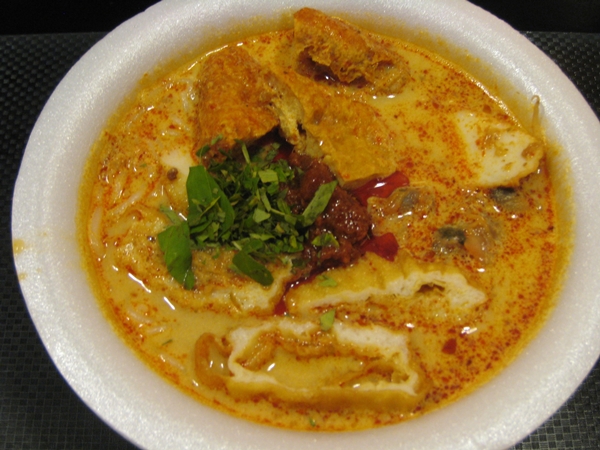 Late that night, I tried a more upscale version at the Mandarin Oriental Singapore. It came with large prawns and mussels and was about twice the size, and of course served very professionally with china, white tablecloth, etc., but I'd say the soup itself was very similar. The main benefit was convenience, since it was too late and the hawker places were already closed, and being able to use my Sapphire Preferred so that I could get points for it, while still avoiding foreign transaction fees. But don't by any means feel the need to have an upscale version–if you enjoy budget food finds, Singapore is your place!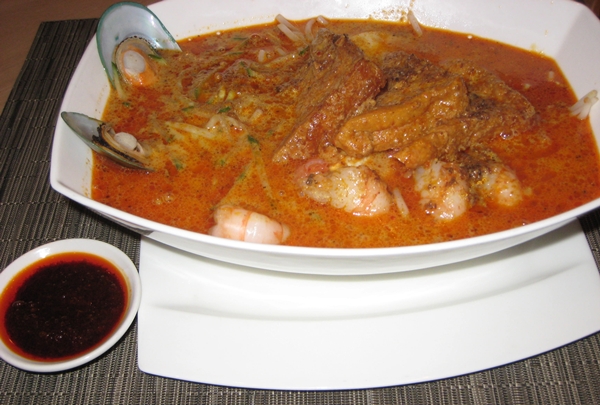 2. Chilli Crab
Chilli crab is quintessential Singapore. If you enjoy both fresh crab and spicy-sweet flavors, you're in for a treat. I have to confess I've only had this at Singaporean restaurants outside of Singapore, but almost any Singaporean could likely direct you to his or her favorite place. A few places I've heard have great versions are No Signboard Seafood (414 Geylang Road), Long Beach Seafood (1018 East Coast Parkway), and Jumbo Seafood (1206 East Coast Parkway).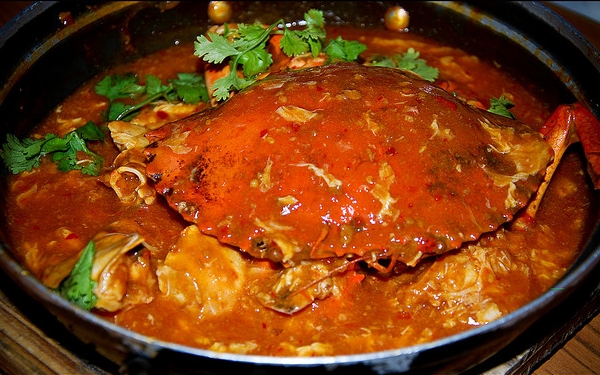 3. Roti Prata / Murtabak
Called Roti Canai in Malaysia and Roti Prata in Singapore, think of this as a cross between Indian naan bread and puff pastry. It's incredible to watch these being made: the roti maker flings the dough in the air, like a pizza maker, except the dough gets much thinner, to the point of transparency. Then it's flung onto the hot griddle, drizzled with oil and folded up so that the finished product has multiple flaky layers. Yum! Roti Prata is traditionally served with a curry sauce on the side, for dipping: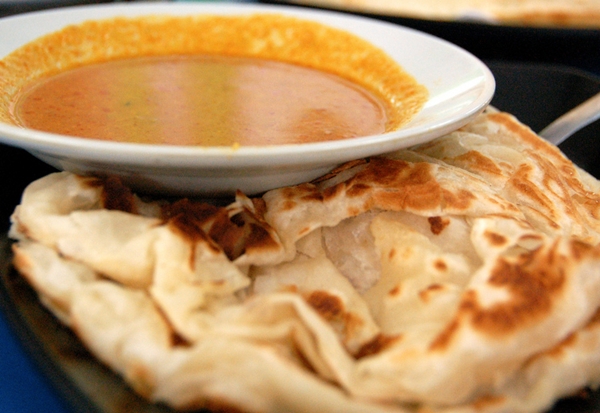 If you're hungry, you could order it with a filling, such as this lamb murtabak I enjoyed last night from Maxwell Food Centre. For all food center food, don't forget to bring cash. You can avoid ATM fees with a checking account from a bank that refunds other banks' ATM fees.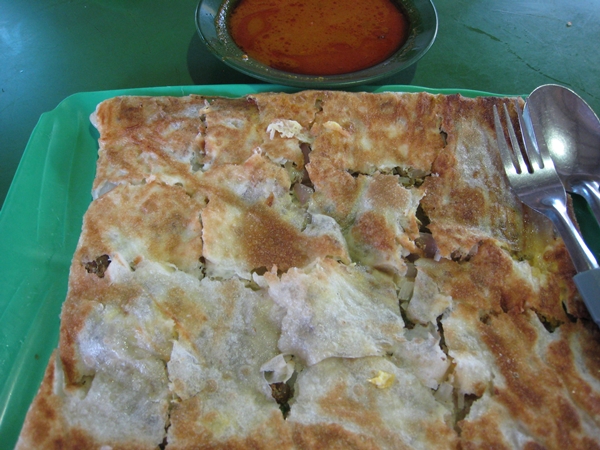 4. Popiah
Popiah (also Poh Pia, Po Piah) is one of those dishes you definitely want to get from a hawker stall rather than attempt to make yourself, given the amount of work involved. It's a delectable combination of lettuce, finely grated jicama, grated carrots, bean sprouts, sliced fried tofu, shredded omelette, fried shallots, and sometimes Chinese sausage or shrimp, all rolled up in a thin, crepe-like popiah skin with hoisin sauce and chili.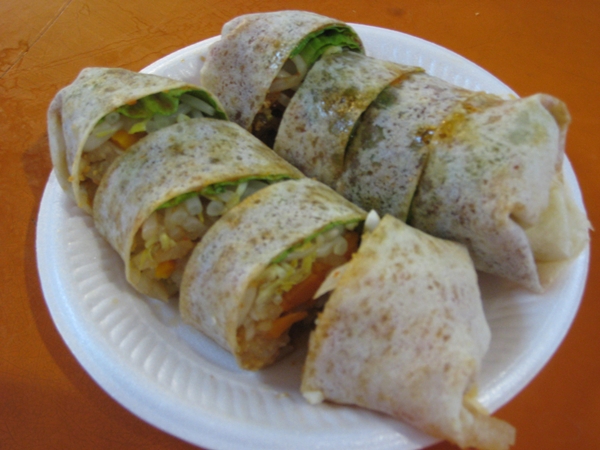 5. Char Kway Teow
This fried noodle dish is addictive. It's made with flat rice noodles, sometimes with egg noodles also thrown in, stir-fried with dark sweet soy sauce (similar to Indonesian kecap manis), shrimp paste, bean sprouts, egg, some greens, slices of Chinese sausage, and either fishcake or prawns. After a hearty portion of this, you probably won't need to eat for many hours!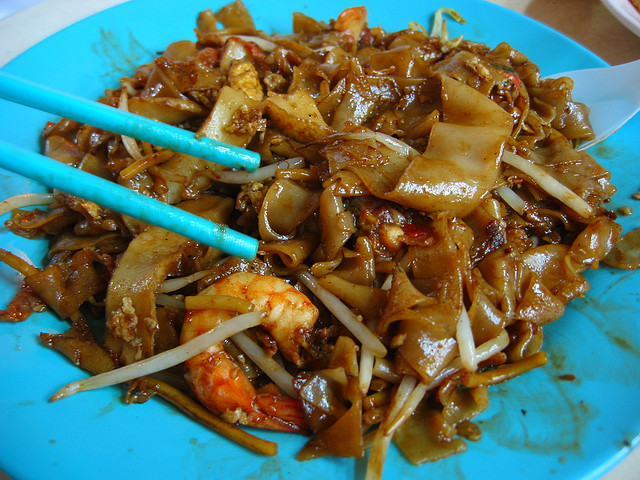 6. Kaya Toast
If you enjoy the flavor of coconut, you'll enjoy this sweet breakfast treat. Kaya is coconut jam flavored with pandan leaf, and its silky texture goes perfectly with crunchy toast. If you're staying at a luxury hotel in Singapore and have an extensive breakfast buffet included, as I did at the Mandarin Oriental Singapore, make sure to look for kaya by the pancake/waffle station. If kaya toast is good, kaya atop freshly made waffles is even better!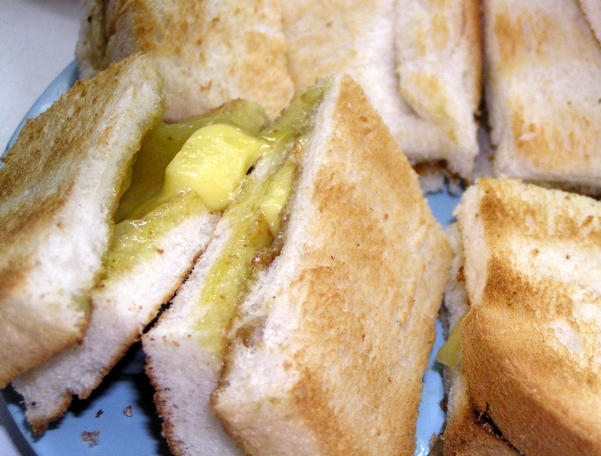 Related posts
A Truly Tasty Melting Pot: Singapore for Foodies
Where Can I Find the Best Satay in Singapore?
Budget Travel Guide to Singapore
Best Luxury Hotels in Singapore
Singapore Airlines' New Saver Awards: First and Business Class for Star Alliance Partners?
Need Award Booking Help? Our fee is as low as $75 per ticket if you book your hotel through us.
If you enjoyed this, join 100,000+ readers: please follow TravelSort on Twitter or like us on Facebook to be alerted to new posts.
Become a TravelSort Client and Book 5-Star Hotels with Virtuoso or Four Seasons Preferred Partner Amenities!
Photo credit: framboise, cactusatwatercooler, carinasuyin, maywong.photos