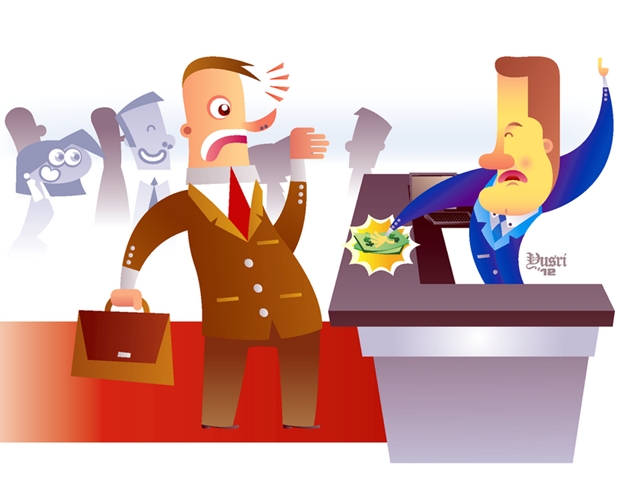 There are a few hotel pet peeves that fortunately I don't encounter very often. But when I do, as I did early this morning, I get pretty annoyed. That's because it's not as if I'm staying at a Motel 6 or even a random Marriott, Sheraton or Hyatt, where modest expectations are in order. I'm almost always at a luxury property that I'm inspecting for clients, so standards are higher, and at the prices charged, these kinds of snafus shouldn't be happening.
While I could list a number of other pet peeves, the ones below are top of mind:
1. Housekeeping Doesn't Respect the Privacy Sign or Privacy Button
Hotels absolutely should have either a privacy button or a regular old privacy sign that can be hung outside the door (if they don't, that's a huge omission). And once you do place that sign outside the door or turn on the privacy button, it should be respected. It's simply not ok for anyone to barge in, or even knock and then come in, if the privacy sign is on.
Hotel Solution: Training Housekeeping and ALL staff to religiously observe the privacy sign. If Housekeeping is unable to service the room or provide turndown service due to the privacy sign, a card should be slipped under the door noting this, and inviting the guest to contact Housekeeping with the time frame that would be convenient for servicing the room.
2. Reception Asks "Have You Stayed Here Before?" When You've Had Several Stays
Luxury hotels should strive to know their guests well. While a mass market luxury brand probably won't have the type of dossier Aman Resorts aims to assemble for each guest, at the least the hotel reception staff checking you in should be able to quickly pull up past reservations under your name. By instead of asking "Have you stayed with us before?" the hotel does three things, none of which are good:
Indicates that they really do not know you as a returning guest.
Lack the care of a true luxury brand which would have known you were a returning guest and welcomed you back
Starts your stay off on a disappointing note: if they can't even recognize you as a returning guest, have any of your other requests actually been acted upon?
Hotel Solution: Ensure hotel systems enable reception staff to easily see that a guest is a repeat guest, when checking them in along with key room requests, and train staff to welcome guests back and speak to their usual room requests. It should be something along the lines of "Welcome back Mr/Ms. [name]; it's a pleasure to have you staying with us again, and we've ensured you're on a high floor in a quiet room away from the elevator."
3. After Asking Shoes to Be Left Outside the Door and Not to Be Called, the Hotel Calls and Wakes You Up
Why, oh why can't hotels get this right? Most luxury hotels offer a complimentary overnight shoeshine service, and you specify when you'd like your shoes back. I always want my shoes left by the door before I even wake up, without any knocks or calls (since one time my shoes were not provided by the time I was awake and I had to call multiple times to get them back). Twice now it's happened where I've been woken up even though I expressly said I did not want to be called or to have anyone knock on the door.
Hotel Solution: Ensure that guest requests are communicated from whoever takes down the shoeshine request to whomever is responsible for delivering the shoes. Do NOT allow staff to call or knock on doors when guests have asked not to be disturbed. A card slipped under the door mentioning the shoes are ready and outside the door is fine.
4. The Hotel Bed Sheets Are Tucked in So Tight You Have to Untuck Everything
Yes, housekeeping has a tough job making up beds so they look immaculate. But comfort should also be considered, and most guests need and prefer some room for their feet at the end of the bed.
Hotel Solution: Take a cue from the Four Seasons, which purposely leaves some extra fabric at the end of the bed to avoid this exact problem. So simple yet so effective, and means guests don't have to untuck the whole end of the bed just to be comfortable. See How to Make a Four Seasons Bed
5. There Are Multiple Sources of Light from Electronics Even with All Lights Turned Off
I'm sure there are some folks who can sleep in broad daylight and aren't bothered by the multiple lights emitted by various electronic devices in the room, but I'm not one of them; I need the room to be completely dark, and I don't really want to have to wear a sleep mask in a hotel room.
Hotel Solution: Choose electronics that don't emit light, and ideally make it easy to either cover a digital clock or better, have a button to press to see the time. Most people sleep with their phone by the bed anyway, so they can check that if they need the time.
6. Defensiveness When Issues are Brought Up or Lack of Service Recovery
No hotel is perfect, so it's to be expected that at some point, a staff member will be rude or say or do the wrong thing or that a mistake will be made. At that point, what really separates a true luxury hotel from the rest is the service recovery. I've written off many hotels where the management response has either been defensive and accusatory toward a guest's valid complaint, or even where management talked the talk but the talk wasn't followed up by appropriate service recovery actions. It's incredibly disappointing for the guests and for me when that happens, but I view it as a key component of my service to warn clients off hotels that don't strive to do better and engage in true service recovery to turn around a guest's experience.
What are your biggest hotel pet peeves?
Related Posts
Top 10 Hotel Downgrade Compensation Tips
Four Seasons Preferred Partner Benefits
Why Switch to Four Seasons Preferred Partner from an AMEX FHR Booking
Need Award Booking Help? Our fee is as low as $75 per ticket if you book your hotel through us.
If you enjoyed this, join 200,000+ readers: please follow TravelSort on Twitter or like us on Facebook to be alerted to new posts.
Become a TravelSort Client and Book Your Hotel with Virtuoso or Four Seasons Preferred VIP Amenities!
Photo Credit: Blame the Front Desk