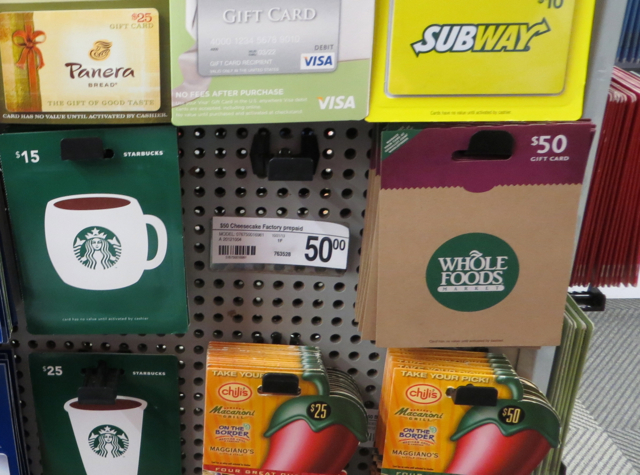 Earn 5X points for Whole Foods groceries by buying gift cards at Staples with your Ink Bold or Ink Plus card, then using your Whole Foods gift cards for grocery spend.
I was at Staples today to buy a Starbucks card to reload my Starbucks Rewards card, since I occasionally stop by for a banana or coffee and it's always good to earn 5X points in addition to credits toward a free food or drink item. Well, finally Whole Foods gift cards are available at Staples.
Ages ago I asked Staples to stock Whole Foods gift cards–after all, Whole Foods gift cards have been stocked by many CVS stores for quite awhile, although unfortunately, apart from the Freedom 5X drugstores bonus in Q1 2013, there hasn't been a good bonus incentive to get them there. I'm pretty sure the fact that Staples is stocking Whole Foods cards now has nothing whatsoever to do with my request, but was glad to see Whole Foods cards nonetheless. Even the cashier was surprised when she rung me up, looks like I'm an early buyer of these cards at this particular Staples.
As I explained in United Award Chart Devaluation: Strategy Going Forward, I no longer care to earn Ultimate Rewards points at only 2X or 2.14X via the Sapphire Preferred, but I am still game to earn them as long as the bonus is at least 5X. So being able to get 5X on groceries at Whole Foods is great.
Will I shift all of my grocery spend to Whole Foods from Trader Joe's, where I currently do the bulk of our shopping? No, since there are still specific items from Trader Joe's that are unavailable anywhere else (unsurprising, given Trader Joe's model of ~80% private label merchandise, many of which are exclusively made for Trader Joe's or solely imported to the U.S. by Trader Joe's). But it will cause me to shift some spend to Whole Foods, since even after the devaluation I value 5X Ultimate Rewards points more than 2X AMEX Membership Rewards points, which I earn using the AMEX Premier Rewards Gold card.
Even if you don't cook, Whole Foods could be convenient for a quick lunch or dinner, with all its prepared foods, or picking up last minute host/hostess gifts or edible holiday gifts.
Key Terms for Whole Foods Gift Cards
Valid in Whole Foods stores in the U.S. and Canada (so cannot be used internationally, for example in the Whole Foods stores in the UK)
No expiration
No fees (beyond gift card value) to buy
No cash back unless required by law
Will you be taking advantage of 5X points at Whole Foods, via Whole Foods gift cards bought at Staples with your Ink card?
Related Posts