Update: The deal below is dead, but you can still buy Amazon gift cards at Office Max with your Ink Bold or Ink Plus to get 5X off all Amazon spend!
But before we go there, some time sensitive information: if you haven't already, call your nearest Office Max and ask if they have any more Amazon Kindle $25 gift cards–the ones that are featured in this week's ad, May 6-May 12. You save $5 off when you purchase two of them ($50 total), so you'd save $10 off on 4 of them ($100 total) etc., or 10% off. Use your Ink Bold to purchase the gift cards, and you'll receive 5x points. And since there's no gift card fee, unlike with Visa or AMEX gift cards, you'll get the full 5x off all your Amazon spend!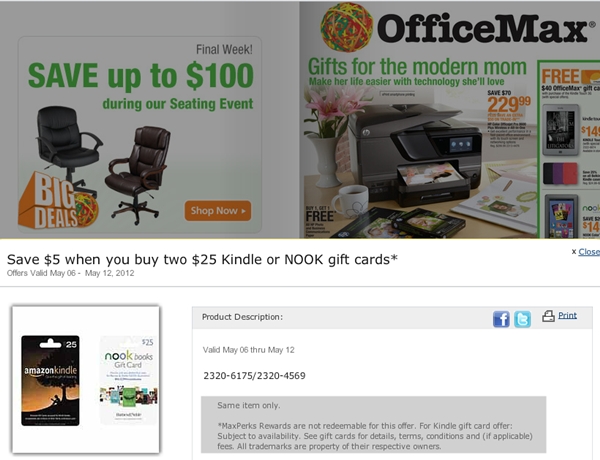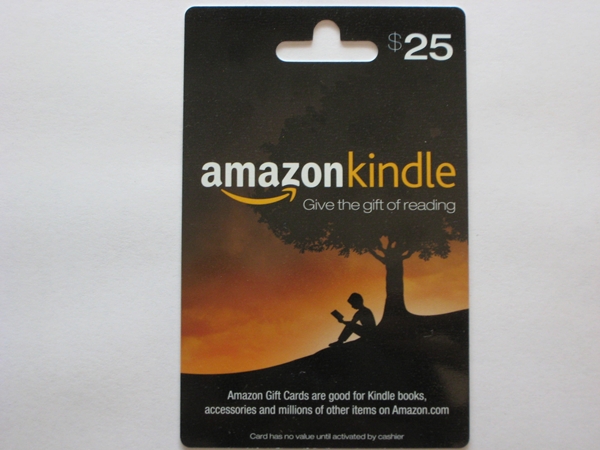 Make sure you call your local OfficeMax and ask if they have the Amazon Kindle $25 gift cards before you go to the trouble of going there though–I got the last few Amazon Kindle cards my closest OfficeMax had on hand, and they had no idea if they'd be getting any more before the sale ends this Saturday, since ordering is not done at store level and they apparently have no control over the inventory that shows up.
A few other tips for this OfficeMax promotion:
Even though these gift cards say Kindle, they can be used on virtually all Amazon spend (as with the regular Amazon gift cards, certain 3rd party sellers may be excluded). You won't be able to use them on Amazon Web Services, however
Per the ad, Amazon Kindle gift cards are subject to availability. I double checked, and unsurprisingly the store manager said that there are no rain checks for these cards.
The offer is strictly for the Amazon Kindle $25 gift cards; none of the other non-Kindle Amazon gift cards are eligible. At least one person has written that their local OfficeMax allowed them to get the discount on regular Amazon $50 gift cards due to running out of the Kindle cards, but this is the exception. Don't count on getting any kind of discount if the Office Max you go to has the regular Amazon gift cards but is out of the promotional Kindle gift cards.
Since the deal is $5 off two, if you purchase an odd number of cards you won't get a partial discount for the extra card; you need to purchase in increments of two to get the $5 discount.
As usual, you won't earn MaxPerks Rewards on these (or any other) gift cards, and you can't use MaxPerks Rewards to purchase these (or any other) gift cards either.
There's a good chance that your nearest OfficeMax stores may already be sold out of the Amazon Kindle card. If you shop Amazon quite a bit, don't walk out empty handed though–get some of the regular non-promotional Amazon gift cards. You're basically leaving money on the table if you use anything other than some kind of gift card purchased with the Ink Bold. And yes, while you can at the moment
Get Over 7x Points Everywhere with the Ink Bold and Staples
via the Ultimate Rewards Mall, you may not be able to get enough $100 gift cards during this May promotion to put all your spend on them until the next similar promotion comes along. That's why I picked up a few $100 Amazon gift cards today, after buying what I could of the Amazon Kindle cards. The $100 ones save time in terms of scratching off and entering the codes, but as mentioned, there are no fees associated with any Amazon gift cards, and they don't expire.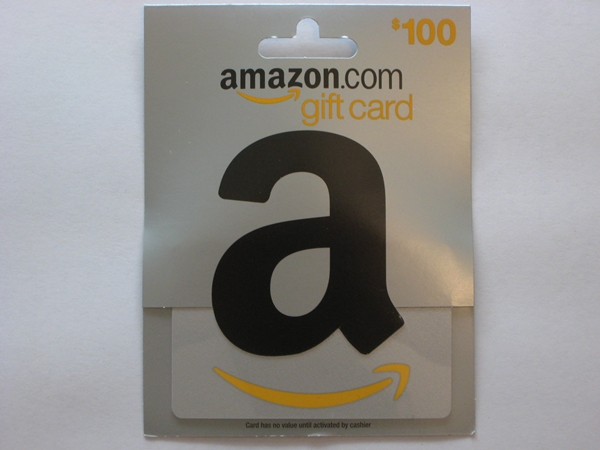 If you've never used Amazon gift cards before, it's not hard to add the codes. After logging in, go to "Your Account" and in the Payment section, click on the link "Apply a Gift Card to Your Account."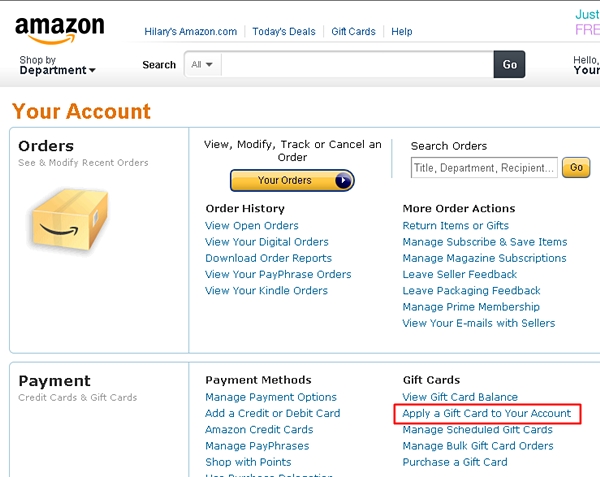 Peel the sticker off your Amazon gift card, enter the 15 digit alphanumeric code into the text field, and click the yellow "Apply to Your Account" button. You'll see the gift card amount added to your current balance, on the right.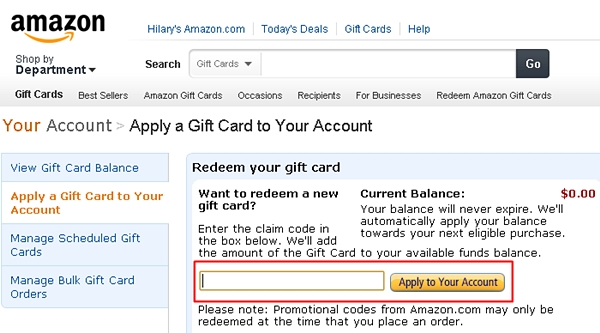 The nice thing is that Amazon let's you load in all the codes, and the resulting balance is used first, before any credit cards you have on file. Note that for Subscribe and Save items, you do need to have a credit card on file, but Amazon says:
"Credit cards
and the
Amazon.com Store Card
are currently the only forms of payment that can be used for Subscribe & Save orders. Note: We will always apply credit balances already on your account from Amazon.com Gift Cards and eligible promotional codes before charging the remaining balance to your credit card."
So hopefully that will work as described, and the Amazon gift card balance will be drawn down instead of my credit card on file being charged, for all my Subscribe and Save items.
And to think I used to just be content with 1 Dividend Mile for clicking through to Amazon from the Dividend Miles Mall (and most recently, only 1 Hawaiian Mile, since Dividend Miles Mall no longer partners with Amazon). 5x Ultimate Rewards points for all Amazon spend is so much better!