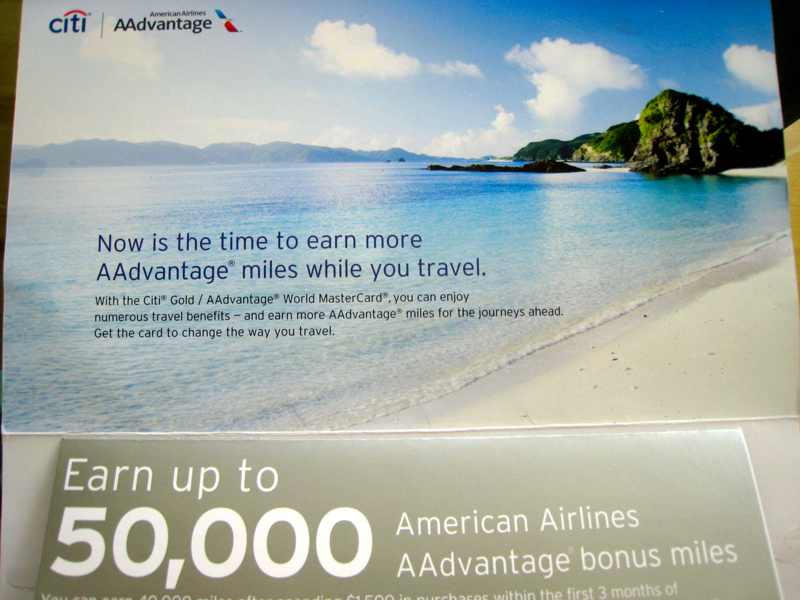 A 50K Citi Gold AAdvantage bonus offer is being targeted to some AAdvantage members. This is better than the current public offer of 25,000 AA miles after $750 in purchases within 3 months.
Watch your snail mail, since just today the munchkin received this offer in the mail. At 6 years old, he obviously can't apply for it, but here are the details:
Earn 40,000 AAdvantage miles after spending $1500 in purchases within the first 3 months of cardmembership
Earn an additional 10,000 AAdvantage bonus miles after spending $5000 in purchases within 12 months of cardmembership
For the first 12 months of cardmembership, earn 2X AAdvantage miles for every $1 spent on eligible American Airlines purchases, including US Airways codeshare flights booked through American Airlines
After that, earn 1 AAdvantage mile for every $1 you spend on purchases
$50 annual fee is waived for the first 12 months
"If you are an existing Citi AAdvantage cardmember, you are not eligible for this offer on your existing account"
FAQ
Am I Eligible for This 50K Citi Gold AAdvantage Bonus Offer?
If you received a targeted offer in your name, yes. Note that the invitation card includes a 9 digit invitation number and a deadline to apply by (in the munchkin's case, the deadline is October 15, 2014)
If I Received This Targeted Offer But Already Have a Citi AAdvantage Credit Card Am I Eligible for the Bonus?
Per the terms and conditions, no (see above). For Citi AAdvantage personal credit cards, generally you need to wait somewhere between 12-26 months after your last successful Citi AAdvantage application to no longer be considered an existing cardmember. The exception has been the Citi Executive AAdvantage cards, which many have been able to apply for 2-3 of, although now that the 100K, 75K and even 60K bonus offers are gone, there's less motivation to apply for them.
But even the Citi Executive AAdvantage card resets the clock in terms of other Citi AAdvantage personal cards, so you would want to apply for a Citi Gold AAdvantage or Citi Platinum Select card *before* you apply for apply for a Citi Executive AAdvantage card. The good thing is that, unlike Chase or AMEX, generally Citi will decline your application outright if you won't be eligible for the bonus offer, so you won't waste minimum spend only to find that you won't be awarded the signup bonus.
I Just Applied for Another Citi Credit Card, How Long Do I Have to Wait Before Applying for a Citi AAdvantage Card?
If you recently applied for another Citi (non-AAdvantage cards) such as a Citi HHonors or Citi Thank You card, you'll need to wait at least a week to apply for a second Citi card. If you've recently applied for 2 Citi cards, then you'll need to wait at least 2 months (say 65 days to be safe) from your first Citi application, before applying for a 3rd Citi card.
Do I Get 10% AAdvantage Miles Back When Redeeming for AAdvantage Awards with the Citi Gold AAdvantage Card?
No–you would need to have one of the Citi Platinum Select cards (Visa or MasterCard) or Citi Select AAdvantage AMEX. The 10% back on AAdvantage award redemptions does NOT apply to the Citi Gold AAdvantage, Citi Business AAdvantage or Citi Executive AAdvantage cards.
Best Ways to Use AAdvantage Miles?
AAdvantage miles are great for booking
Cathay Pacific First Class
,
Etihad First Class
and
Qantas First Class
. Note that British Airways award redemptions, which are one of the best ways to book first class to Europe in advance, come with hefty fuel surcharges.

You can

use the Barclaycard Arrival Plus World Elite MasterCard

40,000 bonus to pay the surcharges, and get $460 (6K from the required $3000 minimum spend + 40K for the signup bonus or more, depending on how much spend you've put on the card) refunded in the form of statement credit.
Sometime in 2015, your US Airways miles will become AAdvantage miles, so another way to earn miles that will become AAdvantage miles is the
The US Airways® Premier World MasterCard®.
Note that this c
ard will be discontinued and close to new applicants later this year, but for now, it can be churned more easily than the Citi AAdvantage cards, plus the 40,000 miles are awarded after first purchase and payment of the $89 annual fee (not waived).
Have you received a targeted 50K Citi Gold AAdvantage signup bonus offer?
Related Posts

Need Award Booking Help? Our fee is as low as $75 per ticket if you book your hotel through us.
If you enjoyed this, join 150,000+ readers: please follow TravelSort on Twitter or like us on Facebook to be alerted to new posts.
Become a TravelSort Client and Book Your Hotel with Virtuoso or Four Seasons Preferred VIP Amenities!
Disclaimer: Note that some cards in this post offer credit to me if you're approved using my links. The opinions, analyses, and evaluations are mine. This content is not provided or commissioned by Chase, Barclays, American Express, Citibank, US Bank, Bank of America, or any other company. They have not reviewed, approved or endorsed any of my articles.