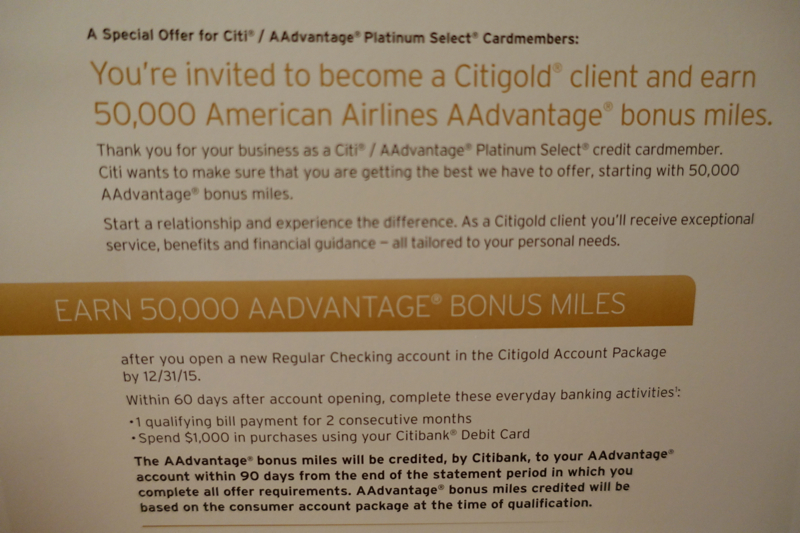 Earn 50K AAdvantage Miles for Opening a Citigold Checking Account, if you're a Citi AAdvantage Platinum Select cardmember. Here are the offer details:
Must have a Citi AAdvantage Platinum Select and be targeted for this Citigold offer
Open a new Citigold Checking Account by 12/31/15
Within 60 days of account opening, make a qualifying bill payment each month for two consecutive months and spend $1000 using your new Citibank Debit Card to earn 50,000 AAdvantage miles
AAdvantage bonus miles will be credited to your AAdvantage account within 90 days o the end of the statement period in which you complete the offer requirements
Regular Citigold account charges apply
Limit of one offer per customer and account
Offer code: 42ERCWNQU6
How Much is a Citigold Account?
A Citigold checking account is $30 per month, which is waived the first two months, but only waived for subsequent months IF you maintain:
$50,000 or more in eligible linked deposits and retirement balances for the prior calendar month; OR
$100,000 or more in eligible linked deposits and retirement balances and investments for the prior calendar month
Since many will not want to shift funds around to meet these $50,000 / $100,000 minimums, you're looking at $90 since you'll need 2 months to meet the requirements for the bonus, and will need to pay $30 per month for the subsequent 3 months that it may take to receive the 50,000 AAdvantage bonus miles.
50,000 AAdvantage Miles is Well Worth $90
I value my AAdvantage miles at over 2 cents each, given that we typically redeem them for a nominal value of 7 cents or more per mile. But even if you only value AAdvantage miles at 1.5 cents, 50K AAdvantage miles for $90 is a great deal: you're effectively buying miles at less than a fifth of a cent per mile.
Will I Get a 1099 Form and Have to Pay Tax?
While it's possible that Citi will send you a 1099 form for bonus AAdvantage miles earned from opening a bank account, and Citi used to regularly send out 1099s for bonus miles earned this way, I don't personally know anyone who's received one from Citi the last couple of years for AAdvantage miles. I have heard of some who have received them for ThankYou points. If you have been unlucky enough to receive a 1099 for bonus AAdvantage miles that you received from opening a Citi bank account, please comment as to when you received it and what Citi valued your AAdvantage miles at.
Did you receive a 50K AAdvantage miles offer for opening a new Citigold checking account?
Related Posts