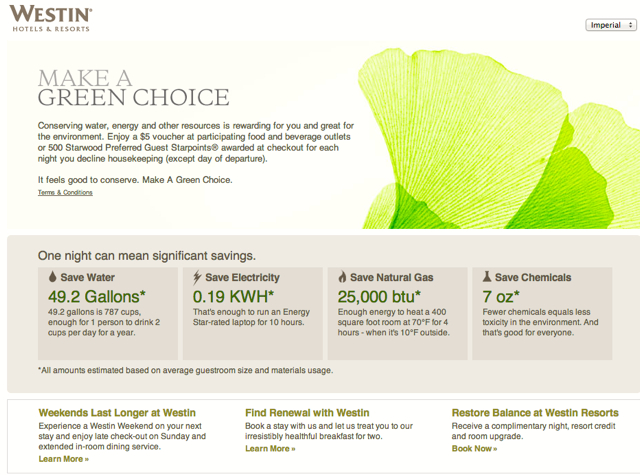 Need more Starwood points? Earn 500 SPG points per night when you decline housekeeping at select Starwood properties, including most Westin and Sheraton hotels. While this is not a new program, it's worth keeping in mind for anyone who has many Starwood stays of multiple nights, as the points can add up quickly. If you had 20 nights in a given year at participating Westins or Sheraton properties that were not one night stays or the night prior to check-out, that would be 10,000 extra SPG points.
I recently took advantage of this during my recent stay at the Sheraton at the Falls, in Niagara, NY not only to earn the points, but also because I had a number of work papers out and didn't want to run the risk of any of them being reshuffled or thrown away. I simply kept both the Green Choice doorhanger and the privacy "Do Not Disturb" doorhanger on my door for all the nights of my stay.
As I always travel with my own bath amenities, particularly at Sheratons and Westins where I don't care for the supplied amenities, it was not an issue not to have these replenished. But if you do need additional amenities you can usually get these even if you do opt for the Green Choice and 500 SPG points per night.
Note that you will *not* (as mentioned below in the terms) receive 500 points for declining housekeeping either on a one night stay or on the last night of your stay, since housekeeping will of course need to clean the room anyway to prepare it for the next guest.
One more consideration: be considerate to housekeeping staff, and consider leaving a good tip on your day of departure to make up for the loss of tip revenue for the nights you declined housekeeping.
Westin and Sheraton Green Choice Terms
To participate in Make a Green Choice, and be eligible for the $5 food or beverage voucher or the 500 Starpoints®, hang the Make a Green Choice doorhanger on the outside of your guestroom door by 2am or let the hotel know during check-in that you're interested in opting-in.
You are not eligible to participate in the program on the day of departure; it is only on stayover nights. Please note: the $5 F&B voucher is only valid at time of purchase and cannot be combined with other offers. Unused $5 F&B vouchers may be turned in at the front desk before check-out for 500 Starpoints each.
If you opt-in to the Make a Green Choice program, housekeeping services will not be available for the day. Please note this includes all room cleaning and coffee & bathroom amenities will not be automatically replenished.
FAQ
Is the Starwood Green Choice 500 SPG Points for Declining Housekeeping Available at All Starwood Hotels?
No; the program is focused on Westin and Sheraton properties, and not every property participates. Ask when checking in.
How Do I Participate in Starwood Green Choice and Receive 500 SPG Points for Each Night of Declining Housekeeping?
The best way is to use the Green Choice door hanger, which must be hung outside your room door by 2am, as mentioned in the terms above. While you have the option of informing the front desk, some folks report miscommunication between the front desk and housekeeping, so the door hanger is a more failsafe bet.
How Long Do Points Take to Post to My Starwood Account?
Points should post within 7 days of your stay; if they don't, then fill out a the
SPG Customer Support form
. This is what I did for my recent stay, and within minutes I had both a confirmation that my form was received, and a nice reply back with the following (excerpted):
"…t
hank you for supporting this green initiative.
I have submitted this to be reviewed on your behalf. Please allow up to 10 days for the points to be reflected in your account."
So allow 10 days from when you submit your customer service request for missing points.
Which Is Worth More, 500 SPG Points or a $5 Food and Beverage Credit?
Have you earned SPG points by declining housekeeping at a Sheraton or Westin?
Related Posts