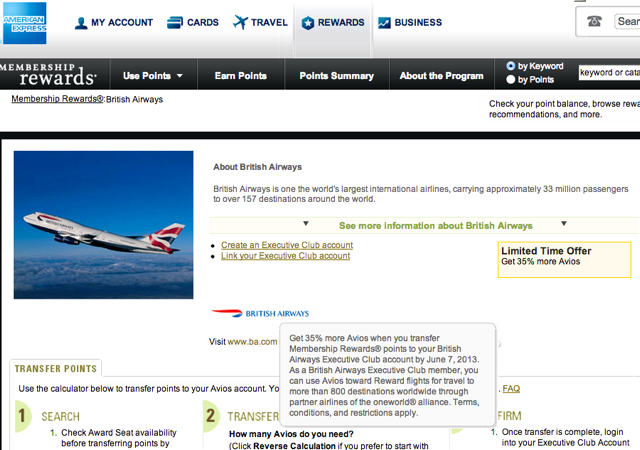 There's a 35% AMEX Membership Rewards Points transfer bonus to British Airways Avios now through June 7, 2013.
Is it worth it? About a year ago there was a 50% AMEX transfer bonus to British Airways and there was a 40% AMEX transfer bonus to British Airways back in August 2012, although the most recent winter transfer bonus was only 30%. So 35% is better than the most recent 30% transfer bonus, although not as good as prior 40% and 50% transfer bonus offers. I'm not especially optimistic about the 50% transfer bonus returning this year, although I wouldn't be surprised to see a 40% transfer bonus later this year. That's only a 5% difference, so if you think you may have a need for some Avios for awards later this year or early next year, I'd transfer some points now. I have no inside information, so as always do what makes sense for you given your miles and points balances and travel goals.
There are still good value uses of British Airways Avios:
Short, direct flights, especially ones that would be expensive as paid tickets. Think Lima to Cusco, or NYC to Montreal (4500 Avios each way)

U.S. to Caribbean or U.S. to South America awards on Amercian or LAN, with no fuel surcharges

Cathay Pacific First Class between NYC and Vancouver, a great fifth freedom flight that's also one of my top picks for the Best Ways to Use Chase Ultimate Rewards Points. But with the 35% AMEX transfer bonus, you'd only need to transfer 28,000 Membership Rewards points for a one way award, so this is a better deal right now than transfer from Ultimate Rewards.
U.S. to Europe awards on Air Berlin or Aer Lingus with no or low fuel surcharges

For non-elites booking for a last minute award, as there are no close-in ticketing fees
Plan to take advantage of the 35% AMEX points transfer bonus to British Airways?
Related Posts