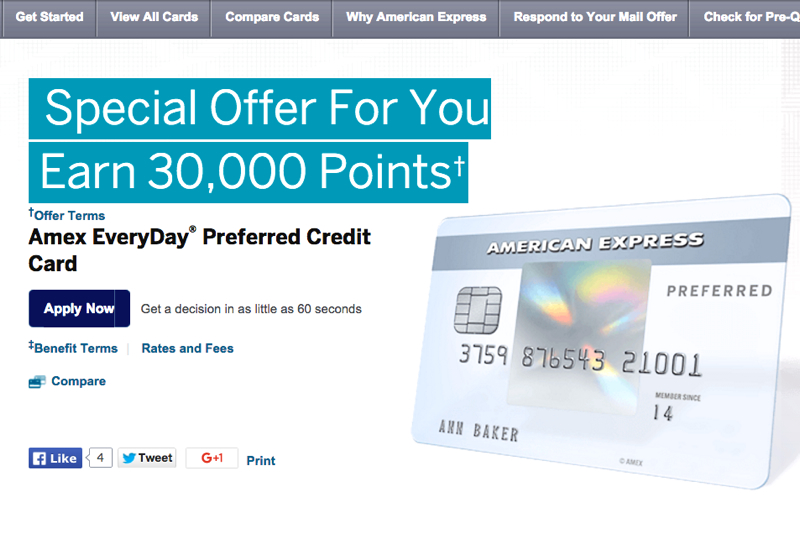 A 30K AMEX EveryDay Preferred targeted bonus offer is available, better than the 15,000 public offer. Here are the details:
Earn 30,000 Membership Rewards points after spending $2000 or more within the first 3 months of card membership
Points will be credited to your account 6-8 weeks after minimum spend is met
Earn 3X at U.S. grocery stores on up to $6000 in purchases per calendar year
Earn 2X at U.S. gas stations
Use your card 30 or more times within a billing cycle to earn 50% more points on those purchases
$95 annual fee
FAQ
How Do I Get the 30K AMEX EveryDay Preferred Offer?
I discovered this targeted offer while simply clicking on the usual AMEX EveryDay Preferred link, in Google Chrome. Interestingly, sometimes the offer appears, sometimes only the 15K public offer appears. If using Google Chrome, I recommend doing a search in an incognito browser window to see if you can get it to appear that way.
Am I Eligible for the Signup Bonus?
As with many personal AMEX cards, the terms state "if we identify you as currently having an American Express card account, you may not be eligible for this welcome bonus offer. This offer is also not available to applicants who have or have had this product."
AMEX has cleverly hedged itself so that it doesn't have to award you the signup bonus at all, if you're a current AMEX card member. In practice, you'll normally earn the signup bonus as long as you don't currently have the card and have never had the card, if it's a personal AMEX card.
Is the AMEX EveryDay Preferred Card Worth It, Given the $95 Annual Fee?
The $95 annual fee, which is NOT waived the first year, can be hard to swallow. But for most families that can make 30 or more transactions in a month and easily max out the grocery bonus, the value of 4.5X on all grocery spend (not just Whole Foods) easily exceeds the annual fee. And the enhanced 30K bonus is worth at least $540 if you value Membership Rewards points at 1.8 cents each, or $600 at a valuation of 2 cents per point. Also see
Compare AMEX EveryDay and AMEX EveryDay Preferred Cards
What Are Other Good Ways to Earn AMEX Membership Rewards Points?
Several of my clients run their businesses on AMEX cards, and earn millions of Membership Rewards points through their business spend.
If you don't have high spend, some AMEX Business cards offer great signup bonuses if you're targeted for them; see the
150K AMEX Business Platinum
and
100K AMEX Business Platinum Bonus Offer
offers that my family received earlier this year. I also recently was approved for a 50K AMEX Business Gold card, and there have been 75K offers for that card as well.
While few AMEX cards have great category bonuses, the AMEX Premier Rewards Gold card and AMEX Business Gold offer 3X on airfare (you must designate airfare as your chosen 3X category for the business card), and for those who have significant airfare spend, this is a great source of Membership Rewards points.
Have you been targeted for the 30K AMEX EveryDay Preferred Offer?
Related Posts