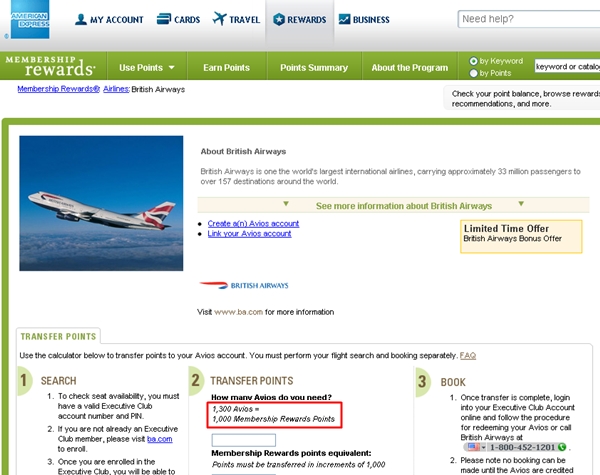 American Express Membership Rewards is offering a 30% transfer bonus to British Airways Avios points, valid until January 31, 2012. The bonus is built into the Membership Rewards transfer page, so that you automatically receive 1300 Avios points for every 1000 Membership Rewards points you transfer. By way of context, British Airways offered a 50% AMEX Transfer Bonus in July 2011, so 30% on the face of it seems a bit measly.
As we wrote in our first take on the new Avios award chart, British Airways Avios: Goodbye First Class on Cathay, Hello Coach on American, the best use of British Airways Avios points is no longer long haul premium class travel with multiple connections on single Oneworld partners, but instead last minute short haul coach class travel that doesn't involve any connections.
Let's illustrate with a couple examples:
Example 1: New York (LGA) to Montreal (YUL) in Coach on American Eagle
1. First, I used the Spending Avios Calculator to look up the number of Avios points required (actually I cheated and just referred back to our original post–one way is 4500 Avios points and round trip is 9000 Avios points, plus taxes/fees)
2. Next, I tried an award flight search on British Airways, departing NYC on December 24 and returning on January 3. This also allowed me to check taxes, which for the roundtrip were $56.28.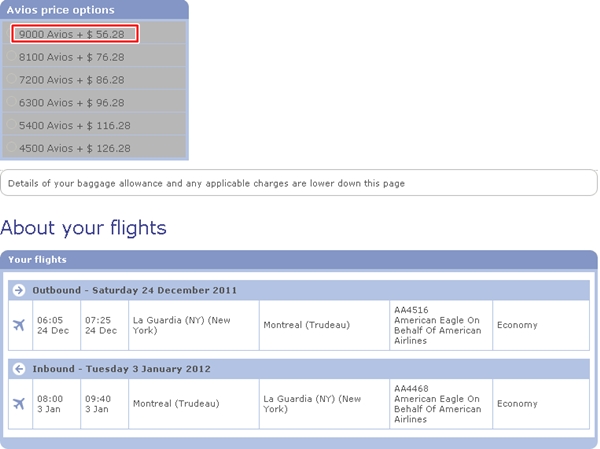 3. I then did a search on American for the same dates and same flights. Since AAdvantage Saver flights were available, it came to 25,000 AAdvantage miles + $59.50 in taxes.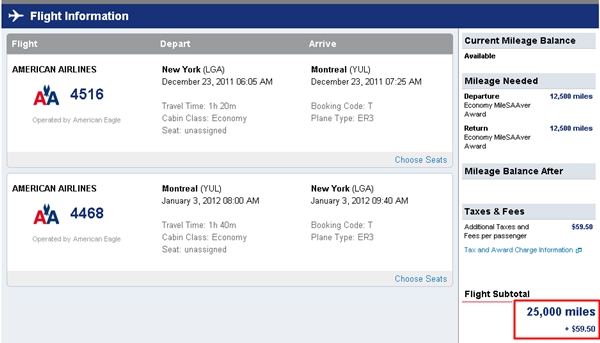 4. Next, I priced out the revenue ticket, which would be $386, including taxes. So in this case, the British Airways Avios award is definitely cheaper than the AA award (9000 Avios points vs. 25,000 AA miles, Avios award with slightly cheaper taxes). So in this example, you'd be getting 3.7 cents per Avios point without any AMEX transfer bonus, or 4.8 cents per Membership Rewards point if you used the 30% AMEX transfer bonus. Not exactly the most exciting redemption, and it doesn't take into account the fact that you wouldn't be earning any miles for the flight, but given how short a flight this is it could well be a good use of Avios points or Membership Rewards points, if you're point-rich and cash poor.
Example 2: Los Angeles (LAX) to Honolulu (HNL) in Coach on American
1. I again used the Avios calculator and found that a roundtrip economy award from Los Angeles to Honolulu departing on January 13, 2012 and returning on January 27 using Avios would be 25,000 points.
2. I then proceeded with the flight search to figure out actual taxes, which turned out to be only $21.40 for the roundtrip award (no idea why it's almost a third that of the NYC-Montreal flight, which is much shorter!)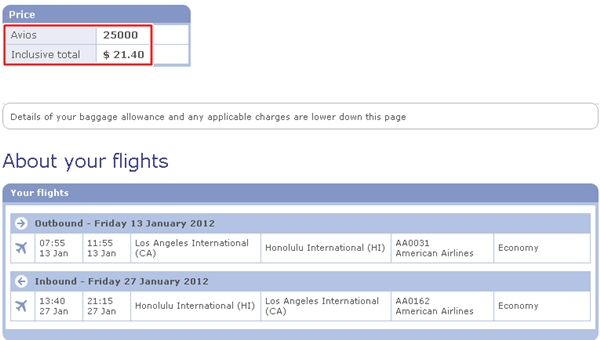 3. Then I did a search on American Airlines for the same flights. Since January 13 is right outside the peak holiday time, each way is 17,500 AAdvantage miles, for a total of 35,000 AAdvantage miles + $5 in fees.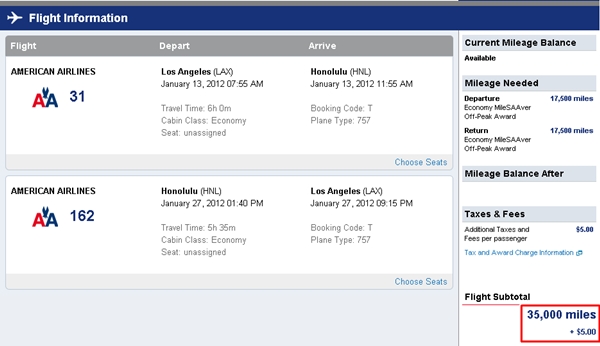 4. Finally I priced out the revenue ticket, which was $430 including taxes. So again, even with an offpeak AAdvantage award, Avios is a better deal at 25,000 miles and $16 more in fees. However, since the revenue fare is so reasonable in this example, you'd only be getting 1.6 cents per Avios point without any AMEX transfer bonus, or 2.1 cents per Membership Rewards point if you used the 30% AMEX transfer bonus. Not worth it all, in my opinion–you'd be much better off just paying for the ticket.
What about Business Class to Hawaii? Well, unfortunately, this is where things don't look so good with Avios. Even though you can book an AAdvantage business class award (these are 37,500 each way, or 75K AAdvantage miles roundtrip for a Mile SAAver Peak award–there aren't any Off-peak business class awards) I searched in vain for a Business class award using Avios.
In sum, by all means take advantage of the 30% AMEX Transfer Bonus if you can get value out of it, say because you need or want to book a last minute short haul ticket that would otherwise be very expensive. And many times you'll need fewer Avios points than the equivalent American AAdvantage award.
But in many cases, where you're planning in advance and can get cheap revenue tickets or if you need to make a lot of connections, Avios–even with the 30% AMEX Membership Rewards transfer bonus–just won't be worth it.
Need Award Booking Help? Our fee is as low as $75 per ticket if you book your hotel through us.
If you enjoyed this, join 100,000+ readers: please follow TravelSort on Twitter or like us on Facebook to be alerted to new posts.
Become a TravelSort Client and Book 5-Star Hotels with Virtuoso or Four Seasons Preferred Partner Amenities!