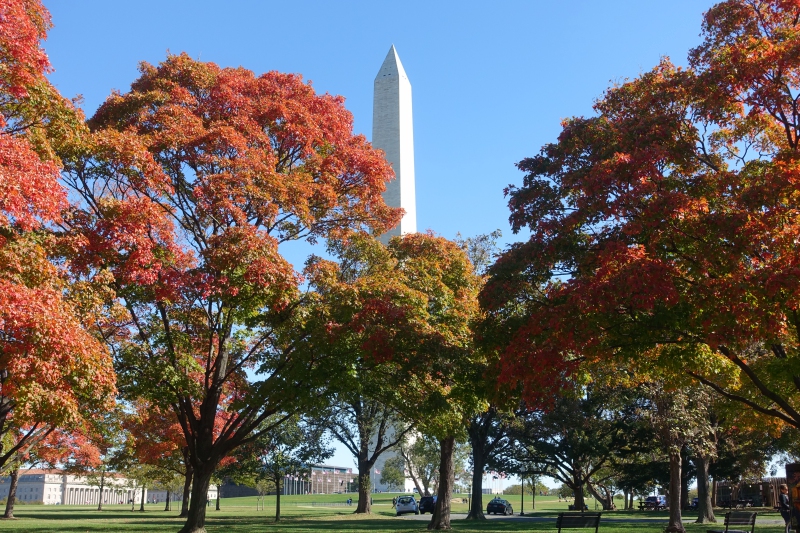 Have 24 Hours in Washington, DC? While I recommend a long weekend or 4 days if possible, you can still spend a very worthwhile day seeing some of the U.S. capital's most renowned memorials and museums–just don't try to do everything, and focus on the few that you're most interested in. Although we actually had two nights in DC, due to work constraints our sightseeing was limited to a single day.
For prior posts from our Washington, DC trip report, please see:
Four Seasons Washington DC Hotel Review
Review: The Red Hen, Washington, DC
Review: Seasons and ENO Wine Bar at Four Seasons Washington DC
Here were the highlights for us:
1. Lincoln Memorial
My favorite memorial to visit in Washington, DC is the Lincoln Memorial, honoring our nation's 16th president with a 19 foot tall marble statue of him and with his Gettysburg Address on one side of the memorial, and his Second Inaugural Address on the other.
The memorial is classically designed, with Ionic columns: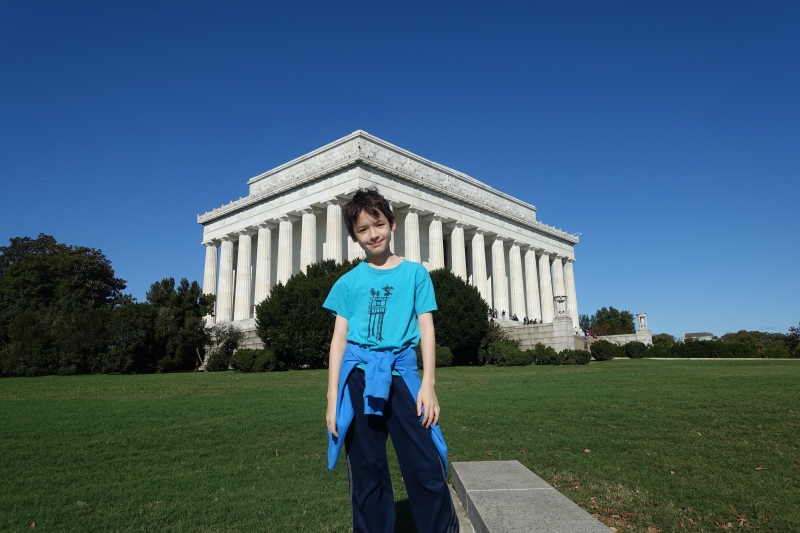 Lincoln's statue conveys his conviction, but also the sorrow that must have weighed on him during the protracted Civil War.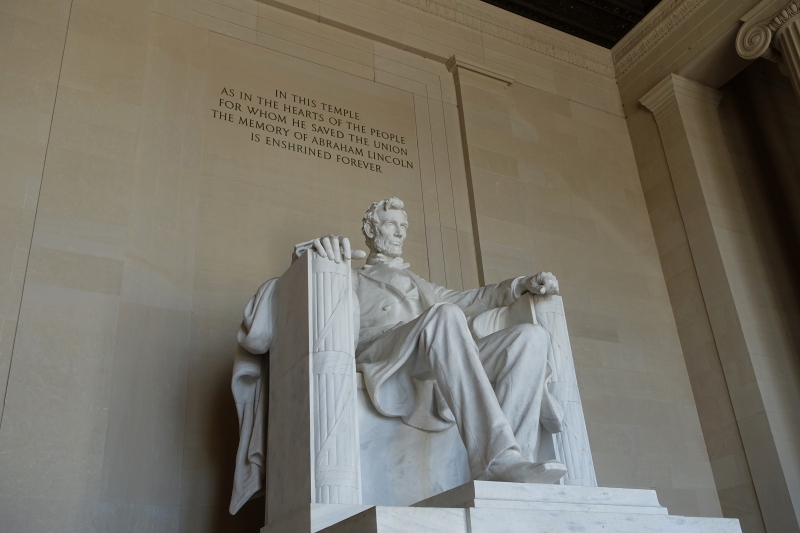 And here is the Gettysburg Address, as well as the final portion of Lincoln's Second Inaugural Address: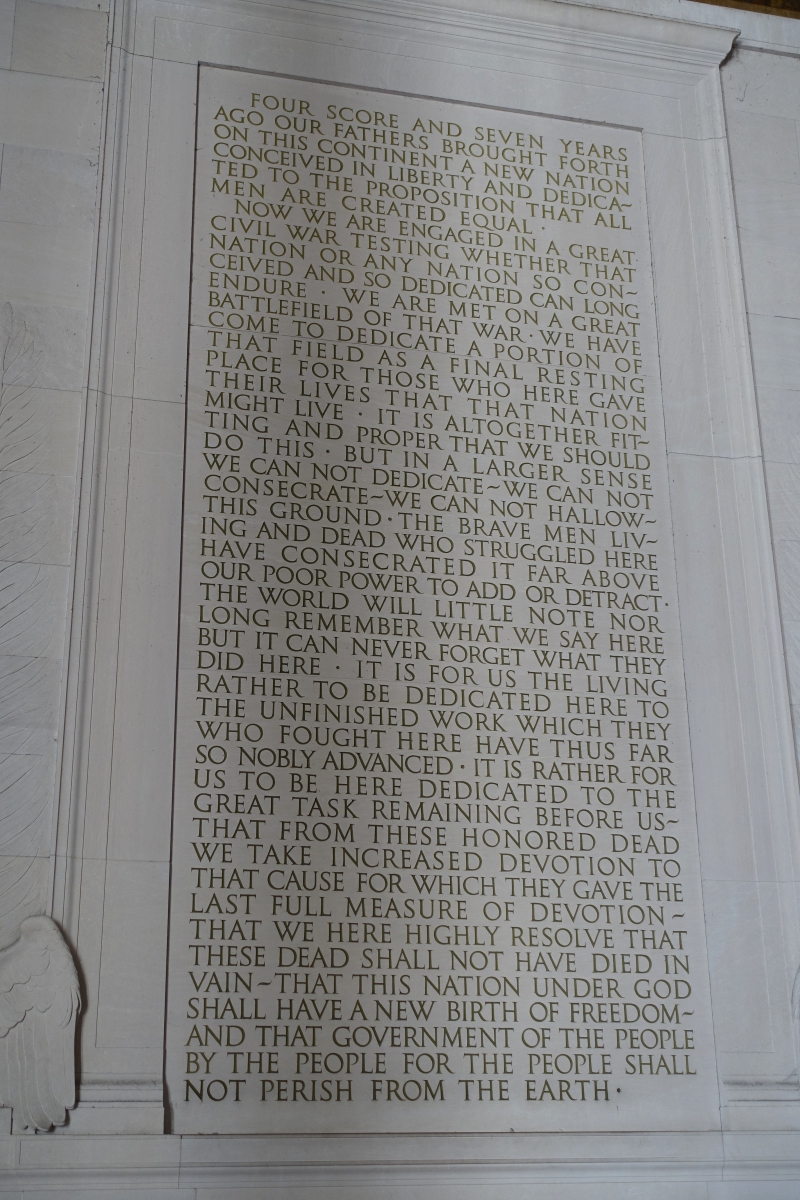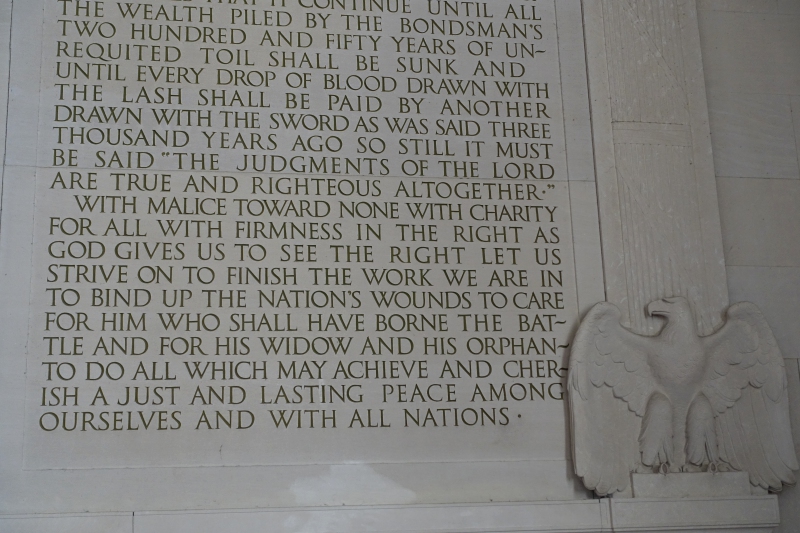 Either on your way into or out of the Lincoln Memorial, don't miss the spot where Martin Luther King Jr. stood when he gave his "I Have a Dream" speech during the March on Washington for Jobs and Freedom on August 28, 1963: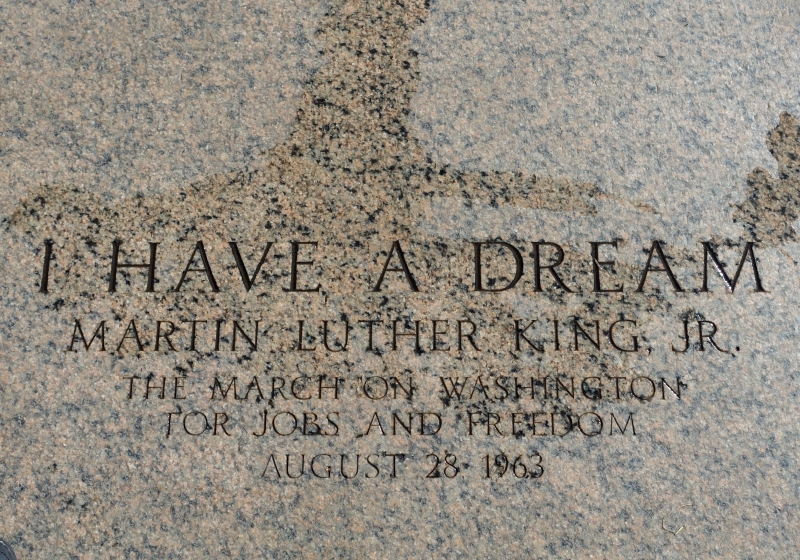 2. Walk from Lincoln Memorial to Washington Monument
Since it was a beautiful sunny fally day, we enjoyed walking from the Lincoln Memorial along the Lincoln Memorial Reflecting Pool toward the Washington Monument in the distance: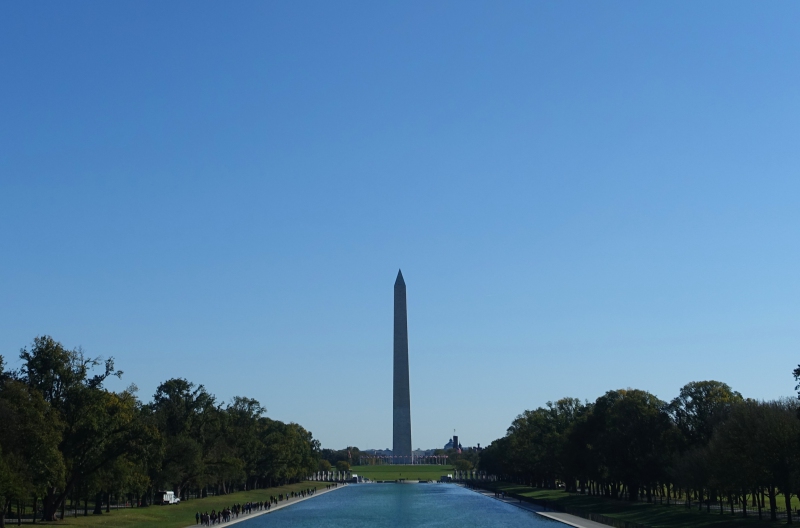 Between the two we stopped to walk around the World War II Memorial.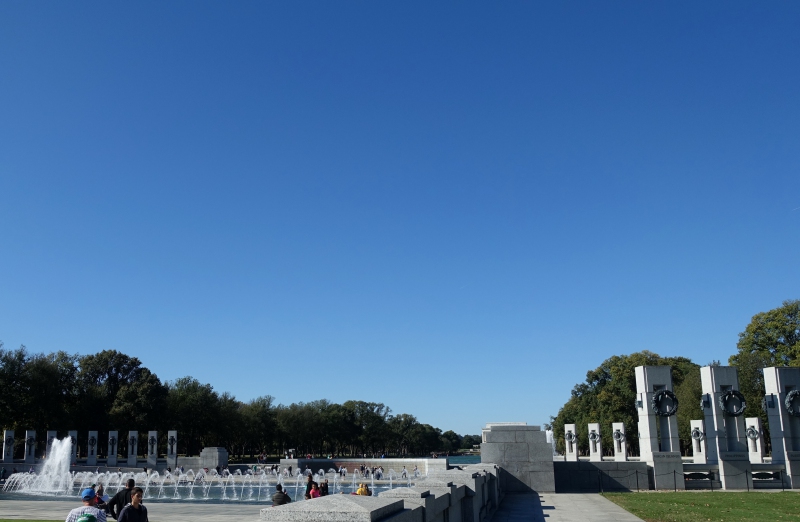 In the distance, across the Tidal Basis, we caught a glimpse of the Jefferson Memorial: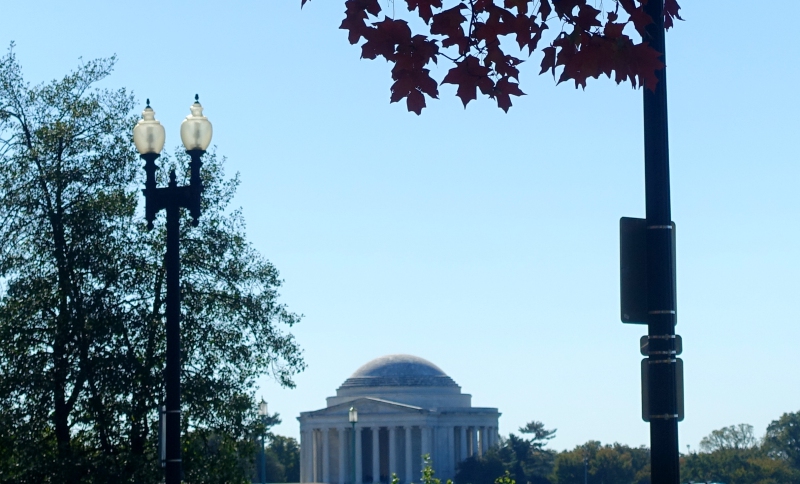 While we didn't go up to the Washington Monument, it was beautifully framed by the foliage: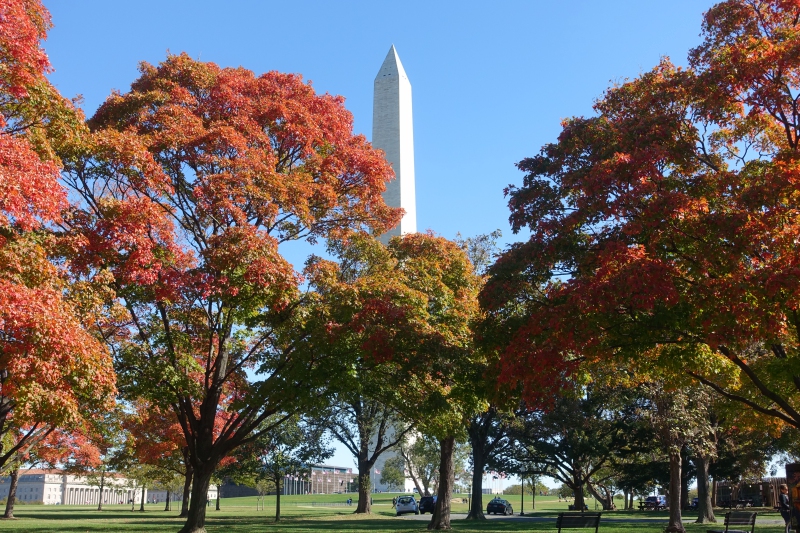 3. Smithsonian National Air and Space Museum
There are a number of Smithsonian Museums, which is why I highly recommend a longer visit than ours, so as to be able to take in the National Gallery, the Natural History Museum, and the American History Musem, among others. But with just a day, and given my son's interest in science and space, we spent all our museum time in the National Air and Space Museum.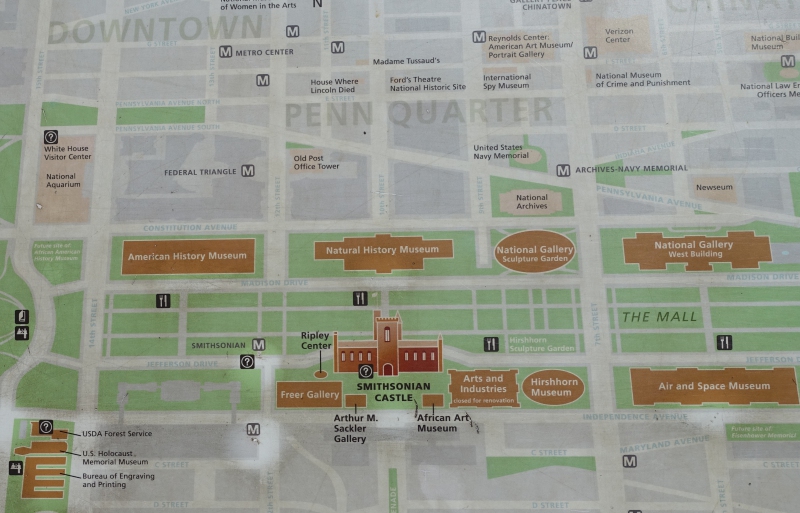 There are free docent-led tours (check at the Information Center for times, when you visit) but since my son wanted to see a couple of IMAX films, "Journey to Space" and "D-Day Normandy 1944" that were starting right as we arrived, we saw those instead.
After learning all about the D-Day invasions, he naturally wanted to see some of the World War II fighter planes, such as this Mitsubishi A6M5 Zero. I told my son that these planes had been used in the attack on Pearl Harbor, where my grandfather and his great grandfather worked, escorting the B5N2 torpedo bombers and dive bombers in the first strike. These planes shot at military airfields, anti-aircraft positions, and at US aircraft in the air.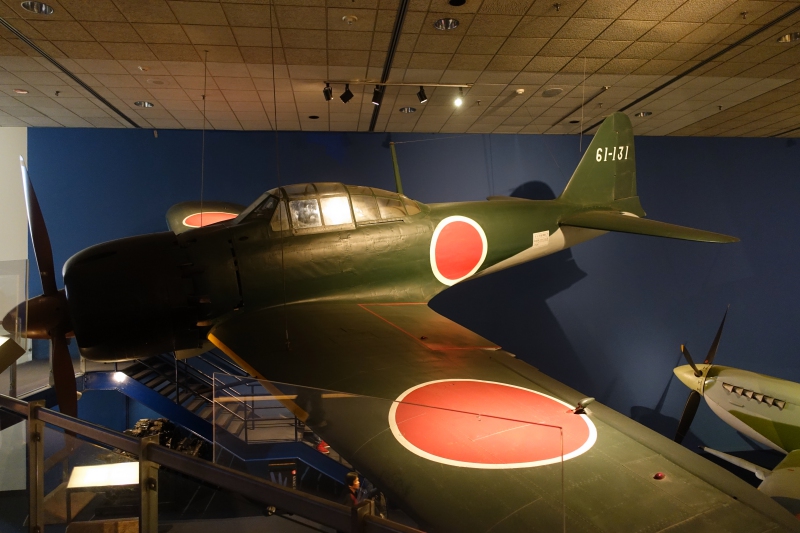 We also enjoyed walking through the Skylab Orbital Workshop, showing the living quarters of the U.S.'s first space station, although it was later discontinued to focus on the Space Shuttle.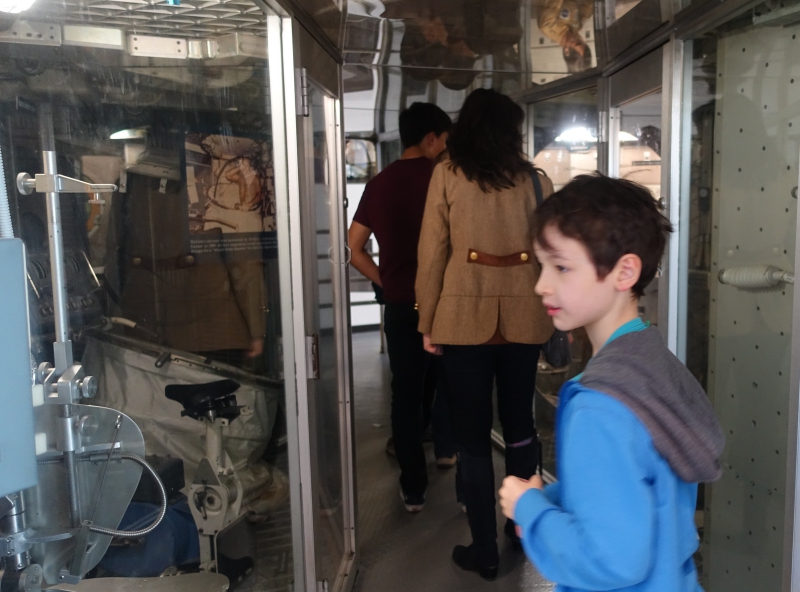 It was also fun to peer into the cockpit of this 747 fuselage, donated by Northwest Airlines: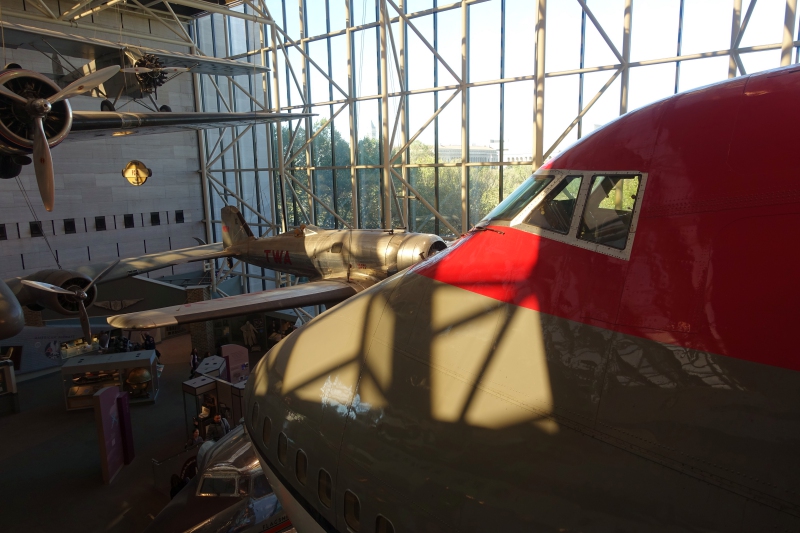 But the part of the museum my son enjoyed most was the "Explore the Universe" section, from looking at the ancient astrolabes and using a telescope, to learning about the range of light rays and how astronomers use spectoscopy to discern the chemical properties of distant stars and galaxies.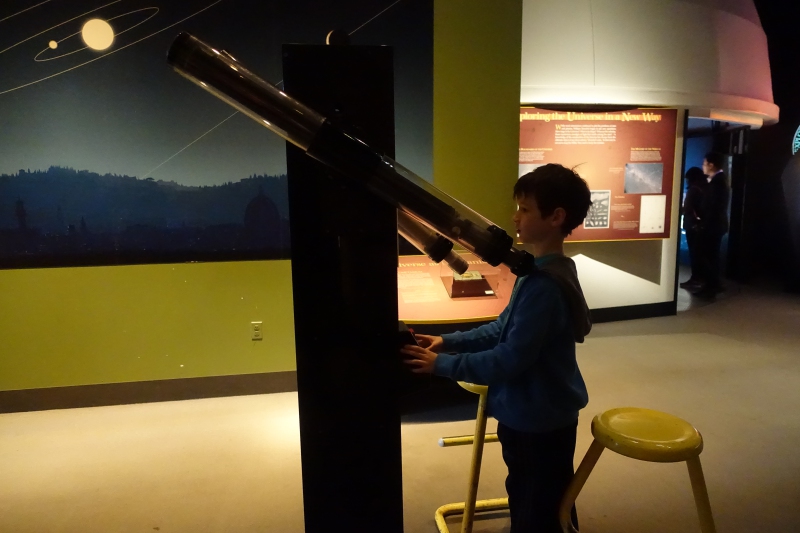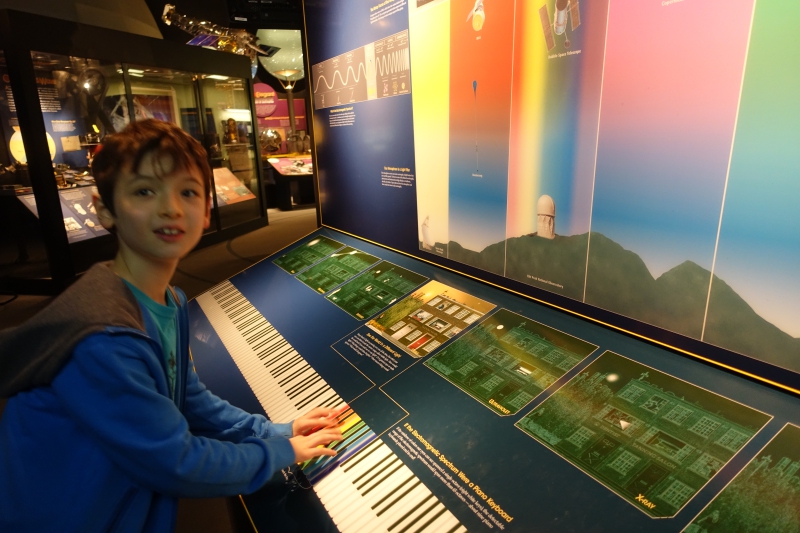 What are your favorite sights and things to do in Washington, DC?
Related Posts
Need Award Booking Help? Our fee is as low as $75 per ticket if you book your hotel through us.
If you enjoyed this, join 200,000+ readers: please follow TravelSort on Twitter or like us on Facebook to be alerted to new posts.
Become a TravelSort Client and Book your Washington, DC Luxury Hotel with Virtuoso or Preferred Partner Benefits!