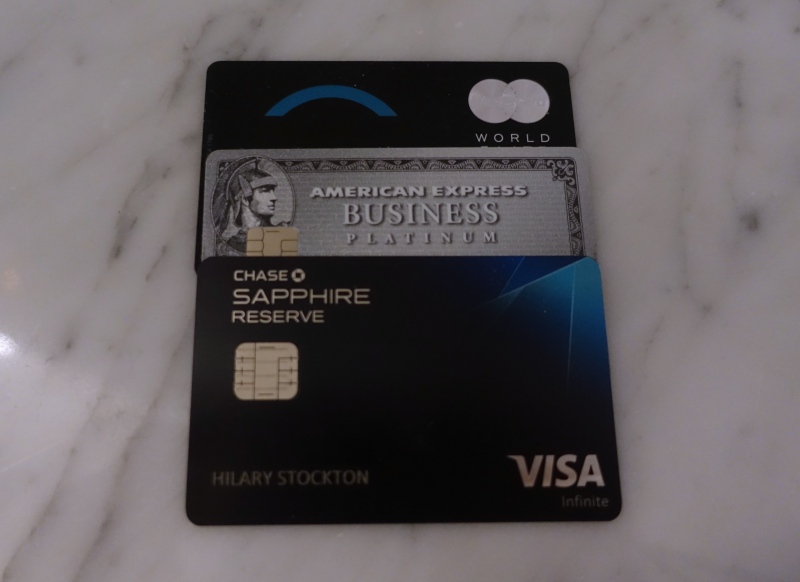 It's 2017, which means a new round of airline and travel credits from credit cards such as the Chase Sapphire Reserve, Citi Prestige, AMEX Platinum, and more. Here's a rundown of the main cards that offer an airline or travel credit and how to get them, and feel free to comment with questions or if there's an additional card I've missed.
1. Chase Sapphire Reserve: $300 Travel Credit
Valid for: airlines, hotels, motels, timeshares, campgrounds, car rental agencies, travel agencies (great news for TravelSort Clients, since that means reimbursement of up to $300 in award booking fees!), trains, subways, buses, taxis (including Uber), limousines, ferries, highway and bridge tolls, parking lots and garages. In other words, just about anyone who qualifies for the Chase Sapphire Reserve should have no trouble getting their $300 in travel statement credit sometime during the year.
When You Can Receive the Credit: Once per December – December Billing Cycle. To be safe, make your purchase January-November.
2. Citi Prestige: $250 Airline Credit
Valid for: airline purchases only, when processed directly with an airline. To be on the safe side, book airfare directly through the airline, although baggage fees and other purchases that are processed directly by the airline (not a third party) should also be reimbursed.
When You Can Receive the Credit: Once per December – December Billing Cycle. To be safe, make your purchase January-November.
3. AMEX Platinum, AMEX Mercedes-Benz Platinum and AMEX Business Platinum: $200 Airline Incidental Credit
Must First Select an Airline: Note that to receive the $200 statement credit, you must first select your airline–you will only be reimbursed for airline incidental charges for the airline you select, which you can change once a year, in January. This will also be the same airline for which you can receive 50% of your Membership Rewards points back for economy class bookings made via Pay with Points. Go to www.americanexpress.com/airlinechoice. You won't be reimbursed for incidental charges incurred prior to selecting your airline.
Valid for: airline incidental purchases, such as baggage fees, airline lounge day passes when processed by the airline and on board food/drink purchases when processed by the airline. Airline ticket purchases, upgrades, mileage point purchases, award ticket taxes and fees, gift cards, duty free purchases are excluded. In practice, it can still be possible to get reimbursed for some airlines' gift cards. See Maximizing the AMEX Platinum Airline Fee Credit.
When You Can Receive the Credit: Once per calendar year.
4. AMEX Premier Rewards Gold Card: $100 Airline Incidental Credit
See above for the AMEX Platinum in terms of requirements and validity.
5. Ritz-Carlton Visa Infinite: $300 Travel Credit
Valid For: Global Entry fees, checked baggage fees, seat upgrades, airline lounge day passes or yearly pass, in-flight internet/entertainment, in-flight meals. Must call J.P. Morgan Priority Services at the number on the back of your card within 4 billing cycles of the purchase date, to be eligible for reimbursement.
When You Can Receive the Credit: $300 per calendar year. The date the transaction posts to your account is used to determine the calendar year the transaction applies to. For example, a late December 2016 transaction that posts in January 2017 will go towards your 2017 $300 travel credit. Must call after incurring the incidental expense to receive reimbursement; unlike with the above cards, reimbursement is NOT automatic. In practice, many users report being reimbursed for airline gift cards that are in small denominations, although this is not guaranteed due to the terms.
Which credit cards are you earning airline or travel statement credits from, and how long did it take for the statement credits to post?
Related Posts
$450 AMEX and Citi Prestige Airline Fee Credits Posted
100K Chase Sapphire Reserve Bonus Posted and What's in the 3X Travel and Dining Categories?
Chase Sapphire Reserve: Keep or Cancel AMEX Platinum Given 5X Airfare Benefit?
AMEX Platinum vs. Citi Prestige: Which Travel Credit Card?
Need Award Booking Help? Our fee is as low as $75 per ticket if you book your hotel through us.
If you enjoyed this, join 200,000+ readers: please follow TravelSort on Twitter or like us on Facebook to be alerted to new posts.
Become a TravelSort Client and Book 5-Star Hotels with Virtuoso or Four Seasons Preferred Partner Benefits!