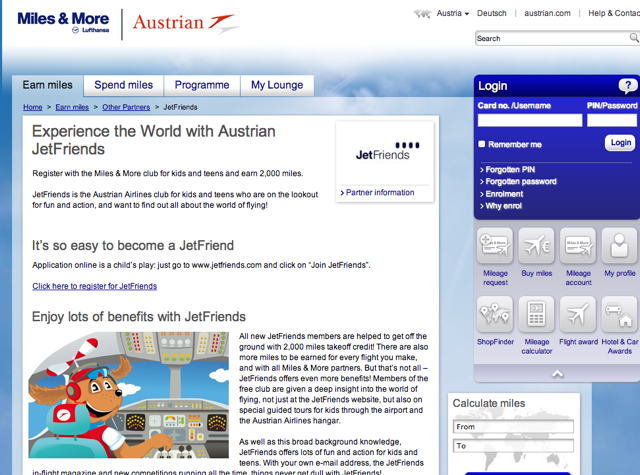 Earn 2000 Miles & More bonus miles per kid who joins JetFriends, the Austrian Airlines club for kids and teens interested in planes and flying.
JetFriends 2000 Miles & More Bonus Miles Details
Valid for new JetFriends members
Child must be 2-16 (ineligible for the bonus from 17th birthday)
Membership valid until the child's 18th birthday
Miles & More miles don't expire for the duration of JetFriends membership
This is actually not a new promotion; 2000 Miles & More miles for a new JetFriends member has been mentioned in this 2008
Flyertalk post
and others.
That said, I was happy to see that the promotion is still active, and signed the munchkin up for it. I always recommend signing your kids up for the various frequent flyer programs, especially if there's a bonus available, and the great thing about Jetfriends is that your child's miles don't expire while a member, so you don't have to worry about signing up your two-year old then losing the miles just a few years later. And in light of the
United award chart devaluation
, and especially if your family is planning Miles & More award travel (leveraging the recent, now expired
50,000 bonus offers for the Lufthansa Miles & More cards
) you may want to start crediting your child's Star Alliance flights to Miles & More so that all of you can fly
Lufthansa First Class
.
1. Go to JetFriends
2. Click the "Join JetFriends" Link in the Right Navigation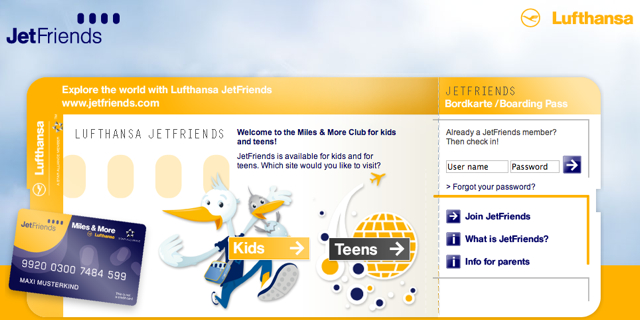 3. Click "Next" and Complete Your Child's Details
You'll need to enter all the usual details: your child's full name, address, birth date, and a user name and password. The site notes that you are *not* to use your child's name as the user name. You (or your child, if s/he is filling it out) also enter your own email so that you can receive a confirmation and agree to your child becoming a JetFriends member.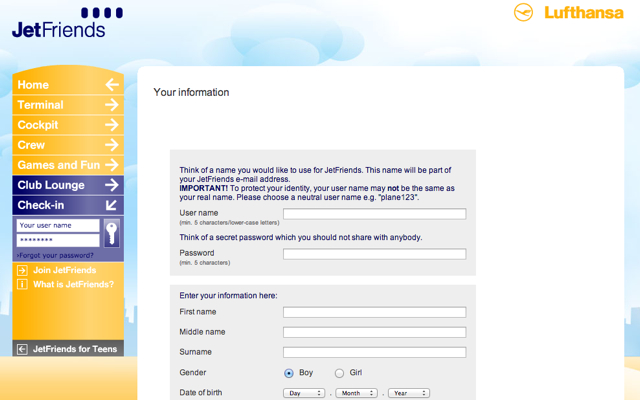 4. Click the Link in the Parent Confirmation Email and Complete Your Parent Details
You'll then receive an email with a link that you click. You'll need to confirm your address and that you agree to your child becoming a member, before receiving a final confirmation email.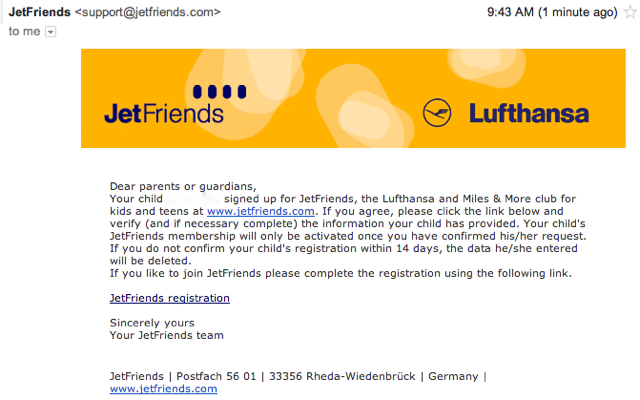 5. Receive the Confirmation Email and Follow up for Miles & More Miles if Needed
A short Flyertalk thread from 2011 noted that a couple folks didn't automatically receive the promised Miles & More miles, so if it's been a few weeks with no sign of the 2000 Miles & More miles in your child's account, definitely follow up so that they can be deposited.
If you have kids, have you gotten 2000 Miles & More bonus miles for each of them?
Related Posts
Best Ways to Use the Lufthansa Miles & More Award Chart
The Best Airlines for Kids and Families
Lufthansa First Class Award Availability and Booking Strategy
Lufthansa New First Class Review
Need Award Booking Help? Our fee is as low as $75 per ticket if you book your hotel through us.
If you enjoyed this, join 90,000+ readers: please follow TravelSort on Twitter or like us on Facebook to be alerted to new posts.
Become a TravelSort Client and Book Your Hotel with Virtuoso or Four Seasons Preferred VIP Amenities!