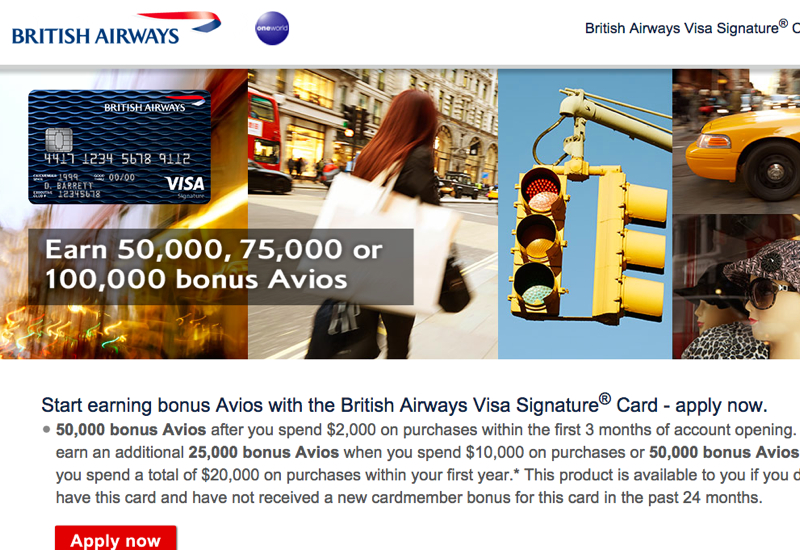 Is the 100K British Airways Visa offer worth it? There are currently two British Airways Visa offers, which are both listed on the Best Travel Credit Cards page. Update: there is now only the up to 100K offer, with the annual fee NOT waived the first year.
Earn 50,000 bonus Avios after spending $2000 within 3 months of account opening
Earn an additional 25,000 bonus Avios (total of 75K Avios) after spending an additional $8000 within 12 months of account opening
Earn an additional 25,000 bonus Avios (total of 100K Avios) after spending an additional $10,000 within 12 months of account opening, for a total of $20,000 spend
$95 annual fee is NOT waived the first year
Earn 3 Avios per $1 spent directly with British Airways, OpenSkies and Iberia
Earn 1 Avios per $1 on all other spend
Earn a Travel Together Ticket (Companion Ticket) by spending at least $30,000 on the card within a single calendar year
What Are British Airways Avios Good For After the Recent Devaluation?
The most recent British Airways Avios Devaluation has made me less interested in earning Avios or transferring other points, such as Chase Ultimate Rewards and AMEX Membership Rewards points to Avios. That's because my family and I do very little domestic or international economy travel, and prefer to redeem frequent flyer miles and points for international business class and first class.
Even before the devaluation, British Airways First Class NYC-London was 120,000 Avios roundtrip, with taxes and fuel surcharges of ~$1000. Now, after the devaluation, that same award is 138,000 Avios off-peak, and 160,000 on peak dates–if you can even find availability for your dates.
The combination of the more expensive award chart and reduced availability of award flights is why I haven't bothered to apply for the British Airways Visa again for my husband and me, even though we've been eligible for the card for some time, having last received bonuses well over two years ago.
On the other hand, a good number of my Award Booking Clients do hold the British Airways Visa and religiously earn the Travel Together Ticket every year. So far they have been willing to fly out of alternate airports, when there was no award availability in business or first class in their home airports, in order to use the Companion Ticket for their trips to Europe.
Who Should Get the 100K British Airways Visa
If the following are true for you, it's probably worth if for you to apply for the up to 100K British Airways Visa:
You have value Avios, for example for the companion ticket on British Airways to Europe, for short domestic U.S. or other intra-regional economy awards, or because the earlier opening award calendar enables you to lock in awards earlier
You plan to earn the companion ticket anyway with $30K spend; OR
The $20K minimum spend to receive the full 100K bonus is no issue, either because you have high spend, you manufacture spend, or you are willing to pay the convenience fee to put your taxes or other purchases on the card
You're fine with the $95 annual fee and fuel surcharges on British Airways awards
Who Should Get the 50K British Airways Visa
On the other hand, if you're a more occasional user of Avios and want to have them more for the sake of diversifying your miles and points, and the opportunity cost of putting $20,000 on the card is too high given other miles and points you could earn with the additional $18,000 spend, then I recommend sticking with the 50K offer with no annual fee the first year. $2000 spend within 3 months is very manageable for most, and particularly if there are other good rewards credit card offers you're eligible for, you may not want to devote so much spend to the British Airways Visa.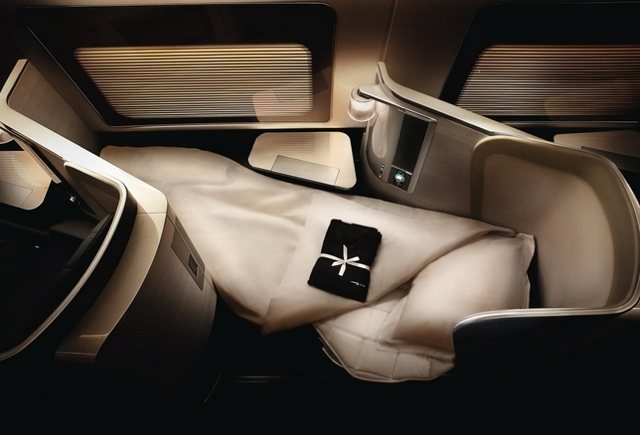 FAQ
Am I Eligible for the Signup Bonus If I've Had This Card Before?
Yes, if 1) you don't currently have the card and 2) it's been at least 24 months since you last received a bonus for the British Airways Visa, you're eligible to apply and receive the signup bonus again. This is true for both offers.
If I Choose the 100K Offer, Could I Spend $2K Now and Wait Until 2016 to Put $30K on the Card?
Yes, in fact if you think you may want to earn the companion ticket but don't think you can spend $30K on the card by the end of 2015, this is what I would suggest.
How Long Does It Take the Bonus Avios to Post to My Executive Club Account?
Terms say to allow 6-8 weeks for bonus Avios to post to your account, after fulfilling the minimum spend requirement.
Can I Use the Companion Ticket on Other Oneworld Airlines to Avoid BA's High Fuel Surcharges?
No–the companion ticket may ONLY be used on British Airways flights to and from the U.S., so you WILL be paying rather high fuel surcharges on these award tickets.
Are There Off-Peak Dates for Oneworld Partner Awards Using Avios?
No, the off-peak award prices are only for British Airways' own flights; all partner awards are at peak award prices.
What I Plan To Apply For
I plan to apply for the 50K British Airways Visa with no annual fee the first year. If I really want another 50K Avios, I'd rather spend $10K with the Ink Plus, or a combination of the Ink Plus and Freedom, on a 5X category, to earn 50,000 Ultimate Rewards points that can transfer to British Airways, rather than another $18,000 on the British Airways Visa. 50K Ultimate Rewards points are more valuable to me, since I could also decide to transfer them to Singapore KrisFlyer or Korean Air.
Do you plan to apply for either the 100K British Airways Visa or the 50K British Airways Visa bonus offer?
Related Posts
First Class to Europe from West Coast with Frequent Flyer Miles?
New British Airways Avios Devaluation
Award Flights to Europe with 3 First Class Award Seats?
British Airways Companion Ticket One Way Award?
British Airways New First Class 777 Review
Need Award Booking Help? Our fee is as low as $75 per ticket if you book your hotel through us.
If you enjoyed this, join 200,000+ readers: please follow TravelSort on Twitter or like us on Facebook to be alerted to new posts.
Become a TravelSort Client and Book Your Hotel with Virtuoso or Four Seasons Preferred VIP Amenities!