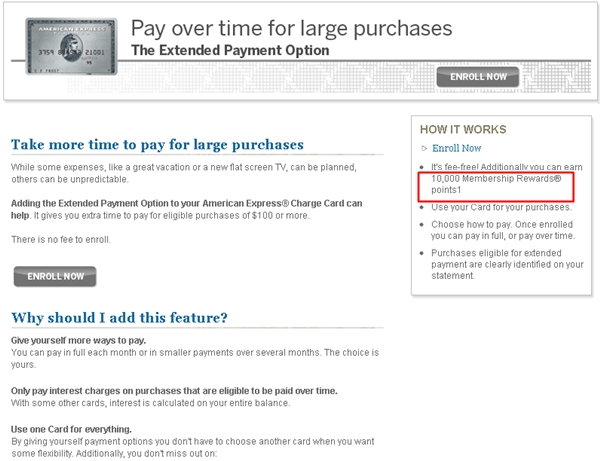 Last year I wrote about 10,000 AMEX Bonus Points for Enrolling in Extended Payment. This 10,000 Bonus Membership Rewards Points for Enrolling in Extended Payment Option link is still active, so although the terms note that the offer is only available if you were targeted for it, it's worth mentioning again, especially given how valuable AMEX Membership Rewards points are if you want to fly Singapore Suites or Singapore First Class. Also see my Top 10 Best Ways to Use AMEX Membership Rewards Points.
Note that enrolling in AMEX Extended Payment does NOT require you to actually use the extended payment option (which would be a bad idea, considering the high interest charges when using extended payment). As always, you should pay off all your rewards cards in full every month. If you carry any credit card debt, take care of that first, before you focus on miles and points credit cards for travel–see our Beginner's Guide to Miles and Points
I've pasted the full offer agreement below–although it says that not all cardmembers are eligible, I was able to enroll my AMEX Platinum Card in a few seconds, and got this confirmation. That said, I still need to wait to see if the points post.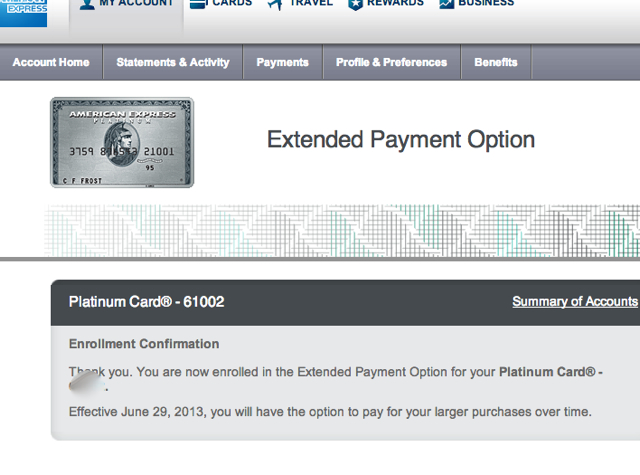 Note that the fine print says that this offer is only available if you were targeted for it, so your mileage may vary.
Here are the terms on the American Express 10,000 bonus points for Extended Payment offer page:
1. A charge is eligible to be paid over time if it is equal to or more than $100 and is approved by us. The following types of charges are ineligible for a Pay Over Time feature: Cash, American Express® Travelers Cheques and other cash substitutes, insurance, casinos and other gambling transactions, real estate transactions, commercial products (items for resale), American Express annual membership fees, or other transactions designated by us. We will not place any charge into a Pay Over Time balance if it causes the total of your Pay Over Time balances to go over your Pay Over Time Limit, as previously disclosed.
2. To be eligible to earn Membership Rewards® points, you must be enrolled in the Membership Rewards® program at the time of enrollment in the Extended Payment Option feature. Only one offer per Membership Rewards® program account is permitted, and points will be credited to your program account within 6-8 weeks after your Extended Payment Option enrollment is approved. Maximum 10,000 points per account. Terms and Conditions for the Membership Rewards® program apply. Visit membershiprewards.com/terms or call 1-800-AXP-EARN (297-3276) for more information. Participating merchants and available rewards are subject to change without notice. Offer only available to Card members who have received a communication directly from American Express for this offer. If you received an offer communication through e-mail or a letter, please refer to your communication piece for the offer expiration date. If you received an offer communication through americanexpress.com, offer expires 06/30/2014. If your enrollment in the Extended Payment Option is approved after the expiration date you will not be eligible for this offer.
Let me know in the comments-were you able to signup for Extended Payment to receive 10,000 bonus AMEX Membership Rewards points?
Related posts
Maximizing the AMEX Platinum Airline Fee Credit
Detailed Review of the American Express Platinum Credit Card
Top 10 Best Ways to Use AMEX Membership Rewards Points
The Best Credit Cards for Sign-up Bonuses and Everyday Spend
Need Award Booking Help? Our fee is as low as $75 per ticket if you book your hotel through us.
If you enjoyed this, please follow TravelSort on Twitter or like us on Facebook to be alerted to new posts.