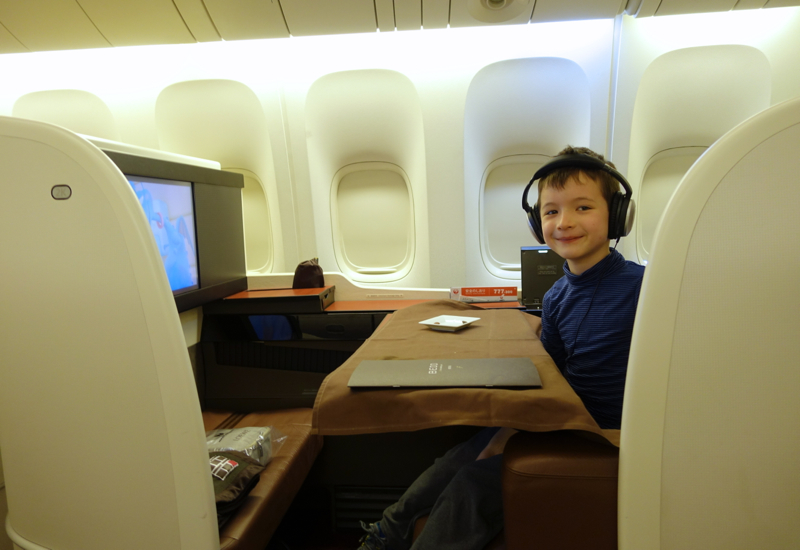 How to travel better with kids? Some couples, childless or parents, would say they'd rather not travel with kids at all. But really, who wasn't a kid once? And aren't some of your most memorable experiences trips that you took as a child? Mine sure are–my earliest memories are of playgrounds and parks in France, and of meeting my mother's penpal in Prague.
In our family, our son is often the best traveler in terms of his ease in getting over jetlag and his energy level. And he speaks as wistfully as us, if not more so, of some of the places we've been, once we're back home again. But as with any family travel, there can be and sometimes are challenges. Here are my tips, in no particular order, for enjoying more of your travel with kids, and also helping other travelers not resent your kids' presence.
1. Establish a Regular Routine Early in Your Child's Life
Yes, I realize this is also parenting advice, but at least for us, it's helped us enormously with our travels. Since he was a baby, our son has had a regular routing (which has changed of course as he's gotten older) in terms of a regular bedtime/naptimes and a bedtime routine and regular meal times and snack times.
While we don't manage to stick perfectly to this schedule when traveling–we're in Italy right now, and many restaurants don't even start serving dinner until 7:30pm, which is 1 hour before his bedtime–we always do his bedtime routine wherever we are, and that helps him get to sleep easily no matter what country or time zone we're in.
2. Model and Practice Good Behavior at Home, and Set Limits
One of the hot button issues on flights and at luxury resorts seems to be the presence of kids, especially young kids. And there are hotels that don't allow kids at all, because they've had too many incidents of poorly behaved kids. Personally I believe that in many of these cases, parents are as much if not more to blame, because they never set appropriate limits, or only set them inconsistently.
For us, it's a work in progress, but we do notice that we seem to be stricter with our son than most other families we know. Does he still test us? Of course. But increasingly, if after he messes up we ask him if he thinks he behaved well, he has a sheepish expression rather than a defiant one.
3. Fly First Class or Business Class for any Long International Flights
This is another divisive issue, since many folks would prefer to have no kids in first class or business class. But for us, on a long international flight to Asia, or even on a night flight to Europe, there is no question we all do better when we get sleep, and that means business class at a minimum. Also see Top 10 Reasons to Fly First Class with Kids
4. Provide Plenty of Chances for Your Kid to Get Energy Out and Exercise During the Day
Young kids have tons of energy, so particularly before and after long plane flights, car rides, etc. they need time to burn off that pent-up energy. It will also help them adjust to the time difference and sleep better at night, so make sure to build in some time at the playground or a long walk or bike ride.
5. Involve Your Child in Choosing the Destination and Trip Planning
Kids who are involved in cooking their meals often eat more of what they've helped prepare; the same goes for travel. Kids who are more involved in helping choose the destination and trip planning are less likely to complain. Of course, you'll still want to likely see and do some things that they may be less interested in, but if they're able to see a balance of interests, including theirs, they're more likely to buy into the trip.
We've also learned that it's helpful to discuss the day prior what the next day will look like, so they can understand what will be expected of them in terms of any long travel time, a meal they have to dress up for, etc.
6. Have Your Kid Pick His/Her "Nice" Clothes and Small Comfort Items to Bring
I have yet to meet a boy who loves getting dressed up in nice clothes for a special restaurant meal. Ours grudgingly does, because he does love to eat, and realizes that he's enjoyed some of his best meals when he's been in nice clothes, but of course if he could, he'd wear a t-shirt and shorts for every meal. What seems to help in our case is giving him a choice of which nice clothes to bring–he has one nice pair of slacks, and I give him a choice of shirts, and he picks which one he wants to pack.
We also allow our son to bring a few small comfort items, to help him feel at home wherever he is in the world. A couple of these are very small stuffed animals, and since he's obsessed with Lego, he's also allowed to bring a small lego model.
7. Make Sure Your Hotel Room or Suite Accommodates Your Entire Family Comfortably and is Kid-Friendly
Particularly in Europe, there are rooms that are strictly for two people and don't accommodate a third guest (even a young child) due to fire code regulations. Make sure the room or suite you book can in fact accommodate your entire family, and that if you're relying on an extra bed, that one can be put in the room. Rooms with 2 queen beds are much less common abroad than in the U.S., and it's really not worth everyone sleeping poorly during a family vacation, so my advice for most families of 2 adults and 2 kids is a suite or two rooms that comfortably accommodates everyone.
The other tip I have is to choose a hotel that not only allows kids, but is welcoming toward them. My favorite in this regard is Four Seasons, which not only offers the complimentary Kids for All Seasons Kids' Club at most Four Seasons resorts (such as Four Seasons Maldives at Landaa Giraavaru, Four Seasons Maldives at Kuda Huraa, Four Seasons Hualalai, Four Seasons Maui at Wailea, Four Seasons Koh Samui, Four Seasons Marrakech, and many others) but also welcomes little guests with a special amenity, such as a plush animal or activity bag, as well as a child-size bathrobe and slippers.
8. Build in Some Unstructured Days
This is an important one, and one that I don't always follow myself, due to trying to review and do site inspections of different properties for clients. But it's so important not to overschedule your family and to leave some unstructured days to relax and rejuvenate as a family. You need not all be doing something together the whole day–perhaps kids will want to spend some time at the resort's kids' club, if there is one, or simply time in the hotel pool or building something out of lego, while parents read a book or take a nap–but that down time is crucial.
9. Ensure Your Kids (and You) Get Enough Sleep
While it's rare for the our son to have a full-fledged melt-down, the times it's happened, it's almost always been at least partly due to lack of sleep. And similarly, we're definitely not at our parenting best if we haven't been getting enough sleep. While some folks have a strategy of keeping the kids up so that they're exhausted by the time they get on the plane, I couldn't disagree more with this strategy. An over-tired kid can cry uncontrollably and fight sleep in a way that makes the flight miserable for everyone concerned. I always recommend going into travel rested.
10. Always Make Sure to Have Water, Food, Tissues and Antiseptic Wipes on Hand
The other leading causes of crankiness, at least in our family, is hunger and thirst. We always take water along, and this has been particularly crucial here in Italy, when we've been out for hours at a time walking through ancient ruins in the heat.
With the heat, we haven't been as hungry as usual during the day, but our son gets hungry more often than we do, so some fruit, either fresh or dried, a purchased sandwich, and the occasional gelato has been helpful. Don't forget antiseptic wipes to clean hands before eating, and tissues.
What are your tips for traveling better with kids?
Related Posts
Top 10 Reasons to Fly First Class with Kids
Top 10 Low Tech Toys to Entertain Kids on Airplane Flights
The Best Airlines for Kids and Families
Need Award Booking Help? Our fee is as low as $75 per ticket if you book your hotel through us.
If you enjoyed this, join 200,000+ readers: please follow TravelSort on Twitter or like us on Facebook to be alerted to new posts.
Become a TravelSort Client and Book Your Hotel with Virtuoso or Four Seasons Preferred VIP Amenities!