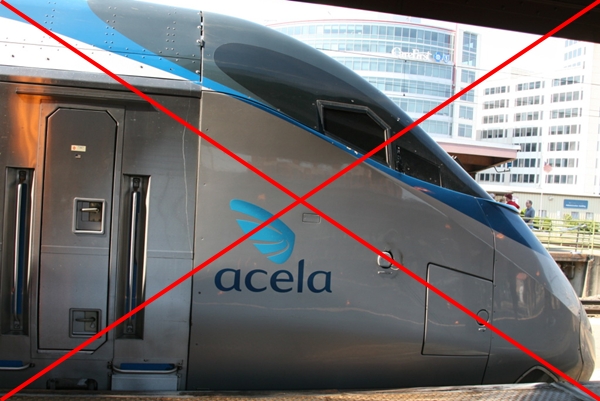 Having applauded earlier in the week Starwood, whose program has worked well for me to date, today I'll turn to one that I'm decidedly less enthusiastic about: Amtrak's Acela trains. No doubt I'll be in the minority on this one, but for some time I've disliked the Acela "Express," the supposedly high speed trains with service that connects Washington DC to Boston via Baltimore, Philadelphia and New York. Yes, it's obviously faster than local train service and there's the convenience of departing and arriving in the city center instead of going to the airport. But hear me out, perhaps some of these gripes resonate with you as well:
1.       You want me to pay what?
While it is possible to buy lower priced seats by planning your trip far enough in advance, the operative word is lower—these are still not cheap, and they'll be at a time you definitely don't want to be at the station—a 6:30am train anyone? You'll almost always be able to get a cheaper ticket, at a better time, flying on, say, JetBlue. Umm, it's no wonder the Acela is one of the few Amtrak trains to earn a profit and that the Acela lines generate more than half of Amtrak's revenue.
2.       This is high speed?
If you've ridden on a true high speed train such as Japan's bullet train, the Shinkansen, or France's TGV, you'll be sorely disappointed with the Acela's speed.  The highest speed may be 150 mph, but the average is only 75 mph; compare that to the TGV and Shinkansen trains' average speed of ~170 mph.
3.       How about real recline for these seats?
While recline is not so much an issue for a flight of an hour or so, it becomes more of an issue on a train ride of 3 or more hours—why such limited recline for what are ostensibly business class seats?
4.       Forget a smooth ride, resign yourself to looking drunk as you walk around
I well remember my first time riding on a Shinkansen train and marveling that it wasn't much different from walking down the hall—virtually completely still. In contrast, walking around the Acela makes me queasy, and most everyone has a grim expression as they hang on for dear life while making the treacherous journey to the café car or bathroom.
5.       Can't at least your Wi-Fi be fast?
Seriously, what is the point of free Wi-Fi if it crawls at a snail's pace? May as well forget getting work done that requires snappy connectivity. Bring a book.
6.       Bring your own food. Consider yourself warned.
It's as if they tried to marry the worst of both: food for purchase, with the quality of free airline food. Even outsourcing it to Starbucks would be an improvement—at least there would be good oatmeal cookies and halfway decent coffee then. In the meantime, I recommend packing your own sandwich and fruit, or grabbing something from the nearest Whole Foods before you board.
Tired of paying ridiculous prices for fares around Thanksgiving time, I decided to plan early for a change. Acela's lowest price is $99 each way, departing NYC Wednesday 11/23 and returning Saturday 11/26, for a total of $198.
JetBlue, meanwhile, has a low fare of $49 each way, for a total of $119.40 including taxes. Saved about $80 and about an hour in transit time, even including getting to the airport and security, and avoid queasiness entirely.
How about you? If you do any travel involving DC/NYC/Boston: Do you prefer the Acela or flying?
If you enjoyed this, please follow TravelSort on Twitter or become a Member to be alerted to new posts.
Photo: cliff1066