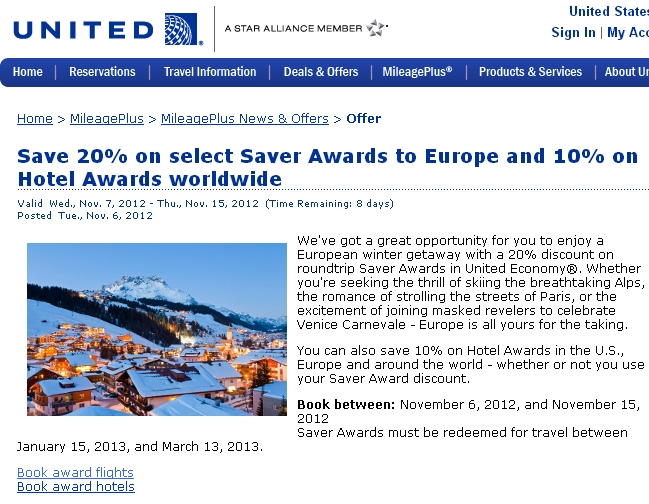 United is offering 20% off select coach Saver Awards to Europe, book by November 15 and travel January 15-March 13, 2013. Here are the key details, with full terms and conditions at the above link.
Book November 6-November 15, 2012
Travel January 15-March 13, 2013
Only United flights: no partner airlines
Only Saver Economy
Only valid for travel to/from continental U.S., Alaska and Canad to/from Europe
Stopovers not permitted
Open jaw allowed within the same region (but see our examples below)
Even though the terms say that the open jaw is only allowed within the same region, you can still use this for a
free United one way
within the continental U.S., such as a transcontinental flight from NYC to SFO. Here's an example itinerary of NYC-Paris, with a first open jaw of London-NYC, then NYC-SFO for the second open jaw. It priced at 48,000 miles, the same as a simple roundtrip to Europe without the free one way to SFO. The total revenue fare for economy would be $1652.96, so subtracting the fees for the award ticket and dividing by the 48,000 MileagePlus miles gives you 3.06 cents per mile. Not bad, but of course not as good as you'll get redeeming for first class awards on United's Star Alliance partners, such as Lufthansa or Asiana.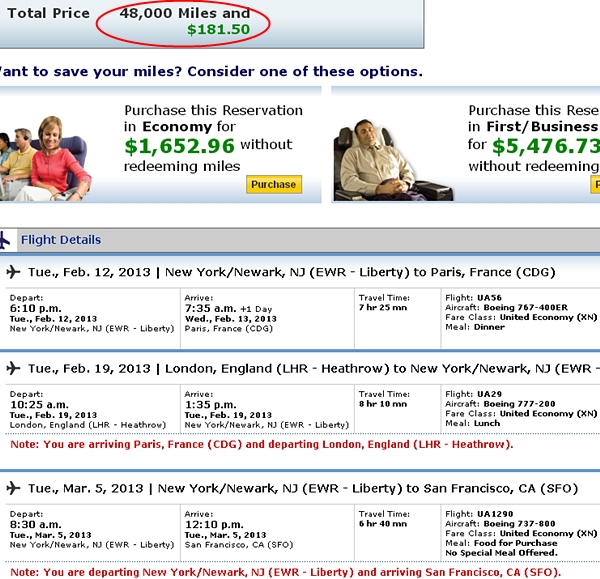 What happens when you try to tack on a one way to Hawaii? Well, since Hawaii isn't included in this 20% off Saver Awards sale, it will price higher, at 56,500 miles. Given the higher revenue fare, it still yields 3.1 cents per mile, however: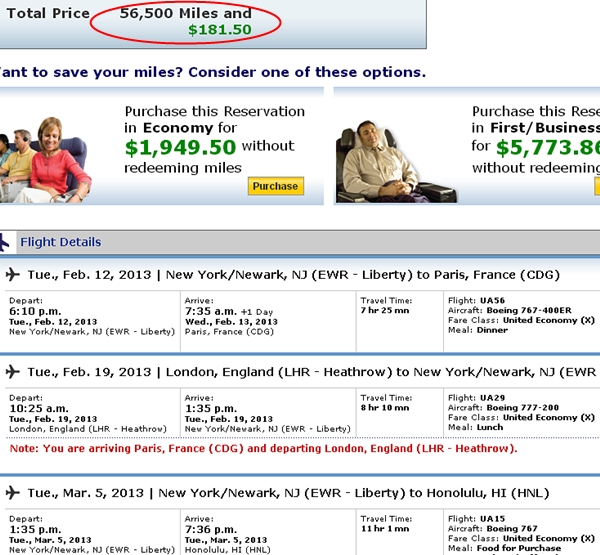 Tips
2. If you plan to tack on a free one way, use "Multiple Destinations" for booking
3. Since there is limited availability, search key transatlantic flights segment by segment first to view available dates on United's calendar before plugging in these dates on "Multiple Destinations" to price and book
4. You can reserve an award trip without booking it, giving yourself until midnight the next day of the local time of your departure city. Best to hold now, before availability worsens.
5. While you can earn United miles via the various United credit cards, currently I only recommend applying for the
United MileagePlus Explorer Card if you're targeted for the 65,000 bonus miles offer
. Otherwise, it is more lucrative to leverage the
Ink Bold
,
Ink Plus
, or
Ink Classic
to earn 5X on most everything with AMEX Bluebird or, to a lesser extent, the AMEX Prepaid, along with 5X Freedom bonuses and the
Sapphire Preferred
for 2X on foreign spend where you can't use the AMEX Prepaid. All Ultimate Rewards points may be transferred 1:1 United miles, and the transfer is virtually instantaneous. Just keep in mind you must have an
Ink Bold
,
Ink Plus
or
Sapphire Preferred
to transfer points from no annual fee cards such as the
Freedom
and
Ink Classic
.
I won't be taking advantage of this, both because we already have later 2013 travel planned and because I just don't want to travel in United coach, but if you normally redeem for coach awards to Europe and want to save some United miles, this could be worth taking advantage of.
Related Posts
HT: Dan's Deals