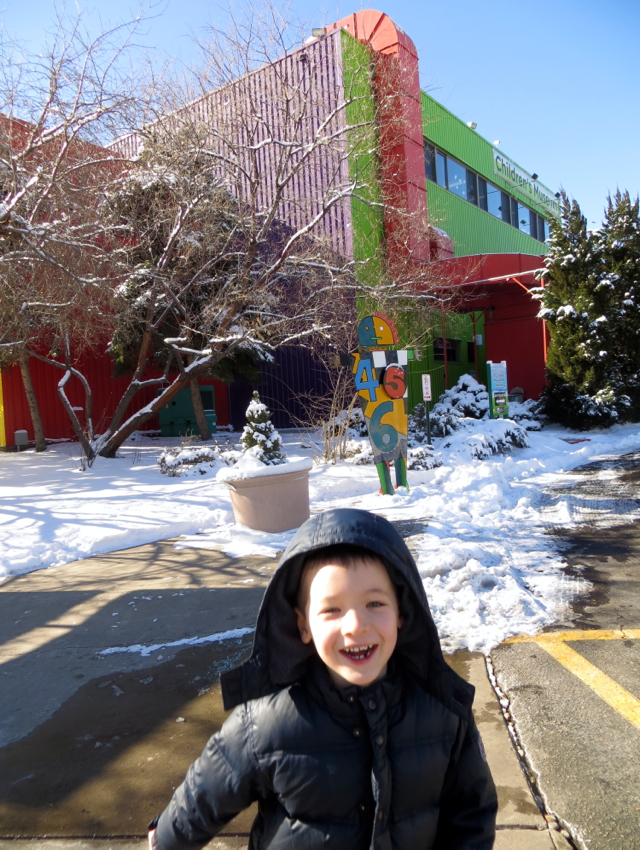 This Top 7 Things to Do in Denver with Kids post is part of a Denver trip report. For related posts, see:
Hyatt House Denver Airport Hotel Review
Ritz-Carlton Denver Hotel Review
Club Lounge, Ritz-Carlton Denver Review
Fruition Denver Restaurant Review
Denver is incredibly family-friendly and a great place to take kids, even in winter. While we didn't spend that much time outdoors, since it was pretty cold for Denver (although actually quite nice for us, compared to the NYC weather we've been having) we found plenty to do in Denver's top museums. Here are the munchkin's personal picks for the top 7 things to do in Denver with kids. Keep in mind he's six years old, so if you have kids younger or older than that or with different interests, they'll undoubtedly have their own list, but chances are they'll find something to enjoy at these Denver museums.
1. Kinetics Exhibit, Children's Museum of Denver
The Kinetics Exhibit at the Children's Museum of Denver was hands down my son's favorite of all his Denver experiences. Imagine a ton of orange balls, each of which you can insert into one of a dozen or so clear tubes to be sucked upwards, then wind its way around ceiling or wall tubing before routing either down a series of chutes, or to a clear collection vat that periodically empties itself in a shower of orange balls. If you ever had fun constructing elaborate marble machines as a kid, as my son does practically every day, this place is a dream come true.
2. Launching Rockets, Children's Museum of Denver
Close by to Kinetics was the munchkin's second favorite exhibit, the 3, 2, 1 Launch! Exhibit where you could make your own paper rocket then launch it with the help of an air pump and launch button. While he was a bit sad when his rocket sailed so high that it got stuck in the rafters, along with some of the other high flying rockets, it was soon back to the drawing board to construct an even better missile.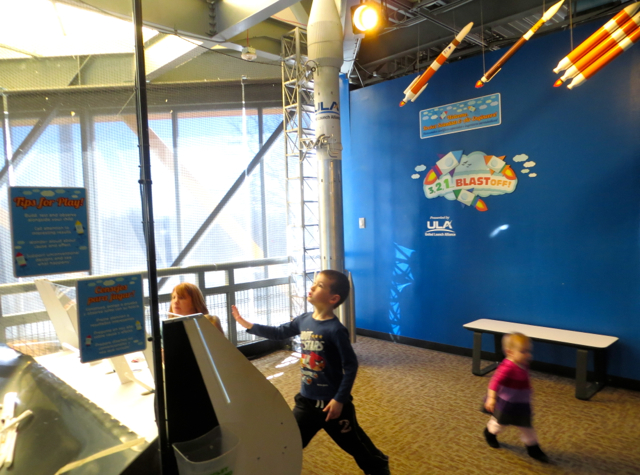 3. Great White Shark in 3D IMAX, Denver Museum of Nature and Science
The munchkin chose to see the Great White Shark 3D IMAX film at the Denver Museum of Nature and Science, and initially I wondered if it would be too scary for him. There were a couple moments he reached for my arm, but overall he was simply engrossed in the spectacular close-up, underwater shots and video footage, much of it taken by free divers. I instantly recognized the narrator's voice, that of acclaimed British actor Bill Nighy. Here's the trailer:
4. Head in the Jaws of a T-Rex, Denver Museum of Nature and Science
What 6 year old boy wouldn't want a friendly T-Rex playfully putting his head in its mouth? This roaming T-Rex skeleton puppet was a huge success with kids on our Sunday visit to the Denver Museum of Nature and Science.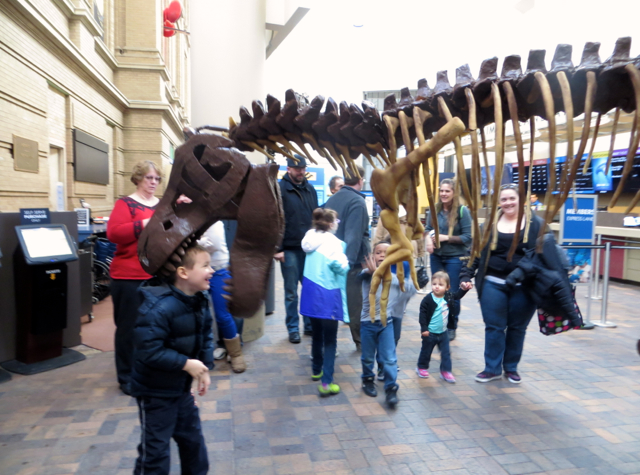 5. Sewing Activity, Denver Art Museum
I don't normally take the munchkin to art museums, but since it was the first Saturday of the month and admission to the Denver Art Museum (and several other Denver museums) was complimentary, I figured there was no great loss even if he got bored after a few minutes. Instead, the Denver Art Museum turned out to be the most kid-friendly art museum I've ever been to, with kids' activities on virtually every floor.
The munchkin's favorite was sewing a "Pocket Housewife," a crafts project based on what American soldiers in the late 1700s used to do any necessary mending when off at war.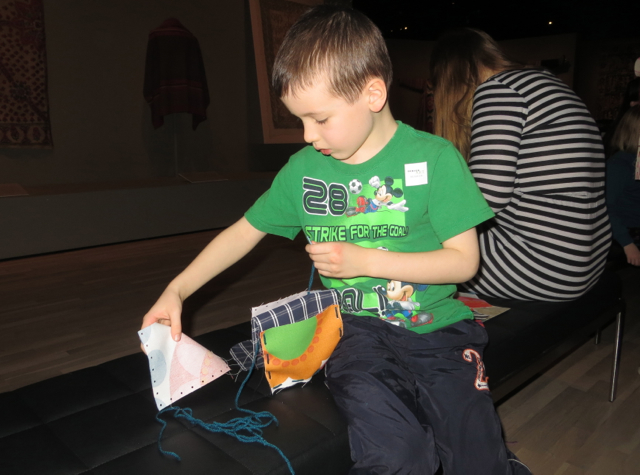 6. Expedition Health, Denver Museum of Nature and Science
Sponsored by Kaiser Permanente, Expedition Health was my son's favorite exhibit at the Denver Museum of Nature and Science. He had fun challenging his muscles on the exercise bike, measuring his pace and speed, and learning about bacteria in a lively Pirate-themed presentation.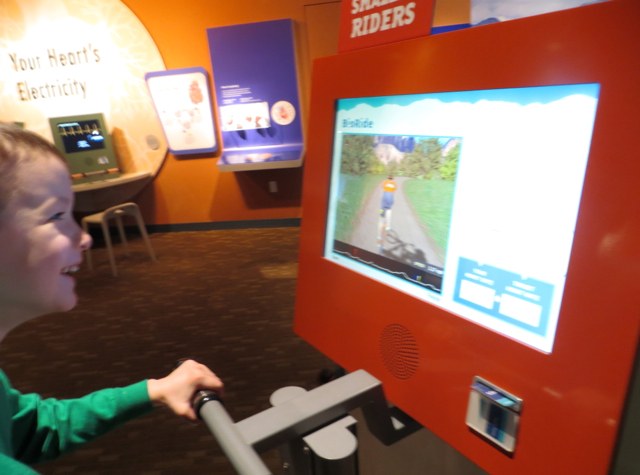 7. Building with Giant Blocks, Denver Art Museum
As we wound down our visit to the Denver Art Museum, we wandered into a relaxed playspace on the second floor, with plenty of large soft blocks perfect for building. It satisfied the munchkin's construction urge for the day.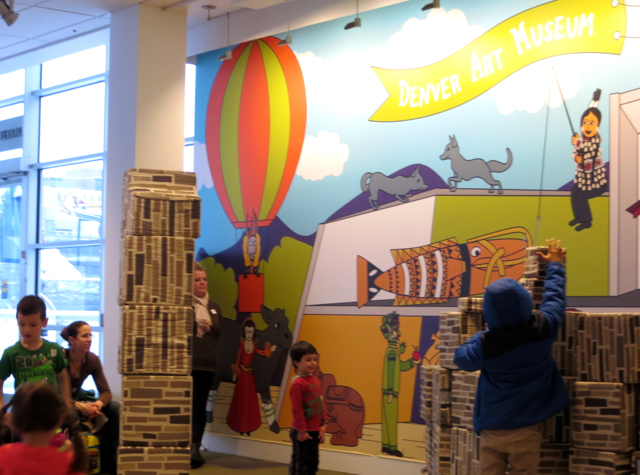 If your family has been to Denver, what were your kids' favorite things to do?
Related Posts
Ritz-Carlton Denver Hotel Review
Club Lounge, Ritz-Carlton Denver Review
Fruition Denver Restaurant Review
Need Award Booking Help? Our fee is as low as $75 per ticket if you book your hotel through us.
If you enjoyed this, join 200,000+ readers: please follow TravelSort on Twitter or like us on Facebook to be alerted to new posts.
Become a TravelSort Client and Book 5-Star Hotels with Virtuoso or Four Seasons Preferred Partner Benefits!