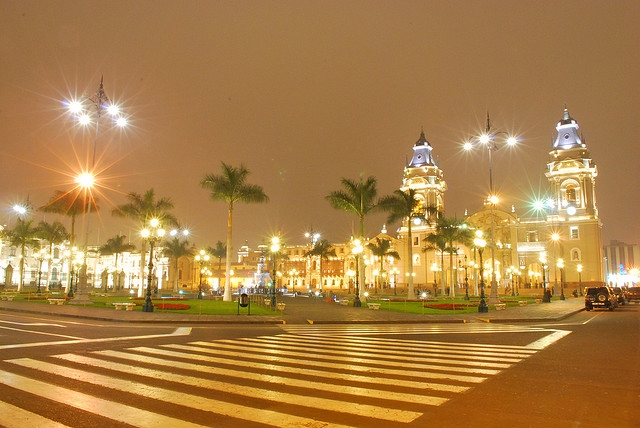 Why Go
Despite evidence of its existence more than 15,000 years ago, the area known today as Lima has been the capital of the South American country of Peru since the Spanish army – led by the conquistador, Francisco Pizarro – founded it in 1535. It has endured a rich but difficult history; surviving nearly 300 years under a Spanish regime before a war for independence changed the governing party and left the country impoverished. By the mid 20th century, hundreds of natives from the neighboring Andes Mountains came to town in a desperate attempt to find work with little success. The resulting city has become a curious conflicting mix of stunning architectural beauty such as the 16th century main square, Plaza de Armas or the upscale Miraflores district and the overcrowded slums on the outskirts of town. Despite this conflict, Lima is a place worth visiting for its colorful culture, gorgeous coastal landscape, profound spirituality and enduring sense of uniqueness.
Following this spirit of diversity, Peruvian cuisine is greatly influenced by the many different races of immigrants that have found their way here over the years; Spanish, Japanese, Chinese, West African and Italian influences have all played a part in determining the local flavors. Potatoes, corn and beans are staples in most traditional dishes, while chicken, pork, seafood and beef are usually prepared with varying degrees of spice and regional flavoring resources. In recent times, strictly Peruvian food – such as the grain, quinoa and the herb, kiwicha – have seen a rise in popularity suggesting a desire to re-discover ancient customs. Food lovers visiting this remarkable city are sure to delight in the creative culinary fusion available to diners of every budget range.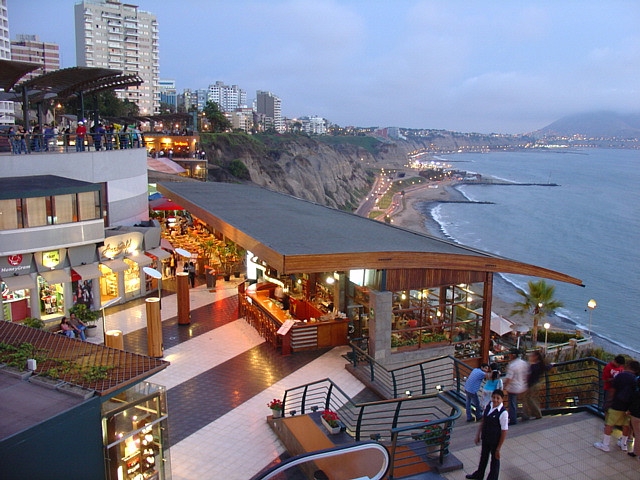 Getting There
LAN flies nonstop to Lima from NYC (JFK), Los Angeles (LAX) and Miami (MIA). A roundtrip award to Lima using American Airlines AAdvantage miles will be 35,000 miles for Economy and 60,000 miles for Business Class. See Best Travel Credit Cards for links to Citi AAdvantage credit cards that can earn you up to 150,000 AAdvantage miles; and also stay tuned for the Chase British Airways Visa offer later this spring. British Airways charges 40,000 Avios for a roundtrip Economy award NYC-Lima, and 80,000 for the same award in Business Class. Miami-Lima roundtrip is 25,000 Avios for Economy and 50,000 Avios for Business Class.
Insider Tips
The weather in Lima tends to be humid and warm all year round. That being said, it's best to visit between January and March when temperatures average 70 to 80 degrees. The rest of the year, the city tends to be overtaken by a thick, grey fog known as the garua.
Due to the humidity, visitors should pack loose-fitting cotton clothing when traveling as the heat can sometimes feel a bit overwhelming. After March, the weather tends to cool off in the evenings and a sweater or light jacket is strongly suggested.
International flights arrive at Jorge Chavez International Airport. The best way to get into the city is by taxi, which should cost between $10 and $15 for the 30 minute ride. Be aware that taxis in Lima do not have meters, however, and you would need to arrange the price beforehand. If you do not know Spanish, it is imperative to have the full address of your hotel printed clearly on a piece of paper in order to avoid overpaying. If at all possible, try to take the Green Line Taxi Service, as they tend to be the most honest and professional.
Lima uses the currency known as the nuevo sol which can be easily attained through cambistas – people who exchange money (euros or dollars) for you right on the street – at a slightly better rate than banks. One thing to remember is that most stores and restaurants do not accept currency with any markings or tears on them so if you happen to be offered money in anything but pristine condition, ask for it to be changed or move on.
Although ATM's are still a viable option, they are not as plentiful as in the U.S., some require a local account in order to make a withdrawal and many only accept Cirrus or Plus affiliated Visa or Mastercard credit cards. This said, most suitable ATM's do dispense money in both soles and U.S. dollars. If this presents a problem for you, then its best to exchange some money at your local bank before traveling – at least for taxis and extras while you settle in.
It might also be convenient for American travelers to know that dollars are accepted directly at most shops – at a slightly lower daily exchange rate.
The gratuity is generally included in the bill at most restaurants- not all, so if in doubt, inquire with the establishment to be certain. If by chance it is not, it is customary to tip 10%, but cab drivers, hotel workers, etc., do not expect to be tipped.
Where to Stay
Lima is a city of nearly nine million inhabitants and the constant activity of this dynamic destination offers travelers plenty of choices in terms of accommodations. To enjoy the most opulent experience, book your stay at the fabulous Miraflores Park Hotel, an 11-story edifice set in a lovely park overlooking the cliffs facing the Pacific Ocean. The suites are ample and feature marble baths, 24-hour room service, Molton Brown designer amenities and excellent views. The rooftop restaurant serves an impressive buffet breakfast and it is rumored that the Pisco Sour – Peru's tasty local cocktail – served at the inviting lounge bar, is the best in town. Rates for this top quality locale begin at 440 dollars per night.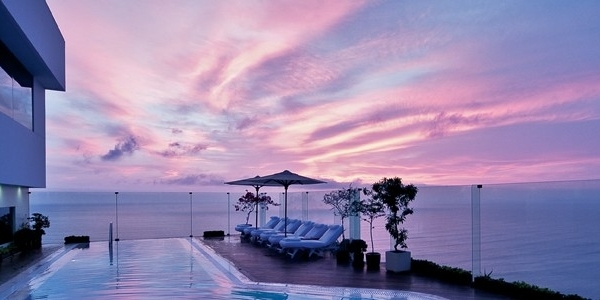 Another excellent option in the Miraflores area is the JW Marriott Lima, by the water and with beautiful ocean views from some rooms. Enjoy the well-equipped health club and seasonal outdoor pool, or take a stroll outside to the nearby parks and LarcoMar restaurants, bars and shopping. Contact TravelSort for the best rate.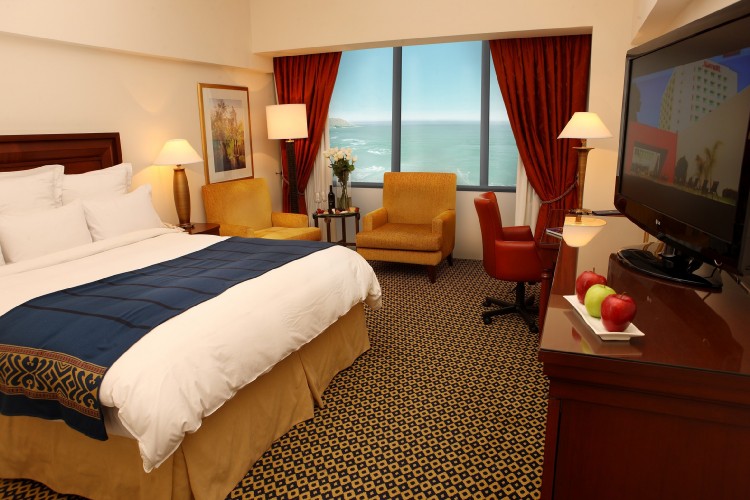 Visitors who prefer a more intimate environment – that is only 15 minutes from the city center by taxi – will enjoy the charming Duo Hotel, a former mansion turned boutique hotel that is located in the exclusive residential area named San Isidro, a close distance from the Lima Golf Club, which features excellent running trails. This cozy establishment boasts tasteful, minimalistic furnishings, a warm hospitable staff and satisfying breakfast options including eggs, fresh juice and pastries. Prices here begin at 140 dollars a night for a standard double room.
Travelers on a tighter budget can opt to stay at the quirky Cirque Hostel offering clean and comfortable rooms that are either shared or private. The staff is friendly and helpful; even personally willing take you to local hangouts if their schedule permits it. The décor is circus themed and cheerful with a simple continental breakfast included in the price of your room. Double rooms start at a very inexpensive 30 dollars per night.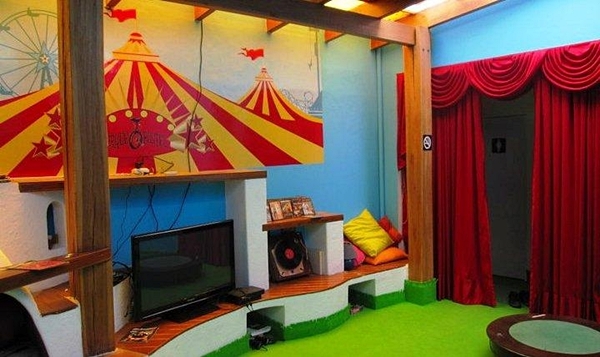 What to Eat
Lima's enviable proximity to the Pacific coast makes it an ideal place to sample fresh seafood. In fact, ceviche – a tangy side dish prepared with onions, lime, chili peppers and raw fish and usually accompanied by camote (sweet potato) – is a staple menu item, widely served throughout the entire country. Meat lovers will appreciate the succulent anticuchos– marinated and spiced beef hearts served with boiled potatoes and corn- or tamales – boiled and mashed corn served with either meat or cheese in a banana leaf with spices. Although you will see many of these typical dishes made abundantly available by the street vendors located all over the city, it is best to order them in a traditional-style restaurant because, unfortunately, the street versions are often unsanitary.
A common food that you can try without much worry is the local bread. Peruvians often buy it fresh in the morning to eat it with their breakfast and at various other times throughout the day. The bread in Peru – although flavorful – is usually cooked with lard, however, and wheat flour is only found in expensive specialty stores, so it's not a popular option for health conscious individuals. Instead, opt to indulge in one of their scrumptious desserts such as mazamorra morada (purple corn pudding) or alfajores (a sweet custard pastry).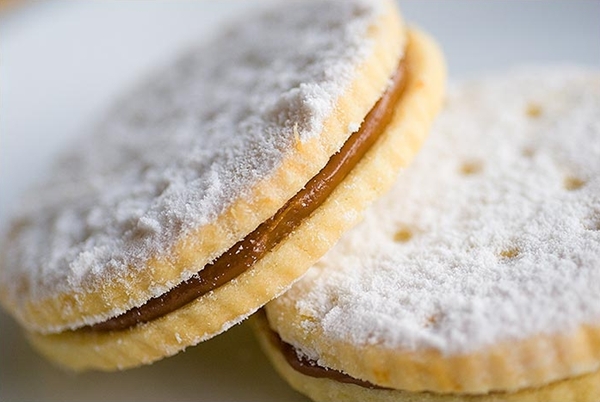 If you are craving seafood at lunchtime (1pm -5pm), make a stop at Cebicheria La Mar, an upmarket chain restaurant specializing in ceviches and causas– a simple but delectable potato dish prepared with lime, spices, mayonnaise and stuffed with an assortment of possible meats, seafood or fish. If you can't decide on which kind of ceviche or causa to try, then conveniently order their respective tasting menus, featuring a wonderful selection of different types of each of these popular dishes. Mains begin at 40 dollars per person excluding drinks.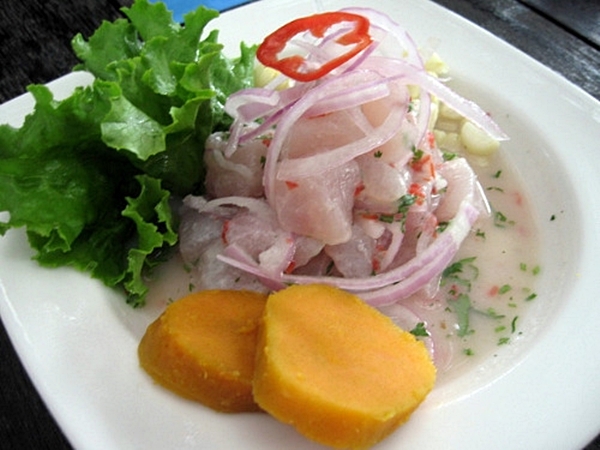 For an unforgettable dining experience, make a reservation at Astrid y Gastón, arguably the best gourmet restaurant in the country. The owners are a husband and wife team of local celebrity chefs whose inventive preparations combine regional Creole cooking with a contemporary flair. From the minute you enter this first-class establishment, you know you are in for something special; the wait staff is courteous and knowledgeable of the menu items being offered, the décor is modern yet welcoming, and the dishes are creatively presented to tempt your senses before you even take a bite.
Indulge in the mouth-watering 12-course tasting menu that takes a leisurely three hours to consume. Included in this dining extravaganza are amusingly named dishes such as foie de pato libre – free-range duck foie gras stuffed in tortellini and served with local tropical fruit – or guerrera carrillera – which means "cheek warrior" but in actuality is veal jaws, slow cooked for 20 hours and blended with seasonal herbs. Combine your meal with a refreshing chicha pisco sour – using the tasty elements of the popular cocktail and adding blue corn juice – and you begin to understand the originality of this wonderfully diverse cuisine. The tasting menu is surprisingly affordable too – at approximately 65 dollars per person.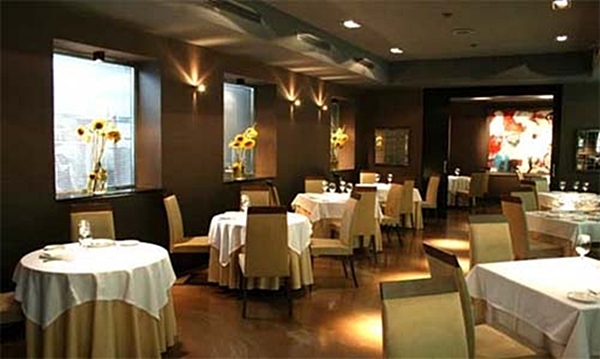 Diners looking for good food in a relaxed, bohemian environment should consider the restaurant Chala; the cuisine is an imaginative Japanese/coastal Peruvian fusion of taste sensations. It is located in a manor house in the artsy neighborhood of Barranco, directly across from the beautiful Puente de los Suspiros (the Bridge of Sighs) – a mystical structure connecting to a walkway that takes you all the way down to the Pacific.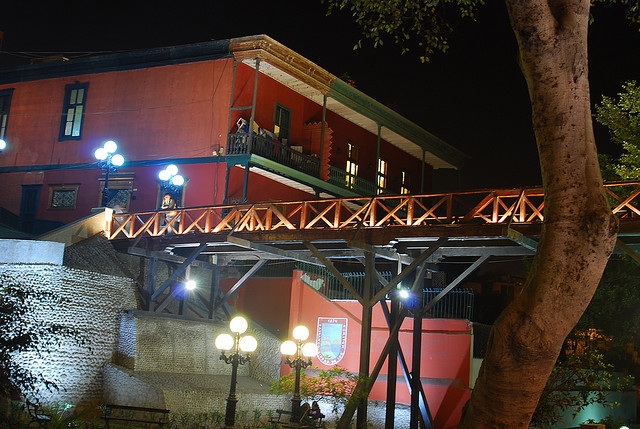 At Chala, Expect to pay 16 dollars for mains such as Pato Capon – duck breast served atop risotto with loche squash, with arugula.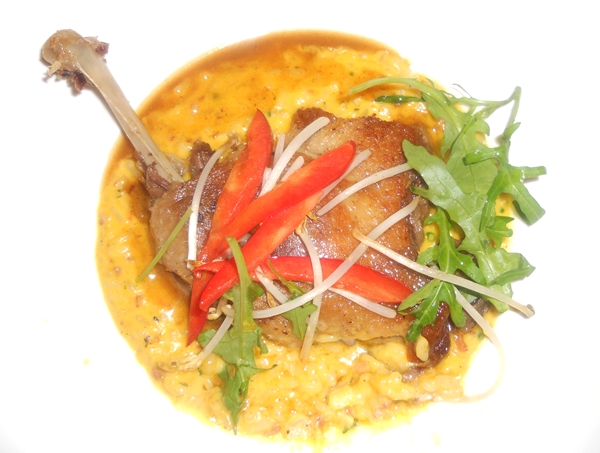 What to See and Do
Guests who particularly enjoy the standard Peruvian fare might be interested in learning the basics of South American cuisine. This can be accomplished in an entertaining, interactive one-day cooking class in San Isidro. Join an experienced chef at a pre-determined market place for an informative tour, followed by a three-course class at his residence including refreshments, recipe books and even a list to help in finding Peruvian ingredients outside of the country. Groups of up to six participants are welcome at 150 dollars per person.
Tourists wishing to see some of the ancient magic found in Peru will not be disappointed by Lima. Take a stroll around the regal Plaza de Armas and see the 16th century baroque cathedral, the city hall and the marvelous Casa de Pizarro (Government Palace) which was built on Incan burial grounds.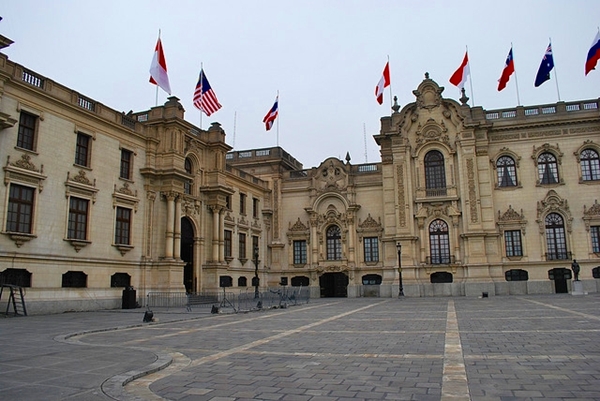 Another dynamic experience is the recently opened Circuito Mágico del Agua (The Magic Water Circuit), a dazzling display of thirteen colorful fountains choreographed to music and light.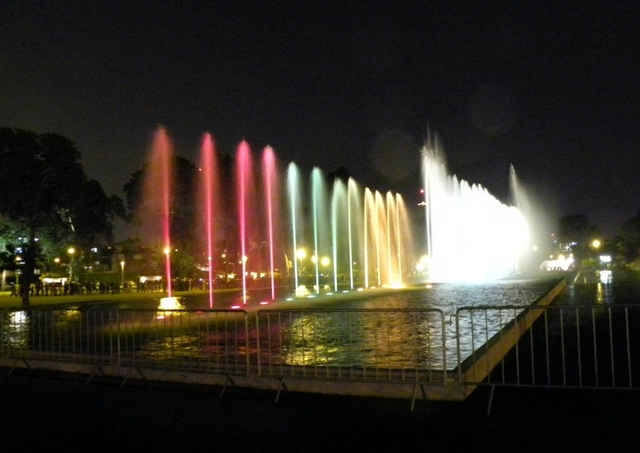 Continue on to Miraflores where you can visit the 1,500 year old Huaca Pucllana – the immense site of a ceremonial center's ruins – and even dine in a restaurant of the same name directly across from the site.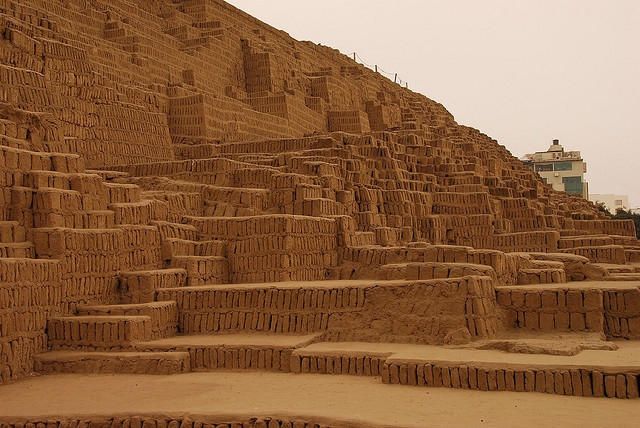 If you treasure organic fruits and produce, arrange a tour of the Bioferia market in the Parque Reducto with a local group of professional English-speaking guides. Your trip includes transport to and from the market and arrangements for an organic lunch for 35 dollars per person. If you can spare a Sunday evening, try Junius – a buffet-style traditional restaurant featuring a lively folk music and dance show – a suitable way to end your journey in a land of plentiful cultural and culinary delights.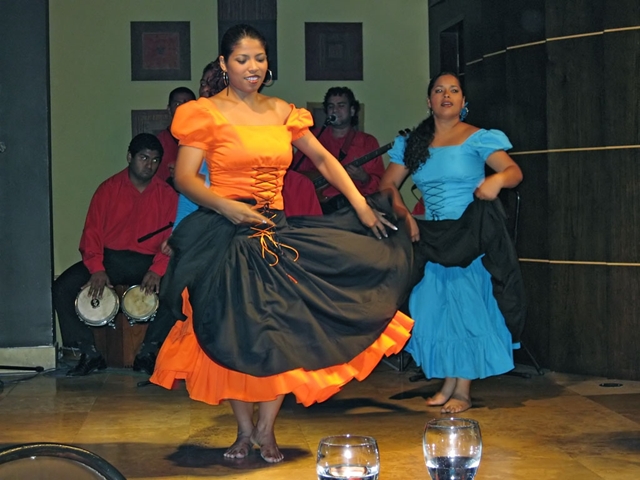 Check out and apply for the Best Travel Credit Cards.
If you enjoyed this, please follow TravelSort on Twitter or like us on Facebook to be alerted to new posts.
Become a Member to find your perfect luxury or boutique hotel at up to 50% off: TravelSort Hotels
Photo credit: Antonio Atalaya, Antonio Bracani, Patty Burness, Catherine V, Dina Aranguri, Martin Garcia