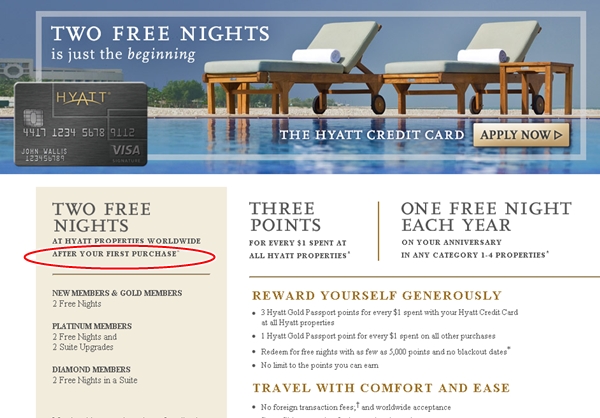 Apply: Hyatt Visa – 2 Award Nights at any Hyatt, including Park Hyatts
My Hyatt Visa link above gives you 2 free Hyatt award nights with no minimum spend, but the offer is changing early Tuesday 10/9 to a $1000 minimum spend to receive your award nights. In fact, the offer has already changed on the Chase and Hyatt sites to require $1000 minimum spend, so if you were thinking of applying for this card, now would be a good time.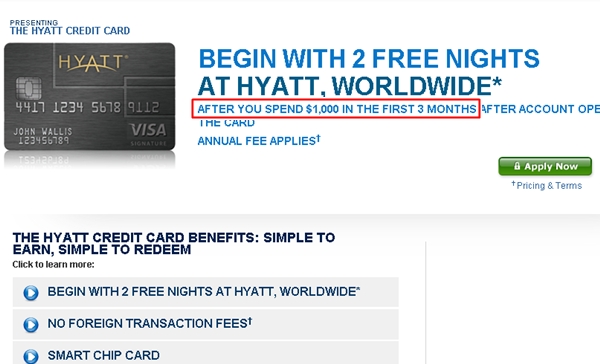 As we wrote in Hyatt Visa: New Bonuses and Elite Benefits, as of 10/1/12 the Hyatt Visa now offers 2X Hyatt Gold Passport points per $1 spent at restaurants, on airline ticket purchases, and car rental agencies, in addition to the 3X on Hyatt spend, which remains the same. You also earn stay or night credits once you pass $20,000 and $40,000 annual spend thresholds.
While I think most trying to get to Hyatt Diamond will still do better with some cheap mattess running or a Diamond Challenge, the 2X on dining could be handy at the odd foreign restaurant that requires a credit card with an EMV chip. I've actually run into this in France, and my Sapphire Preferred and other cards were of no use. That's why we included the Hyatt Visa in our Best U.S. EMV Chip Travel Credit Cards
Here are the card award night benefits, depending on your Hyatt Gold Passport Elite level:
Current Non-Elites and Non-Members
2 free award nights at any Hyatt worldwide after first use of card
Free Hyatt Platinum status for as long as you are a cardholder: free WiFi, 15% bonus points for each Hyatt stay, 2pm late checkout, preferred rooms (best in the room category)
Current Hyatt Platinums
2 free nights at any Hyatt worldwide after first use of card
2 free suite upgrades on paid stays
Current Hyatt Diamonds
2 free nights in a suite at any Hyatt worldwide, after first use of card
FAQ
How soon after spending $1 on the card do I receive my award night certificates?
Usually the award night certificates appear in your Hyatt Gold Passport account within 7-10 days after your first use of the card.
Are there any blackout dates or capacity controls?
There are no blackout dates or formal capacity controls, but do note that your free award night only entitles you to an entry level room, and at some properties, such as the Park Hyatt Vendome Paris, there aren't that many standard rooms (Park Hyatt Queen, Park Hyatt Twin). If you only see Park Hyatt Deluxe rooms, these are the next category up, and aren't eligible for the free night award.
Do I have to pay taxes or resort fees when I redeem a free night award?
No, you do not have to pay VAT, taxes, or resort fees when redeeming a free night award. The only potential exception are city fees that are paid directly to the hotel, and these are typically only a few dollars.
If I apply as a Platinum, can I use the suite upgrades on an award stay?
No–the suite upgrades are for paid stays only.
Where should I redeem my free award nights?
See Best Park Hyatt to Stay 2 Free Nights with the Hyatt Visa That said, you should use them where you'll get the most enjoyment out of them, even if it's not the "highest retail value" use.
How long do I have to use my free award nights? What if I want to save them until 2014?
Free award night certificates expire 1 year from date of issue. That said, you could delay your first use of the Hyatt Visa in order to delay issuance of the free award night certificates.
Why can't I redeem the two nights online, what am I doing wrong?
Not sure if this has been fixed, but at least when I was redeeming my certificates, I had to redeem them one at a time, so try that.
When do I receive the free night in a Category 1-4 hotel?
You receive the free night award for a Category 1-4 hotel after your account anniversary.
Where should I redeem the Category 1-4 free night?
A few I'd recommend, in no particular order: Park Hyatt Hamburg, Park Hyatt Saigon, Park Hyatt Melbourne, Park Hyatt Seoul, Park Hyatt Goa, Andaz West Hollywood, Andaz Savannah, Andaz Shanghai, Grand Hyatt Seattle, Grand Hyatt Dubai
When is the $75 annual fee charged?
The $75 annual fee is charged on your first billing statement.
Can I get the $75 fee waived?
Officially, no–that offer is no longer available. But some people that are longstanding Chase customers have been successful at secure messaging and requesting a fee waiver. Your mileage may vary.
I've had this card previously. Can I get the bonus again?
Officially, no. But some people have signed up again and gotten the bonus. Again, your mileage may vary.
I'm thinking of doing a mini-churn. What other cards should I apply for at the same time?
This current version of the Hyatt Visa is the perfect one to do a mini-churn with, since there's no minimum spend requirement–you receive the award nights after first use of the card, even if you just buy a coffee. You can often get approved for a Chase business card as well as a personal card, so I'd recommend:
Ink Bold Charge Card or Ink Plus
In terms of other issuers, you could apply for two Citi AAdvantage cards for 50,000 miles each if you've never had them, or if it's been 20 months since you applied for them. Or if it's been at least 2 months since your last Citi application, you can apply for the CitiBusiness AAdvantage Visa if you don't yet have it, for another 50,000 miles
Where will you use your free nights from the Hyatt Visa?
Related Posts
Best Park Hyatt to Stay 2 Free Nights with the Hyatt Visa
Best Ways to Earn Hyatt Points Faster
Hyatt Visa: New Bonuses and Elite Benefits
30 Percent Hyatt Bonus Points-Buy Points or Use Hyatt Stay Certificates?
Check out and apply for the Best Travel Credit Cards.
If you enjoyed this, please follow TravelSort on Twitter or like us on Facebook to be alerted to new posts.
Become a Member to find your perfect luxury or boutique hotel at up to 50% off: TravelSort Hotels